March 12, 2012, 5:50 p.m.
Sen­ate Minor­ity Lead­er Mitch Mc­Con­nell, R-Ky., is fo­cused on win­ning con­trol of the Sen­ate in Novem­ber but is also look­ing to the GOP's 2014 for­tunes — mainly his own.
He is build­ing a fun­drais­ing jug­ger­naut and or­gan­iz­a­tion he hopes is daunt­ing to po­ten­tial chal­lengers, both Demo­crat­ic and would-be primary foes.
Mc­Con­nell ended 2011 with $4.25 mil­lion cash on hand. He raised more than $1 mil­lion in the fi­nal quarter, a big haul al­most three years be­fore he's up for reelec­tion. He will likely crack $5 mil­lion in the bank when he re­ports his first-quarter fig­ures to the Fed­er­al Elec­tion Com­mis­sion next month.
Aides say Mc­Con­nell, who spends hours di­al­ing for dol­lars once the Sen­ate wraps up nightly, has nearly twice what he had raised for the com­par­able peri­od be­fore his 2008 reelec­tion; he ul­ti­mately raised more than $21 mil­lion in that cam­paign. Mc­Con­nell is also on pace to have double what Sen­ate Ma­jor­ity Lead­er Harry Re­id, D-Nev., began 2009 with for his 2010 reelec­tion bid. Re­id even­tu­ally raised about $25 mil­lion.
GOP strategists said Mc­Con­nell's last race, Re­id's tough reelec­tion con­test, and re­cent pres­id­en­tial cam­paigns are the main mod­els for Mc­Con­nell's 2014 bid.
"He's pre­pared to build a pres­id­en­tial-level cam­paign for 2014," said Josh Holmes, Mc­Con­nell's Wash­ing­ton chief of staff.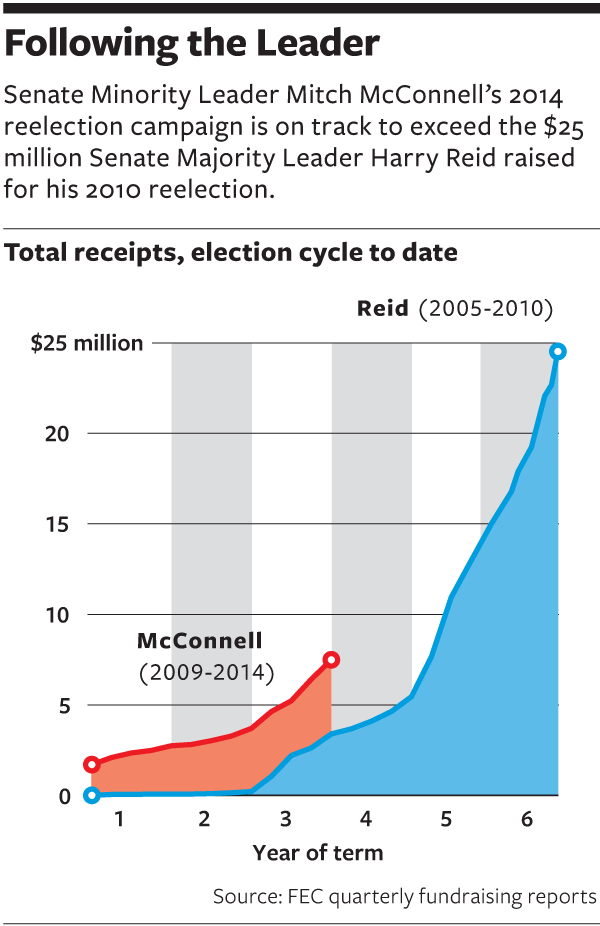 That means a Sen­ate cam­paign with un­pre­ced­en­ted size, soph­ist­ic­a­tion, voter-tar­get­ing abil­ity, and — giv­en Ken­tucky's pop­u­la­tion — money, Mc­Con­nell sup­port­ers say.
"He wants to make sure we have the most state-of-the-art cam­paign that has ever been run for the Sen­ate, and you do that by learn­ing and watch­ing and by test­ing things," one Mc­Con­nell cam­paign strategist said. "And so you have to raise money early not only to build, but to look closely at what is work­ing and what is not."
Since Re­pub­lic­ans suc­cess­fully tar­geted former Sen­ate Ma­jor­ity Lead­er Tom Daschle, D-S.D., in 2004, the parties have gone after each oth­er's lead­ers. Both Mc­Con­nell and Re­id sur­vived na­tion­al ef­forts to oust them in their last races.
"Lead­er­ship races are prob­ably al­ways go­ing to be like this from here on out," the cam­paign strategist said. "You have to run a pres­id­en­tial cam­paign. You can't run a con­gres­sion­al cam­paign any­more."
From a can­did­ate who ran fam­ously ef­fect­ive neg­at­ive ads in his first Sen­ate cam­paign and pulled away in the fi­nal weeks of his 2008 bid with a bar­rage of late tele­vi­sion spots, Mc­Con­nell's early fun­drais­ing serves as a warn­ing to po­ten­tial chal­lengers.
"You are gonna be spend­ing the next year, year and a half of your life in misery," the strategist said.
Scott Jen­nings, a past Mc­Con­nell cam­paign guru and former White House deputy dir­ect­or of polit­ic­al af­fairs, said, "The old Mc­Con­nell ad­age is "˜If you throw a pebble at me, I'll throw a boulder back at you,' and clearly he is go­ing to have a very ample sup­ply of boulders.
"Ob­vi­ously it sends a mes­sage," he ad­ded.
It seems to be work­ing.
Demo­crats Jack Con­way, whom Sen. Rand Paul, R-Ky., de­feated in 2010, and Crit Lu­al­len, a former state aud­it­or eye­ing a 2015 gubernat­ori­al bid, have de­clined Mc­Con­nell 2014 chal­lenges.
Any Demo­crat who is con­sid­er­ing a run should "un­der­stand what the as­sign­ment is," said Dale Em­mons, a Bluegrass State Demo­crat­ic strategist. "Mc­Con­nell and his cronies will put a gaunt­let down."
Non­ethe­less, Em­mons says Mc­Con­nell is rais­ing money so ag­gress­ively be­cause "he is at risk if a vi­able can­did­ate runs against him."
Mc­Con­nell back­ers say he will be ready for any chal­lenge, even as they down­play spec­u­la­tion he will face a ser­i­ous primary chal­lenge, giv­en all he has done to build the state party.
Billy Piper, a former top aide of Mc­Con­nell's, said the seni­or sen­at­or works the grass roots.
"He goes home every week­end and when he is home he is out in­ter­act­ing with people from Pa­du­cah to Pikeville," Piper said. "If you main­tain that con­tact, that's help­ful when year six rolls around."
Paul de­feated Mc­Con­nell's favored GOP Sen­ate can­did­ate in 2010. That and his ini­tial sup­port for former Flor­ida Gov. Charlie Crist against now-Sen. Marco Ru­bio, R-Fla., in 2010, led crit­ics to charge that Mc­Con­nell was on the wrong side of the tea party move­ment.
But Mc­Con­nell has worked hard to shore up his re­la­tions with that fac­tion of the GOP, es­pe­cially in Ken­tucky, where he has wooed Paul back­ers.
More than most elec­ted of­fi­cials, Mc­Con­nell re­mem­bers that "you're not owed these things," Piper said. "You do get a re­port card back in the Sen­ate. You have to earn it every single time. And it changes every time."