COR­REC­TION: A pre­vi­ous ver­sion of this story mis­stated the title for Sal­ley Wood. Wood was former deputy staff dir­ect­or for the Re­pub­lic­an ma­jor­ity on the Com­mit­tee on House Ad­min­is­tra­tion.
Hav­ing served on both sides of the re­volving Hill-to-K-Street door, Paul Brath­waite knew that the lack of di­versity among con­gres­sion­al staffers was leav­ing the hir­ing pool for minor­ity lob­by­ists dry. So in 2006, he teamed up with more than 50 black staffers-turned-lob­by­ists who had de­cided that their path to the Hill as minor­it­ies was still too nar­row, and they should do something to widen it.
"The tal­ent pool you are pulling from is too small," said Brath­waite, a former ex­ec­ut­ive dir­ect­or of the Con­gres­sion­al Black Caucus and now a lob­by­ist at the Podesta Group. "Es­pe­cially when many people of col­or and wo­men don't get the op­por­tun­ity to be in seni­or po­s­i­tions, in con­gres­sion­al lead­er­ship of­fices, or staff dir­ect­ors on the key con­gres­sion­al com­mit­tees."
But six years later, Brath­waite and oth­ers from his group think there are still too few minor­it­ies work­ing in con­gres­sion­al of­fices, es­pe­cially at seni­or po­s­i­tions, and they blame House Demo­crats primar­ily for not do­ing enough. Of the 288 top staffers for House and Sen­ate lead­ers and con­gres­sion­al com­mit­tees pro­filed in Na­tion­al Journ­al's 2011 Hill People re­port who provided their race when asked, 93 per­cent were white.
Mem­bers of Brath­waite's group began meet­ing about the is­sue, and about 15 of them de­cided to take the mat­ter to Demo­crat­ic con­gres­sion­al lead­ers to see what could be done. The group held more than a dozen meet­ings throughout 2006 and in­to 2007 with staff mem­bers for Harry Re­id and Nancy Pelosi — who be­came Sen­ate ma­jor­ity lead­er and House speak­er, re­spect­ively, in 2007 — as well as with then-Rep. Rahm Emanuel, D-Ill. Mem­bers of Brath­waite's group first sug­ges­ted that of­fices in­ter­view at least one minor­ity can­did­ate for each open po­s­i­tion, a policy the NFL uses when hir­ing coaches. But that plan was shot down by each group they met with.
Brath­waite's group re­peatedly heard chiefs of staff ex­plain that there were simply too few minor­it­ies ap­ply­ing for the po­s­i­tions they were seek­ing to fill. They didn't have time to track down those who didn't know to ap­ply, and pub­lish­ing open­ings on­line would lead to a de­luge of ap­plic­a­tions. One of the people voicing this com­plaint was Re­id's deputy chief of staff, Dav­id Mc­Cal­lum.
"In a lot of of­fices, for bet­ter or worse, the ex­ist­ing pipelines were set up in a way that résumés came in through ex­ist­ing staff, former staff, friends, and sup­port­ers in the home state. The ma­jor­ity of those re­sumes that ended up on the desks of people like me didn't have that much di­versity in them," Mc­Cal­lum said.
Six months after the talks began, Re­id in 2007 cre­ated a new seni­or po­s­i­tion ded­ic­ated to track­ing down qual­i­fied minor­it­ies in­ter­ested in work­ing on the Hill. The aide was charged with dir­ect­ing a new pro­gram known as the Sen­ate Demo­crat­ic Di­versity Ini­ti­at­ive and re­cruit­ing qual­i­fied minor­ity ap­plic­ants for po­s­i­tions in Demo­crat­ic Sen­ate of­fices, in­clud­ing not just non­whites, but also wo­men, vet­er­ans, LGBT, dis­abled, or re­li­gious minor­it­ies. The newly cre­ated post was first filled by Mar­tina Brad­ford, an Afric­an-Amer­ic­an, who handed it off to Maria Mei­er, a Mex­ic­an-Amer­ic­an, in March of 2011. Today, Mei­er re­cruits ap­plic­ants, works with them on their résumés, and then sends résumés suit­able for open po­s­i­tions to Sen­ate Demo­crat­ic of­fices that re­quest a minor­ity ap­plic­ant to con­sider.  
"The idea is, be­cause of our on­go­ing out­reach and the groups we work with, we are go­ing to have a pool of can­did­ates that of­fices might not or­din­ar­ily see if they are us­ing their ex­ist­ing net­works," Mei­er told Na­tion­al Journ­al Daily.
When Mei­er came on board, Re­id in­tro­duced her to Sen­ate Demo­crats at a caucus lunch and in­struc­ted them to use her as a re­source when hir­ing. Over its five years of ex­ist­ence, the Di­versity Ini­ti­at­ive has re­cruited more than 700 can­did­ates and filled more than 200 jobs in Sen­ate Demo­crat­ic of­fices. Ninety per­cent of all in­di­vidu­al Demo­crat­ic sen­at­ors' of­fices and 60 per­cent of all Sen­ate com­mit­tees have now hired at least one staffer through the ini­ti­at­ive. Mei­er es­tim­ates that about 80 per­cent of the ap­plic­ants she works with come from minor­ity staff as­so­ci­ation re­fer­rals, mean­ing they are ra­cially di­verse, and few­er come from Muslim, LGBT, or wo­men's staff as­so­ci­ations.
House Demo­crats did not ad­opt the same ap­proach. In April 2010, four years after her staff's meet­ings with Brath­waite's group, Pelosi an­nounced the launch of an on­line House minor­ity résumé bank like Re­id's, only it was to be man­aged by the Com­mit­tee on House Ad­min­is­tra­tion. But in Decem­ber of that year, the site was still not func­tion­ing des­pite pleas from minor­ity staff as­so­ci­ations. Pelosi and then-Ad­min­is­tra­tion Com­mit­tee Chair­man Robert Brady, D-Pa, handed the re­spons­ib­il­ity of the web­site and résumé bank over to Re­pub­lic­ans when the House changed power.
Now, both sides of the com­mit­tee blame the oth­er for drop­ping the ball, while any résumés sub­mit­ted to the site, which was launched without a mon­it­or, re­main un­touched.  
"We hope the Re­pub­lic­an lead­er­ship will see the value of con­tinu­ing the di­versity ini­ti­at­ive and re­vive the site we have left them," said Greg Ab­bott, spokes­man for the Demo­crat­ic staff of the Com­mit­tee on House Ad­min­is­tra­tion.
Sal­ley Wood, former deputy staff dir­ect­or for the Re­pub­lic­an ma­jor­ity on the com­mit­tee, said Demo­crats nev­er asked or en­abled her staff to use the site they de­veloped.
"They launched the site and have ex­clus­ive ac­cess and con­trol of it and the résumés sub­mit­ted," Wood said. "If the site isn't be­ing used, and only they would know, then it's be­cause they aren't pro­mot­ing it or mon­it­or­ing it any­more."
Pelosi spokes­man Drew Ham­mill said Pelosi should not be held re­spons­ible for the fail­ure of the site. "We were hope­ful that hous­ing [the site] with­in the Com­mit­tee on House Ad­min­is­tra­tion would al­low the web­site to be­come an in­sti­tu­tion­al­ized part of the House of Rep­res­ent­at­ives. It also made sense to house it with­in the com­mit­tee as the web­site was de­signed to cov­er le­gis­lat­ive branch agen­cies and the of­ficers of the House," he said. "Un­for­tu­nately, the House Re­pub­lic­an lead­er­ship has made a de­cision not to keep this web­site a pri­or­ity."
A key mem­ber of Brath­waite's group said he doesn't blame one side or the oth­er of the House Ad­min­is­tra­tion Com­mit­tee for the fail­ure to launch a di­versity ini­ti­at­ive in the House. He blames Pelosi.
"They should have done what Re­id's of­fice did. There might be some dif­fer­ent com­pon­ents between the Sen­ate and House, but noth­ing too hard to over­come," said a former Demo­crat­ic Sen­ate staffer and Clin­ton White House of­fi­cial who joined Brath­waite in meet­ings with Pelosi's staff but asked not to be iden­ti­fied for this story. "You can't tell me that Pelosi could not have done what Re­id did. Re­id and key seni­or play­ers on his staff de­serve a lot of cred­it for mak­ing it hap­pen."
This is the second story in a series that in­vest­ig­ates the lack of di­versity among staffers on Cap­it­ol Hill.
What We're Following See More »
UNTIL DEC. 9, ANYWAY
Obama Signs Bill to Fund Government
2 hours ago
REDSKINS IMPLICATIONS
SCOTUS to Hear Case on Offensive Trademarks
3 hours ago
WHY WE CARE
"The Supreme Court is taking up a First Amendment clash over the government's refusal to register offensive trademarks, a case that could affect the Washington Redskins in their legal fight over the team name. The justices agreed Thursday to hear a dispute involving an Asian-American rock band called the Slants, but they did not act on a separate request to hear the higher-profile Redskins case at the same time." Still, any precedent set by the case could have ramifications for the Washington football team.
STAFF PICKS
Bannon Still Collecting Royalties from 'Seinfeld'
4 hours ago
WHY WE CARE
The Hollywood Reporter takes a look at a little-known intersection of politics and entertainment, in which Trump campaign CEO Steve Bannon is still raking in residuals from Seinfeld. Here's the digest version: When Seinfeld was in its infancy, Ted Turner was in the process of acquiring its production company, Castle Rock, but he was under-capitalized. Bannon's fledgling media company put up the remaining funds, and he agreed to "participation rights" instead of a fee. "Seinfeld has reaped more than $3 billion in its post-network afterlife through syndication deals." Meanwhile, Bannon is "still cashing checks from Seinfeld, and observers say he has made nearly 25 times more off the Castle Rock deal than he had anticipated."
IT'S ALL CLINTON
Reliable Poll Data Coming in RE: Debate #1
4 hours ago
WHY WE CARE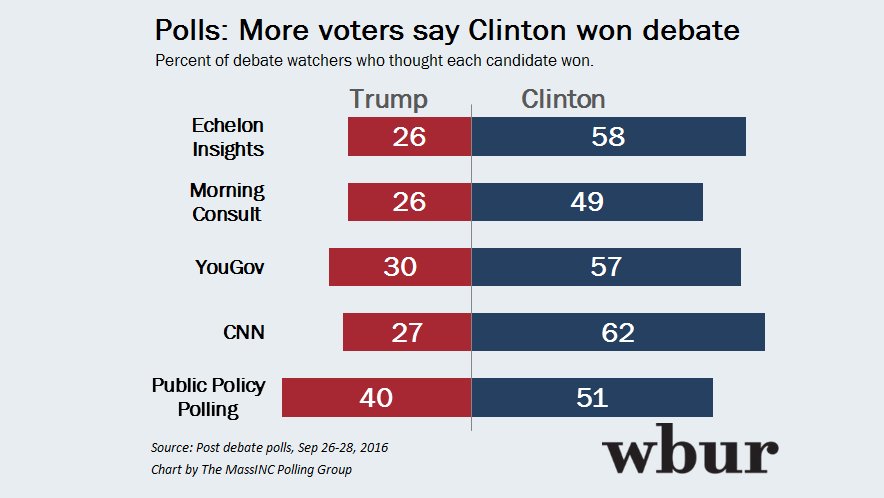 NEXT THURSDAY
Trump Transition Team Meeting with Silicon Valley VIPs
6 hours ago
THE DETAILS
Donald Trump's "transition team will meet next week with representatives of the tech industry, multiple sources confirmed, even as their candidate largely has been largely shunned by Silicon Valley. The meeting, scheduled for next Thursday at the offices of law and lobbying firm BakerHostetler, will include trade groups like the Information Technology Industry Council and the Internet Association that represent major Silicon Valley companies."