For years, Washington has blamed China for its failure to pass a law to fight climate change. Lawmakers of both parties have long made the same argument: The world's two biggest economies both depend on cheap coal-fired power to fuel their plants and factories — coal power that sends billions of tons of carbon pollution into the atmosphere, making the U.S. and China the world's top two greenhouse-gas emitters. Over the past decade, as China's economy surged at rates that averaged 10 percent a year, so did its hunger for coal — helping it pull past America as the world's worst carbon polluter.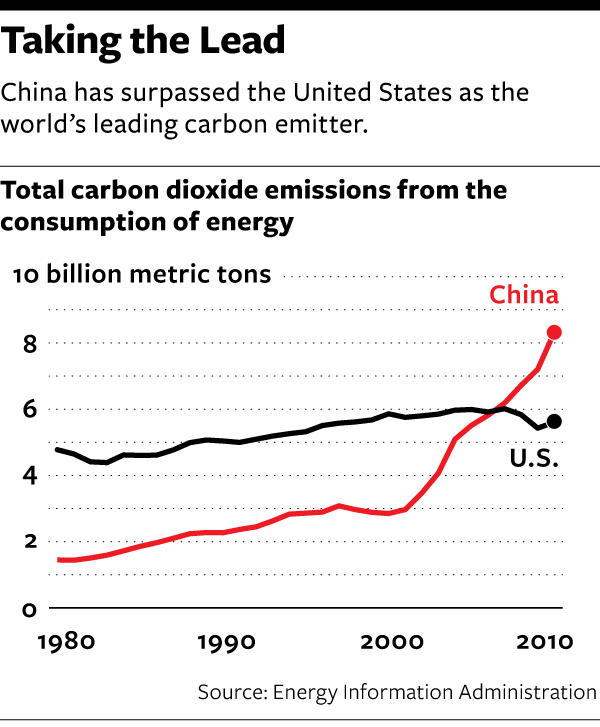 If the United States were to act unilaterally to cut its coal use and carbon emissions, politicians here contended, it would kneecap the domestic economy, raise manufacturing costs, and give coal-guzzling China a huge competitive advantage in the global marketplace — without making a meaningful difference in greenhouse-gas pollution. And because coal is powering the growth spurt lifting billions of Chinese from poverty to the middle class, few thought the Asian superpower would act on its own to cut its coal use.
Now China is blowing a hole in that case. This week, the National People's Congress of China is convening in Beijing to formally mark the transfer of power from outgoing Premier Wen Jiabao to the new administration of his deputy, Li Keqiang. The handoff comes with a clear shift in policy: a leveling off of China's recent galloping pace of economic growth and an authoritative commitment to curbing the pollution — particularly from coal — that growth has wrought.
In his farewell speech to Congress this week, Wen said, "Economic development is increasingly in conflict with resource conservation and environmental protection." He said that while the economy must continue to grow, "unbalanced, uncoordinated, and unsustainable development remains a prominent problem."
China is serious: International pressure has been growing for Beijing to stop spewing planet-warming pollution. There has been domestic agitation, too. China's coal plants have blanketed its cities with soot and smog, creating some of the worst air quality in the world. Thousands of premature deaths blamed on pollution have prompted riots and protests. In January, record levels of dirty air in Beijing prompted further demands from citizens for the government to cut its coal usage.
To set the table for the new administration's agenda, China's National Development and Reform Commission this week laid out a blueprint that would slow the rate of economic growth to 7.5 percent over the next year — a pace that's still aggressive compared with other economies but represents a slowdown from growth over the past decade. The plan also details the government's bid to cut energy consumption per unit of gross domestic product by 16 percent and its carbon intensity (the amount of carbon produced per unit of GDP) by 17 percent (using 2010 levels) by 2015. In addition, China is now moving steadily toward a plan to put a price on carbon pollution — something that's still a goal too far for many U.S. policymakers.
At the same time, China's central government has implemented seven pilot cap-and-trade programs in provinces around the country to test which market-based system for cutting and pricing carbon pollution could best be scaled up to the national level. And its Congress is considering a plan to either tax carbon emissions or create a "resource tax" tied directly to the use of coal.
All that movement undercuts the long-standing U.S. argument that China would not act to cut its coal use. And China experts say there's plenty of reason to believe Beijing will follow through. "At the national level, the political will is there," says Trevor Hauser, an energy analyst and a former adviser to then-Secretary of State Hillary Rodham Clinton.
Hauser and other economists say it is possible for China to continue to grow and to raise its citizens from poverty even while slowing its rate of carbon emissions, if it restructures its economy the way the United States did. China's incoming Li administration has signaled that it wants — eventually — to shift from a pollution-heavy manufacturing-based economy to a low-carbon economy of knowledge-workers, consumers, and financial and technical services.
However, even China's bold suite of carbon-cutting activities won't be enough to reverse the trajectory of its pollution quickly enough. At best, emissions could plateau in the next decade, but not enough to stave off the worst catastrophic effects of climate change. And despite the reversal, China's actions won't be enough to persuade the U.S. Congress to enact a climate-change law — at least not yet. Meanwhile, China's clear-eyed acknowledgment that cutting carbon emissions means sacrificing economic growth — even as it weighs the cost-benefit analysis of such moves — could provide fuel for opponents of carbon-cutting action in the U.S., which is in no position to throttle down its economic engine.
Still, China's actions could help quiet some objections to President Obama's controversial new climate strategy. In the absence of action from Congress, he is expected to move forward aggressively (not unlike the Chinese), using his executive authority to roll out new Environmental Protection Agency regulations on carbon pollution from coal plants.
After years of playing a game of chicken, the world's two worst climate polluters are finally blinking. "These are the two bad boys of climate," says Paul Bledsoe, an energy-policy consultant who was a senior climate adviser to the Clinton White House. "But, ironically, they're starting to come closer to each other on this issue, moving independently."