Add to Briefcase
March 7, 2013, 2:30 p.m.
El­ev­en days be­fore he spent nearly 13 hours fili­bus­ter­ing on the Sen­ate floor, Sen. Rand Paul floated his idea to block the pres­id­ent's pick for CIA dir­ect­or to one of Sen. Mitch Mc­Con­nell's top polit­ic­al strategists over a Sat­urday night din­ner of lasagna and red wine at his home in Bowl­ing Green, Ky.
The ad­viser, Jesse Benton, oc­cu­pies a unique place in Ken­tucky polit­ics as bridge between Mc­Con­nell, the old-school minor­ity lead­er, and Paul, the in­sur­gent tea-party firebrand. Benton ran Paul's 2010 Sen­ate cam­paign and is mar­ried to Paul's niece. And since Septem­ber, he has been ad­vising Mc­Con­nell as he seeks reelec­tion in 2014.
After the din­ner, Benton reached out to Mc­Con­nell's of­fice, de­tail­ing Paul's plans and his hopes for sup­port. An im­port­ant line of com­mu­nic­a­tions had been opened.
It helped en­sure that well be­fore Paul took to the Sen­ate floor on Wed­nes­day to de­clare, "I will speak un­til I can no longer speak," he had lined up the ta­cit ap­prov­al of the GOP lead­er­ship. For a politi­cian who earned his stripes as a polit­ic­al out­sider, Paul's fili­buster per­form­ance and plan­ning demon­strated his aptitude at the in­side D.C. game.
After half a day of speak­ing on the floor, Paul's fili­buster had cap­tured Wash­ing­ton's ima­gin­a­tion and spurred a re­newed con­ver­sa­tion about Amer­ic­an drone policy. The GOP es­tab­lish­ment was sud­denly co­ales­cing around the liber­tari­an-lean­ing ju­ni­or sen­at­or, a man whose for­eign policy views are of­ten labeled as out-of-step with the party. By mid­night, Re­pub­lic­an sen­at­ors were lin­ing up like planes circ­ling Re­agan Wash­ing­ton Na­tion­al Air­port for a chance to sound their sup­port on the Sen­ate floor.
"I ad­mire his forti­tude," Sen. John Cornyn, R-Texas, the cham­ber's No. 2 Re­pub­lic­an, pro­claimed at one point.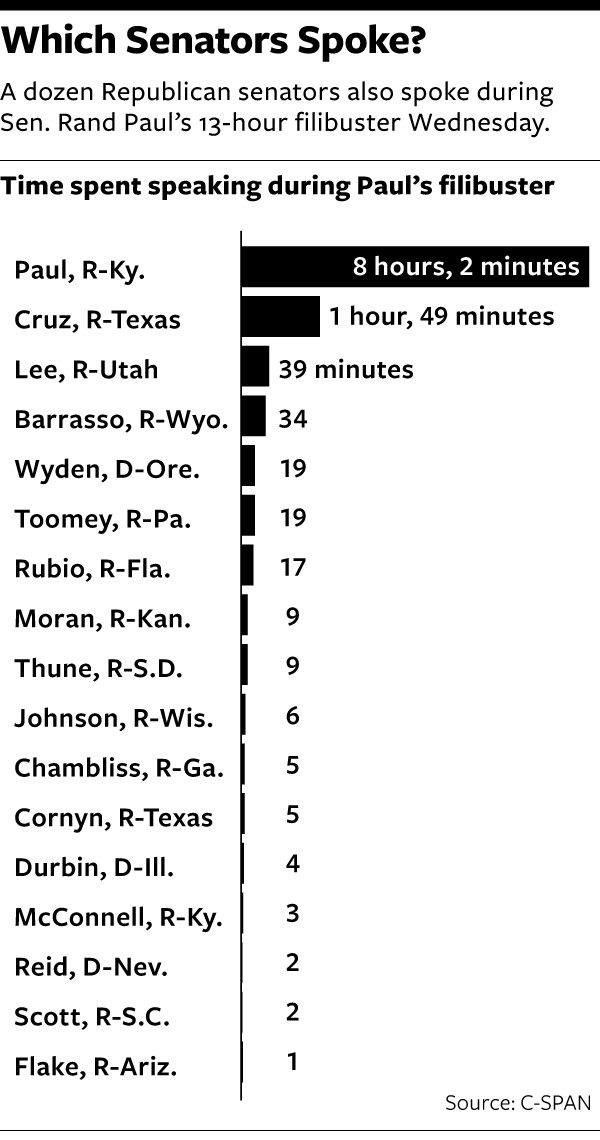 The out­pour­ing was or­gan­ic and un­ex­pec­ted. Paul has said he would have worn more com­fort­able shoes if he knew he'd be stand­ing and speak­ing for so long.
But the day wasn't en­tirely un­planned. Paul, of­ten ac­cused of be­ing a lone wolf on Cap­it­ol Hill, had laid some of the ground­work to win over the GOP es­tab­lish­ment. Mc­Con­nell and Co. knew the fili­buster was com­ing, even if they did not know when pre­cisely or what ex­actly it would look like.
Paul had per­son­ally in­formed some Re­pub­lic­an sen­at­ors that he planned to mount the talk­ing fili­buster the day be­fore over lunch, said Sen. John Bar­rasso, R-Wyo., a mem­ber of the GOP lead­er­ship. "The day be­fore, he said that he was go­ing to start talk­ing un­til he couldn't talk any­more," Bar­rasso said. Mc­Con­nell, mean­while, put out the word to the con­fer­ence that he was sup­port­ive of Paul's ef­forts.
Still, Paul spoke solo on the Sen­ate floor for more than three hours Wed­nes­day be­fore any of his col­leagues joined in sup­port. The first was Re­pub­lic­an Sen. Mike Lee of Utah, an­oth­er tea-party darling from the class of 2010. The Na­tion­al Re­pub­lic­an Sen­at­ori­al Com­mit­tee soon showed ca­marader­ie by post­ing sup­port­ive mes­sages on Twit­ter and an e-mail pitch ur­ging donors to "#Stand­with­Rand." Chair­man Jerry Mor­an, R-Kan­sas, also went down to the floor.
As af­ter­noon turned to even­ing, a group of GOP sen­at­ors crossed town for din­ner with Pres­id­ent Obama at the Jef­fer­son Hotel. Paul stuck to the floor, de­mand­ing an­swers to the leg­al lim­its of Amer­ica's do­mest­ic drone pro­gram.
Mo­mentum built on Twit­ter and in the con­ser­vat­ive grass­roots. His speech­i­fy­ing was labeled a "filib­liz­zard" on C-SPAN, after the snowstorm that had threatened the Cap­it­ol all day but nev­er ma­ter­i­al­ized. By late Wed­nes­day, the #Stand­with­Rand hasht­ag was trend­ing across the globe on Twit­ter.
"I was hav­ing din­ner with my wife. I turned on the TV and there was Rand, and it looked like he was all alone," Bar­rasso said, "and I knew I wanted to get over there and help him. And so I got to the floor at about 9 and stayed un­til it ended." 
He was not the only one. Sen. Marco Ru­bio, R-Fla., a po­ten­tial Paul rival for the pres­id­ency in 2016, re­turned to the floor late in the even­ing, of­fer­ing up re­lief for Paul's strain­ing voice and words of wis­dom from Jay-Z and Wiz Khal­ifa.
So moved by the de­bate were fresh­man Sens. Jeff Flake of Ari­zona and Tim Scott of South Car­o­lina that they made their maid­en floor re­marks — of­ten a care­fully cho­reo­graphed and cel­eb­rated oc­ca­sion — right there on the spot in the form of a mid-fili­buster ques­tion.
The out­pour­ing of sup­port cli­maxed at 11:43 p.m., minutes short of the fili­buster's 12-hour mark. That is when Re­ince Priebus, the chair­man of the Re­pub­lic­an Na­tion­al Com­mit­tee, typed out on Twit­ter: "At­ten­tion all Re­pub­lic­an US Sen­at­ors —>Please go to the floor and help out @Sen­Rand­Paul #Stand­with­Rand."
The es­tab­lish­ment had been won over.
"It star­ted as one man's lonely stand for prin­ciple, and as the day went on it grew, first one sen­at­or, then an­oth­er, then an­oth­er, then an­oth­er," said Re­pub­lic­an Sen. Ted Cruz of Texas. "And it cap­tiv­ated mil­lions of Amer­ic­ans who are un­der­stand­ably frus­trated by en­trenched politi­cians in Wash­ing­ton who do not seem to listen to their con­cerns."
Paul was still bask­ing in it all still on Thursday. "It seemed to be kind of spon­tan­eous," he said. "A lot of people just star­ted com­ing to the floor"¦. That doesn't hap­pen very of­ten, so we were pretty ex­cited about that."
The most im­port­ant sen­at­or was still yet to ar­rive.
Paul and Mc­Con­nell have de­veloped something of a polit­ic­ally sym­bi­ot­ic re­la­tion­ship. Mc­Con­nell, wary of a chal­lenge from the right in 2014, has care­fully cul­tiv­ated an al­li­ance with Paul. Paul, hop­ing to ad­vance his agenda in the Sen­ate, has done the same with Mc­Con­nell. It was a part­ner­ship that peaked this week.
Texts and e-mail had con­tin­ued over the course of the even­ing between Benton, Mc­Con­nell's chief of staff, Josh Holmes, and Paul's chief of staff, Doug Stafford. At about 10:30 p.m., Mc­Con­nell was at home tog­gling between a bas­ket­ball game and C-SPAN. Soon, Mc­Con­nell let his staff know that he was on the way to the Cap­it­ol.
Around mid­night, Mc­Con­nell heaped praise on the "tenacity, con­vic­tion" and "ex­traordin­ary ef­fort" of his fel­low Ken­tucki­an. Just as im­port­ant, he threw his weight, pro­ced­ur­ally, be­hind the ef­fort, an­noun­cing he would sup­port a 60-vote threshold for the nom­in­a­tion un­til Paul's ques­tions were answered. At 12:39 a.m., Paul and his swollen blad­der called it a night after nearly 13 straight hours on the floor.
"I've dis­covered that there are some lim­its to fili­bus­ter­ing and I'm go­ing to have to go take care of one of those in a few minutes here," Paul de­clared.
By Thursday, the White House re­len­ted on Paul's re­quest. At­tor­ney Gen­er­al Eric Hold­er wrote that, yes, the Obama ad­min­is­tra­tion defin­it­ively re­jec­ted the use of drone strikes against non-com­batant Amer­ic­an cit­izens on Amer­ic­an soil. The new CIA dir­ect­or, John Bren­nan, was con­firmed soon there­after.
And a new Re­pub­lic­an Sen­ate star, Rand Paul, was born.
Contributions by Stacy Kaper and Rebecca Kaplan