Add to Briefcase
May 2, 2013, 4:15 p.m.
Promp­ted by a jobs re­port show­ing that 496,000 people left the work­force in March, the eco­nom­ic blo­go­sphere erup­ted earli­er this week in a de­bate over why so many Amer­ic­ans have stopped look­ing for work since the start of the Great Re­ces­sion. Is it a symp­tom of the weak job mar­ket? Or is it just a sign of baby boomers start­ing to re­tire en masse?
Eco­nom­ists agree that demo­graph­ics ac­count for some of the de­cline in the num­ber of Amer­ic­ans in the labor force but not for all of the 6.7 mil­lion people who have stopped work­ing since late 2007. Roughly 3 mil­lion to 5 mil­lion work­ers have dropped out be­cause they could not find jobs, eco­nom­ists es­tim­ate. These are not people who col­lect un­em­ploy­ment in­sur­ance and send out résumés in search of their next gig. These are Amer­ic­ans who—at least tem­por­ar­ily—have ex­ited the work­force al­to­geth­er. New re­search from Gold­man Sachs and a pa­per by two Fed­er­al Re­serve Board eco­nom­ists ar­gue that the ma­jor­ity of work­ers simply got frus­trated over the lack of jobs.
There's no con­sensus yet on who these people are, why they left, and if they'll try again to find work. But the an­swers to these ques­tions about the so-called miss­ing work­ers will have polit­ic­al and policy im­plic­a­tions over the next dec­ade for the fed­er­al budget and the eco­nomy as a whole. "The size of the pool there and the gap between the po­ten­tial labor force and the ac­tu­al work­ing force rep­res­ents a huge loss of po­ten­tial pro­ductiv­ity," says Heidi Shi­er­holz, an eco­nom­ist at the Eco­nom­ic Policy In­sti­tute, a left-lean­ing think tank.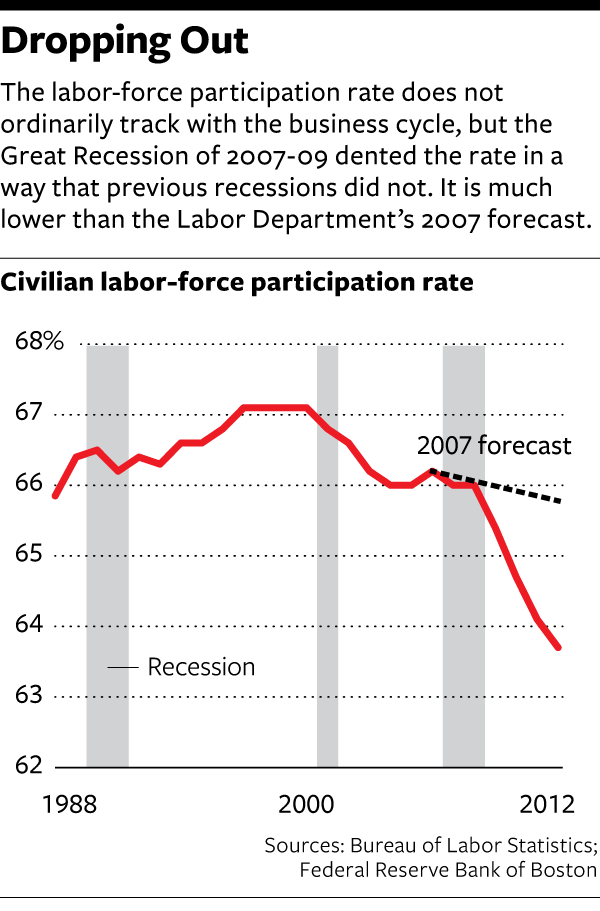 If these work­ers do not re­turn to the labor mar­ket, it will lower po­ten­tial tax rev­en­ue and likely in­crease the num­bers re­ly­ing on gov­ern­ment be­ne­fits such as food stamps and dis­ab­il­ity in­sur­ance. "One of the biggest prob­lems we face with the baby-boomer bulge in re­tire­ment is hav­ing enough work­ers be­hind them to pay their bills," notes Harry Holzer, a pro­fess­or at Geor­getown Uni­versity's Pub­lic Policy In­sti­tute.
Worst of all, we may not know the an­swer to the mys­tery of the miss­ing work­ers un­til 2017. That's when the Con­gres­sion­al Budget Of­fice es­tim­ates that un­em­ploy­ment will dip to 5.5 per­cent and the labor mar­ket will be­come health­i­er again. (A well-func­tion­ing eco­nomy typ­ic­ally has an em­ploy­ment rate of 5 per­cent.) Only then will eco­nom­ists be able to gauge if people left the work­force tem­por­ar­ily be­cause of the down­turn in the eco­nomy, or if they're gone for good be­cause the eco­nomy has fun­da­ment­ally changed.
But, first, let's start with the facts we know: Since the start of 2007, the per­cent­age of Amer­ic­ans in the labor mar­ket has dropped from 66.4 per­cent to 63.3 per­cent, the low­est level since 1979. In the 1970s and '80s, the ranks of work­ing Amer­ic­ans grew be­cause of the dra­mat­ic in­crease in the num­ber of wo­men hold­ing jobs out­side the home. The per­cent­age of Amer­ic­ans in the labor mar­ket peaked in the late 1990s with the boom­ing Clin­ton-era eco­nomy. Re­mem­ber all of the ex­uber­ance be­fore the tech bubble burst? Since then, the labor-force par­ti­cip­a­tion rate—as it's called in wonkspeak—has been on a gradu­al de­cline. A dec­ade from now, it will prob­ably be even lower than it is now. "As the pop­u­la­tion ages, people are reach­ing the time when you would ex­pect some of them to re­tire," says Paul Ash­worth, the chief U.S. eco­nom­ist for re­search firm Cap­it­al Eco­nom­ics.
The idea of miss­ing work­ers took hold last month when the March jobs re­port showed that 496,000 people left the job mar­ket, even as the un­em­ploy­ment rate re­mained high but steady at 7.6 per­cent. Eco­nom­ists have not yet done any pre­cise cal­cu­la­tions on the way miss­ing work­ers hinder fu­ture eco­nom­ic growth, such as a po­ten­tial knock to gross do­mest­ic product. An­ec­dot­ally, re­search­ers such as Shi­er­holz ar­gue that people who drop out of the work­force in­ev­it­ably are less pro­duct­ive and less likely to max­im­ize their earn­ing po­ten­tial over their life­times.
The miss­ing-work­er concept also has policy im­plic­a­tions for the Fed­er­al Re­serve Board as it tries to man­age the jobs crisis. If these work­ers flood back in­to the job mar­ket in the com­ing years, it could keep wages stag­nant for a longer peri­od of time. But if they don't, and few­er work­ers are com­pet­ing for po­s­i­tions, then wages may rise. "To be hon­est, the Fed doesn't know this yet either. The acid test in this cyc­lic­al-versus-struc­tur­al de­bate is what hap­pens with wage growth," Ash­worth says.
None of this even touches on the budget im­plic­a­tions. People who do not work of­ten lean much more heav­ily on gov­ern­ment ser­vices. The num­ber of Amer­ic­ans col­lect­ing food stamps has in­creased 70 per­cent since the be­gin­ning of the Great Re­ces­sion, hit­ting a re­cord 47.8 mil­lion people last Decem­ber and show­ing few signs of abat­ing. A sim­il­ar spike has oc­curred in en­roll­ments for So­cial Se­cur­ity dis­ab­il­ity pay­ments.
Tax col­lec­tion also took a hit dur­ing the re­ces­sion. In­di­vidu­al in­come-tax re­ceipts fell from $1.1 tril­lion in 2007 to about $898 bil­lion in 2010. That rev­en­ue is start­ing to creep up again and should ex­ceed 2007 levels be­cause of the re­cov­er­ing eco­nomy and the fisc­al-cliff deal that raised in­come-tax rates for the wealthy. Ima­gine how much fur­ther tax re­ceipts would in­crease if more people held jobs.
That's really the crux of the de­bate for polit­ic­al lead­ers and poli­cy­makers. If no one at­tacks the jobs crisis with gusto and ad­dresses the is­sue of the long-term un­em­ployed and the miss­ing work­ers, Wash­ing­ton is es­sen­tially con­sign­ing people to rely on gov­ern­ment be­ne­fits, and the fed­er­al budget will carry the bur­den.
This scen­ario hints at the real un­der­ly­ing ques­tion. How do we want to pay for the prob­lem of people drop­ping out of the labor force—through policies that spur job growth or through in­creased gov­ern­ment be­ne­fits?