April 10, 2014, 1:27 p.m.
South Bend Tribune's Wal­or­ski writes, state Rep. Jack­ie Wal­or­ski (R) vs. Rep. Joe Don­nelly (D): "That's the race" the NR­CC wants in '10. The cmte "tried un­suc­cess­fully" to con­vince her to run in '08, but will she run this time? Wal­or­ski doesn't say yes, "but she doesn't say no, either.
If Wal­or­ski runs, she'll at­tack Don­nelly's "mod­er­ate im­age," hit­ting at the Dem la­bel and against what she calls "the ex­plo­sion of the size of gov­ern­ment" and "so­cial­ized medi­cine." Wal­or­ski: "I am pas­sion­ate about it." She's "so pas­sion­ate" that she's traveled around IN as a speak­er for the con­ser­vat­ive "Amer­ic­ans for Prosper­ity," de­noun­cing Pres. Obama's health care re­form pro­pos­als as a "so­cial­ist scheme."
She says calls from the NR­CC and oth­er GOP­ers have been "nev­er end­ing" for three years. When she told them she wouldn't run — and neither would" Mis­hawaka May­or Jeff Rea (R) — the nod went to a "polit­ic­al un­known." Rea, "ap­proached again" by GOP­ers, again said "no" and came close to say­ing "nev­er" of any de­sire to go to DC. What if Wal­or­ski says "no" again? '04/'06/'08 can­did­ate Tony Zirkle (R) could run, and "at least one oth­er pro­spect talked" with leadres this year. But the NR­CC "wants" Wal­or­ski."
She says the way she's been "cri­ti­cized" on blogs "that tend not to agree" with her views is an in­dic­a­tion that some Dems "think she will run." She men­tioned the Huff­ing­ton Post, where she once was de­nounced as "Wacky Jack­ie." Her Face­book page lists that she's a fan of FNC's Glenn Beck — "which tells something about her polit­ic­al philo­sophy" — and of the NR­CC, which could tell something about wheth­er their de­sire for her as a can­did­ate "will or won't be un­re­quited" (9/27).
What We're Following See More »
NEVER TRUMP
USA Today Weighs in on Presidential Race for First Time Ever
11 hours ago
THE DETAILS
"By all means vote, just not for Donald Trump." That's the message from USA Today editors, who are making the first recommendation on a presidential race in the paper's 34-year history. It's not exactly an endorsement; they make clear that the editorial board "does not have a consensus for a Clinton endorsement." But they state flatly that Donald Trump is, by "unanimous consensus of the editorial board, unfit for the presidency."
COMMISSIONERS NEED TO DELIBERATE MORE
FCC Pushes Vote on Set-Top Boxes
11 hours ago
THE LATEST
"Federal regulators on Thursday delayed a vote on a proposal to reshape the television market by freeing consumers from cable box rentals, putting into doubt a plan that has pitted technology companies against cable television providers. ... The proposal will still be considered for a future vote. But Tom Wheeler, chairman of the F.C.C., said commissioners needed more discussions."
UNTIL DEC. 9, ANYWAY
Obama Signs Bill to Fund Government
16 hours ago
IT'S ALL CLINTON
Reliable Poll Data Coming in RE: Debate #1
18 hours ago
WHY WE CARE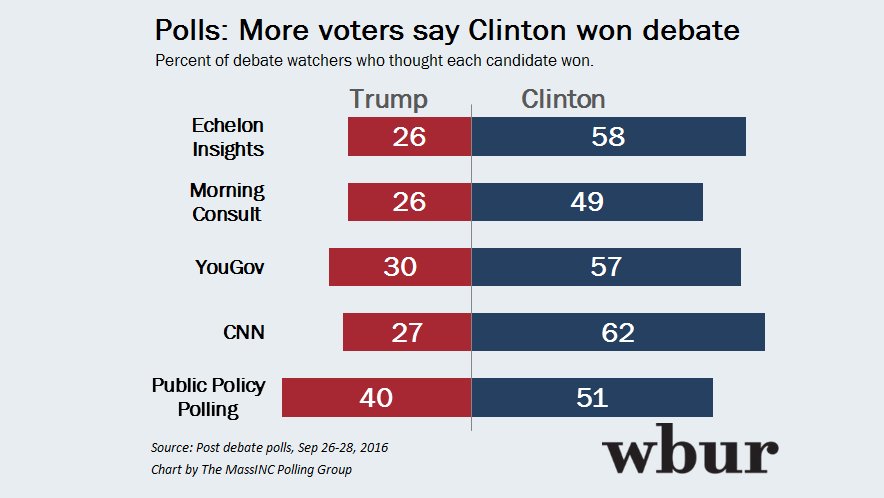 WHAT WILL PASS?
McConnell Doubts Criminal Justice Reform Can Pass This Year
20 hours ago