April 21, 2014, 4:03 p.m.
For years, men­tions of Earth Day have sprung up each April from mem­bers of both parties. In April 2010, Demo­crats spoke of Earth Day over 150 times, mostly in com­mem­or­a­tion of its 40th an­niversary. But no Re­pub­lic­an has uttered the words "Earth Day" on the House or Sen­ate floor since 2010.
The last to do so was Sen. Lamar Al­ex­an­der of Ten­ness­ee, in sup­port of ex­pand­ing nuc­le­ar-power gen­er­a­tion. "Forty years ago, at the time of the first Earth Day, Amer­ic­ans be­came deeply wor­ried about air and wa­ter pol­lu­tion and a pop­u­la­tion ex­plo­sion that threatened to over­run the plan­et's re­sources," reads Al­ex­an­der's speech. "Nuc­le­ar power was seen as a sa­vior to these en­vir­on­ment­al di­lem­mas." Eight months later, the melt­down of the Fukushi­ma Daii­chi nuc­le­ar power plant in densely pop­u­lated, nuc­le­ar-de­pend­ent Ja­pan would set off a new wave of en­vir­on­ment­al di­lem­mas.
What ex­plains the ap­par­ent Re­pub­lic­an aver­sion to talk­ing about Earth Day, and Demo­crats' eager­ness to do so? For one thing, Earth Day was foun­ded 44 years ago by a Demo­crat­ic sen­at­or, Gaylord Nel­son of Wis­con­sin. An­oth­er reas­on is the in­creas­ing po­lar­iz­a­tion of Con­gress. As re­cently as 2000, Re­pub­lic­an Rep. Ben­jamin Gil­man of New York took to the House floor to say, "From com­bat­ing glob­al cli­mate change to pro­tect­ing threatened spe­cies to provid­ing clean wa­ter, we have a duty to act loc­ally and glob­ally to pro­tect the en­vir­on­ment for our present and fu­ture gen­er­a­tions." Con­gres­sion­al Re­pub­lic­ans like Gil­man were rare in the 1990s, but they are seem­ingly ex­tinct today, as over 40 years of vote scores from the League of Con­ser­va­tion Voters shows.
Since Earth Day was first cel­eb­rated in 1970, the League of Con­ser­va­tion Voters has been scor­ing the votes of mem­bers of Con­gress on en­vir­on­ment­al mat­ters. Over the past 40 years, mem­bers have be­come in­creas­ingly con­cen­trated in­to two camps: high-scor­ing Demo­crats and low-scor­ing Re­pub­lic­ans. But it was not al­ways so.
In 1971, only about a third of all House mem­bers re­ceived scores less than 20 or great­er than 80 on the LCV's 100-point scale. The oth­er two-thirds fell in between those two poles. But last year, 82 per­cent of mem­bers re­ceived high or low scores. The middle ground, in the past oc­cu­pied largely by mod­er­ate Re­pub­lic­ans and con­ser­vat­ive Demo­crats, has mostly dis­ap­peared, a phe­nomen­on that Na­tion­al Journ­al's own vote rat­ings also il­lus­trate.
With­in each party, the shifts to the ends of the spec­trum have been dra­mat­ic. In 1971, only 17 per­cent of House Demo­crats re­ceived LCV scores high­er than 80; in 2013, 83 per­cent scored 80 or high­er. Re­pub­lic­ans have moved in the op­pos­ite dir­ec­tion. In 1971, just 16 per­cent of House Re­pub­lic­ans re­ceived scores be­low 20; in 2013, vir­tu­ally the en­tire House Re­pub­lic­an Con­fer­ence—97 per­cent—re­ceived LCV scores be­low 20, and most of those Re­pub­lic­ans re­ceived scores be­low 10. No won­der, then, that House and Sen­ate Re­pub­lic­ans don't talk much about Earth Day any­more.
LCV En­vir­on­ment­al Score­card by Party
1971-2013
What We're Following See More »
SAUDI ARABIA BILL
Veto Override Scheduled for Wednesday in Senate
14 minutes ago
THE LATEST
Senate Majority Leader Mitch McConnell said this afternoon that the Senate on Wednesday will take up an override of President Obama's veto of legislation that would allow the families of 9/11 victims to sue the government of Saudi Arabia. "The vote is expected garner the two-thirds majority necessary to override the veto."
MEDIA SHOULD HOLD TRUMP RESPONSIBLE
Reid Devotes Senate Floor Speech to Trump's 'Racism'
58 minutes ago
THE LATEST
"Donald Trump is a racist," announced Senate Minority Leader Harry Reid from the Senate floor this afternoon. Reid said all of us are occasionally politically incorrect, but "I don't know of anyone that when that happens doesn't acknowledge it and, if necessary, apologize quickly." But Trump, he added, says things with "full intent to demean and to denigrate." Reid argued that the media isn't holding Trump to account, and should explicitly call him a racist.
ABSENT FROM LIST: GENNIFER FLOWERS
Most Trump Guests Have Military Ties
4 hours ago
TOP OF MIND
Trending on Google: 'Why Should Trump Not Be President'
4 hours ago
THE DETAILS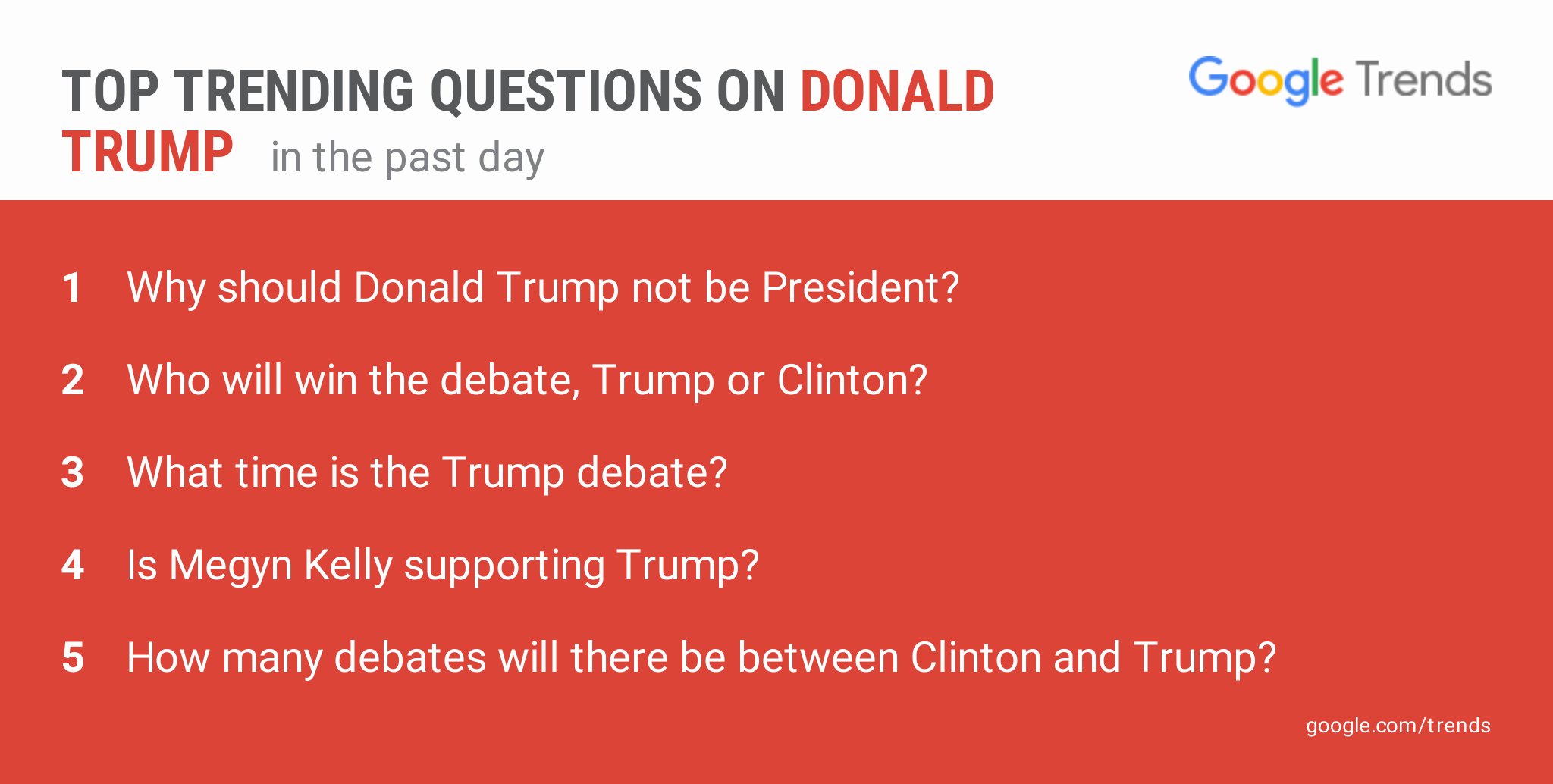 WHO PLAYED THE DONALD?
Longtime Clinton Aide Played Trump in Mock Debates
7 hours ago
THE DETAILS
After keeping the information private for most of the lead-up to the debate on Monday, it has been revealed that longtime Clinton aide Philippe Reines has been playing the role of Donald Trump in her debate prep. Reines knows Clinton better than most, able to identify both her strengths and weaknesses, and his selection for a sparring partner shows that Clinton is preparing for the brash and confrontational Donald Trump many have come to expect.