Add to Briefcase
Aug. 24, 2015, 3 a.m.
Will he or won't he? And if he does, does he have a chance? As Vice Pres­id­ent Joe Biden de­cides wheth­er or not to of­fi­cially enter the 2016 pres­id­en­tial race, Na­tion­al Journ­al took a look at past veeps who ran for pres­id­ent and their suc­cess rates. What can these past VPs move­ments to­ward the pres­id­ency tell us?
There have been 47 U.S. vice pres­id­ents, 14 of whom even­tu­ally be­came pres­id­ent. Nine suc­ceeded upon the death or resig­na­tion of a pres­id­ent.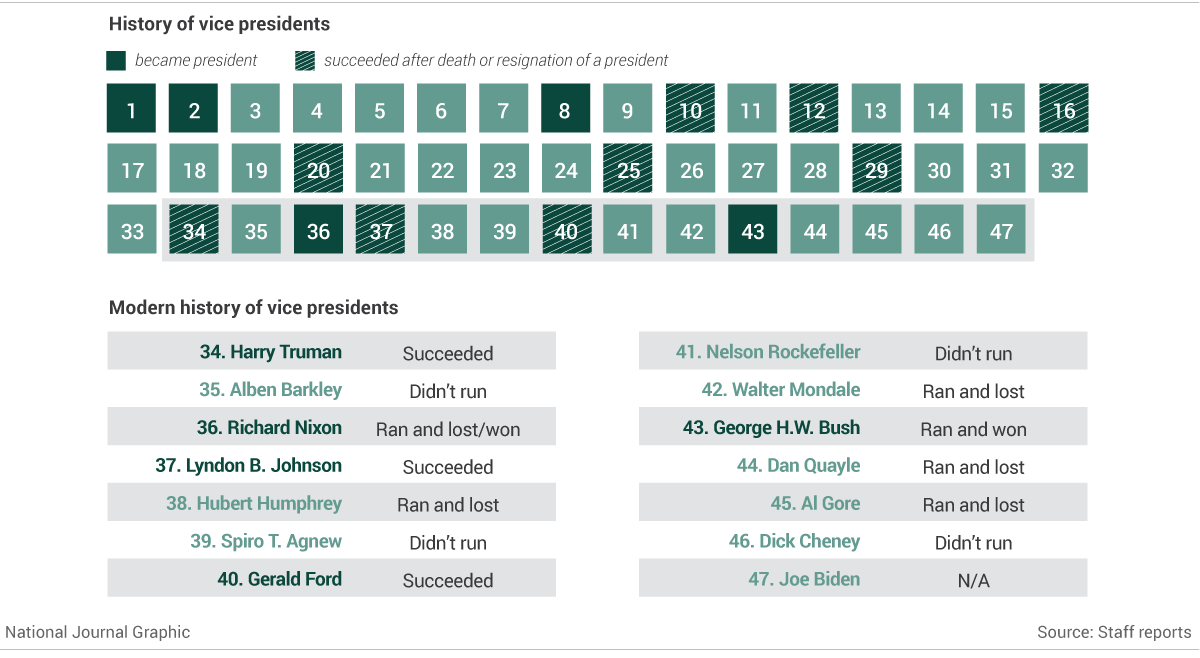 Since 1960, six cur­rent or former vice pres­id­ents have run for pres­id­ent. But only two have won—Richard Nix­on in 1968 and George H.W. Bush in 1988. With that re­cord, veeps have had a suc­cess rate of only 28.5 per­cent in win­ning the Oval Of­fice. (Nix­on ran twice—he lost the first time, but won the second time around.)
Of these, H.W. Bush was the only sit­ting vice pres­id­ent to win a pres­id­en­tial elec­tion—and he had a fa­vor­ab­il­ity rat­ing of 48 per­cent at the end of his time as veep. However, as a pres­id­ent-elect at the be­gin­ning of 1989, Bush's fa­vor­ab­il­ity rat­ing rose to 70 per­cent. As of Aug. 9, Biden holds a 47 per­cent ap­prov­al rat­ing, ac­cord­ing to Gal­lup.

With those num­bers it might not seem likely that Biden could pull it off; however, ac­cord­ing to a re­cent Quin­nipi­ac Uni­versity poll, Biden is polling just as high or high­er than Hil­lary Clin­ton in primary states for "be­ing hon­est and trust­worthy"—sug­gest­ing the vice pres­id­ent could be a le­git­im­ate threat to the Demo­crat­ic Party's front-run­ner.
Earli­er this month, The New York Times re­por­ted that sources close to Biden and his as­so­ci­ates say the VP is act­ively ex­plor­ing a pos­sible pres­id­en­tial can­did­acy. Some think that if Biden were to de­clare, the an­nounce­ment would come as early as next week.
The Rop­er Cen­ter at the Uni­versity of Con­necti­c­ut provided the his­tor­ic fa­vor­ab­il­ity rat­ings.