A press call from Sen. Thad Co­chran's (R) cam­paign dis­solved in­to chaos Wed­nes­day when the pass­word and con­fer­ence num­ber were shared pub­licly on Twit­ter by a loc­al blog­ger.
Co­chran cam­paign ad­viser Aus­tin Bar­bour can­celled the call about 10 minutes in after a caller kept in­ter­rupt­ing to ask why Co­chran was "har­vest­ing black votes like black people har­vest­ing cot­ton." After sev­er­al re­quests to hold ques­tions for the end, Bar­bour an­nounced that na­tion­al me­dia was wel­come to call with any ques­tions, but he could no longer go on.
The un­muted callers quickly dove in­to a rant, with many claim­ing to be state Sen. Chris McDaniel (R) sup­port­ers. More callers con­tin­ued to join for the next 45 minutes, even after a sev­er­al people sug­ges­ted that the group was do­ing McDaniel no fa­vors.
Co­chran spokes­man Jordan Rus­sell tweeted after the call: "The plus side of that epis­ode is now the na­tion­al me­dia sees what type of people we have to deal with day to day." (Hot­line re­port­ing)
RE­COUNT: Be­fore end­ing the call, Bar­bour said the Co­chran cam­paign was dis­put­ing the McDaniel cam­paign's "in­val­id vote" count, which now ranges in the thou­sands. Bar­bour said their op­pon­ents were re­port­ing hun­dreds of du­plic­ate votes from Demo­crats who had already voted in the primary, many of which came from pre­cincts with single or double di­git vote counts in the first elec­tion.
MONEY: The FEC is re­quest­ing more in­form­a­tion from the pro-Co­chran Su­per PAC Mis­sis­sippi Con­ser­vat­ives, be­cause of what ap­pears to be cam­paign fin­ance vi­ol­a­tions.
"The FEC let­ter states the com­mit­tee may have failed to file one or more of the re­quired 24-hour re­port(s) re­gard­ing 'last minute' in­de­pend­ent ex­pendit­ures. Spe­cific­ally, the com­mit­tee did not file a 24-hour re­port for a $15,000 pay­ment on May 30th to Scott How­ell & Com­pany as an in­de­pend­ent ex­pendit­ures against Chris McDaniel." (Roll Call)
FIGHT­ING WORDS: A source on the Co­chran cam­paign called McDaniel a "clin­ic­ally dia­gnos­able nar­ciss­ist," "the sorest loser I've ever seen," and "ba­sic­ally Joel Os­teen."
The com­ments came as McDaniel sent an email ask­ing for dona­tions to as­sist him with his chal­lenge ef­forts, sug­gest­ing Co­chran "stole" the elec­tion. (Busi­ness In­sider)
What We're Following See More »
NEVER TRUMP
USA Today Weighs in on Presidential Race for First Time Ever
12 hours ago
THE DETAILS
"By all means vote, just not for Donald Trump." That's the message from USA Today editors, who are making the first recommendation on a presidential race in the paper's 34-year history. It's not exactly an endorsement; they make clear that the editorial board "does not have a consensus for a Clinton endorsement." But they state flatly that Donald Trump is, by "unanimous consensus of the editorial board, unfit for the presidency."
UNTIL DEC. 9, ANYWAY
Obama Signs Bill to Fund Government
18 hours ago
IT'S ALL CLINTON
Reliable Poll Data Coming in RE: Debate #1
20 hours ago
WHY WE CARE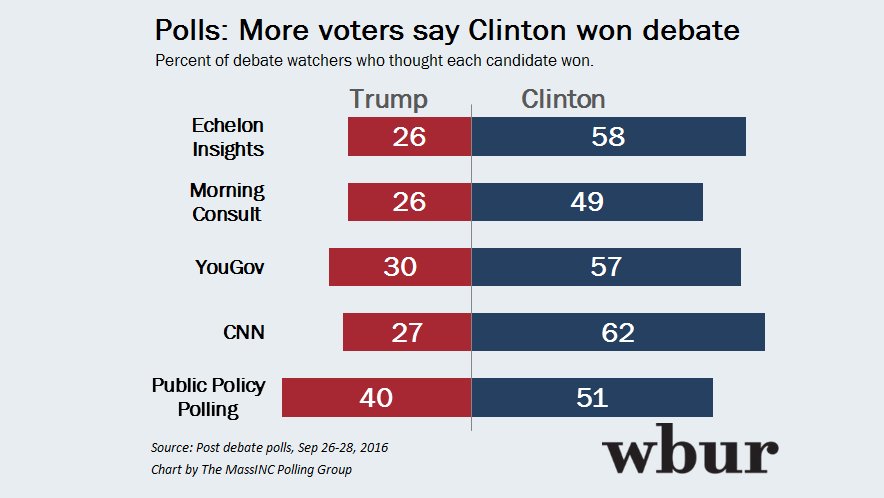 WHAT WILL PASS?
McConnell Doubts Criminal Justice Reform Can Pass This Year
22 hours ago
ALSO FIRED UNATTRACTIVE WAITRESSES
Trump Did Business with Cuba
23 hours ago
THE LATEST
Today in bad news for Donald Trump:
Newsweek found that a company he controlled did business with Cuba under Fidel Castro "despite strict American trade bans that made such undertakings illegal, according to interviews with former Trump executives, internal company records and court filings." In 1998, he spent at least $68,000 there, which was funneled through a consluting company "to make it appear legal."
The Los Angeles Times reports that at a golf club he owns in California, Trump ordered that unattractive female staff be fired and replaced with prettier women.