Ex­perts see in­dic­a­tions of pos­sible North Korean activ­ity at a mys­ter­i­ous mil­it­ary site in My­an­mar that, by some ac­counts, may be linked to chem­ic­al arms.
The Burmese gov­ern­ment last week sen­tenced five loc­al journ­al­ists to a dec­ade of hard labor after they were de­clared guilty of air­ing state secrets with their early 2014 re­port about a secret mil­it­ary fa­cil­ity in the cent­ral Mag­we re­gion. The in­vest­ig­at­ive re­port in the now-de­funct Unity journ­al said the com­plex was man­u­fac­tur­ing chem­ic­al-war­fare ma­ter­i­als.
While ex­pert opin­ion is di­vided about wheth­er the plant is pro­du­cing chem­ic­al weapons, some spe­cial­ists be­lieve it likely that North Korea is in­volved in some ca­pa­city, the Bangkok Post re­por­ted on Sunday.
"It's not a chem­ic­al weapons fact­ory, but re­portedly a fact­ory where they pro­duce alu­min­um cas­ing for mis­siles, and 'the Chinese tech­ni­cians' they men­tion in the [Unity] art­icle are most likely North Koreans," said long­time journ­al­ist Ber­til Lint­ner, who has re­por­ted ex­tens­ively on North Korea.
Jef­frey Lewis, an East Asia non­pro­lif­er­a­tion ex­pert who has co-writ­ten about the chem­ic­al weapon pos­sib­il­it­ies of the mil­it­ary site, told the Post he was par­tic­u­larly in­trigued by de­tec­ted evid­ence of for­eign work­ers.  "[The Burmese Dir­ect­or­ate of De­fense In­dus­tries] has been sanc­tioned for deal­ing with North Korea, and this site ap­pears sim­il­ar to an­oth­er loc­a­tion near Minbu where North Koreans are be­lieved to live and work," Lewis said.
"Work­ing from satel­lite im­ages, it would ap­pear that DDI's activ­it­ies are ex­pand­ing, not con­tract­ing, des­pite prom­ises to stop any il­li­cit pro­grams and co­oper­a­tion with North Korea," said Lewis, who dir­ects the James Mar­tin Cen­ter for Non­pro­lif­er­a­tion Stud­ies' East Asia Non­pro­lif­er­a­tion Pro­gram.
Dan Kasz­eta, a former U.S. Army chem­ic­al weapons of­ficer, said if My­an­mar were pro­du­cing chem­ic­al arms, it likely would have a de­veloped a test­ing and train­ing pro­gram for their use — something not yet in evid­ence.
"A strong in­dic­at­or is some kind of test­ing re­gime to see if weapons ac­tu­ally work," Kasz­eta said. "It seems un­likely that a coun­try would go to the massive ef­fort of mak­ing chem­ic­al weapons without see­ing wheth­er their chosen de­liv­ery mech­an­isms work."
My­an­mar has signed but not yet rat­i­fied the Chem­ic­al Weapons Con­ven­tion.
What We're Following See More »
SAUDI ARABIA BILL
Veto Override Scheduled for Wednesday in Senate
9 minutes ago
THE LATEST
Senate Majority Leader Mitch McConnell said this afternoon that the Senate on Wednesday will take up an override of President Obama's veto of legislation that would allow the families of 9/11 victims to sue the government of Saudi Arabia. "The vote is expected garner the two-thirds majority necessary to override the veto."
MEDIA SHOULD HOLD TRUMP RESPONSIBLE
Reid Devotes Senate Floor Speech to Trump's 'Racism'
53 minutes ago
THE LATEST
"Donald Trump is a racist," announced Senate Minority Leader Harry Reid from the Senate floor this afternoon. Reid said all of us are occasionally politically incorrect, but "I don't know of anyone that when that happens doesn't acknowledge it and, if necessary, apologize quickly." But Trump, he added, says things with "full intent to demean and to denigrate." Reid argued that the media isn't holding Trump to account, and should explicitly call him a racist.
ABSENT FROM LIST: GENNIFER FLOWERS
Most Trump Guests Have Military Ties
4 hours ago
TOP OF MIND
Trending on Google: 'Why Should Trump Not Be President'
4 hours ago
THE DETAILS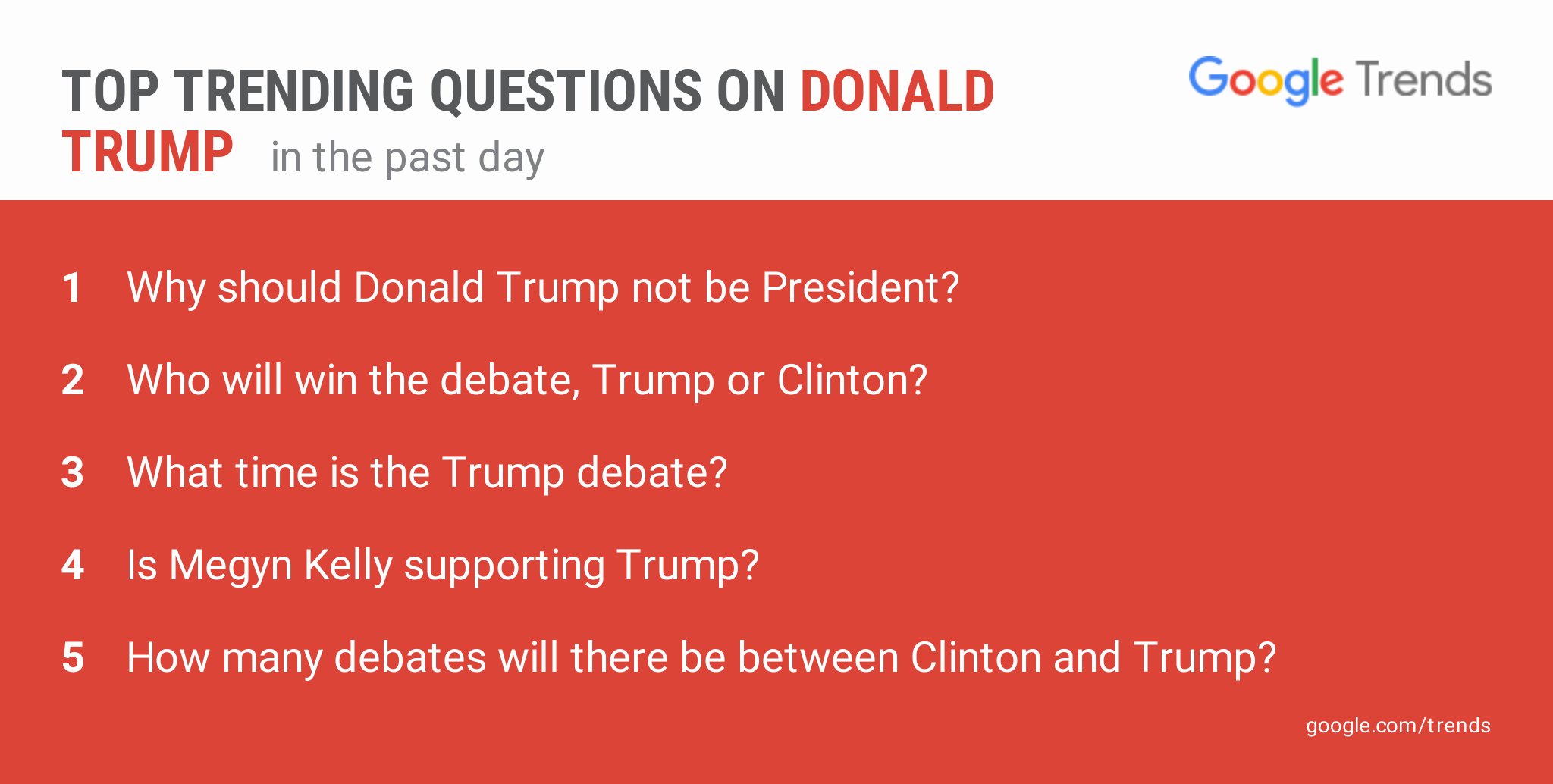 WHO PLAYED THE DONALD?
Longtime Clinton Aide Played Trump in Mock Debates
6 hours ago
THE DETAILS
After keeping the information private for most of the lead-up to the debate on Monday, it has been revealed that longtime Clinton aide Philippe Reines has been playing the role of Donald Trump in her debate prep. Reines knows Clinton better than most, able to identify both her strengths and weaknesses, and his selection for a sparring partner shows that Clinton is preparing for the brash and confrontational Donald Trump many have come to expect.