July 18, 2014, 10:14 a.m.
The In­teri­or De­part­ment said Fri­day that it will al­low com­pan­ies to use seis­mic air guns and oth­er meth­ods to gauge oil-and-gas re­sources un­der­ly­ing At­lantic Coast wa­ters.
The de­part­ment's Bur­eau of Ocean En­ergy Man­age­ment fi­nal­ized a plan that lays out a series of en­vir­on­ment­al re­stric­tions—aimed at pro­tect­ing mar­ine life, such as whales, dol­phins, and sea turtles—for com­pan­ies seek­ing to look for oil in mid- and South At­lantic wa­ters. A num­ber of com­pan­ies have ap­plied for per­mits for test­ing that would up­date old es­tim­ates of oil and gas un­der­ly­ing the wa­ters that have long been off-lim­its to drilling.
The plan is a blow to en­vir­on­ment­al­ists who say that the un­der­wa­ter blasts will wreak hav­oc. "Im­pacts to mar­ine mam­mals could in­clude everything from tem­por­ary or per­man­ent hear­ing loss, to dis­rup­tion of vi­tal be­ha­vi­ors like com­mu­nic­at­ing, feed­ing, mat­ing, calv­ing, and mi­grat­ing, [as well as] mask­ing of bio­lo­gic­ally im­port­ant sounds," said Claire Dou­glass of the group Oceana.
In­teri­or's Bur­eau of Ocean En­ergy Man­age­ment de­fen­ded the seis­mic-test­ing de­cision, and a seni­or of­fi­cial said test­ing may be­gin as soon as early next year. Fri­day's de­cision doesn't ap­prove any per­mits but rather sets out a frame­work for how In­teri­or will gov­ern the pro­cess.
"The [Bur­eau of Ocean En­ergy Man­age­ment] de­cision re­flects a care­fully ana­lyzed and bal­anced ap­proach that will al­low us to in­crease our un­der­stand­ing of po­ten­tial off­shore re­sources while pro­tect­ing the hu­man, mar­ine, and coastal en­vir­on­ments," said Wal­ter D. Cruick­shank, act­ing head of the agency.
Op­pon­ents of oil-and-gas de­vel­op­ment fear that the plan is a step to­ward al­low­ing com­pan­ies to start drilling off the At­lantic Coast.
Sen. Bill Nel­son, a Flor­ida Demo­crat, said he's pre­par­ing a let­ter to the White House with some oth­er Flor­ida law­makers that calls the seis­mic test­ing plan "the first ma­jor step to­ward open­ing the At­lantic Ocean to off­shore drilling." The let­ter also calls the test­ing dan­ger­ous to mar­ine mam­mals and fish­er­ies. Demo­crat­ic Sen. Ed­ward Mar­key of Mas­sachu­setts had a sim­il­ar re­ac­tion.
But while the frame­work an­nounced Fri­day paves the way for new test­ing, Cruick­shank in­sisted that it does not tele­graph a fu­ture de­cision to open up the At­lantic Coast to drilling. In­teri­or is in the early stages of craft­ing its 2017-22 off­shore lease sale plan.
In 2010 Pres­id­ent Obama an­nounced plans to lease drilling blocs off the mid- and South At­lantic coast in the 2012-17 off­shore pro­gram, but backed off after the BP oil spill. The oil in­dustry is lob­by­ing for ac­cess to the re­gion in the 2017-22 plan that's un­der de­vel­op­ment.
Oil-in­dustry groups wel­come the chance to con­duct seis­mic test­ing but said they fear the pro­cess will be too re­strict­ive. "We re­main con­cerned this pro­cess will be hindered by un­ne­ces­sary hurdles lack­ing sci­entif­ic jus­ti­fic­a­tion," said Jeff Vorber­ger, a seni­or of­fi­cial with the Na­tion­al Ocean In­dus­tries As­so­ci­ation.
What We're Following See More »
SAUDI ARABIA BILL
Veto Override Scheduled for Wednesday in Senate
4 minutes ago
THE LATEST
Senate Majority Leader Mitch McConnell said this afternoon that the Senate on Wednesday will take up an override of President Obama's veto of legislation that would allow the families of 9/11 victims to sue the government of Saudi Arabia. "The vote is expected garner the two-thirds majority necessary to override the veto."
MEDIA SHOULD HOLD TRUMP RESPONSIBLE
Reid Devotes Senate Floor Speech to Trump's 'Racism'
48 minutes ago
THE LATEST
"Donald Trump is a racist," announced Senate Minority Leader Harry Reid from the Senate floor this afternoon. Reid said all of us are occasionally politically incorrect, but "I don't know of anyone that when that happens doesn't acknowledge it and, if necessary, apologize quickly." But Trump, he added, says things with "full intent to demean and to denigrate." Reid argued that the media isn't holding Trump to account, and should explicitly call him a racist.
ABSENT FROM LIST: GENNIFER FLOWERS
Most Trump Guests Have Military Ties
4 hours ago
TOP OF MIND
Trending on Google: 'Why Should Trump Not Be President'
4 hours ago
THE DETAILS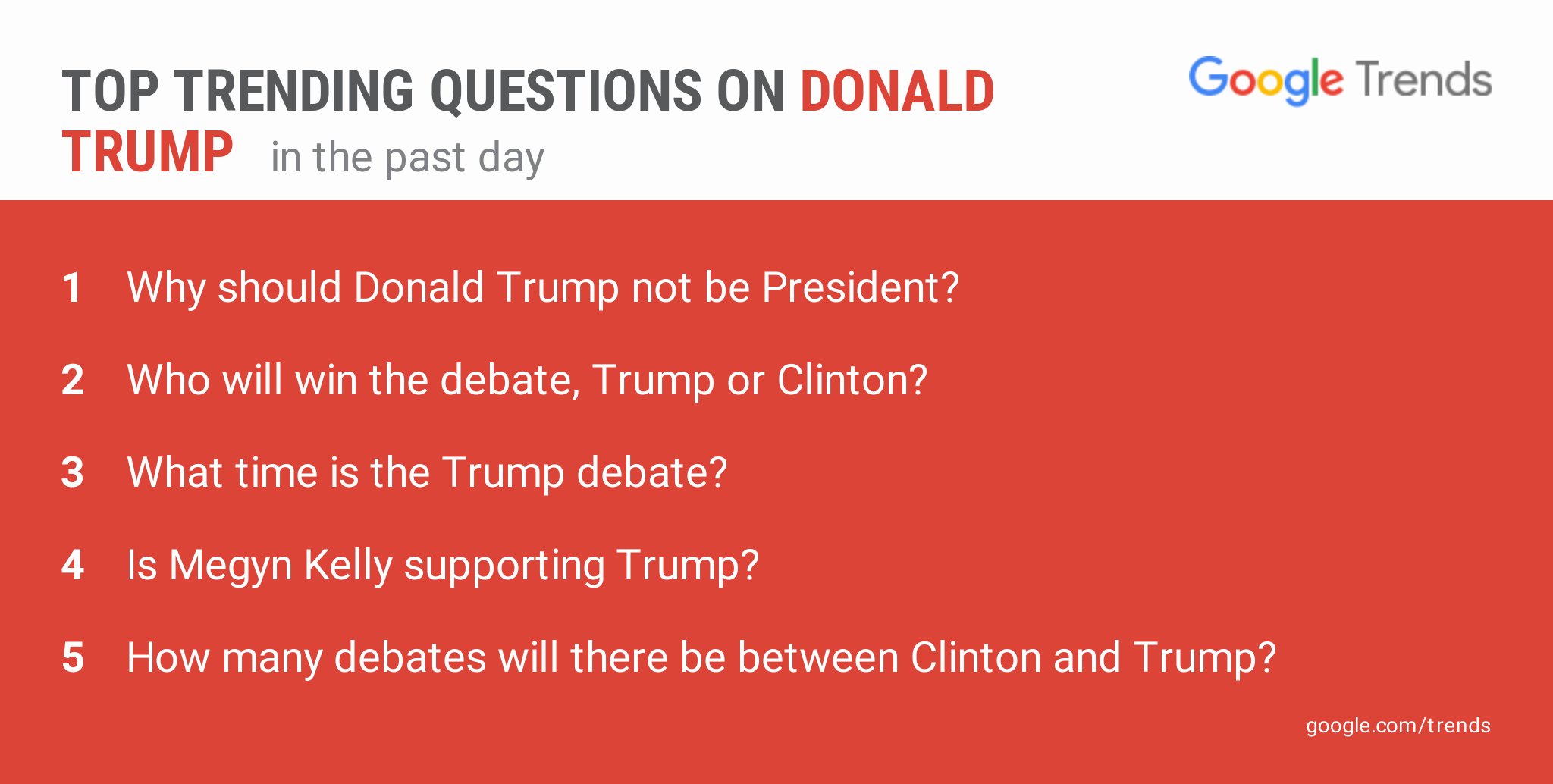 WHO PLAYED THE DONALD?
Longtime Clinton Aide Played Trump in Mock Debates
6 hours ago
THE DETAILS
After keeping the information private for most of the lead-up to the debate on Monday, it has been revealed that longtime Clinton aide Philippe Reines has been playing the role of Donald Trump in her debate prep. Reines knows Clinton better than most, able to identify both her strengths and weaknesses, and his selection for a sparring partner shows that Clinton is preparing for the brash and confrontational Donald Trump many have come to expect.