It's easy for Demo­crats to get ex­cited about Michelle Nunn (D): She raises a lot of money, has a last name fam­ous in Geor­gia, and has had close to a year to build her cam­paign be­fore the gen­er­al elec­tion. But now that Dav­id Per­due (R) has (some­what un­ex­pec­tedly) won the Re­pub­lic­an Party's nom­in­a­tion for Sen­ate, it's time for a real­ity check. Is a Demo­crat really go­ing to win in Geor­gia, and are they really go­ing to do it in 2014? — Demo­crats haven't won a Sen­ate or gubernat­ori­al race in Geor­gia since 2000, when Zell Miller claimed vic­tory. The state's chan­ging demo­graph­ics have nudged it to­ward com­pet­it­ive­ness, but Pres­id­ent Obama lost hand­ily there in 2008 and 2012. We might soon talk about the Peach State as a pres­id­en­tial battle­ground, but it's not quite there yet. — Con­sider, es­pe­cially, that it's a midterm year — when minor­ity par­ti­cip­a­tion drops as a share of the elect­or­ate — in which Obama's ap­prov­al num­bers are dis­mal. A poll com­mis­sioned by Demo­cracy Corps and the Wo­men's Voices Wo­men Vote Ac­tion Fund re­leased Tues­day found that in a dozen pres­id­en­tial battle­grounds (in­clud­ing Geor­gia), the pres­id­ent stood at just 37 per­cent. — Re­pub­lic­ans eye­ing the race be­lieve it will be com­pet­it­ive but are con­fid­ent that Per­due will ul­ti­mately pre­vail. Their big, early gen­er­al elec­tion spend­ing has not yet come to Geor­gia: No ma­jor out­side group like the Cham­ber of Com­merce or Amer­ic­an Cross­roads tar­geted Nunn in TV ads dur­ing the two-month run­off, the per­fect time, in the­ory, to soften her up be­fore the fall. It's a sign Re­pub­lic­ans aren't feel­ing threatened by her, at least not yet. Per­due, a former high-fly­ing CEO who Rep. Jack King­ston (R) knocked for liv­ing in a gated com­munity, will be vul­ner­able to the same play­book Demo­crats so ef­fect­ively ran in 2012 against Mitt Rom­ney, and it would be fool­hardy to write this race off yet. But as this race reaches the gen­er­al elec­tion, it's hard to con­sider Nunn any­thing oth­er than a clear-cut un­der­dog.— Alex Roarty
What We're Following See More »
NEVER TRUMP
USA Today Weighs in on Presidential Race for First Time Ever
12 hours ago
THE DETAILS
"By all means vote, just not for Donald Trump." That's the message from USA Today editors, who are making the first recommendation on a presidential race in the paper's 34-year history. It's not exactly an endorsement; they make clear that the editorial board "does not have a consensus for a Clinton endorsement." But they state flatly that Donald Trump is, by "unanimous consensus of the editorial board, unfit for the presidency."
UNTIL DEC. 9, ANYWAY
Obama Signs Bill to Fund Government
17 hours ago
IT'S ALL CLINTON
Reliable Poll Data Coming in RE: Debate #1
20 hours ago
WHY WE CARE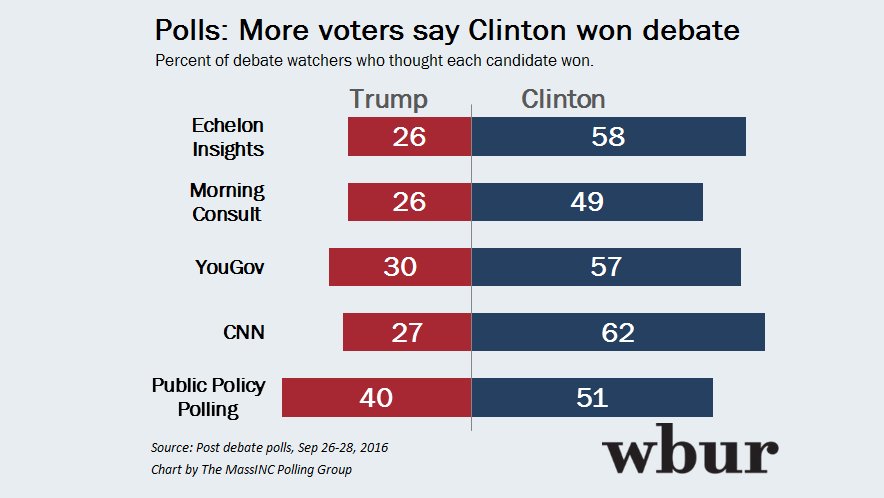 WHAT WILL PASS?
McConnell Doubts Criminal Justice Reform Can Pass This Year
22 hours ago
ALSO FIRED UNATTRACTIVE WAITRESSES
Trump Did Business with Cuba
22 hours ago
THE LATEST
Today in bad news for Donald Trump:
Newsweek found that a company he controlled did business with Cuba under Fidel Castro "despite strict American trade bans that made such undertakings illegal, according to interviews with former Trump executives, internal company records and court filings." In 1998, he spent at least $68,000 there, which was funneled through a consluting company "to make it appear legal."
The Los Angeles Times reports that at a golf club he owns in California, Trump ordered that unattractive female staff be fired and replaced with prettier women.