About three years ago, Con­necti­c­ut changed its ap­proach to pro­mot­ing re­new­able en­ergy: It de­cided to act more like a bank than like a state gov­ern­ment. Gone were many of the sub­sidies that had propped up the re­gion­al clean-en­ergy mar­ket for years. In their place, Con­necti­c­ut of­fi­cials star­ted to lend money to fund com­mer­cially vi­able green pro­jects. The goal was to com­bine pub­lic fin­an­cing with private loans from com­munity banks and oth­er fin­an­cial in­sti­tu­tions to help cre­ate a re­new­able-en­ergy mar­ket­place.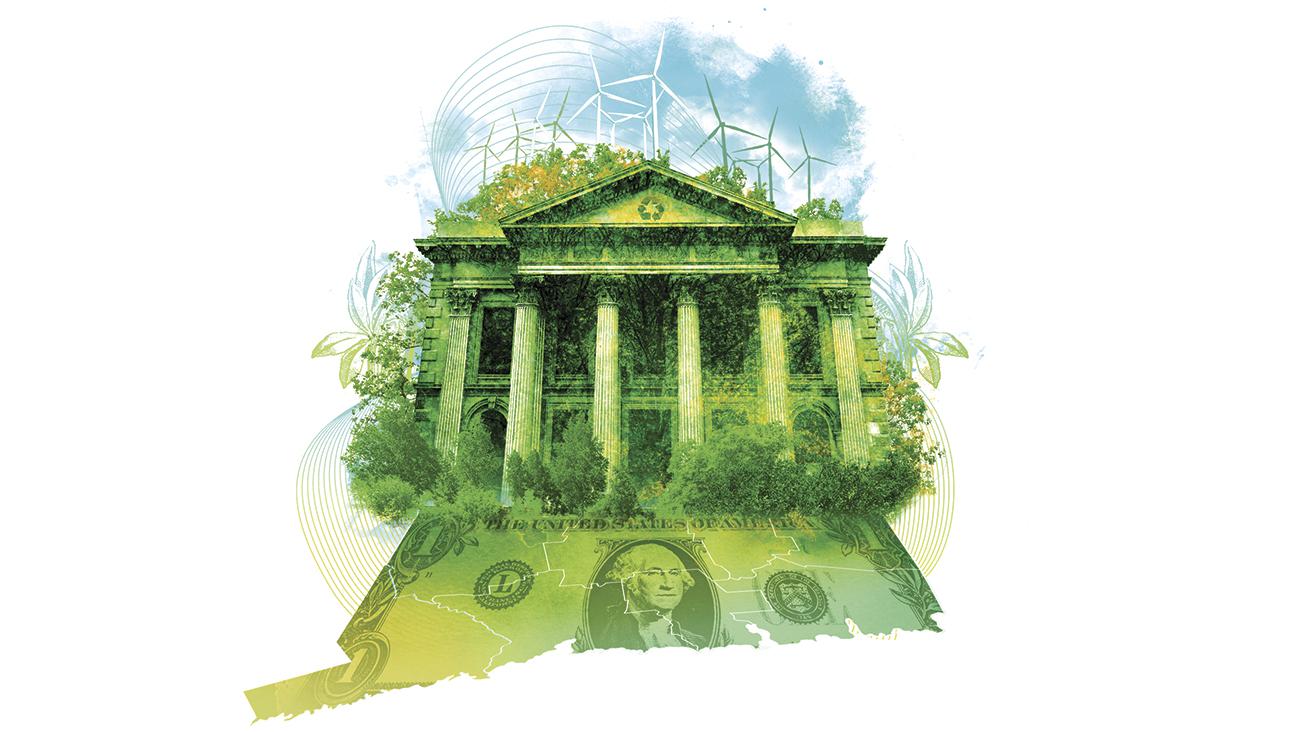 (Andy Potts)This marks a shift in the ar­gu­ment for clean en­ergy from a mor­al to a cap­it­al­ist one. "Con­necti­c­ut is try­ing to demon­strate that clean en­ergy is an arena where money can be made," says Daniel Esty, the former com­mis­sion­er of the Con­necti­c­ut De­part­ment of En­ergy and En­vir­on­ment­al Pro­tec­tion and a pro­fess­or at Yale Law School. "It's not just a story about clean en­ergy. It's a story about cheap­er, clean­er en­ergy, and that has much broad­er ap­peal."
Among the en­ter­prises that the green bank has fun­ded thus far is a 15-mega­watt fuel-cell pro­ject in the aging in­dus­tri­al city of Bridge­port, built on the site of an old brown­field. The bank pumped roughly $6 mil­lion of state money in­to the $67 mil­lion en­deavor; over the course of the 12-year-loan, it ex­pects to earn al­most $1.5 mil­lion in in­terest.
Mean­while, oth­er states are fol­low­ing suit. New York star­ted its own green bank in Decem­ber 2013 and is now eval­u­at­ing vari­ous pro­pos­als to fund. Of­fi­cials in Cali­for­nia, Hawaii, and New Jer­sey have plans to cre­ate en­tit­ies sim­il­ar to green banks.
In 2012, Reed Hun­dt — a former Clin­ton ad­min­is­tra­tion of­fi­cial and one­time Obama ad­viser — foun­ded the Co­ali­tion for Green Cap­it­al, a D.C.-based non­profit that of­fers free con­sult­ing ser­vices for states in­ter­ested in learn­ing more about the green-bank phe­nomen­on. Hun­dt be­lieves the best path for re­new­able-en­ergy in­nov­a­tion and fin­an­cing lies out­side the para­lys­is of Wash­ing­ton. "En­ergy mar­kets are largely re­gion­al and very loc­al­ized," he says. "Most en­ergy is made and con­sumed with­in a ra­di­us of a few hun­dred miles, so it makes sense to have re­gion­al and loc­al solu­tions."
Hun­dt and oth­er pro­ponents ar­gue that if green banks can help to fund pro­jects that ul­ti­mately cre­ate a com­pet­it­ive mar­ket­place and bring down the cost, then con­sumers will eas­ily move to clean­er forms of en­ergy. "The les­son is that if you ask con­sumers to pay for all of the switch them­selves, then they re­volt," Hun­dt says. "If you say to them, 'You'll have clean­er and cheap­er en­ergy,' then they'll switch."
This ap­proach is not just a blue-state trend. In­creas­ingly, glob­al cor­por­a­tions (even ones not typ­ic­ally thought of as pro­gress­ive or par­tic­u­larly green) have star­ted to pay at­ten­tion to the risks and costs as­so­ci­ated with cli­mate change. Many of them as­sume that at some point, they will be heav­ily reg­u­lated in their abil­ity to use tra­di­tion­al en­ergy, and so they are look­ing for ways to in­vest in clean en­ergy as a stra­tegic, long-term plan.
The new­ish mar­ket for green bonds — which al­low people to bor­row money, provided it goes to­ward fund­ing en­vir­on­ment­ally friendly and sus­tain­able pro­jects — is a symp­tom of this trend. In 2013, the green bond mar­ket stood at $11 bil­lion; Stand­ard & Poor's es­tim­ates it could in­crease to $40 bil­lion or $50 bil­lion in 2014. And glob­al in­vestors took note this year when the French power com­pany GDF Suez is­sued a $3.4 bil­lion green bond, one of the largest bonds of this type to date. Of course, the green bond mar­ket is still tiny com­pared with the over­all glob­al bond mar­ket of roughly $90 tril­lion, but it shows the strong growth of an en­tirely new type of as­set class built around ac­know­ledging and tack­ling cli­mate-change solu­tions.
The takeaway from all of this green-en­ergy fin­an­cing? Wash­ing­ton may be stuck ar­guing over the very ex­ist­ence of cli­mate change, but plenty of oth­er act­ors — states, loc­al gov­ern­ments, and glob­al fin­an­cial mar­kets, which are not typ­ic­ally fa­mil­i­ar bed­fel­lows — are for­ging ahead.