July 30, 2014, 12:02 p.m.
House Ma­jor­ity PAC is call­ing foul on the Koch broth­ers in an­oth­er con­gres­sion­al race this week. But the Demo­crat­ic su­per PAC isn't us­ing the con­ser­vat­ive busi­ness­men in a TV ad this time—it's al­leging that the broth­ers' al­lies are help­ing stifle HMP's oth­er ad­vert­ising.
The Demo­crat­ic group's latest TV ad was taken off the air by two Min­nesota TV sta­tions that called the ad mis­lead­ing be­cause it spliced to­geth­er parts of a quote from Re­pub­lic­an busi­ness­man Stew­art Mills say­ing it is "per­son­ally of­fens­ive" to cri­ti­cize the wealthy for not pay­ing high­er taxes. The ad also said Mills sup­por­ted "an­oth­er tax break for the wealthy" without any cita­tion. Mills is chal­len­ging Demo­crat­ic Rep. Rick No­lan.
But House Ma­jor­ity PAC and the Amer­ic­an Fed­er­a­tion of State, County, and Mu­ni­cip­al Em­ploy­ees, which also paid to run the ad, ques­tioned wheth­er the de­cision was tied to the polit­ic­al be­liefs of the sta­tions' own­er, Stan­ley Hub­bard, a ma­jor Re­pub­lic­an donor. Hub­bard has a long his­tory of sup­port­ing con­ser­vat­ive causes and pledged in a let­ter to the Kochs that they could "count on me, my wife, and our fam­ily to stand foursquare with your on­go­ing ef­forts to pre­serve our unique Amer­ic­an way of life."
"When Hub­bard told the Koch broth­ers, 'You can count on me,' it is now clear what he meant—he will pull the strings ne­ces­sary to see ul­tracon­ser­vat­ive out-of-touch can­did­ates like Stew­art Mills pro­tec­ted on the air," House Ma­jor­ity PAC and AF­SCME said in a joint state­ment.
Ray Mi­ra­bella, dir­ect­or of sales for Hub­bard Broad­cast­ing in the Min­neapol­is-St. Paul area, said Hub­bard him­self was not in­volved in the de­cision to pull the ads, say­ing it was "identic­al to any pro­cess we go through for any ad­vert­ising." Mi­ra­bella said KSTP found the ad to be mis­lead­ing, but House Ma­jor­ity PAC spokes­man Matt Thornton said the mes­sage re­mains the same and that the quote was only ed­ited for time.
In the House Ma­jor­ity PAC ad, Mills was quoted as say­ing: "Folks say­ing that 'the wealthy, the wealthy are not pay­ing their fair share, the 2 per­cent, the 1 per­cent, whatever per­cent you want, is per­son­ally of­fens­ive."
In real­ity, the end of the quote came from a por­tion of Mills's speech in which he said: "To be singled out as a dead­beat is per­son­ally of­fens­ive." Rep­res­ent­at­ives from WDIO, a sep­ar­ate Hub­bard Broad­cast­ing sta­tion that also pulled the ad, did not re­spond to a re­quest for com­ment.
The Koch broth­ers have been widely used bo­gey­men for Demo­crats this year, es­pe­cially House Ma­jor­ity PAC, which cred­its its ad­vert­ising con­nect­ing West Vir­gin­ia Re­pub­lic­an Evan Jen­kins to the Kochs with a spring­time bump in Demo­crat­ic Rep. Nick Ra­hall's polling num­bers.
This is also not the first time House Ma­jor­ity PAC has had an ad taken off air. One of its ads on the race between Rep. Nick Ra­hall and West Vir­gin­ia state Sen. Evan Jen­kins was pulled for two days be­fore be­ing put back on air. The group also ran in­to trouble in Min­nesota last cycle, when an ad against then-Rep. Chip Cravaack was re­portedly taken off air. Oth­er out­side groups have also had ads pulled for al­legedly mis­lead­ing view­ers, while can­did­ates' ads don't face the same con­sequences based on their con­tent.
In Min­nesota, Hub­bard donated the max­im­um of $5,200 to Mills's cam­paign, and two fam­ily mem­bers em­ployed by Hub­bard Broad­cast­ing also re­por­ted con­trib­ut­ing a com­bined $6,200. In 2011, Hub­bard Broad­cast­ing donated $100,000 to Amer­ic­an Cross­roads.
Hub­bard also told Politico that he has at­ten­ded Koch-hos­ted sum­mits for years and that he's "got­ten friends in­volved." And Hub­bard's polit­ic­al views have worked their way in­to the news­room be­fore. In 2010, KSTP News Dir­ect­or Lind­say Rad­ford told Min­nPost that the sta­tion should have dis­closed the com­pany's dona­tions to a group sup­port­ing then-gubernat­ori­al can­did­ate Tom Em­mer when it re­por­ted on the Re­pub­lic­an's cam­paign.
Up­date: This story has been up­dated to in­clude the House Ma­jor­ity PAC's claim that Stew­art Mills sup­ports "an­oth­er tax break for the wealthy," and that the su­per PAC has had ads taken off the air be­fore.
What We're Following See More »
STAFF PICKS
Bannon Still Collecting Royalties from 'Seinfeld'
44 minutes ago
WHY WE CARE
The Hollywood Reporter takes a look at a little-known intersection of politics and entertainment, in which Trump campaign CEO Steve Bannon is still raking in residuals from Seinfeld. Here's the digest version: When Seinfeld was in its infancy, Ted Turner was in the process of acquiring its production company, Castle Rock, but he was under-capitalized. Bannon's fledgling media company put up the remaining funds, and he agreed to "participation rights" instead of a fee. "Seinfeld has reaped more than $3 billion in its post-network afterlife through syndication deals." Meanwhile, Bannon is "still cashing checks from Seinfeld, and observers say he has made nearly 25 times more off the Castle Rock deal than he had anticipated."
IT'S ALL CLINTON
Reliable Poll Data Coming in RE: Debate #1
1 hours ago
WHY WE CARE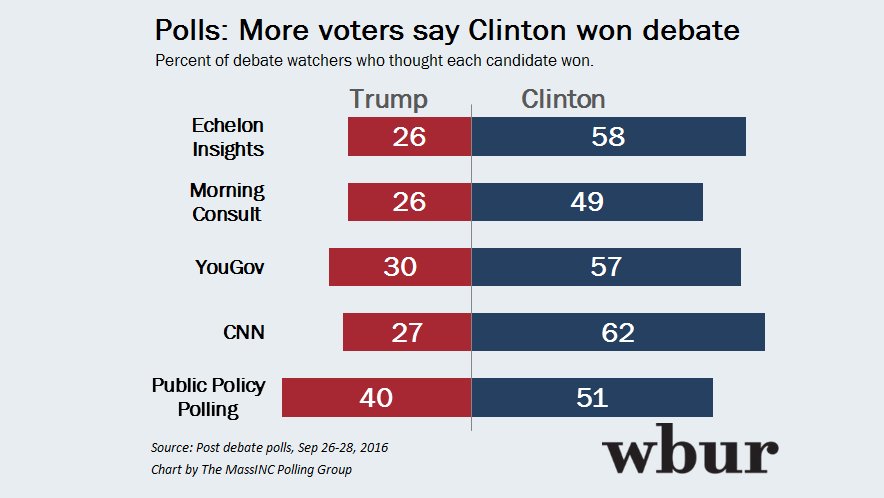 NEXT THURSDAY
Trump Transition Team Meeting with Silicon Valley VIPs
3 hours ago
THE DETAILS
Donald Trump's "transition team will meet next week with representatives of the tech industry, multiple sources confirmed, even as their candidate largely has been largely shunned by Silicon Valley. The meeting, scheduled for next Thursday at the offices of law and lobbying firm BakerHostetler, will include trade groups like the Information Technology Industry Council and the Internet Association that represent major Silicon Valley companies."
WHAT WILL PASS?
McConnell Doubts Criminal Justice Reform Can Pass This Year
3 hours ago
ALSO FIRED UNATTRACTIVE WAITRESSES
Trump Did Business with Cuba
4 hours ago
THE LATEST
Today in bad news for Donald Trump:
Newsweek found that a company he controlled did business with Cuba under Fidel Castro "despite strict American trade bans that made such undertakings illegal, according to interviews with former Trump executives, internal company records and court filings." In 1998, he spent at least $68,000 there, which was funneled through a consluting company "to make it appear legal."
The Los Angeles Times reports that at a golf club he owns in California, Trump ordered that unattractive female staff be fired and replaced with prettier women.