Air Force brass on Wed­nes­day de­fen­ded their de­cision to spare nuc­le­ar-arms per­son­nel from the force cut­backs hap­pen­ing in oth­er parts of the ser­vice.
The Air Force an­nounced in June that it had de­cided to re­tain 4,000 air­men work­ing in the nuc­le­ar mis­sion who would oth­er­wise have faced pos­sible in­vol­un­tary sep­ar­a­tion from the ser­vice. In ex­plain­ing the de­cision, Air Force Sec­ret­ary De­borah Lee James said it was ne­ces­sary to have "full man­ning in our nuc­le­ar po­s­i­tions" be­cause of the "vi­tal im­port­ance of this mis­sion." Earli­er this spring, the sec­ret­ary told the Air Force Times that due to budget con­straints the ser­vice in­ten­ded to re­duce its act­ive-duty force by 16,700 per­son­nel in the next fisc­al year.
At a Pentagon press con­fer­ence, James said it was ne­ces­sary for the Air Force to pri­or­it­ize its mis­sions. "Nuc­le­ar is num­ber one. And people need to un­der­stand that," she was quoted as say­ing in an of­fi­cial tran­script.
The Air Force this year has pub­licly shown more con­cern for its stra­tegic de­terrence mis­sion, after a num­ber of scan­dals high­lighted low mor­ale and a lack of pro­fes­sion­al­ism by some air­men as­signed to main­tain, op­er­ate and pro­tect the ser­vice's ar­sen­al of stra­tegic nuc­le­ar-tipped mis­siles.
Of­fi­cial in­vest­ig­a­tions and in­de­pend­ent ana­lys­is of the prob­lem con­cluded that a num­ber of mis­sileers per­ceived that the nuc­le­ar arms mis­sion had be­come a lower pri­or­ity for ser­vice lead­ers, as evid­enced, for ex­ample, by the lack of at­ten­tion be­ing giv­en to their de­grad­ing sup­port in­fra­struc­ture.
"We're shift­ing re­sources and we're shift­ing per­son­nel," James said on Wed­nes­day. "The per­son­nel aren't all there on sta­tion yet, but they'll be com­ing."
The Air Force in June said it was re­dir­ect­ing $50 mil­lion in fisc­al 2014 funds to­ward the im­me­di­ate re­hab­il­it­a­tion of the in­fra­struc­ture that nuc­le­ar air­men rely on. The money also would help to ad­dress cer­tain "people is­sues," ac­cord­ing to the ser­vice.
What We're Following See More »
UNTIL DEC. 9, ANYWAY
Obama Signs Bill to Fund Government
56 minutes ago
REDSKINS IMPLICATIONS
SCOTUS to Hear Case on Offensive Trademarks
1 hours ago
WHY WE CARE
"The Supreme Court is taking up a First Amendment clash over the government's refusal to register offensive trademarks, a case that could affect the Washington Redskins in their legal fight over the team name. The justices agreed Thursday to hear a dispute involving an Asian-American rock band called the Slants, but they did not act on a separate request to hear the higher-profile Redskins case at the same time." Still, any precedent set by the case could have ramifications for the Washington football team.
STAFF PICKS
Bannon Still Collecting Royalties from 'Seinfeld'
2 hours ago
WHY WE CARE
The Hollywood Reporter takes a look at a little-known intersection of politics and entertainment, in which Trump campaign CEO Steve Bannon is still raking in residuals from Seinfeld. Here's the digest version: When Seinfeld was in its infancy, Ted Turner was in the process of acquiring its production company, Castle Rock, but he was under-capitalized. Bannon's fledgling media company put up the remaining funds, and he agreed to "participation rights" instead of a fee. "Seinfeld has reaped more than $3 billion in its post-network afterlife through syndication deals." Meanwhile, Bannon is "still cashing checks from Seinfeld, and observers say he has made nearly 25 times more off the Castle Rock deal than he had anticipated."
IT'S ALL CLINTON
Reliable Poll Data Coming in RE: Debate #1
2 hours ago
WHY WE CARE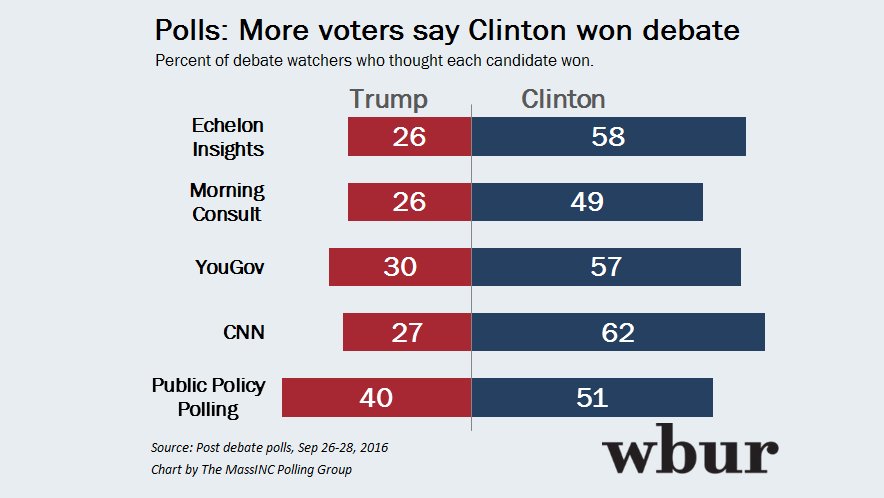 NEXT THURSDAY
Trump Transition Team Meeting with Silicon Valley VIPs
5 hours ago
THE DETAILS
Donald Trump's "transition team will meet next week with representatives of the tech industry, multiple sources confirmed, even as their candidate largely has been largely shunned by Silicon Valley. The meeting, scheduled for next Thursday at the offices of law and lobbying firm BakerHostetler, will include trade groups like the Information Technology Industry Council and the Internet Association that represent major Silicon Valley companies."