The NR­SC has pur­chased five weeks of air­time en­tirely in At­lanta be­gin­ning Tues­day on be­half of busi­ness­man Dav­id Per­due (R). The com­mit­tee hasn't con­firmed the buy, which was picked up by me­dia track­ers. It looks to be the first state in which the NR­SC will go on air, des­pite pur­chases in Alaska ($2.66 mil­lion), North Car­o­lina ($2.59 mil­lion), and Col­or­ado ($2.2 mil­lion). (At­lanta Journ­al-Con­sti­tu­tion)
STREET CRED: Former non­profit CEO Michelle Nunn's (D) fath­er, former Sen. Sam Nunn (D), is help­ing her nav­ig­ate some of the top­ics he knows best on the trail: bi­par­tis­an­ship and mil­it­ary is­sues. Speak­ing at one cam­paign stop, Nunn called for a spir­it of co­oper­a­tion to be brought back to Wash­ing­ton. Her fath­er echoed the com­ments, tout­ing his own friend­ship with Bo Callaway dur­ing the Nix­on and Ford ad­min­is­tra­tions.
"Bo and I were ter­rif­ic friends and worked to­geth­er well, even though we had dif­fer­ent views on some things," Nunn said. "He was Sec­ret­ary of the Army when I took over the Man­power Sub­com­mit­tee (of the Sen­ate Armed Ser­vices Com­mit­tee) and we ac­tu­ally worked to­geth­er to for a whole new bri­gade in the Army by work­ing to­geth­er to cut waste and in­ef­fi­cien­cies. That's the kind of spir­it that seems to be too of­ten miss­ing today." (Colum­bus Ledger-En­quirer)
At an­oth­er stop, Nunn met with act­ive duty troops and vet­er­ans to help pack boxes of food for fam­il­ies in need. The vis­it brought back memor­ies for the older Nunn, who re­minded the troops of his own fo­cus on their is­sues while in of­fice. "I spent a lot of time in my Sen­ate ca­reer with the mil­it­ary. I spent a lot of time with these bases like the Al­bany Mar­ine Base which is so im­port­ant to our Mar­ine Corp and na­tion­al se­cur­ity." (WALB)
What We're Following See More »
ABSENT FROM LIST: GENNIFER FLOWERS
Most Trump Guests Have Military Ties
34 minutes ago
TOP OF MIND
Trending on Google: 'Why Should Trump Not Be President'
44 minutes ago
THE DETAILS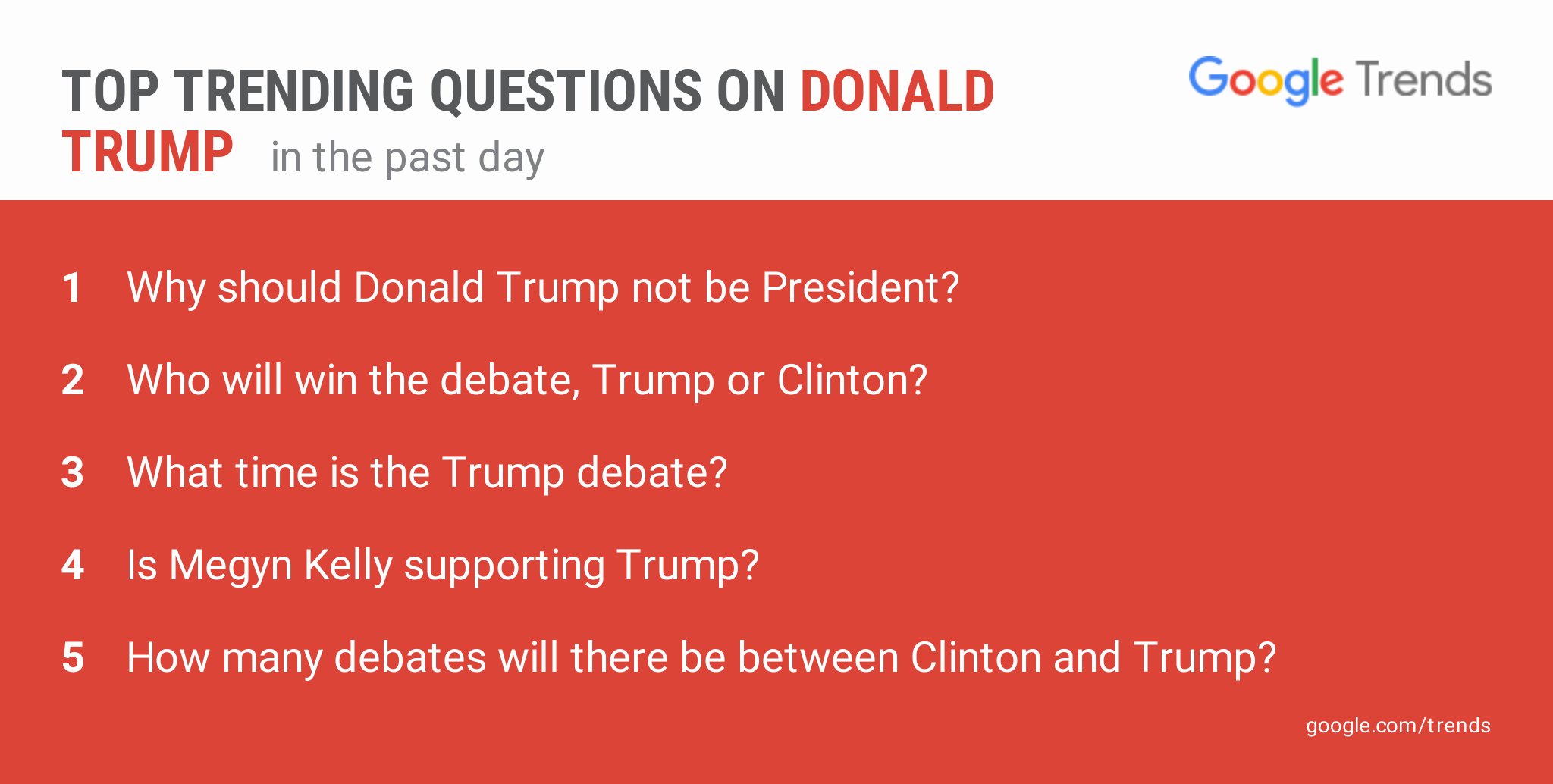 WHO PLAYED THE DONALD?
Longtime Clinton Aide Played Trump in Mock Debates
3 hours ago
THE DETAILS
After keeping the information private for most of the lead-up to the debate on Monday, it has been revealed that longtime Clinton aide Philippe Reines has been playing the role of Donald Trump in her debate prep. Reines knows Clinton better than most, able to identify both her strengths and weaknesses, and his selection for a sparring partner shows that Clinton is preparing for the brash and confrontational Donald Trump many have come to expect.
WEEKEND POLLING ROUNDUP
New Polls Still Show Razor-Thin Margins
3 hours ago
THE QUESTION
How Many Times Has the Trump Campaign Emailed Ted Cruz's Supporters?
3 hours ago
THE ANSWER
More than 30 times, in the case of some donors. Long before Cruz endorsed Trump—and before he even snubbed the nominee at the Republican National Convention—"the senator quietly began renting his vast donor email file to his former rival, pocketing at least tens of thousands of dollars, and more likely hundreds of thousands, that can be used to bankroll the Texan's own political future."