Since 2006, the Pentagon has dis­trib­uted 432 mine-res­ist­ant ar­mored vehicles to loc­al po­lice de­part­ments. It has also doled out more than 400 oth­er ar­mored vehicles, 500 air­craft, and 93,000 as­sault rifles.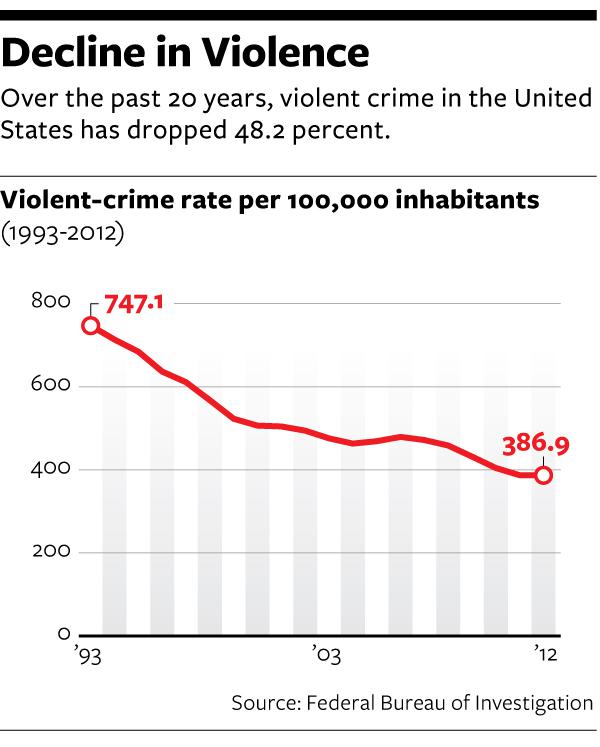 As The New York Times re­por­ted in June, the De­fense De­part­ment has been mak­ing use of un­used mil­it­ary equip­ment by giv­ing it to loc­al pre­cincts.
This is des­pite the fact that vi­ol­ent crime in the U.S. has stead­ily plummeted since 1993. Between 1993 and 2012, the vi­ol­ent-crime rate dropped by nearly 50 per­cent.
Yet today, loc­al po­lice — in cit­ies and small towns across the coun­try — are in­creas­ingly loaded for bear. How did this mil­it­ar­iz­a­tion of the po­lice force come about? It all seems to have star­ted with an ob­scure sec­tion in a de­fense bill passed more than 20 years ago.
In 1990, Con­gress passed a Na­tion­al De­fense Au­thor­iz­a­tion Act with a clause al­low­ing the "trans­fer of ex­cess per­son­al prop­erty" from the De­fense De­part­ment to loc­al law en­force­ment — oth­er­wise known as Sec­tion 1208. The clause was in­cluded in re­sponse to the surge of vi­ol­ent crime and the War on Drugs in the late 1980s. (It's worth not­ing that at the time, both cham­bers of Con­gress were con­trolled by Demo­crats.)
Here's the full lan­guage of the Sec­tion 1208:
SEC 1208. TRANS­FER OF EX­CESS PER­SON­AL PROP­ERTY
(a) TRANS­FER AU­THOR­IZED. —
(1) Not­with­stand­ing any oth­er pro­vi­sion of law and sub­ject to sub­sec­tion (b), the Sec­ret­ary of De­fense may trans­fer to Fed­er­al and State agen­cies per­son­al prop­erty of the De­part­ment of De­fense, in­clud­ing small arms and am­muni­tion, that the Sec­ret­ary de­term­ines is —
(A) suit­able for use by such agen­cies in counter-drug activ­it­ies; and
(B) ex­cess to the needs of the De­part­ment of De­fense.
(2) Per­son­al prop­erty trans­ferred un­der this sec­tion may be trans­ferred without cost to the re­cip­i­ent agency.
(3) The Sec­ret­ary shall carry out this sec­tion in con­sulta­tion with the At­tor­ney Gen­er­al and the Dir­ect­or of Na­tion­al Drug Con­trol Policy.
(b) CON­DI­TIONS FOR TRANS­FER. — The Sec­ret­ary may trans­fer per­son­al prop­erty un­der this sec­tion only if —
(1) the prop­erty is drawn from ex­ist­ing stocks of the De­part­ment of De­fense; and
(2) the trans­fer is made without the ex­pendit­ure of any funds avail­able to the De­part­ment of De­fense for the pro­cure­ment of de­fense equip­ment.
(c) AP­PLIC­A­TION. — The au­thor­ity of the Sec­ret­ary to trans­fer per­son­al prop­erty un­der this sec­tion shall ex­pire on Septem­ber 30, 1992.
The trans­fer pro­gram does not foist ar­mored vehicles upon loc­al pre­cincts — as The Times ex­plains, "the pace of trans­fers de­pends on how much un­needed equip­ment the mil­it­ary has, and how much the po­lice re­quest." And for loc­al po­lice de­part­ments with tight budgets, the free gear can be a wel­come wind­fall. But it can also mean a dis­pro­por­tion­ately ar­mored po­lice force in a town of, say, 21,000.
The Pentagon's trans­fer pro­gram may have been a dir­ect out­growth of the War on Drugs, but as Alec Mac­Gil­lis wrote in The New Re­pub­lic on Thursday, it's not the only cause of heightened po­lice mil­it­ar­iz­a­tion. The ter­ror­ist at­tacks of 9/11 led to a heightened state of se­cur­ity in the U.S., and that has trickled down to loc­al law en­force­ment.
On a na­tion­al level, the cur­rent Con­gress may be ex­pec­ted to re­verse the ac­tions of 1990. On Thursday, Sen. Rand Paul wrote a column in Time chas­tising the use of ex­cess­ive force in Fer­guson. "There is a le­git­im­ate role for the po­lice to keep the peace, but there should be a dif­fer­ence between a po­lice re­sponse and a mil­it­ary re­sponse," he wrote. "The im­ages and scenes we con­tin­ue to see in Fer­guson re­semble war more than tra­di­tion­al po­lice ac­tion."
Paul's col­leagues across the aisle share that con­cern. "This is Amer­ica, not a war zone," Sen. Eliza­beth War­ren tweeted on Thursday. "The people of #Fer­guson just want an­swers. We all want an­swers."
"To­geth­er, we should all mourn the loss of life in Fer­guson, Mis­souri and work to keep our com­munit­ies safe and free," Sen. Ted Cruz wrote in a Face­book post. "Po­lice of­ficers risk their lives every day to keep us safe, and any time a young man loses his life in a con­front­a­tion with law en­force­ment, it is tra­gic."
We still don't know all the de­tails of what happened Sunday night between a Fer­guson po­lice of­ficer and 18-year-old Mi­chael Brown. What we do know is that the po­lice re­sponse has made the safety of its own forces a No. 1 pri­or­ity.
Back in June, a Mis­souri po­lice cap­tain told The Times that ci­vil­ians should be fine with po­lice mil­it­ar­iz­a­tion, so long as it means their pub­lic ser­vants are be­ing kept safe. "When you ex­plain that you're pre­par­ing for something that may nev­er hap­pen, they get it," the cap­tain, Ti­ger Par­sons, said at the time.
But as tear-gas can­is­ters and rub­ber bul­lets rain down on Fer­guson's res­id­ents, they may be less than un­der­stand­ing about the ex­cess of cau­tion the po­lice are us­ing to pro­tect their own.
{{ BIZOBJ (video: 5166) }}