James Fo­ley, a journ­al­ist who dis­ap­peared in Syr­ia nearly two years ago, has been murdered by mem­bers of the Is­lam­ic State in Ir­aq and Syr­ia.
IS­IS mem­bers pos­ted a video on­line Tues­day that they claim de­picts Fo­ley's ex­e­cu­tion. The Na­tion­al Se­cur­ity Coun­cil re­leased a state­ment Wed­nes­day morn­ing an­noun­cing that they found the video to be au­then­t­ic.
Fo­ley's moth­er Di­ane re­leased a state­ment Tues­day night on a Face­book page ded­ic­ated to the journ­al­ist. Here it is in full:
We have nev­er been prouder of our son Jim. He gave his life try­ing to ex­pose the world to the suf­fer­ing of the Syr­i­an people.

We im­plore the kid­nap­pers to spare the lives of the re­main­ing host­ages. Like Jim, they are in­no­cents. They have no con­trol over Amer­ic­an gov­ern­ment policy in Ir­aq, Syr­ia or any­where in the world.

We thank Jim for all the joy he gave us. He was an ex­traordin­ary son, broth­er, journ­al­ist and per­son. Please re­spect our pri­vacy in the days ahead as we mourn and cher­ish Jim.
Cap­tured in Novem­ber 2012, Fo­ley, 40, was an ac­com­plished journ­al­ist who doc­u­mented the com­plex­ity of the wars in the Middle East and Afgh­anistan and told the stor­ies of those af­fected by it—hu­man­iz­ing and ex­plain­ing sub­jects for an audi­ence far re­moved.
Here is some of the work for which Fo­ley risked—and likely lost—his life.
Ed­it­or's note: Due to tech­nic­al dif­fi­culties, all videos be­gin play­ing im­me­di­ately upon land­ing on the page. They can be paused and watched in se­quence.
Fo­ley in­ter­views Amer­ic­an sol­diers about the fine—and of­ten frus­trat­ing—line they walked in Afgh­anistan as they faced off against en­emy com­batants while sim­ul­tan­eously try­ing to win over a ci­vil­ian pop­u­la­tion. 
He also wrote, pen­ning a piece for the Glob­al Post in which he in­ter­viewed sol­diers fight­ing a los­ing battle on be­half of former Liby­an dic­tat­or Muam­mar el-Qad­dafi. "De­fec­ted and cap­tured loy­al­ist sol­diers said there are a num­ber of factors mo­tiv­at­ing their former com­rades, in­clud­ing the hope of fin­an­cial re­ward and a fear of civil war. But the para­mount reas­on to keep fight­ing, they said, is the fear of re­pris­als," Fo­ley re­por­ted.
Fo­ley was cap­tured in Libya in 2011 and spent sev­er­al weeks in cap­tiv­ity. He dis­cussed his ex­per­i­ence, re­call­ing the feel­ing of help­less­ness dur­ing cap­tiv­ity and the sad­ness he felt over the death of one of his col­leagues.
Fo­ley also dis­cusses the draw of war re­port­ing, both for the ad­ren­aline of the ex­per­i­ence and the de­sire to get a story that would oth­er­wise go un­told:
"It's a struggle be­cause there is al­ways that al­lure for some people of com­bat. There is al­ways that sort of high of be­ing close to com­bat … and then be­ing able to come back and tell that story."
This story was up­dated Wed­nes­day with state­ment from the NSC.
Stephanie Stamm and Reena Flores contributed to this article.
What We're Following See More »
STAFF PICKS
Bannon Still Collecting Royalties from 'Seinfeld'
54 minutes ago
WHY WE CARE
The Hollywood Reporter takes a look at a little-known intersection of politics and entertainment, in which Trump campaign CEO Steve Bannon is still raking in residuals from Seinfeld. Here's the digest version: When Seinfeld was in its infancy, Ted Turner was in the process of acquiring its production company, Castle Rock, but he was under-capitalized. Bannon's fledgling media company put up the remaining funds, and he agreed to "participation rights" instead of a fee. "Seinfeld has reaped more than $3 billion in its post-network afterlife through syndication deals." Meanwhile, Bannon is "still cashing checks from Seinfeld, and observers say he has made nearly 25 times more off the Castle Rock deal than he had anticipated."
IT'S ALL CLINTON
Reliable Poll Data Coming in RE: Debate #1
1 hours ago
WHY WE CARE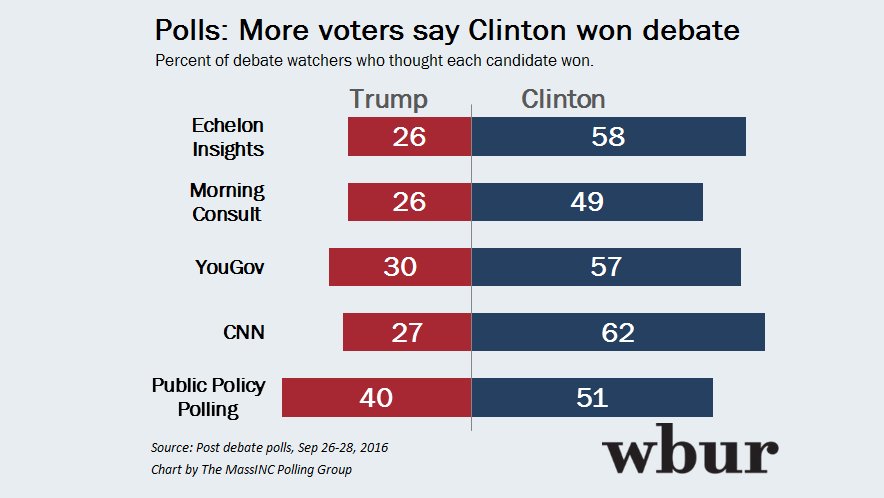 NEXT THURSDAY
Trump Transition Team Meeting with Silicon Valley VIPs
3 hours ago
THE DETAILS
Donald Trump's "transition team will meet next week with representatives of the tech industry, multiple sources confirmed, even as their candidate largely has been largely shunned by Silicon Valley. The meeting, scheduled for next Thursday at the offices of law and lobbying firm BakerHostetler, will include trade groups like the Information Technology Industry Council and the Internet Association that represent major Silicon Valley companies."
WHAT WILL PASS?
McConnell Doubts Criminal Justice Reform Can Pass This Year
3 hours ago
ALSO FIRED UNATTRACTIVE WAITRESSES
Trump Did Business with Cuba
4 hours ago
THE LATEST
Today in bad news for Donald Trump:
Newsweek found that a company he controlled did business with Cuba under Fidel Castro "despite strict American trade bans that made such undertakings illegal, according to interviews with former Trump executives, internal company records and court filings." In 1998, he spent at least $68,000 there, which was funneled through a consluting company "to make it appear legal."
The Los Angeles Times reports that at a golf club he owns in California, Trump ordered that unattractive female staff be fired and replaced with prettier women.