Aug. 28, 2014, 11:55 a.m.
Let­ting your car talk wire­lessly with the vehicles around it won't just make your drives short­er and safer—con­nec­ted cars can save mil­lions of gal­lons of fuel as well.
Pic­ture this: Cars could be linked up in a "pla­toon" of sorts, where cars are wire­lessly con­nec­ted to fol­low one lead vehicle, which con­trols the ac­cel­er­a­tion, brak­ing, and steer­ing of the vehicles that trail it. Radar that de­term­ines the prox­im­ity and speed of the oth­er vehicles in the group can al­low the cars to drive much closer to­geth­er than nor­mal, max­im­iz­ing draft­ing be­hind big­ger trucks and keep­ing the cars mov­ing faster and more ef­fi­ciently.
Em­ploy­ing such com­mu­nic­at­ive cars could save one driver as much as sev­en gal­lons of fuel a year, or 75 gal­lons a year for heavy trucks on long-haul trips, ac­cord­ing to a new re­port ex­amin­ing the sus­tain­ab­il­ity be­ne­fits of trans­port­a­tion in­nov­a­tions.
The re­port from the In­tel­li­gent Trans­port­a­tion So­ci­ety of Amer­ica, a group pro­mot­ing ad­vanced trans­port­a­tion tech­no­logy, looked at 16 ad­vances in the trans­port­a­tion sec­tor, from ef­fi­cient drive trains to con­nec­ted stoplights. Vehicle tech­no­lo­gies such as ad­apt­ive cruise con­trol and con­nectiv­ity could save a total of 110 mil­lion bar­rels of oil over a dec­ade, the equi­val­ent of 20 mil­lion met­ric tons of car­bon di­ox­ide.
In­fra­struc­ture im­prove­ments, in­clud­ing con­nec­ted stoplights and co­ordin­a­tion to clear ac­ci­dents faster, were found to save a total of 117 mil­lion bar­rels of oil, or 19 mil­lion met­ric tons of car­bon over the same time peri­od.
"When ap­plied and con­nec­ted on a na­tion­al scale, ad­vanced vehicle, in­fra­struc­ture, and af­ter­mar­ket tech­no­lo­gies can re­duce U.S. oil con­sump­tion by hun­dreds of mil­lions of bar­rels per year, in some cases trip­ling the ef­fi­ciency be­ne­fits of cur­rently avail­able tech­no­lo­gies," said ITS Amer­ica pres­id­ent Scott Belch­er.
Con­nec­ted cars—loosely defined as any car with devices or tech­no­logy link­ing it to oth­er cars or tech­no­logy out­side the car—would al­low drivers to ac­cess mo­bile apps and ser­vices on the road, everything from mu­sic and videos to traffic and com­mu­nic­a­tions. Google's An­droid Auto plat­form and the Apple Car­Play would es­sen­tially bring both com­pan­ies' smart­phones to the dash­board, while more ad­vanced sys­tems would con­nect cars to each oth­er.
It's the "vehicle-to-vehicle," or V2V, tech­no­logy that sup­port­ers say would help avert ac­ci­dents and make the road­ways more ef­fi­cient by let­ting cars "talk" to each oth­er, avoid­ing col­li­sions and beam­ing out in­form­a­tion about in­cid­ents or delays. The Trans­port­a­tion De­part­ment is even work­ing on rule­mak­ing on V2V com­mu­nic­a­tions to be re­leased by 2016, while the Fed­er­al Com­mu­nic­a­tions Com­mis­sion is look­ing at the band­width im­plic­a­tions.
The ef­fi­ciency re­port also looked at case stud­ies on oth­er in­fra­struc­ture en­hance­ments, in­clud­ing a net­work of ad­apt­ive sig­nal con­trols in Pitt­s­burgh's East Liberty neigh­bor­hood, where com­puters mon­itored up­com­ing traffic and cre­ated new tim­ing plans every second. That sys­tem, ITS found, slashed car­bon emis­sions by 21 per­cent and re­duced travel time by 25 per­cent.
A sim­il­ar syn­chron­ized traffic-light net­work in Los Angeles saved 38 mil­lion gal­lons of fuel and cut 337,000 met­ric tons of car­bon di­ox­ide a year.
The ad­min­is­tra­tion has already been look­ing at con­nec­ted cars and smart in­fra­struc­ture, but sup­port­ers said the hope is that Con­gress will find a way to in­teg­rate it in­to a reau­thor­iz­a­tion of the sur­face-trans­port­a­tion bill. The com­bin­a­tion of fuel sav­ings and driv­ing ef­fi­ciency im­prove­ments, said Cath­er­ine Mc­Cul­lough of the In­tel­li­gent Car Co­ali­tion, should mo­tiv­ate le­gis­lat­ors to act.
"In gen­er­al, we need to make sure we are in­centiv­iz­ing in­vest­ment in in­nov­a­tion and make sure we are keep­ing in mind that when in­nov­a­tions lead to a great­er good, it makes a lot of sense for the gov­ern­ment to get be­hind them," Mc­Cul­lough said. "It's so im­port­ant when we're talk­ing about cli­mate change and when we're talk­ing about sav­ing people's lives on the road. You don't get high­er stakes than that."
What We're Following See More »
ABSENT FROM LIST: GENNIFER FLOWERS
Most Trump Guests Have Military Ties
39 minutes ago
TOP OF MIND
Trending on Google: 'Why Should Trump Not Be President'
49 minutes ago
THE DETAILS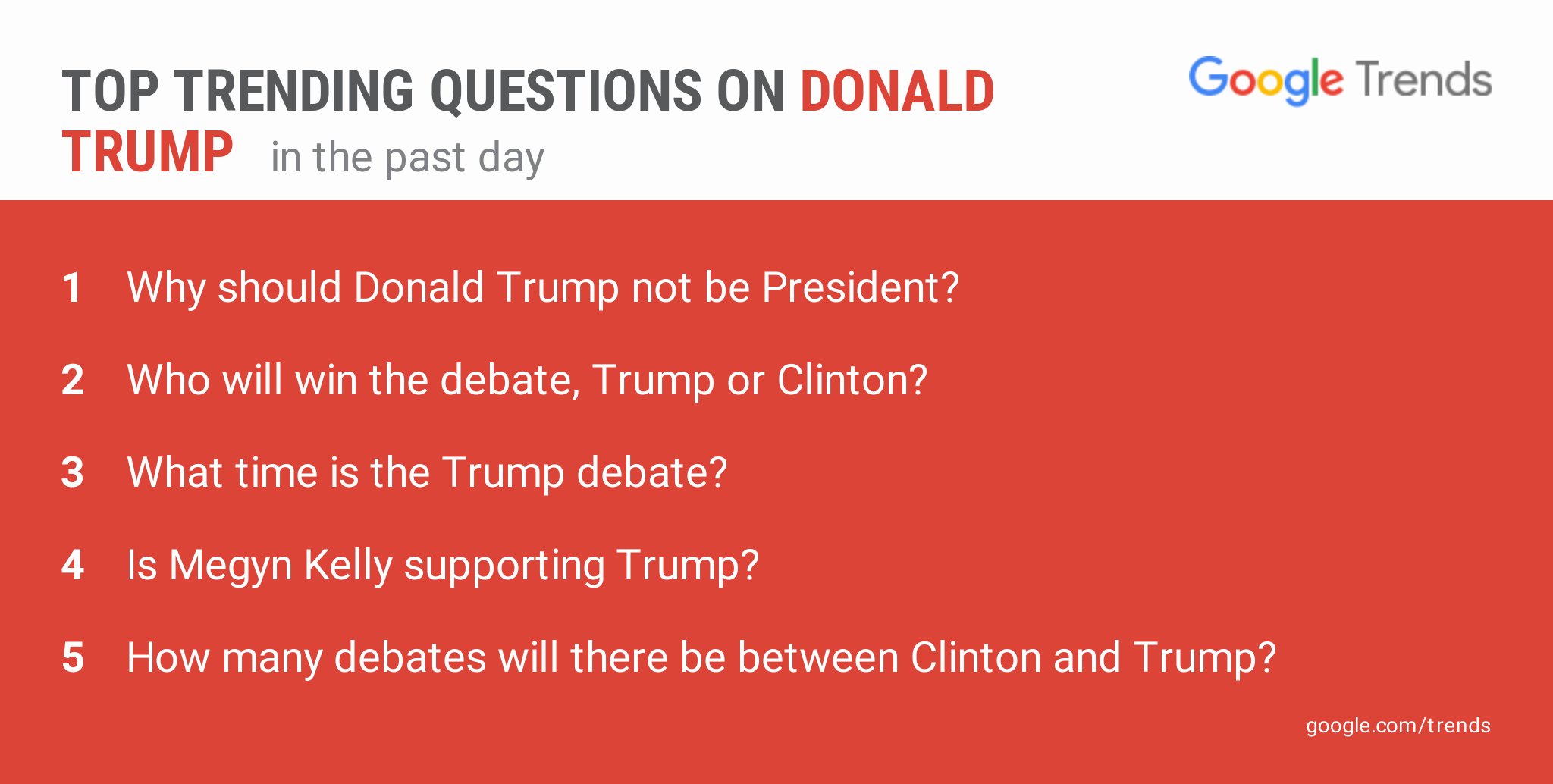 WHO PLAYED THE DONALD?
Longtime Clinton Aide Played Trump in Mock Debates
3 hours ago
THE DETAILS
After keeping the information private for most of the lead-up to the debate on Monday, it has been revealed that longtime Clinton aide Philippe Reines has been playing the role of Donald Trump in her debate prep. Reines knows Clinton better than most, able to identify both her strengths and weaknesses, and his selection for a sparring partner shows that Clinton is preparing for the brash and confrontational Donald Trump many have come to expect.
WEEKEND POLLING ROUNDUP
New Polls Still Show Razor-Thin Margins
3 hours ago
THE QUESTION
How Many Times Has the Trump Campaign Emailed Ted Cruz's Supporters?
3 hours ago
THE ANSWER
More than 30 times, in the case of some donors. Long before Cruz endorsed Trump—and before he even snubbed the nominee at the Republican National Convention—"the senator quietly began renting his vast donor email file to his former rival, pocketing at least tens of thousands of dollars, and more likely hundreds of thousands, that can be used to bankroll the Texan's own political future."