Sept. 22, 2014, 11:44 a.m.
Stu­dent-loan debt is at an all-time high, with both black and white col­lege stu­dents bor­row­ing at re­cord levels. But black gradu­ates are much more likely to be saddled with large amounts of debt, ac­cord­ing to a new ana­lys­is from the Gal­lup-Purdue In­dex, which meas­ures the re­la­tion­ship between the col­lege ex­per­i­ence and gradu­ates' lives. 
Half of all black gradu­ates re­por­ted tak­ing on at least $25,000 or more to com­plete their un­der­gradu­ate de­grees between 2000 and 2014, com­pared to 34 per­cent of white gradu­ates. That bor­row­ing gap is a re­flec­tion of oth­er so­cioeco­nom­ic dis­par­it­ies, says Cecil­ia Rouse, dean of the Woo­drow Wilson School at Prin­ceton Uni­versity and an eco­nom­ics pro­fess­or spe­cial­iz­ing in the eco­nom­ics of labor and edu­ca­tion.
"It's about the fact that there is a black-white gap in in­come and wealth, and that's what un­der­lies this gap in bor­row­ing as well," Rouse says. 
The av­er­age black house­hold in the United States has less than one-tenth the ac­cu­mu­lated wealth of the av­er­age white house­hold. And rather than shrink­ing, that gulf is widen­ing. Re­search­ers at Bran­de­is Uni­versity es­tim­ate that the wealth gap between blacks and whites has al­most tripled over the past 25 years. So while the per­cent­age of black and white high school gradu­ates en­rolling in col­lege is now al­most identic­al, black col­lege stu­dents have far few­er re­sources to pay for that edu­ca­tion.
More than three-quar­ters of black col­lege gradu­ates say they took out loans between 2000 and 2014, while 60 per­cent of white col­lege gradu­ates did so. Only one in five black gradu­ates re­por­ted no stu­dent loans, about half as many as white gradu­ates.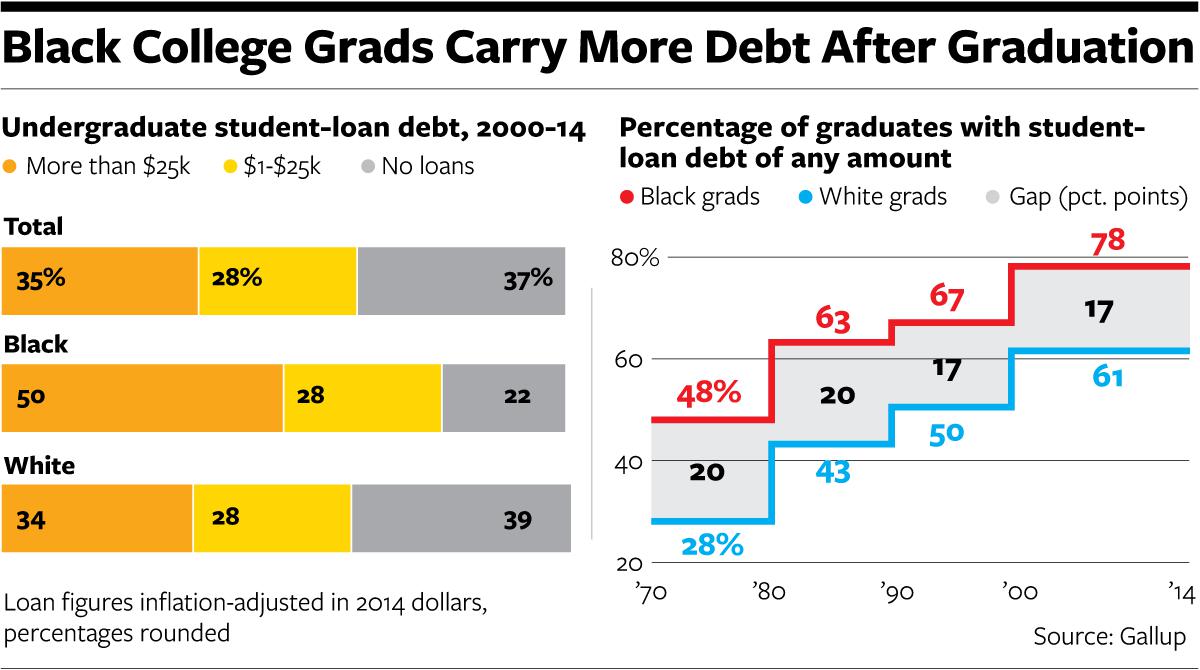 Giv­en how long it can take to pay off stu­dent loans, Gal­lup re­search­ers call debt levels a "con­cern­ing stat­ist­ic" for the over­all well-be­ing of col­lege gradu­ates.
The main con­cern for Eliza­beth Baylor, as­so­ci­ate dir­ect­or for post­sec­ond­ary edu­ca­tion at the Cen­ter for Amer­ic­an Pro­gress, is the im­pact debt has on delay­ing eco­nom­ic em­power­ment. "If the debt bur­den is too high," she says, "stu­dents from low- and mod­er­ate-in­come fam­il­ies will have trouble mak­ing the eco­nom­ic gains that we all know a col­lege de­gree of­fers."
Col­lege af­ford­ab­il­ity is es­pe­cially a con­cern, Baylor says, giv­en the grow­ing pro­por­tion of minor­ity stu­dents in col­lege and with­in the di­ver­si­fy­ing U.S. pop­u­la­tion.
"Stu­dents of col­or are in­creas­ingly a lar­ger part of our high­er edu­ca­tion sys­tem," Baylor says, "so as state in­vest­ment in pub­lic col­leges has re­treated in the past dec­ade, it's im­port­ant to make sure that those schools re­main af­ford­able to stu­dents of col­or who are a big share of pub­lic col­leges."
Rouse points out that stu­dent loans do play an im­port­ant role for stu­dents of col­or, many of whom come from low-in­come fam­il­ies, in al­low­ing them to pur­sue high­er edu­ca­tion and ul­ti­mately, so­cial mo­bil­ity. "Edu­ca­tion re­mains a very sol­id in­vest­ment for stu­dents in terms of in­creas­ing their earn­ing ca­pa­city and fu­ture labor-mar­ket out­comes," she says. It's there­fore no sur­prise that so many do bor­row, giv­en the dis­par­it­ies that per­sist in wealth.
What mat­ters more, Rouse adds, is wheth­er stu­dents un­der­stand and are aware of the re­pay­ment op­tions avail­able to them, es­pe­cially those ad­jus­ted for in­come levels and cir­cum­stances.
Many don't. But Rouse does ex­pect stu­dents to be­come "sav­vi­er bor­row­ers.
"The De­part­ment of Edu­ca­tion is get­ting much more ag­gress­ive in the kinds of coun­sel­ing stu­dents need to have be­fore they take out loans," she says, "so they also un­der­stand their op­tions after they have taken out a loan."
The Gal­lup-Purdue In­dex tal­lied how many col­lege gradu­ates took out stu­dent loans—and how much they bor­rowed—to com­plete their de­grees, but it does not re­port the type of loan or how much of that debt is cur­rently out­stand­ing.
Contributions by Brian McGill