Who is more civically en­gaged — the per­son who votes in every elec­tion or the non­voter who vo­lun­teers as a cross­ing guard at the loc­al ele­ment­ary school? What about the per­son who com­ments on an on­line news story? Does it count more if he posts the art­icle on his Face­book page and urges his friends to act? What about the re­tired couple who takes care of the next-door neigh­bor's kid after school un­til her single mom gets home from work?
The concept of civic en­gage­ment is mutat­ing so fast that re­search­ers are hav­ing a hard time keep­ing up with it. The Bur­eau of Labor Stat­ist­ics has been col­lect­ing data on vo­lun­teer­ing — defined as do­ing un­paid work through or for an or­gan­iz­a­tion — only since 2002. But even in that re­l­at­ively short time peri­od, that defin­i­tion of "vo­lun­teer­ing" has be­come far too lim­it­ing to cov­er the vast ar­ray of civic activ­ity sprout­ing up on­line and in com­munit­ies across the coun­try.

Here's just one ex­ample: Based on the BLS data alone, you would think that whites who gradu­ated from col­lege are far more likely to vo­lun­teer than Afric­an Amer­ic­ans or His­pan­ics with only high school de­grees. But the the BLS's data doesn't take in­to ac­count the re­tired couple men­tioned above, who, based on cul­tur­al norms, is more likely to be black or His­pan­ic. It doesn't cap­ture the young adults in poor neigh­bor­hoods who tell those re­search­ers that they con­sider be­ing a role mod­el to young­er kids their most im­port­ant con­tri­bu­tion to their com­munit­ies. Re­search­ers say those in­form­al forms of al­tru­ism are more com­mon among minor­ity com­munit­ies, while BLS-type "vo­lun­teer­ing" — say, be­ing a tu­tor to a dis­ad­vant­aged child — is more com­mon among middle-class whites. Moreover, the BLS's data only scratches the sur­face of polit­ic­al in­volve­ment.
"It's class-biased. Work­ing-class people don't feel that they're vo­lun­teer­ing. Even when they are do­ing things like tak­ing care of their neigh­bor's kids, they don't think they're vo­lun­teer­ing," says Peter Lev­ine, dir­ect­or of CIRCLE, a civics re­search and ad­vocacy or­gan­iz­a­tion run out of Tufts Uni­versity.
The way we think about civic en­gage­ment may be gen­er­a­tion-biased as well. A new gen­er­a­tion of young act­iv­ists who are as skilled in di­git­al com­mu­nic­a­tion as they are in rolling their eyes at their par­ents has upen­ded the civic en­gage­ment paradigm. This sum­mer's vir­al Ice Buck­et Chal­lenge raised $115 mil­lion for re­search on the neuro­de­gen­er­at­ive dis­ease ALS, even though the ex­plan­a­tion of how the video trend got star­ted or how it worked was nev­er en­tirely clear. (That's the way it is with most In­ter­net trends.) Like­wise, the most vir­al video ever, ac­cord­ing to Time, ad­voc­ated the cap­ture of Joseph Kony, an in­dicted Afric­an war crim­in­al. The U.S. Sen­ate re­spon­ded with a res­ol­u­tion con­demning Kony, al­though the cult lead­er still re­mains at large.
Lev­ine and his col­leagues were in­stru­ment­al in push­ing the U.S. Census Bur­eau to add a series of ques­tions to its Cur­rent Pop­u­la­tion Sur­vey that might cap­ture less tra­di­tion­al types of com­munity in­volve­ment. Poll­sters began ask­ing re­spond­ents in 2008 if they have worked with neigh­bors to fix a com­munity prob­lem; if they have done fa­vors for their neigh­bors; or if they are a mem­ber of any or­gan­iz­a­tion — wheth­er it be re­li­gious, re­cre­ation­al, school, ser­vice, or sports.
The up­shot is that we now know that well over one-third of Amer­ic­ans par­ti­cip­ate in one or more groups, the most com­mon be­ing re­li­gious and school or­gan­iz­a­tions. We know that about 10 per­cent have served as a group of­ficer or com­mit­tee mem­ber of those or­gan­iz­a­tions. We know that al­most half of Amer­ic­ans talk to their neigh­bors fre­quently. About one-third of them dis­cuss polit­ics more than once a week.
Lo and be­hold, when you ask the right ques­tions, the coun­try doesn't look nearly as dis­con­nec­ted as it might seem to the civics pro­fess­ors who wring their hands when only half of Amer­ic­ans vote.
"You don't want to use words like 'civic en­gage­ment.' They don't go over very well," says Lev­ine, who has tested these terms with sur­vey re­spond­ents. "The whole 'civic' im­pulse of Amer­ica is weak. Part of that is re­flec­ted in that the vocab­u­lary is weak."
If the pop­u­lar vocab­u­lary for civic en­gage­ment makes the av­er­age Joe yawn, it shouldn't be a sur­prise that com­munity activ­ity looks more en­er­get­ic when re­search­ers ask about it more broadly. This past spring, an All­state/Na­tion­al Journ­al Heart­land Mon­it­or Poll showed that about two-thirds of Amer­ic­ans have donated money to an or­gan­iz­a­tion, shared opin­ions through so­cial me­dia or email, and an­swer "some­what of­ten" or "very of­ten" when asked, "How of­ten do you vo­lun­teer in your com­munity?"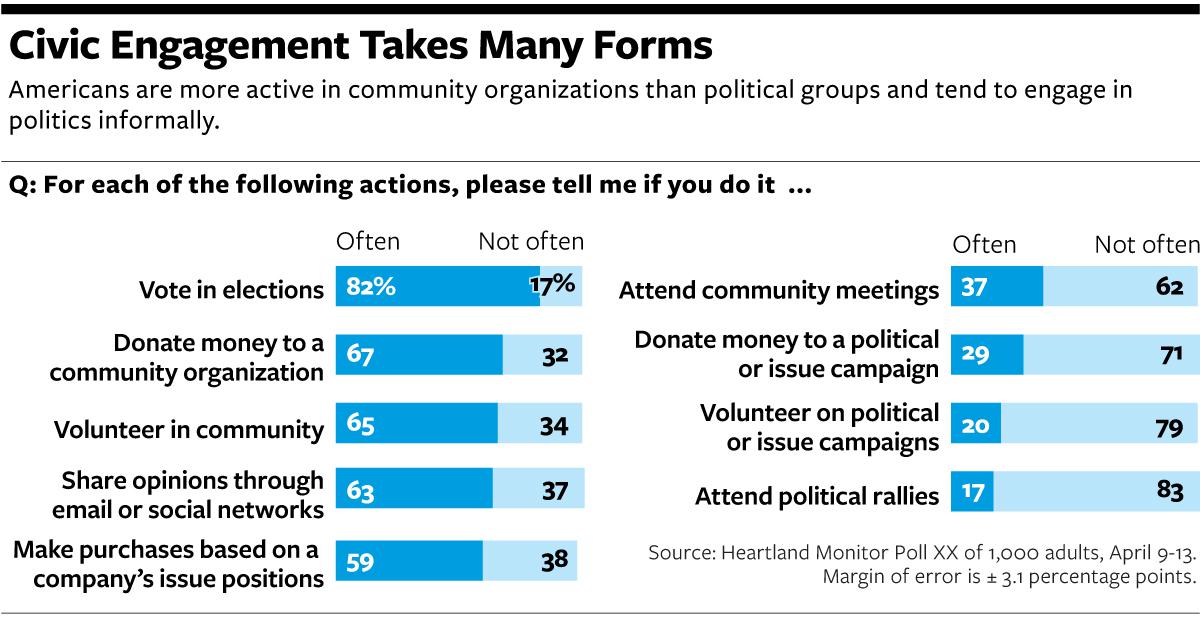 The di­git­al era is also al­low­ing polit­ic­al and com­munity activ­ity to evolve in ways that Car­rie Chap­man Catt, founder of the League of Wo­men Voters, would nev­er have ima­gined. In the 1920s, the League prided it­self on its ex­tens­ive field con­tact in the smal­lest towns and re­mote re­gions. Now, grass­roots act­iv­ism flour­ishes on count­less list­servs and so­cial me­dia sites that don't dis­tin­guish a moun­tain­top miser from an urb­an so­cial­ite.
New on­line com­munit­ies de­vel­op every day, frus­trat­ing so­cial sci­ent­ists who are try­ing to doc­u­ment en­gage­ment trends over time. So­cial net­work users doubled from 2008 to 2012, ac­cord­ing to the Pew Re­search Cen­ter, and 39 per­cent of the Amer­ic­an adults who are on­line took part in polit­ic­al activ­ity through so­cial net­work­ing last year. On­line activ­ity is par­tic­u­larly pre­val­ent among young­er people, who have grown up with di­git­al in­ter­ac­tions. Two-thirds of adults ages 18 to 24 en­gaged in some sort of so­cial net­work-re­lated polit­ic­al activ­ity in the course of a year, the Pew study found.
Does all this on­line activ­ity trans­late in­to a more civically en­gaged adult­hood? That's what the re­search­ers want to know. "We won't have a sense of how it plays out later in their life un­less we can go back to those people 10 years later and see where they're at," says Re­becca Rasch, seni­or pro­ject man­ager for Meas­ure of Amer­ica, a civic re­search or­gan­iz­a­tion sep­ar­ate from Pew.
It's hard to know wheth­er click­ing "Like" on an is­sue-based Face­book page or fa­vor­it­ing a tweet will turn a per­son in­to a con­sist­ent voter or prompt her to donate to a polit­ic­al cam­paign. But that may be the wrong ques­tion any­way. Rus­sell Krum­now, man­aging dir­ect­or of the eco­nom­ic equity co­ali­tion Op­por­tun­ity Na­tion, thinks young peoples' on­line activ­ity will open new doors for polit­ic­al en­gage­ment that don't con­form to the old norms. "It's shift­ing. It's hasht­ag-act­iv­ism. That trans­lates in­to ac­tion," he says.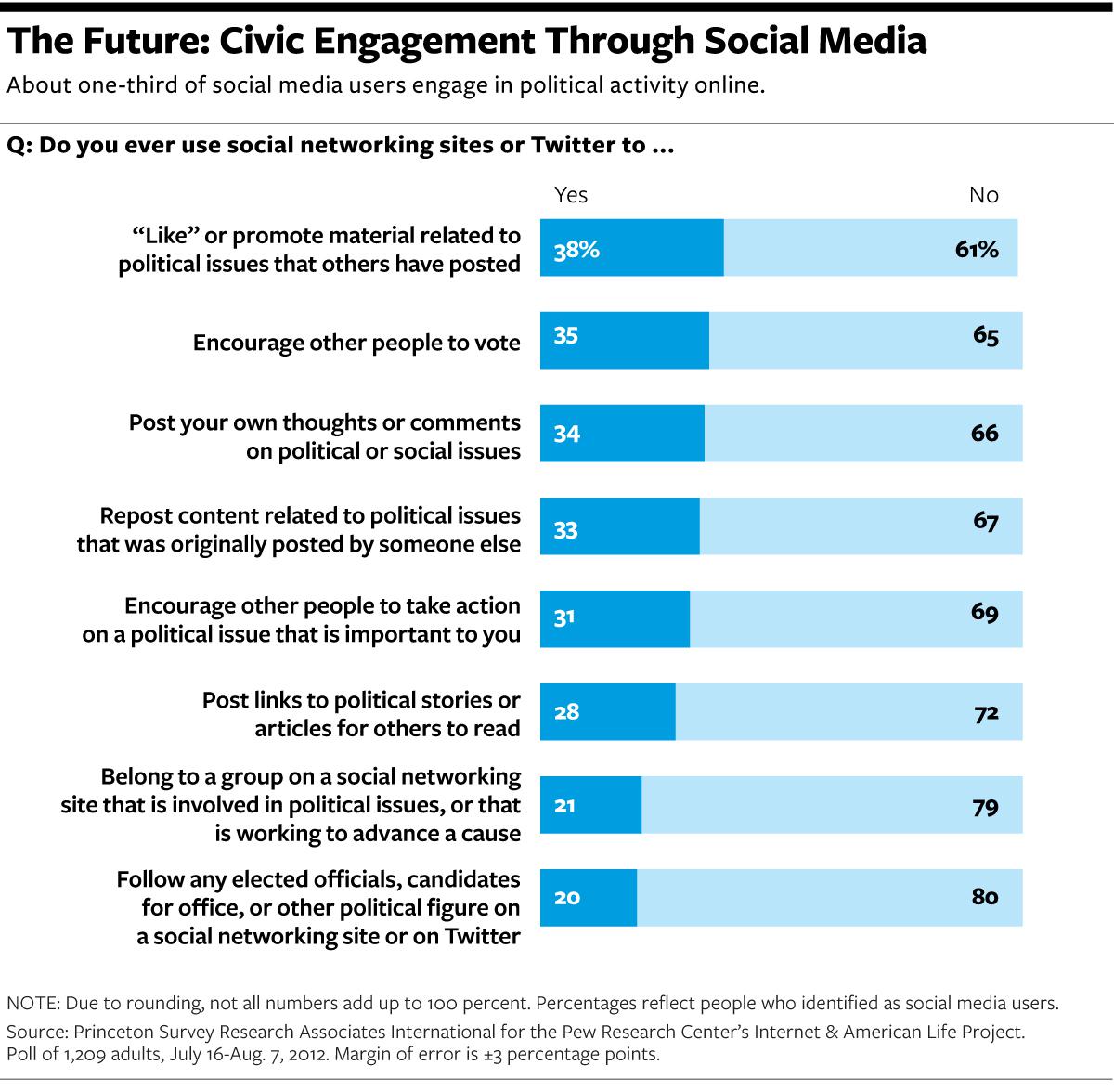 The most cut­ting edge re­search in this area asks how civic en­gage­ment (ad­mit­tedly, a hard-to-define term) im­pacts em­ploy­ment and eco­nom­ic growth. Eco­nom­ic health and civic en­gage­ment ap­pear to be re­lated to one an­oth­er — i.e., high­er civic en­gage­ment cor­rel­ates with high­er em­ploy­ment rates and more eco­nom­ic activ­ity — but it's not clear which factor is the cause of the oth­er.
En­gage­ment may be par­tic­u­larly im­port­ant for young people. Op­por­tun­ity Na­tion last month re­leased a re­port show­ing that a young adult who vo­lun­teers is half as likely to be dis­con­nec­ted — un­em­ployed and not in school — as a young adult who doesn't. Pre­vi­ous re­search has shown that people who vo­lun­teer are 27 per­cent more likely to find a job than people who don't.
En­gage­ment can also change en­tire com­munit­ies. Op­por­tun­ity Na­tion found that re­gions where adults are more civically en­gaged are more eco­nom­ic­ally vi­brant as well. Re­search from the Na­tion­al Con­fer­ence of Cit­izen­ship has shown that states with the highest "co­he­sion rates" — defined as talk­ing to and trust­ing neigh­bors and fre­quently en­ga­ging with fam­ily and friends — had un­em­ploy­ment rates that were about 2 points lower than states with the low­est co­he­sion rates.
These stud­ies only scratch the sur­face of the re­la­tion­ship between eco­nom­ic growth and civic en­gage­ment, but they are power­ful cata­lysts for act­iv­ists who want to pro­mote such en­gage­ment. Citi Found­a­tion Chief Op­er­at­ing Of­ficer Brandee McHale says Op­por­tun­ity Na­tion's study about vo­lun­teer­ism and youth dove­tailed per­fectly with one of Citi's new pro­jects, called Ser­vice­Works, in which com­munity youth design their own vo­lun­teer pro­jects and mar­ket them to com­munity lead­ers. McHale hopes that in­volve­ment will even­tu­ally trans­late in­to col­lege and jobs for the par­ti­cipants.
"In civic en­gage­ment and pro­jects, you build lead­er­ship skills, you build work­place skills," she says. "We knew this in our gut. We didn't have a whole lot of data to really back this up." Citi fun­ded the Op­por­tun­ity Na­tion re­search and has just launched the first year of Ser­vice­Works.
The world has changed a lot since Robert Put­nam wrote his sem­in­al 2000 work Bowl­ing Alone, chron­ic­ling the dis­sol­u­tion of tra­di­tion­al Amer­ic­an com­munit­ies. While it is still true that only about half of Amer­ic­ans vote, it is also true that gal­van­iz­ing is­sues, like this sum­mer's po­lice shoot­ing in Fer­guson, Mis­souri, are reg­u­larly trend­ing on Twit­ter. As old in­sti­tu­tions crumble, oth­ers will rise in their wake. It's up to civic lead­ers to cap­it­al­ize on those de­vel­op­ments and re­cog­nize that com­munit­ies are as act­ive as ever.