Oct. 16, 2014, 11:41 a.m.
Two to 21 days. If a per­son is ex­posed to the Ebola vir­us, that's the time­frame in which the symp­toms of the dis­ease can mani­fest. The dis­ease kills about half of those it in­fects.
That's the real­ity for the friends of Thomas Eric Duncan, the first vic­tim of Ebola to die in the United States, who made con­tact with him be­fore his hos­pit­al ad­mis­sion. Ac­cord­ing to NPR, the fam­ily that made con­tact with Duncan "has been ordered not to leave their home and is banned from host­ing any vis­it­ors un­til the 21-day in­cub­a­tion peri­od for Ebola has passed." So does that mean that on the 22nd day, they are in the clear, com­pletely safe from con­tract­ing Ebola?
No. Sadly, it's isn't so simple.
"There is no quar­ant­ine time that will provide ab­so­lute as­sur­ance of no re­sid­ual risk from con­ta­gion," Charles N. Haas, a mi­cro­bi­o­logy threat re­search­er at Drexel Uni­versity, writes in a re­cently pub­lished pa­per in the Journ­al PLOS Cur­rent Out­breaks.
Symp­toms typ­ic­ally be­gin to ap­pear after nine days, but the World Health Or­gan­iz­a­tion has even re­cor­ded in­stances of a per­son con­tract­ing the dis­ease after 30 days.
A few weeks ago, when Ebola was start­ing to per­meate the news, Haas began to won­der how WHO came to its 21-day quar­ant­ine re­com­mend­a­tion for Ebola. Haas then com­piled all the avail­able data on pre­vi­ous out­breaks. What he found was that, thank­fully, there aren't many data on past out­breaks. In the past, Ebola has af­fected a few hun­dred people at a time; not the thou­sands who have been blighted in the cur­rent crisis. The small num­ber of data points means that while health au­thor­it­ies may have a good idea of how long Ebola can re­main dormant in the body, they do not know the up­per lim­its of what is pos­sible.
"If I pulled 12 people at ran­dom off the street and meas­ured their height," Haas ex­plained, "and then used the greatest high of those 12 as an in­dex to what the max­im­um height would be for the hu­man pop­u­la­tion, I would be in­cred­ibly wrong."
In his ana­lys­is, Haas found that 21 days of quar­ant­ine "does not ab­so­lutely re­duce the risk to zero of some­body sub­sequently be­com­ing symp­to­mat­ic," he said. De­pend­ing on the data set, he said, there could be as high as a 12 per­cent risk that a per­son will de­vel­op symp­toms bey­ond 21 days.
"While the 21 day quar­ant­ine value cur­rently used may have arose from reas­on­able in­ter­pret­a­tion of early out­break data, this work sug­gests a re­con­sid­er­a­tion is in or­der and that 21 days may not be suf­fi­ciently pro­tect­ive to pub­lic health," his pa­per con­cludes.
On Oct. 16, WHO pub­lished its pre­lim­in­ary data of the first nine months of the Ebola out­break in the New Eng­land Journ­al of Medi­cine. Draw­ing from the more than 4,000 cases doc­u­mented dur­ing that peri­od, WHO found "ap­prox­im­ately 95 per­cent of the case pa­tients had symp­tom on­set with­in 21 days after ex­pos­ure." That also means that 5 per­cent of cases mani­fes­ted after 21 days.
The fol­low­ing chart plots the num­ber of cases re­cor­ded at each day after Ebola ex­pos­ure. There are a hand­ful re­por­ted after the 21-day mark.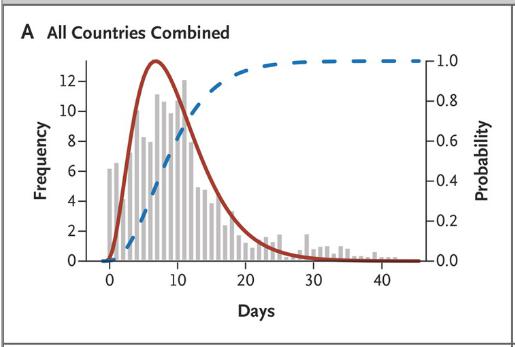 "Even if you go out to a 30-day time, it only gives you a risk of about eight in 1,000 that someone would still pro­gress to symp­toms after that peri­od," Haas said. "I wouldn't want to char­ac­ter­ize that as low or high be­cause that is really a policy de­cision." At some point, the cost to mon­it­or or quar­ant­ine a pos­sible Ebola con­tam­in­a­tion out­weighs the risks of in­fec­tion. In a small out­break, an eight-in-1,000 chance may not mean much. But in the worst case scen­ari­os, where in­fec­tions could reach 10,000 a week in Decem­ber, those eight in every thou­sand be­gin to add up.
"The bulk of people are de­vel­op­ing symp­toms by 15 days," Mar­garet Ann Har­ris, a spokes­wo­man for WHO, told Na­tion­al Journ­al. "However, we do not de­clare a coun­try free of Ebola un­til 42 days have passed with no new cases."
The les­son here isn't about in­creased pan­ic, or that Ebola will strike the nurses or friends who treated Duncan without warn­ing a month or more from now. It is a les­son on how we should think about and com­mu­nic­ate about vir­al out­breaks. Sci­ence works on con­fid­ence in­ter­vals, dis­tri­bu­tions, and prob­ab­il­it­ies, which makes it tough to give an ex­act quar­ant­ine peri­od after which a per­son is safe from con­tract­ing Ebola. Sci­ence is not about ab­so­lutes.
Health au­thor­it­ies are get­ting a handle on this dis­ease, but it's a tricky line as­sur­ing the pub­lic to be con­fid­ent that the out­break won't reach apo­ca­lyptic levels, while be­ing real­ist­ic that Ebola may still hold some sur­prises. "I think a bit of frank shar­ing of the lack of know­ledge would ac­tu­ally be help­ful in hav­ing the pub­lic un­der­stand, Haas says.