NEW OR­LEANS, Louisi­ana—Hotel rooms are booked. The con­ven­tion cen­ter is packed. Throngs of rev­el­ers spill out of jazz clubs on French­men Street.
New Or­leans is alive and thriv­ing. Or so it seems. Nearly a dec­ade has passed since Hur­ricane Kat­rina flooded the city and dis­placed more than 400,000 New Or­lean­i­ans. Bil­lions of fed­er­al dol­lars have poured in to re­build the Big Easy, along with thou­sands of vo­lun­teers and im­mig­rant day laborers. Now the city boasts sev­er­al For­bes top rank­ings, such as #1 Brain­power City and Fast­est Grow­ing City Since the Re­ces­sion.
But away from the French Quarter, New Or­leans is not the same place it once was. The fam­ously Afric­an-Amer­ic­an city has got­ten whiter and more His­pan­ic. Town­houses have popped up where hous­ing pro­jects once stood, push­ing poor, black res­id­ents to the sub­urbs to find cheap­er rent—or to home­less camps un­der the city's high­ways.
Out­side gro­cery stores and apart­ments, im­mig­ra­tion agents fre­quently de­tain and fin­ger­print Cent­ral Amer­ic­an work­ers who settled in New Or­leans after clean­ing up the mess Kat­rina left be­hind. Lati­nos now out­num­ber the city's es­tab­lished com­munity of Vi­et­namese refugees, who are keep­ing the Louisi­ana shrimp­ing in­dustry afloat after a double hit from Kat­rina and the BP oil spill. Then there's the in­flux of the so-called white "YURPS" (Young, Urb­an, Re­cov­ery Pro­fes­sion­als).
This is the new New Or­leans, and it's go­ing through a bit of an iden­tity crisis.
"It's a melt­ing pot, but there are still very prob­lem­at­ic is­sues we have to deal with re­gard­ing race," says Coun­cil­wo­man Nad­ine Ram­sey, an Afric­an-Amer­ic­an law­yer and former dis­trict court judge, whose dis­trict in­cludes the his­tor­ic French Quarter and Tremé neigh­bor­hood. "Not every­body has en­joyed the glut that's come to our city."
Afric­an Amer­ic­ans, who made up two-thirds of the city's pop­u­la­tion be­fore Kat­rina, are fight­ing to re­gain the polit­ic­al in­flu­ence they lost after the hur­ricane dis­placed thou­sands of work­ing-class black fam­il­ies. Ram­sey's elec­tion in March was cel­eb­rated for re­turn­ing the city coun­cil to a black ma­jor­ity for the first time since the dis­aster.
Now Afric­an Amer­ic­ans make up slightly more than half of the city's pop­u­la­tion, and they've had a tense — even hos­tile — re­la­tion­ship with the thou­sands of Latino im­mig­rants re­cruited to clean up and re­build the city. (An es­tim­ated 10,000 to 14,000 Latino work­ers had moved to New Or­leans with­in a year of Kat­rina, ac­cord­ing to a study by pro­fess­ors at Tu­lane Uni­versity and Uni­versity of Cali­for­nia, Berke­ley.) Black work­ers blamed the new­comers from Hon­dur­as and Guatem­ala for tak­ing con­struc­tion jobs and keep­ing wages down. This ra­cial ten­sion cap­tured na­tion­al at­ten­tion in 2005 when former May­or Ray Nagin made his in­fam­ous prom­ise to re­turn New Or­leans to a "Chocol­ate City."
Since then, Nagin has gone to pris­on for pub­lic cor­rup­tion and ra­cial hos­til­it­ies have softened. Nagin's suc­cessor, May­or Mitch Landrieu, has helped shift the tone with his push for ra­cial unity as the first white may­or of New Or­leans in more than three dec­ades. The city's black res­id­ents have also grown more tol­er­ant—even sym­path­et­ic, in some cases—of their Latino neigh­bors.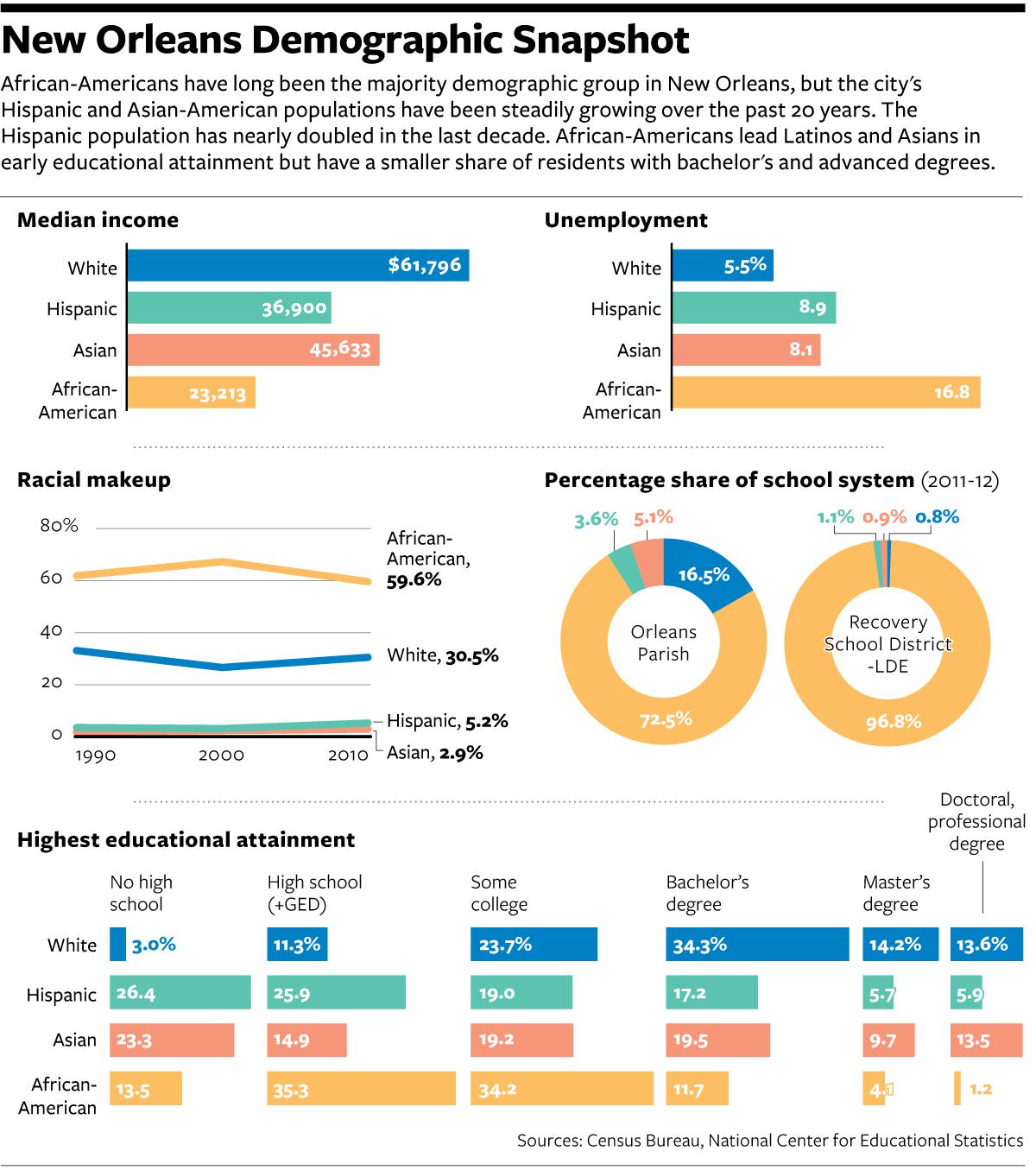 "[Lati­nos] are part of the com­munity and people know they are not go­ing away, so we are get­ting to know each oth­er," said Al­fred Mar­shall, an or­gan­izer for STAND with Dig­nity, a non-profit group that rep­res­ents low-in­come, mostly Afric­an-Amer­ic­an work­ers.
The num­ber of Lati­nos in New Or­leans has in­creased by 40 per­cent since 2000, census data shows. In sub­urb­an Jef­fer­son Par­ish, the num­ber jumped 75 per­cent. That growth has con­tin­ued des­pite Louisi­ana's high rate of de­port­a­tions. The state ranks second after Geor­gia for is­su­ing the largest per­cent­age of de­port­a­tion or­ders, ac­cord­ing to 2014 data from the Trans­ac­tion­al Re­cords Ac­cess Clear­ing­house at Syra­cuse Uni­versity. Most of the people ordered to leave come from Mex­ico, Hon­dur­as, and Guatem­ala.
Des­pite the high de­port­a­tion rate, the total num­ber of de­port­a­tion or­ders in Louisi­ana dropped in half in the last five years, data show, and about half of those cases in­volved people with a crim­in­al con­vic­tion.
But in­stead of hid­ing in fear, hun­dred of un­doc­u­mented im­mig­rants in New Or­leans have spoken out against what they see as ra­cial pro­fil­ing and po­lice har­ass­ment of law-abid­ing fam­il­ies. The Con­gress of Day Laborers, which rep­res­ents the city's re­con­struc­tion work­ers, draws more than 400 people to its weekly meet­ings at a church gym near the Lower Ninth Ward. Re­cent guests have in­cluded the may­or, the po­lice chief, and the Or­leans Par­ish sher­iff.
In 2013, the work­ers scored a ma­jor vic­tory when the sher­iff of Or­leans Par­ish agreed to stop hold­ing im­mig­rants in jail for im­mig­ra­tion au­thor­it­ies. He is the first south­ern sher­iff to do so.
Aside from speak­ing out against harsh im­mig­ra­tion en­force­ment tac­tics, the city's Lati­nos are get­ting in­volved in their com­munit­ies. In Septem­ber, they launched the city's first of­fi­cial Span­ish-speak­ing neigh­bor­hood as­so­ci­ation, called Re­union de Vec­i­nos, which roughly trans­lates to "Neigh­bors' Meet­ing." The group's monthly meet­ings bring to­geth­er about 40 His­pan­ic res­id­ents of Mid-City, a his­tor­ic­ally black neigh­bor­hood that is now home to the city's largest Latino pop­u­la­tion.
"We no­ticed that al­though there was a huge in­flux of Lati­nos, they wer­en't par­ti­cip­at­ing in com­munity for­ums," said Ju­lissa Gonzales, a com­munity or­gan­izer for Puentes New Or­leans, a non-profit group that pro­motes Latino civic en­gage­ment. "We star­ted ask­ing, 'what do you want your neigh­bor­hood to look like in 10 years?'"
It turns out that, above all, that they wanted to feel safe from rob­bers who tar­get them and po­lice of­ficers who pro­file them. In­creased ac­cess to edu­ca­tion and health ser­vices are im­port­ant too, said Gonzales. Vec­i­nos mem­bers have already or­gan­ized a neigh­bor­hood cleanup and vo­lun­teered at the city's first Fest­iv­al of Latino Her­it­age at a loc­al park. They've also met with their dis­trict's po­lice com­mand­er and staff from the city's parks de­part­ment.
"People are pay­ing at­ten­tion to us now," said Gonzales. "Be­fore, we wer­en't even on their ho­ri­zon."
Na­tion­al Journ­al re­cently vis­ited New Or­leans to see how the city has changed in the nine years since Hur­ricane Kat­rina dis­placed thou­sands of Afric­an-Amer­ic­an fam­il­ies and drew thou­sands of Latino im­mig­rants to re­build the city. In the com­ing weeks, Next Amer­ica will pub­lish a series of stor­ies about the people who are re­de­fin­ing the iden­tity of this icon­ic city.