A new study shows that the U.S. eco­nomy would ex­pand by $2.1 tril­lion in gross do­mest­ic product if ra­cial minor­it­ies had equal ac­cess and op­por­tun­it­ies in the job mar­ket. The re­port, "The Equity Solu­tion," was re­leased last week by Poli­cyLink and the Uni­versity of South­ern Cali­for­nia's Pro­gram for En­vir­on­ment­al and Re­gion­al Equity.
Each of the 150 ma­jor metro areas and 50 states stud­ied stand to gain mil­lions in ad­di­tion­al an­nu­al rev­en­ue if the wage gap didn't ex­ist and res­id­ents of col­or were able to earn, on av­er­age, what their white peers already do.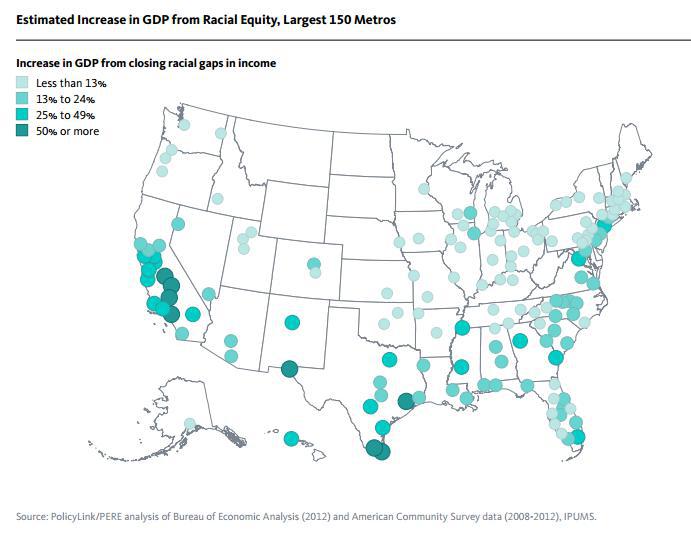 Cit­ies that have high levels of di­versity—think Los Angeles, Hou­s­ton, San Ant­o­nio—un­der­stand­ably have more to gain from ra­cial equal­ity. But the re­search demon­strates that every single city in the list of the biggest 150 metro areas would grow its eco­nomy. Even Spring­field, Mo., the city that would gain the least com­pared with the oth­er 149, would still be­ne­fit from an ad­di­tion­al $287 mil­lion in rev­en­ue if it could cre­ate bet­ter op­por­tun­it­ies for the city's minor­it­ies.
"If people are not con­trib­ut­ing fully to the work­force, for whatever reas­on, we all miss out on their po­ten­tial con­tri­bu­tions," says Dav­id Lev­ine, cofounder and CEO of the Amer­ic­an Sus­tain­able Busi­ness Coun­cil. "Ra­cial dis­par­ity is hurt­ing our eco­nomy today. The soon­er we ad­dress it, the soon­er we can reap the re­wards of a more equit­able and vi­brant eco­nomy."
The re­port also points to each city's root cause of ra­cial in­equal­ity—how much of the in­come gap is at­trib­ut­able to a dis­par­ity in wages and how much to un­em­ploy­ment and un­der­em­ploy­ment. For ex­ample, in­equal­ity in Santa Bar­bara, Cal­if., is mostly driv­en by a dis­par­ity in wages and could be ad­dressed by rais­ing wages or in­tro­du­cing more bet­ter-pay­ing jobs. On the oth­er side of the spec­trum is Flint, Mich., where in­equal­ity is en­tirely caused by dis­par­it­ies in em­ploy­ment.
Cit­ies on the coasts and in the Sun­belt tend to share Santa Bar­bara's ex­per­i­ence, be­cause they typ­ic­ally have high im­mig­rant pop­u­la­tions and ser­vice-dom­in­ated (low-wage) eco­nom­ies. The Mid­w­est and North­east re­gions with cit­ies like Flint struggle with ra­cial em­ploy­ment gaps be­cause they also struggle with high un­em­ploy­ment over­all that dis­por­tion­ately hurts low-in­come and minor­ity res­id­ents. 
Poli­cyLink has also re­leased an on­line tool, the Na­tion­al Equity At­las, which any­one can use to ex­plore the data for their own city and state. They hope it might also in­spire loc­al gov­ern­ment and com­munity lead­ers to take ac­tion.
"Amer­ica's cit­ies and met­ro­pol­it­an areas are di­verse, but we don't al­ways un­der­stand the depth or the nu­ances of that di­versity," says Mark Rid­ley-Thomas, Los Angeles County su­per­visor. "We don't al­ways un­der­stand what ra­cial dis­par­ity looks like and we do not al­ways un­der­stand what in­come in­equal­ity is really about."
What the study doesn't do is cal­cu­late the cost of policy changes that would ad­dress un­der­ly­ing so­cioeco­nom­ic reas­ons for in­equal­ity. The au­thors do re­com­mend sev­er­al lower-cost le­gis­lat­ive solu­tions, such as re­mov­ing ques­tions about crim­in­al his­tory on job ap­plic­a­tions, as well as en­act­ing com­pre­hens­ive im­mig­ra­tion re­form. But they ac­know­ledge that more costly, high-re­turn in­vest­ments in pub­lic edu­ca­tion and job train­ing, as well as en­force­ment of civil-rights laws, would be ne­ces­sary in or­der to make real pro­gress in clos­ing the ra­cial in­come gap.