It may be cold com­fort for Demo­crats dig­ging out from last week's rubble, but their des­pair has plenty of pre­ced­ent.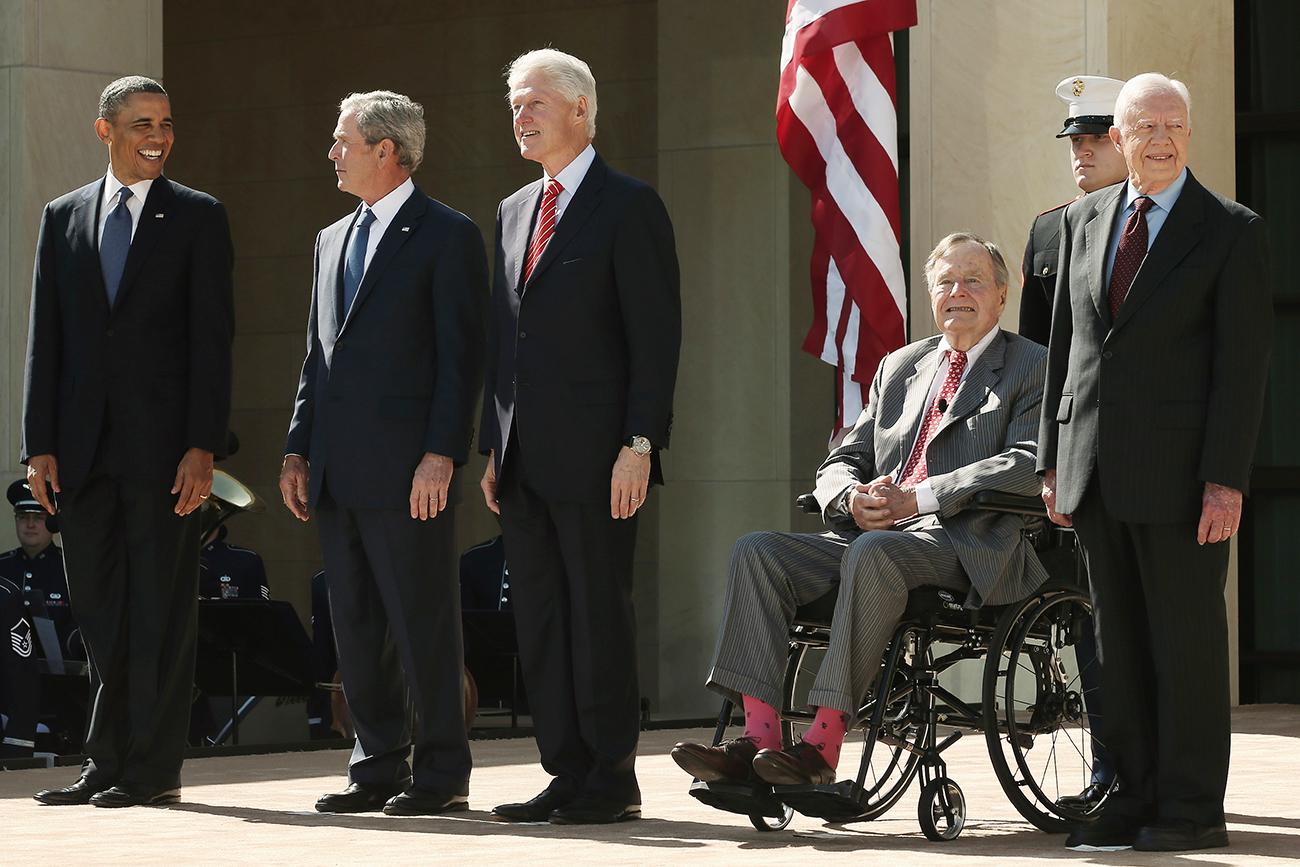 (Alex Wong/Getty Im­ages)Pres­id­ent Obama has weakened his party's po­s­i­tion in Con­gress — but not uniquely so. Since World War II, with just one ex­cep­tion, every time a party has held the White House for two pres­id­en­tial terms, it has lost con­gres­sion­al seats over that peri­od — and then sur­rendered the White House in the elec­tion to re­place the out­go­ing pres­id­ent. How Obama handles his fi­nal two years may de­cide wheth­er Demo­crats re­peat that pat­tern in 2016.
The fairest way to meas­ure a pres­id­ent's im­pact on his party's con­gres­sion­al strength is to com­pare the party's seat count just be­fore he first ap­peared on the bal­lot with the party's total after the elec­tion to suc­ceed him. That gives the pres­id­ent re­spons­ib­il­ity for any le­gis­lat­ors ini­tially swept in with him, the out­comes dur­ing his ten­ure, and the shad­ow he casts over the elec­tion that chooses his suc­cessor.
Us­ing that yard­stick, we would meas­ure Obama by com­par­ing the Demo­crat­ic stand­ing after 2006 (the last elec­tion be­fore his first pres­id­en­tial cam­paign) with the party's po­s­i­tion after 2016 (the race to suc­ceed him). For Bill Clin­ton, say, the equi­val­ent com­par­is­on would be 1990 to 2000.
So far, Demo­crats un­der Obama are down five Sen­ate seats (from 51 in 2006 to a likely 46 today, count­ing in­de­pend­ents who caucus with them) and around 45 House seats, de­pend­ing on fi­nal re­counts. Three times since World War II, a two-term pres­id­ent's party has lost more com­bined con­gres­sion­al seats by the end of the race to suc­ceed him: Dur­ing Clin­ton's pres­id­ency, Demo­crats lost six Sen­ate and 56 House seats; un­der George W. Bush, Re­pub­lic­ans lost 14 Sen­ate and 45 House seats; be­hind Dwight Eis­en­hower, the GOP lost 12 Sen­ate and 46 House seats.
The oth­er post-World War II pres­id­ents per­formed bet­ter than Obama. (The num­bers were 46 com­bined Sen­ate and House losses un­der John Kennedy and Lyn­don John­son; 42 un­der Richard Nix­on and Ger­ald Ford; and 41 dur­ing Harry Tru­man's trun­cated two terms.) Only Ron­ald Re­agan de­fied the pat­tern: Be­hind him, Re­pub­lic­ans gained four Sen­ate and 17 House seats.
The 2016 elec­tion will fix Obama's fi­nal place on that list — and de­term­ine wheth­er his party will hold the pres­id­ency when he de­parts. The only two-term pres­id­ent since World War II who passed that test was, again, Re­agan, whose vice pres­id­ent, George H.W. Bush, suc­ceeded him in 1988. Look­ing back fur­ther, the pat­tern seems to be that a pop­u­lar out­go­ing pres­id­ent can't guar­an­tee that his party will suc­ceed him (it worked for Re­agan, and for Theodore Roosevelt in 1908, but not for Eis­en­hower or Clin­ton); but a deeply un­pop­u­lar out­go­ing pres­id­ent al­most al­ways en­sures his party's de­feat (Tru­man, John­son, George W. Bush, and Woo­drow Wilson in 1920).
That shouldn't be sur­pris­ing. When voters want change, it's nat­ur­al for them to look to­ward the out party to de­liv­er it. That in­stinct makes dis­en­chant­ment with Obama the greatest po­ten­tial head­wind fa­cing Demo­crats in 2016.
A big les­son from 2014 is that Demo­crats can't tame that gale by ig­nor­ing it. Even Demo­crats who shunned Obama this year found no shel­ter. Voters who dis­ap­proved of Obama gave Re­pub­lic­ans at least three-fourths of their vote in 18 of the 22 Sen­ate races for which exit polls were con­duc­ted. The voter blocs most hos­tile to Obama stam­peded to Re­pub­lic­ans every­where. No Demo­crat­ic Sen­ate can­did­ate in a com­pet­it­ive race car­ried white men or whites without a col­lege de­gree; in those races, only New Hamp­shire's Jeanne Shaheen and Michigan's Gary Peters tied or won among whites over­all. The re­ced­ing tide lowered all boats.
If Hil­lary Clin­ton runs in 2016, she will bring her own well-burn­ished brand and re­la­tion­ship with voters to the race. But it's de­lu­sion­al to ima­gine she would be im­mune to at­ti­tudes about Obama: Exit polls in 1988 and 2000 found that 88 per­cent of voters who dis­ap­proved of Re­agan and Bill Clin­ton, re­spect­ively, voted for the oth­er party's nom­in­ee to suc­ceed them. (In 2008, Obama won two-thirds of Bush dis­ap­provers.) No mat­ter how she po­s­i­tions her­self, Clin­ton will al­ways rep­res­ent more con­tinu­ity with Obama than any Re­pub­lic­an does.
Obama will be­queath his party im­port­ant pos­it­ive legacies. He has aligned Demo­crats with the pri­or­it­ies, par­tic­u­larly on cul­tur­al is­sues, of mil­len­ni­als, minor­it­ies, and col­lege-edu­cated white wo­men, the grow­ing groups that an­chor the party's pres­id­en­tial co­ali­tion. (All of those groups largely stuck with Demo­crats last week.) His health care law, while still leg­ally threatened, could in­sure 20 mil­lion people by 2016. And con­tin­ued growth could dis­pel some eco­nom­ic gloom: The eco­nomy has already pro­duced more than five times as many jobs un­der Obama as it did dur­ing George W. Bush's en­tire two terms.
The in­ev­it­ably young­er and more di­verse pres­id­en­tial-year elect­or­ate will be­ne­fit Demo­crats in 2016. But un­less Obama in his fi­nal laps can an­swer doubts about his lead­er­ship and agenda, the 2016 Demo­crat­ic nom­in­ee will again be run­ning in­to the wind — and last week's Re­pub­lic­an rout showed just how tough that can be.