SAN JOSE, Cal­if.—Cali­for­nia isn't wait­ing for Con­gress to act on im­mig­ra­tion re­form. The state has passed about a dozen laws in the last two years that al­low un­doc­u­mented im­mig­rants to get sub­sid­ized health in­sur­ance, stu­dent loans, fin­an­cial aid, and pro­fes­sion­al li­censes to prac­tice law and medi­cine.
These ef­forts have earned Cali­for­nia the repu­ta­tion as the most im­mig­rant-friendly state in the na­tion. And the most wel­com­ing place of all is Santa Clara County in Sil­ic­on Val­ley. Not only does it score the highest in the state for in­teg­rat­ing im­mig­rants, but it also boasts the second-largest per­cent­age of for­eign­ers in the na­tion after Miami.
Amer­ica's high-tech cap­it­al at­tracts a glob­al mix of work­ers, from In­di­an com­puter pro­gram­mers to Vi­et­namese en­tre­pren­eurs and Mex­ic­an day laborers. Im­mig­rants make up 38 per­cent of the pop­u­la­tion in the San Jose metro area, which in­cludes Santa Clara County and most of Sil­ic­on Val­ley, ac­cord­ing to 2013 Census Bur­eau data. That's an even high­er share of im­mig­rants than Los Angeles and New York.
Sil­ic­on Val­ley's un­doc­u­mented work­ers played a highly vis­ible role in push­ing the state to ex­pand op­por­tun­it­ies for its poorest im­mig­rants, with many speak­ing pub­licly for the first time about their leg­al status. They real­ized they didn't have to wait for Wash­ing­ton to pay at­ten­tion, says Jazmin Se­gura with Edu­cat­ors for Fair Con­sid­er­a­tion, a non­profit group that ad­voc­ates for ex­pan­ded ac­cess to high­er edu­ca­tion for un­doc­u­mented stu­dents.
"There is def­in­itely a lot of frus­tra­tion that things are not mov­ing at the fed­er­al level," says Se­gura, who helped draft the new law that will al­low people without So­cial Se­cur­ity num­bers to ob­tain pro­fes­sion­al li­censes. "I think Cali­for­nia has shown so much lead­er­ship and is re­cog­niz­ing the con­tri­bu­tion of im­mig­rants to the state."
It helps that the state's Demo­crat­ic gov­ernor, Jerry Brown, sup­por­ted meas­ures that law­makers could nev­er get passed un­der his Re­pub­lic­an pre­de­cessor, Arnold Schwar­zeneg­ger.
These new laws are mak­ing life easi­er for Sil­ic­on Val­ley's im­mig­rant un­der­class.
Not for the af­flu­ent new­comers from China and In­dia who work for high-tech com­pan­ies like Google and Ya­hoo. Not for the large num­ber of Vi­et­namese refugees who are now Amer­ic­an cit­izens. But for the un­doc­u­mented im­mig­rants from Mex­ico who clean mil­lion-dol­lar homes in the San Jose sub­urbs where Mi­crosoft, Apple, and Google are based. They work there as nan­nies and land­scapers too.
People like Mayela Razo have been driv­ing without a li­cense for years to work in these sub­urbs. The 52-year-old wo­man from Sin­aloa, Mex­ico, says she al­ways felt her chest clench when driv­ing onto High­way 87 to do house­clean­ing work in Moun­tain View or Sunnyvale. She'd heard too many stor­ies of traffic stops that ul­ti­mately led to de­port­a­tion.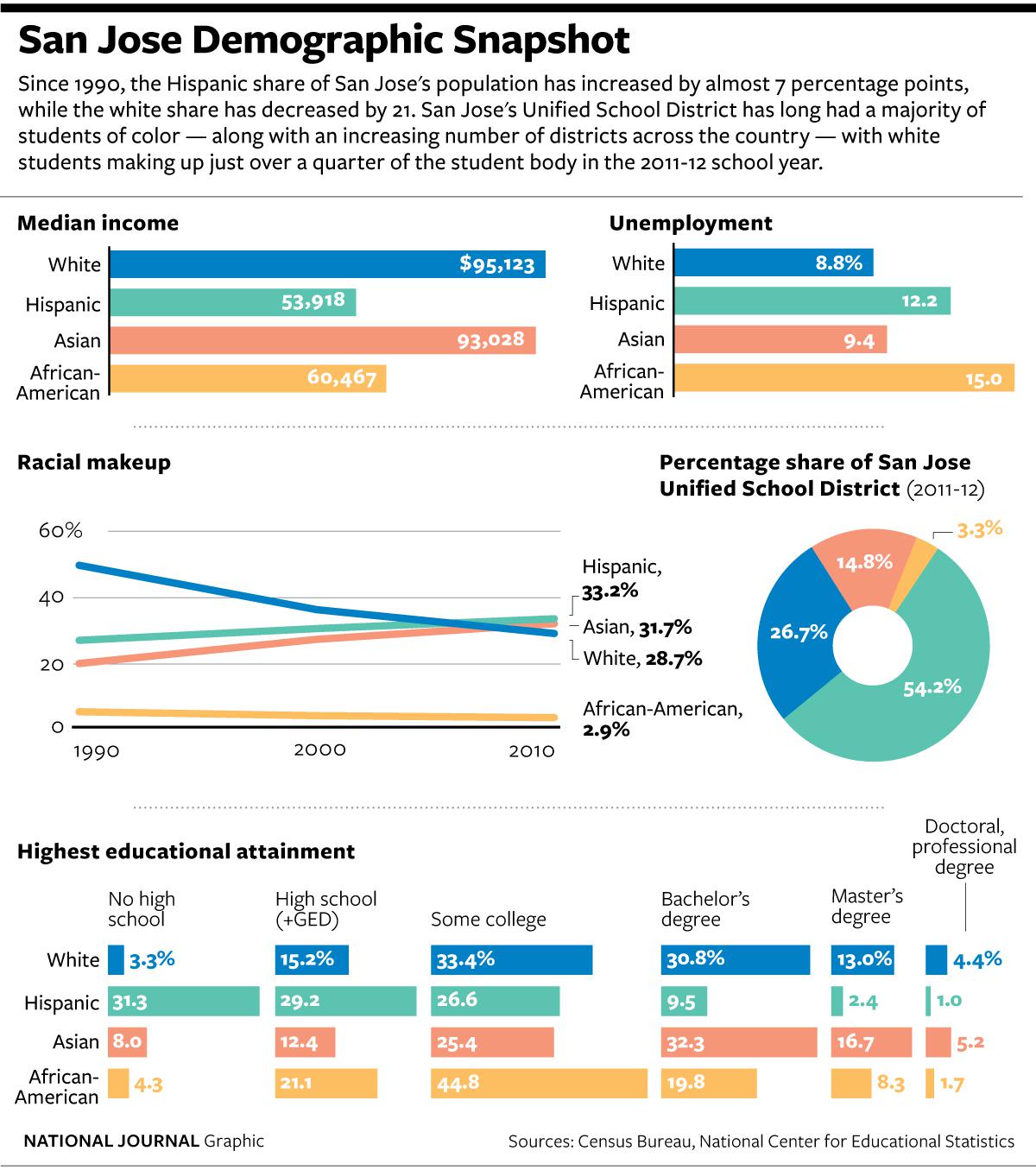 Razo says she breathes a little easi­er now, know­ing that a traffic stop won't end up sep­ar­at­ing her from her two teen­age Amer­ic­an sons. In Janu­ary, Cali­for­nia will join nine oth­er states and be­gin is­su­ing drivers' li­censes to people liv­ing il­leg­ally in the coun­try.
Razo worked hard to make that hap­pen, meet­ing with law­makers in Sac­ra­mento and testi­fy­ing at the state De­part­ment of Mo­tor Vehicles with oth­er vo­lun­teers from SIREN (Ser­vices, Im­mig­rant Rights and Edu­ca­tion Net­work). The San Jose-based im­mig­rant rights' group taught her that it was more dan­ger­ous to stay si­lent than to speak up, she says.
"Little by little we've got­ten vic­tor­ies," says Razo, who lives with her chil­dren and an­oth­er fam­ily in a house in south­east San Jose. "Our fear nev­er goes away, but at least now we can live with a little more peace of mind."
Razo may not have to worry so much about de­port­a­tion, she says, but there is still a lot of work needed to break the cycle of poverty her com­munity faces in Sil­ic­on Val­ley.
Few Lati­nos have be­ne­fit­ted from the tech boom that has giv­en Santa Clara County the highest me­di­an in­come in the na­tion. Though Lati­nos make up 27 per­cent of Santa Clara County, few­er than 4 per­cent work in Sil­ic­on Val­ley's sci­ence, tech­no­logy, en­gin­eer­ing, and math sec­tors, known as STEM.
One bar­ri­er has been ac­cess to edu­ca­tion for the so-called "Dream­ers" gen­er­a­tion. Though Cali­for­nia's pub­lic uni­versit­ies began of­fer­ing in-state tu­ition to un­doc­u­mented high school stu­dents more than a dec­ade ago, many have struggled to pay for their edu­ca­tion. In 2013, state fin­an­cial aid was made avail­able to them for the first time.
Un­doc­u­mented stu­dents are not eli­gible for fed­er­al stu­dent loans and grants and most private stu­dent loans, even those gran­ted "de­ferred ac­tion" status by Pres­id­ent Obama.
These obstacles stop many Dream­ers from go­ing to gradu­ate school, says Den­isse Ro­jas, an un­doc­u­mented stu­dent who grew up in the East Bay and gradu­ated with a bio­logy de­gree in in 2012 from the Uni­versity of Cali­for­nia (Berke­ley).
"I def­in­itely got dis­cour­aged in col­lege," says Ro­jas, who got fin­an­cial aid her last year in school after pas­sage of the Cali­for­nia Dream Act. "No one had the an­swers to how I was sup­posed to pur­sue my ca­reer."
So Ro­jas and an­oth­er un­doc­u­mented pre-med stu­dent at Berke­ley did the re­search them­selves and cre­ated the group Pre-Health Dream­ers, which has grown to a net­work of about 350 un­doc­u­mented stu­dents around the coun­try who want to purse health care ca­reers. The group helped draft the bill that will al­low un­doc­u­mented Cali­for­ni­ans to prac­tice medi­cine and oth­er pro­fes­sions li­censed by the state.
Des­pite these statewide gains and the tem­por­ary de­port­a­tion pro­tec­tion offered un­der Obama's De­ferred Ac­tion for Child­hood Ar­rivals, Ro­jas says that her fu­ture re­mains in limbo. If an­oth­er pres­id­ent ab­ol­ishes DACA, for ex­ample, how could she leg­ally work as a med­ic­al res­id­ent? That's al­ways in the back of her mind as she ap­plies to med­ic­al schools around the coun­try.
"There will al­ways be bar­ri­ers that I face without leg­al status," says Ro­jas. "You nev­er know when DACA will be taken away."
Na­tion­al Journ­al re­cently vis­ited Sil­ic­on Val­ley to see how im­mig­ra­tion and tech­no­logy have trans­formed the San Jose area. In the com­ing weeks, Next Amer­ica will pub­lish a series of stor­ies about the people who are find­ing their place in Amer­ica's wealth­i­est re­gion.