SAN JOSE, Caif.—Alex Mur­illo leans for­ward in his seat, sip­ping cof­fee from a shot glass and wav­ing his hands as he talks. He points to the screen of his Mac­Book Pro, ex­plain­ing the geni­us be­hind Audive, the mo­bile ap­plic­a­tion he is de­vel­op­ing that al­lows users to re­cord cov­er songs and mix tracks with mu­sic en­thu­si­asts around the world.
"This is the secret sauce," says Mur­illo, hit­ting a key on his com­puter that fills the air with the sound of a man singing in Itali­an. "You can bring in vo­cals from a guy in Italy or you can bring in the fla­menco gui­tar from Spain."
Mur­illo has made this pitch about three times to po­ten­tial in­vestors in Sil­ic­on Val­ley since launch­ing his start-up this sum­mer. He came up with the idea and pol­ished his pitch with the help of Manos Ac­cel­er­at­or, a tech in­cub­at­or fo­cused on grow­ing Latino-owned start-ups in Amer­ica's high-tech cap­it­al. He was one of six en­tre­pren­eurs chosen from a pool of 83 ap­plic­ants to take part in Manos's second ac­cel­er­at­or pro­gram, which ended in Au­gust.
Mur­illo moved to San Jose from Mex­ico with his wife nearly three years ago to take his chances in Sil­ic­on Val­ley. He had tried to launch a real-es­tate list­ings ap­plic­a­tion back home, he said, but the busi­ness cul­ture there was too res­ist­ant to change. Now Mur­illo and his five-per­son team are look­ing for an an­gel in­vestor to give them enough money to get Audive star­ted. He is also study­ing to get his CPA li­cense, just in case the start-up plan doesn't pan out.
"That's the backup plan," says Mur­illo, 32, who worked in cor­por­ate fin­ance for Siemens in Mex­ico. "It's a dream for an en­tre­pren­eur to come here to Sil­ic­on Val­ley."
The odds are against him. Less than 1 per­cent of ven­ture-backed start-ups have a Latino cofounder, ac­cord­ing to num­bers from ven­ture cap­it­al clear­ing­house CB In­sights. The lack of di­versity at these in­vest­ment firms and high-tech com­pany has earned Sil­ic­on Val­ley nick­names such as the "white boys club."
"It's very hard to tap in­to those circles," says Ed­ward Avila, CEO and cofounder of Manos Ac­cel­er­at­or. "If you're a Latino who didn't go to Stan­ford Uni­versity or the Ivy League schools, it's a chal­lenge. And Lati­nos don't typ­ic­ally have wealthy friends and fam­ily to get them star­ted."
Avila, 45, knows this firsthand. The San Jose nat­ive comes from a work­ing-class fam­ily: His Costa Ric­an moth­er worked the as­sembly line at a fruit can­nery, and his Mex­ic­an fath­er was a shoe cob­bler. Avila was the first in his fam­ily to go to col­lege and has since worked for two dec­ades in Sil­ic­on Val­ley as a hu­man-re­sources ex­ec­ut­ive for high-tech com­pan­ies such as West­ern Di­git­al and Phil­lips Semi­con­duct­ors.
Avila, who launched his own start-up in 2011, says he re­mem­bers feel­ing like the only Latino en­tre­pren­eur in the room at net­work­ing events. His start-up nev­er took off, and Avila de­cided to fo­cus on sup­port­ing oth­er Latino en­tre­pren­eurs.
"Many people thought I was crazy," he says. "To me it was a gut feel­ing. With all the Lati­nos we have in the U.S., you can't tell me there aren't en­tre­pren­eurs do­ing cre­at­ive and in­nov­at­ive things."
Avila star­ted Manos in 2013 with two cofounders: Sylvia Flores, a chem­ic­al en­gin­eer, and Dav­id Lopez, a com­puter tech­ni­cian (and Jen­nifer Lopez's fath­er). The group chose the name "Manos,"—the Span­ish word for "hands"—to spread the mes­sage that Lati­nos can do more than manu­al labor.
Their mis­sion caught the at­ten­tion of Google, which has partnered with Manos by provid­ing ment­ors, re­sources, and some op­er­at­ing funds. Last fall, Manos brought its first group of en­tre­pren­eurs from sev­en start-ups to its shared of­fice space in down­town San Jose. Par­ti­cipants de­veloped busi­ness plans, mar­ket­ing strategies, and el­ev­at­or pitches. The 12-week pro­gram ended with a Demo Day at Ya­hoo's headquar­ters in Sunnyvale.
"I would really like to see a Juan Fernan­dez up there with Steve Jobs and Mark Zuck­er­berg," says Avila.
The lack of di­versity in Sil­ic­on Val­ley gained na­tion­al at­ten­tion this sum­mer when high-tech com­pan­ies such as Apple and Ya­hoo re­leased their work­force demo­graph­ics for the first time. Their hir­ing re­ports show that Lati­nos and Afric­an-Amer­ic­ans make up less than 5 per­cent of their em­ploy­ees. The com­pan­ies dis­closed the num­bers in re­sponse to mount­ing pres­sure from me­dia and civil-rights groups.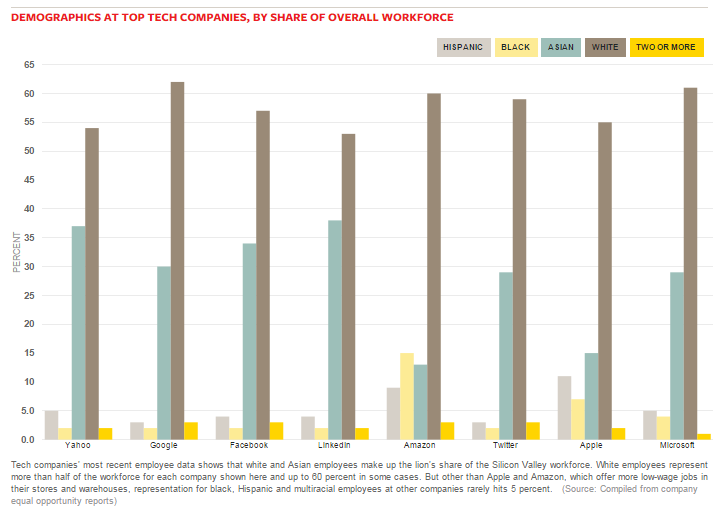 Ale­jandro Quin­tero worked for years as one of the few Latino en­gin­eers at Sil­ic­on Val­ley com­pan­ies such as Cisco and Lo­git­ech. In 2012, he de­cided to quit his job and work full time on get­ting his own com­pany off the ground. Last year, he and his part­ner launched Cues­tio­name, a so­cial plat­form that al­lows people to pose ques­tions to gov­ern­ment of­fi­cials and oth­er lead­ers. So­cial-me­dia users can then vote on ques­tions they would like answered, giv­ing gov­ern­ment agen­cies an idea of which ques­tions they should re­spond to first.
Quin­tero, 40, par­ti­cip­ated in the second ac­cel­er­at­or pro­gram at Manos, which ended in Au­gust. The Venezuelan nat­ive said Manos has helped him make con­nec­tions and get ex­pos­ure in the com­pet­it­ive Sil­ic­on Val­ley tech world.
"The way it works in the val­ley is, it's all about build­ing trust," says Quin­tero, a tele­com­mu­nic­a­tions en­gin­eer. "We have a big­ger lad­der to climb be­cause we are a minor­ity that hasn't had a big im­pact here the way Asi­ans and In­di­ans have."
The next step for Manos is de­vel­op­ing a net­work of an­gel in­vestors will­ing to take a chance on their en­tre­pren­eurs. Get­ting that ini­tial in­vest­ment of $50,000 to $100,000 is cru­cial for the start-ups to suc­ceed, Avila says.
This month, Manos held its first three-day boot camp for pro­spect­ive in­vestors as part of the Manos An­gel Net­work. The group of sev­en in­vestors learned the ba­sics of in­vest­ing in early-stage ven­tures and heard pitches from 11 en­tre­pren­eurs, in­clud­ing Quin­tero and Mur­illo. At the end of pro­gram, they all voted on which start-up would get their $50,000 in­vest­ment.
The win­ner was Sil­ic­on Val­ley-based Sur­vmet­rics, which al­lows busi­nesses to cre­ate cus­tom­er sur­veys de­signed for smart­phone users.
"We were very im­pressed," says Ale­jandro Es­trada, a Visa ex­ec­ut­ive who is look­ing to be­come a full-time an­gel in­vestor. "It seemed like a good strategy for a mar­ket that already ex­ists."
Two oth­er Manos start-ups are also ne­go­ti­at­ing con­tracts with an­gel in­vestors, Avila says.
Though Audive or Cues­tio­name didn't at­tract sup­port from these in­vestors, Mur­illo and Quin­tero didn't seem too up­set. Launch­ing a start-up in Amer­ica's in­nov­a­tion cap­it­al is not sup­posed to be easy, Quin­tero says.
"The job is not glam­or­ous at all," he says. "You have to go and pitch and pitch again, be­cause you nev­er know if an in­vestor will be call­ing you to­mor­row. You just have to keep go­ing."
Na­tion­al Journ­al re­cently vis­ited Sil­ic­on Val­ley to see how im­mig­ra­tion and tech­no­logy have trans­formed the San Jose area. In the com­ing weeks, Next Amer­ica will pub­lish a series of stor­ies about the people who are find­ing their place in Amer­ica's wealth­i­est re­gion.