Louisi­ana's Sen­ate run­off is Sat­urday, but voters have already been cast­ing bal­lots, and the early re­turns look ugly for Mary Landrieu.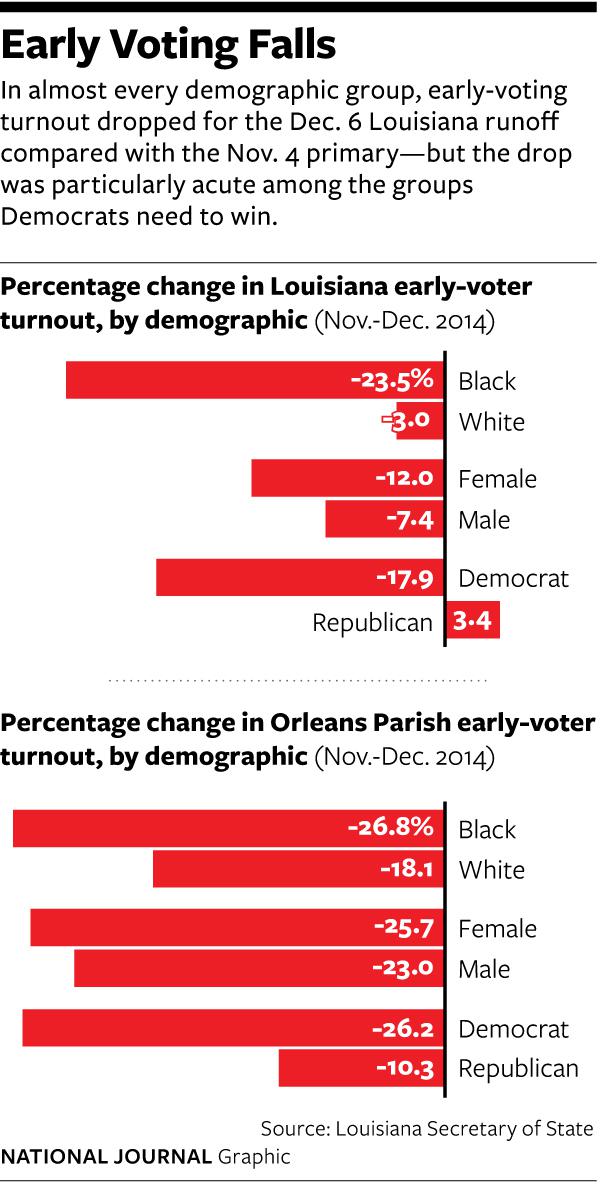 Early-vot­ing rates are down across the board, in al­most every demo­graph­ic group and al­most every par­ish, com­pared with the early-vot­ing peri­od be­fore the Novem­ber all-party primary. But that de­cline has been most acute among groups the Demo­crat in­cum­bent needs if she is to pull off a vic­tory against chal­lenger Bill Cas­sidy.
With Landrieu's Sen­ate ca­reer on the line, wo­men, re­gistered Demo­crats, and es­pe­cially Afric­an-Amer­ic­ans were more likely than oth­ers to drop out of the run­off's early elect­or­ate, ac­cord­ing to vot­ing stat­ist­ics re­leased by the Louisi­ana sec­ret­ary of state.
Cer­tainly, early votes are just that — early. The bulk of Louisi­ana's bal­lots will come in on Sat­urday, and Landrieu's cam­paign ar­gues that those res­ults will help. But at this point, she would need an enorm­ous shift to over­come her early-vote de­fi­cit.
Just over 221,000 people cast early bal­lots for the run­off, com­pared with more than 245,000 who voted early be­fore the Novem­ber primary. But more Re­pub­lic­ans ac­tu­ally turned out early this time, while 18 per­cent few­er Demo­crats cast early bal­lots. Sev­en per­cent few­er men have already voted, but wo­men's early votes have dropped off even more, with a 12 per­cent de­cline.
By far the most troub­ling demo­graph­ic for Landrieu is the Afric­an-Amer­ic­an elect­or­ate. While wo­men are more likely than men to vote Demo­crat­ic, and re­gistered party mem­bers are also re­li­able sup­port­ers for their own party, race may be the starkest di­vid­ing line in Louisi­ana polit­ics. Landrieu won 94 per­cent of the black vote in the Novem­ber primary, ac­cord­ing to the exit poll, while she only car­ried 18 per­cent of white voters.
That makes the 24 per­cent drop in early Afric­an-Amer­ic­an turnout com­pared with the Novem­ber primary a blar­ing warn­ing siren for Louisi­ana Demo­crats — es­pe­cially giv­en that the white early vote has barely fallen — only 3 per­cent — com­pared with the primary. Al­most the en­tire drop in early turnout between the two elec­tions is be­cause few­er Afric­an-Amer­ic­ans showed up early this time.
Landrieu spokes­man Mat­thew Lehner cau­tioned against draw­ing con­clu­sions from early-vot­ing stat­ist­ics. "Landrieu won in 2002 by driv­ing up sup­port on Elec­tion Day in New Or­leans, es­pe­cially in the Afric­an-Amer­ic­an com­munity."
Louisi­ana's tra­di­tion­al run­off on Sat­urday rather than Tues­day could help Landrieu boost turnout among key groups, Demo­crats ar­gue. That would get her to a start­ing point — an elect­or­ate that's at least 30 per­cent Afric­an-Amer­ic­an — from which she could be com­pet­it­ive. That was the turnout rate in Novem­ber, but the Afric­an-Amer­ic­an share of the vote ac­tu­ally de­clined slightly among the full Novem­ber elect­or­ate com­pared with the primary's early-vot­ing peri­od. This time, Landrieu's cam­paign has to hope the op­pos­ite hap­pens.
The real hurdle for the Demo­crat is that she also needs to boost the share of white voters who sup­port her in­stead of the Re­pub­lic­an can­did­ate in the run­off, a tough­er as­sign­ment. Landrieu's camp, ad­mit­ting it's "run­ning from be­hind," says a string of re­cent stor­ies about Cas­sidy's in­come from Louisi­ana State Uni­versity — rais­ing ques­tions about the hours he was billing the school, where he taught med­ic­al stu­dents part-time while serving in Con­gress — could dam­age him with voters late.
"While we are run­ning from be­hind, Dr. Double Dip Bill and his payroll-pad­ding has shif­ted the mo­mentum to us," Lehner said. "We are on the of­fense. The ques­tion is, can we turn out our voters? If 1996 and 2002 are any guide, we can and will."