In a Face­book post Tues­day morn­ing, Jeb Bush an­nounced that he's "de­cided to act­ively ex­plore the pos­sib­il­ity of run­ning" for pres­id­ent. And the latest polls show he's in early po­s­i­tion to win the Re­pub­lic­an nom­in­a­tion — as long as Mitt Rom­ney doesn't join the race.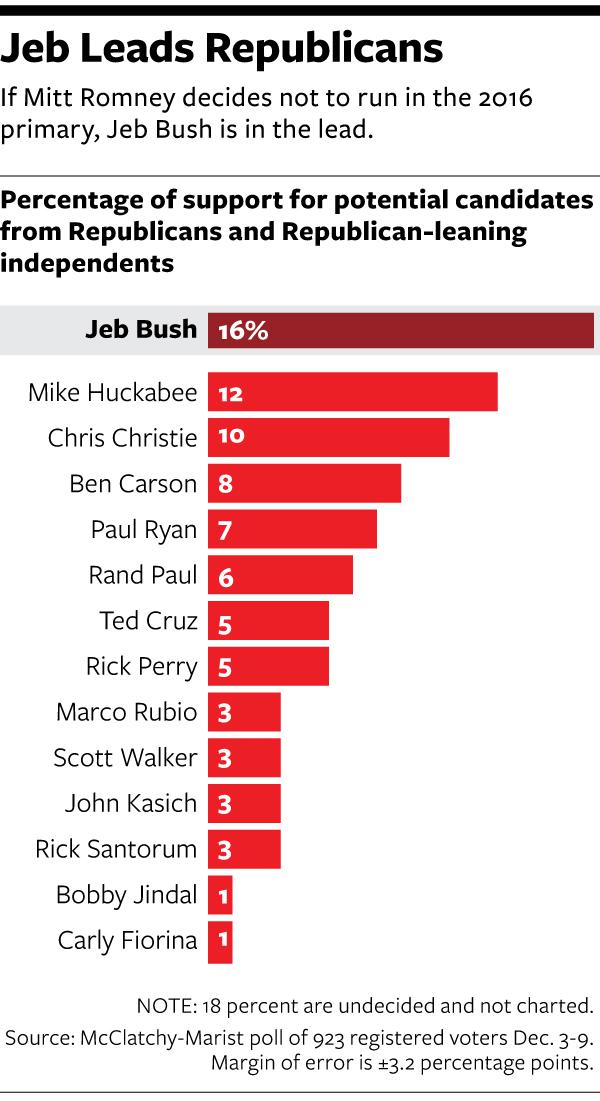 The former Flor­ida gov­ernor and the heir to the Bush pres­id­en­tial leg­acy has garnered at­ten­tion in re­cent months for mak­ing moves to­ward a 2016 cam­paign. Though at first he seemed reti­cent to take up the mantle of his broth­er and fath­er and put his pub­li­city-averse fam­ily back in the spot­light, he's stayed near the top of polls of the GOP field, over­shad­owed only by Mitt Rom­ney. With the former Mas­sachu­setts gov­ernor and twice-thwarted pres­id­en­tial can­did­ate in­cluded in opin­ion polls, Bush of­ten places second in a crowded list of Re­pub­lic­an hope­fuls: Ac­cord­ing to a Tues­day Mc­Clatchy-Mar­ist poll, Bush has 14 per­cent sup­port from likely voters to Rom­ney's 19 per­cent.
But if Rom­ney doesn't run, Bush leads the GOP pack — al­beit by a slim mar­gin. Tues­day's poll has him with 16 per­cent, four points ahead of former Arkan­sas Gov. Mike Hucka­bee and six ahead of New Jer­sey Gov. Chris Christie. Per a Novem­ber Quin­nipi­ac poll, however, Jeb Bush's fa­vor­ab­il­ity splits are 33 per­cent fa­vor­able and 32 per­cent un­fa­vor­able. Rom­ney has been un­der polit­ic­al watch for the great­er part of the past dec­ade. Bush, who hasn't held of­fice since 2007, isn't as well known across the coun­try, with 33 per­cent re­spond­ing that they "haven't heard enough" about him to have an opin­ion. Those fa­vor­ab­il­ity num­bers, then, have more room to change than Rom­ney's, which are at 44 per­cent fa­vor­able and 42 per­cent un­fa­vor­able.
As for a gen­er­al elec­tion, Bush fares slightly worse than he would in a primary. The Quin­nipi­ac poll shows Demo­crat­ic front-run­ner Hil­lary Clin­ton top­ping him 46 per­cent to 41 per­cent, versus a near toss-up for Rom­ney at 45 per­cent to Clin­ton's 44 per­cent, and a 1-point mar­gin for Clin­ton against Christie at 43 per­cent to 42 per­cent.
But there's some di­ver­gent polling here. In a more re­cent Bloomberg Polit­ics poll from the be­gin­ning of this month pit­ting GOP con­tenders against Clin­ton, num­bers for Bush, Rand Paul, and Christie in a Clin­ton match­up are roughly equal, with Bush and Paul tied at 37 per­cent sup­port and Christie at 36 per­cent. But Bush still lags be­hind Rom­ney, who comes the closest to catch­ing Clin­ton with 39 per­cent sup­port to her 45 per­cent.
If Bush de­cides to ad­vance from act­ively ex­plor­ing a run to act­ively cam­paign­ing, he could have a real shot at the nom­in­a­tion. He'll just want to fix his space­bar first.
Cor­rec­tion: An earli­er ver­sion of this story mis­stated find­ings from a Mar­ist poll.