I'm not try­ing to be John Din­gell. I'm Debbie Din­gell." Dur­ing a re­cent morn­ing of shad­ow­ing the fresh­man rep­res­ent­at­ive from Michigan, I learn that this is about as philo­soph­ic­al as she wants to get on the com­plex­it­ies of in­her­it­ing a seat — and a leg­acy — from her hus­band, former Rep. John Din­gell, the longest-serving mem­ber in the his­tory of Cap­it­ol Hill.
Debbie Din­gell is known for her wry warmth: In the Can­non House Of­fice Build­ing — her glasses pushed rak­ishly back over fly­away blond hair — she greets friends as "honey," with a kiss on the cheek. But on the ques­tion of her lar­ger-than-life pre­de­cessor, she has been stick­ing to an­swers such as, "I'm not try­ing to fill his shoes." "We're just two dif­fer­ent people," she says, with a hint of a sigh, when I ask about her hus­band for the ump­teenth time.
It's easy to see why Debbie — who is 61 to John's 88, and who met and mar­ried him when she was in her twen­ties and he was already a power­ful mem­ber of the House — is tired of talk­ing about it. She has been field­ing this line of in­quiry since the mo­ment she an­nounced she would com­pete to suc­ceed him. ("Debbie Din­gell Poised to Keep U.S. House Seat in the Fam­ily," pro­claimed an NPR story in Feb­ru­ary 2014.) More-re­cent cov­er­age has been in the same vein. ("Debbie Din­gell Ready for Spot­light as Her Hus­band, the 'Dean' of Con­gress, Steps Aside," ob­served The New York Times in Novem­ber.)
Gran­ted, it's im­possible to un­der­stand this con­sum­mate Wash­ing­ton spouse without con­sid­er­ing her icon­ic hus­band — who came to Cap­it­ol Hill as a page in 1938. But Debbie, as she says, isn't John. While she calls her hus­band "the most im­port­ant thing in my life" — and while their polit­ic­al com­mon­al­it­ies dwarf their dif­fer­ences — it's also true that her ten­ure on the Hill will not be a car­bon copy of his.
Even be­fore she ran for of­fice, Debbie Din­gell al­ways guarded her own iden­tity. She worked at Gen­er­al Mo­tors for 32 years (she's a scion of Michigan auto roy­alty: the Fish­er fam­ily of Fish­er Body) and has said of­ten that she stayed at GM in part be­cause she already had the job when she and John met — so no one could as­sume that her power­ful hus­band got it for her.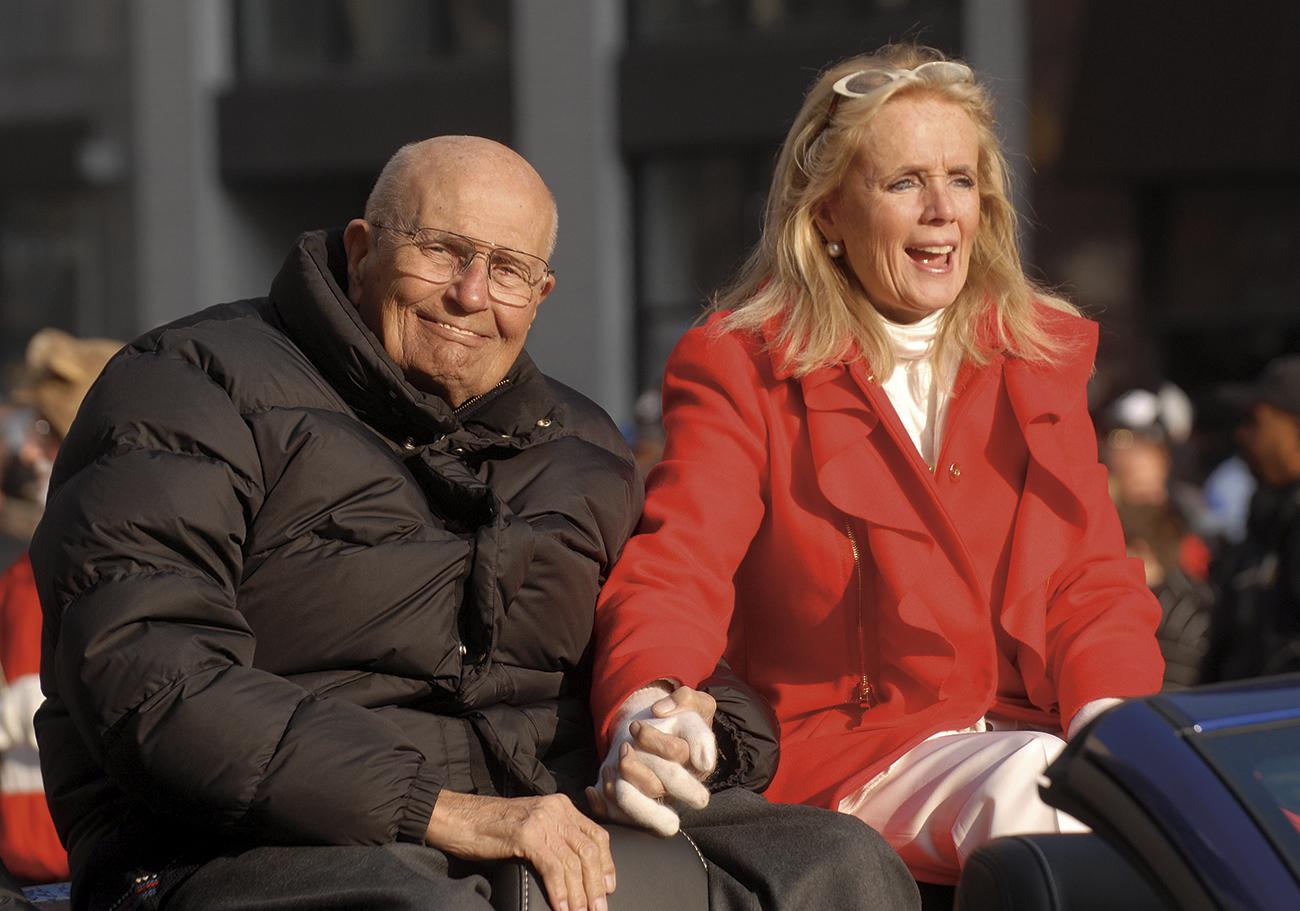 Din­gell also built her own CV in polit­ics, as a mem­ber of the Demo­crat­ic Na­tion­al Com­mit­tee. Be­fore she met her hus­band, she wrote her mas­ter's thes­is at Geor­getown on "ci­vil­ity in Con­gress"; in the 1990s, she helped start a series of bi­par­tis­an lunches (with Mar­lene Malek, wife of GOP donor and strategist Fred Malek) for well-to-do Wash­ing­ton wo­men, which has con­tin­ued ever since. "I don't know that I have the con­tacts that Debbie has in this town," Minor­ity Whip Steny Hoy­er re­cently told The New York Times. Debbie and John Din­gell don't see eye to eye on gun con­trol. (Paul Warner/Getty Im­ages)
John and Debbie may dif­fer most in per­son­al style. Where­as John was known for his ag­gress­ive con­fid­ence and im­per­i­ous con­trol over his com­mit­tee — he was some­times called "The Truck," for his 6-foot-3 inch height and his hard-driv­ing ap­proach — Debbie "has more of a bed­side man­ner," says Susan De­mas, ed­it­or and pub­lish­er of the news­let­ter In­side Michigan Polit­ics. Former Gov. Jen­nifer Gran­holm told me that Debbie reg­u­larly ac­ted as an un­of­fi­cial in­ter­me­di­ary for her when she clashed with Re­pub­lic­ans in the state Le­gis­lature. "She will al­ways know people's birth­days, people's chil­dren," Gran­holm says. "She knows ways to hu­man­ize re­la­tion­ships."
On most is­sues, in­clud­ing eco­nom­ic policy and Michigan's all-im­port­ant auto in­dustry, John and Debbie seem to be sim­patico. (She has in­her­ited a fair num­ber of his staff: Eight of her 14 aides are old-time Din­gell hands.) But there's at least one area where the couple doesn't see eye to eye, and this di­ver­gence was on dis­play dur­ing Debbie's first month in of­fice. John is staunchly pro-gun, a former board mem­ber of the Na­tion­al Rifle As­so­ci­ation (though he resigned in 1994, when he voted for Pres­id­ent Clin­ton's om­ni­bus crime bill). Debbie, on the oth­er hand, grew up with a men­tally un­stable fath­er who kept guns in the house; she has writ­ten about try­ing to grab one from his hands as he threatened her moth­er when she was 12 years old. In Janu­ary, she wrote to Michigan's Re­pub­lic­an gov­ernor, Rick Snyder, about a bill passed by the state Le­gis­lature that would have al­lowed people ac­cused of do­mest­ic vi­ol­ence to ob­tain per­mits for con­cealed weapons. He ul­ti­mately ve­toed it.
{{third­PartyEmbed type:magazineAd source:magazine_mid}}
What did John think of that? "I re­spect him, and he re­spects me," Debbie says. "I think we each un­der­stand each oth­er's view­point. He prob­ably wishes and hopes that I would not be as vo­cal as I have been."
Carving out her own iden­tity won't be a simple task for Debbie, of course. "The real ques­tion is, how much is the news me­dia go­ing to try to get to John Din­gell, to ask him to say something about his wife's vote or something — and how much will he be will­ing to en­ter­tain that kind of at­ten­tion," says Bill Bal­lenger, founder of In­side Michigan Polit­ics, who has known Debbie since be­fore she met John. "Dis­cre­tion is the bet­ter part of val­or, and he'd prob­ably be bet­ter off not com­ment­ing."
Even if John's leg­acy looms large, though, Debbie is in some ways a bet­ter fit with today's Demo­crat­ic caucus than he was. John's loy­alty to the auto in­dustry, for in­stance, meant that he had a de­cidedly mixed re­la­tion­ship with the en­vir­on­ment­al move­ment. De­mas re­mem­bers that when the Din­gells' dis­trict was re­drawn in 2002 to in­clude the lib­er­al uni­versity town of Ann Ar­bor, Debbie "was the am­bas­sad­or there [who] really built re­la­tion­ships with the lib­er­al wing, with people in­volved in en­vir­on­ment­al polit­ics who were pretty sus­pi­cious of him."
{{third­PartyEmbed type:magazineAd source:magazine_bot­tom}}
"I don't think it's un­likely she's go­ing to see things dif­fer­ently than he sees things, be­cause she's young­er than he is," says friend Susanna Quinn (whose mar­riage to lob­by­ist Jack Quinn is also a May-Decem­ber pair­ing). "Some things are gen­er­a­tion­al."
For now, Debbie Din­gell says her hus­band, who is re­cov­er­ing from a re­cent fall, isn't weigh­ing in much on her work — something that makes her "sad, a little." His at­ti­tude, she ex­plains, seems to be, "It's your turn now."