March 6, 2015, 12:01 a.m.
Ohio Gov. John Kasich has a mes­sage for the haters who have spent the past year or so snip­ing that he is in­suf­fi­ciently con­ser­vat­ive: Bring it. "It's really odd," Kasich tells me in early Feb­ru­ary, when I spend a few days trail­ing him around the state. "I was talk­ing to Mi­chael Novak today, who's a bril­liant writer, philo­soph­er. I don't know if you know who he is. He's a Cath­ol­ic theo­lo­gian. He has re­ceived a Tem­pleton Prize. Lady Thatch­er flew to Lon­don to see him get this award." (Kasich is not the most lin­ear con­ver­sa­tion­al­ist.) "And I was say­ing how amus­ing it is to me that the con­ser­vat­ive move­ment — a big chunk of which is faith-based — seems to have nev­er read Mat­thew 25."
For those in need of a New Test­a­ment re­fresh­er: In Mat­thew 25, Je­sus ad­mon­ishes his fol­low­ers to aid the less for­tu­nate. Kasich has cited the pas­sage re­peatedly of late in de­fend­ing his Obama­care-fueled Medi­caid ex­pan­sion — an act of Re­pub­lic­an apostasy that promp­ted wide­spread dis­may among his party brethren.
"I just talked to Natan Shar­ansky the oth­er day," the gov­ernor con­tin­ues, in what is shap­ing up to be one of his trade­mark rants: emo­tion­al, self-im­port­ant, littered with shame­less name-drop­ping. "You know, he was a pris­on­er of con­science. Wrote one of the greatest books I've ever read: Fear No Evil." Kasich stops ab­ruptly and leans his chair to­ward me as he erupts with both de­light and dis­be­lief at his in­tel­lec­tu­al hob­nob­bing. "I ac­tu­ally do this! I am not mak­ing this up! This is ac­tu­ally true!"
His vera­city pro­claimed, he gets back on track. "The point of this is that, with this whole spir­itu­al ele­ment, let's get away from the judg­ment side of it. I think it's ac­tu­ally what the Pope's try­ing to do. The Pope's not say­ing, 'Let's just aban­don everything up un­til now.' He's say­ing, 'But wait a minute! Be­fore we get to the rules, let's look at the good stuff. Let's have the dessert first!' Look, there's so much we have to do to clean ourselves up. Me: deeply flawed! There's so much that we have to do. So in­stead of get­ting in­to the judg­ment, why don't we get in­to the feed­ing the hungry and cloth­ing the na­ked and help­ing the im­prisoned and help­ing the lonely? That's what we're com­manded to do. So when people look askance at me, I feel sorry for them that they haven't had this. To me, this is a gift that I've been able to feel this way. More as time has gone on. But I'm not angry at any­body. I just wish they could see what I'm say­ing."
By and large, Kasich re­mains the deeply con­ser­vat­ive politi­cian he has al­ways been: the gov­ern­ment-slash­ing de­fi­cit ob­sess­ive who drove Demo­crats bonkers as chair­man of the House Budget Com­mit­tee in the 1990s. "He was Paul Ry­an be­fore Paul Ry­an," praises an­ti­tax cru­sader Grover Nor­quist. As Ohio's chief ex­ec­ut­ive, Kasich has elim­in­ated the es­tate tax, cut in­come-tax rates, tightened food-stamp re­quire­ments, cut school fund­ing, and cham­pioned busi­ness de­reg­u­la­tion. He signed in­to law new re­stric­tions on both abor­tion rights and vot­ing rights, and, dur­ing his first year in of­fice, launched a (failed) cru­sade to geld pub­lic-sec­tor uni­ons — sim­il­ar to the one that Scott Walk­er led in Wis­con­sin. Three months ago, Kasich set his sights bey­ond Ohio, em­bark­ing on a na­tion­al tour lob­by­ing state law­makers to call a con­sti­tu­tion­al con­ven­tion aimed at rat­i­fy­ing a bal­anced-budget amend­ment.
In so many ways, then, Kasich is the stuff of con­ser­vat­ive dreams. But the gov­ernor is also prone to jab­bing his fin­ger in the eye of his base with moves like rais­ing in­fra­struc­ture spend­ing, in­creas­ing tax breaks for low-in­come res­id­ents, cham­pi­on­ing a frack­ing tax on oil and gas pro­du­cers, push­ing to hike ci­gar­ette taxes, mak­ing edu­ca­tion fund­ing more re­dis­tributive, in­creas­ing spend­ing on men­tal-health care, man­dat­ing in­sur­ance cov­er­age for aut­ism, or com­mut­ing death sen­tences. And of course there's the grand­daddy of be­tray­als: Medi­caid ex­pan­sion, which Kasich rammed through over op­pos­i­tion from Ohio's Re­pub­lic­an-con­trolled Le­gis­lature.
This tend­ency to­ward con­trari­an­ism is not en­tirely new. Now and again, dur­ing his stint in Con­gress, Kasich would veer away from the Re­pub­lic­an line. But as gov­ernor, Kasich has kicked things up a notch when it comes to cri­ti­ciz­ing his own team — which he cred­its to the dif­fer­ence between le­gis­lat­ive and ex­ec­ut­ive power. Even as budget chair­man, he says, people were forever telling him what he could not do. "But be­ing gov­ernor, I'm now in a po­s­i­tion where" — he starts laugh­ing — "I say no to oth­er people. They don't really say no to me! And it's really giv­en me a plat­form to do what I've al­ways wanted to do."
Kasich seems to rel­ish his role as in­tern­al crit­ic and pro­vocateur. Even as he touts the GOP line on the glor­ies of fisc­al re­straint and per­son­al re­spons­ib­il­ity, he sprinkles in talk about our com­mun­al re­spons­ib­il­ity to the for­got­ten and dis­en­fran­chised. "I think there is among both parties — both parties — a grow­ing an­ti­pathy to­wards poor people," he in­forms me. "One party be­lieves in in­vest­ing in bur­eau­cracy, and the oth­er one kind of doesn't get it some­times." Kasich de­livered a ver­sion of this mes­sage in his Janu­ary in­aug­ur­al ad­dress, call­ing out Re­pub­lic­ans for fail­ing to grasp that "eco­nom­ic growth is not an end un­to it­self. Eco­nom­ic growth provides the means whereby we can reach out and help those who live in the shad­ows."
He spe­cific­ally de­lights in gig­ging mem­bers of his own side for tak­ing po­s­i­tions he re­gards as un­real­ist­ic, na­kedly polit­ic­al, or down­right stu­pid. He does not simply de­fend the Com­mon Core; he ac­cuses its op­pon­ents of "hys­teria." He has as­ser­ted that res­ist­ance to Medi­caid ex­pan­sion is "really either polit­ic­al or ideo­lo­gic­al"; he main­tains that, with im­mig­ra­tion re­form, no op­tion can be taken off the table, in­clud­ing a path to cit­izen­ship; and do not get him star­ted on the nut­ti­ness of the anti-vac­cine folks — or the pols too gut­less to stand up to them. "When you are an elec­ted of­fi­cial, you have to chart your course. You have to feel good about who you are, and that means that you're not go­ing to re­spond to every yowl­er and scream­er or every ex­trem­ist that con­fronts you," he mar­vels. "It's just crazy. I look at this thing about vac­cin­a­tions now. We're not sup­posed to get a measles vac­cin­a­tion. What? Who are you re­spond­ing to? Where does that come from?"
To Kasich fans, this is ex­actly the sort of in­de­pend­ence that makes him a good lead­er. "John is a breath of fresh air," says former White House press sec­ret­ary Ari Fleis­cher. "He is a dif­fer­ent kind of Re­pub­lic­an. Al­beit a staunch con­ser­vat­ive, he is known to take un­ortho­dox stands and think in­de­pend­ently."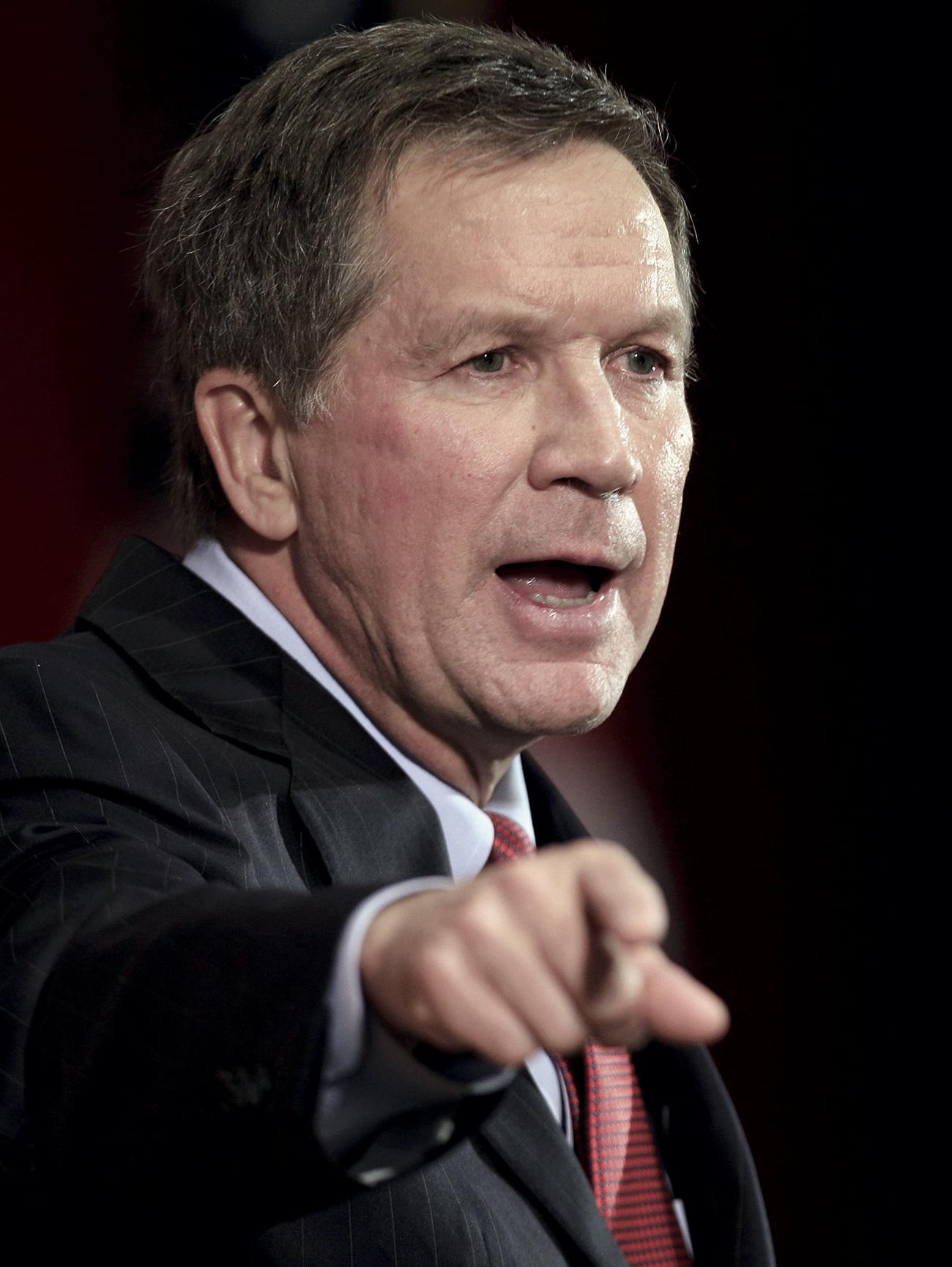 (AP Photo/Tony De­jak)De­tract­ors, by con­trast, see his rhet­or­ic as proof that he is a RINO — a Re­pub­lic­an in name only — or someone des­per­ate to curry fa­vor with mod­er­ates, es­tab­lish­ment donors, and the me­dia. Com­menters on con­ser­vat­ive sites such as Red State, Breit­bart, and Na­tion­al Re­view de­nounce Kasich as everything from "a fraud" to "a ly­ing li­ar" to "an es­tab­lish­ment clown." Out­raged over his Medi­caid antics, former Mitt Rom­ney health care ad­viser Avik Roy has de­clared that Kasich has a bet­ter shot at mar­ry­ing Sports Il­lus­trated swim­suit mod­el Kate Up­ton than at ser­i­ously con­tend­ing for the 2016 Re­pub­lic­an nom­in­a­tion.
But is he ac­tu­ally run­ning? That was one top­ic the straight-talk­ing gov­ernor would not dis­cuss with me. "I'm go­ing to de­fer on that one," he says. Nor will he be drawn in­to ana­lyz­ing the field as it is shap­ing up: "I would nev­er com­ment on the field! What, are you kid­ding?"
It seems clear, though, that he's think­ing about it: The week after my vis­it, the Clev­e­land Plain Deal­er re­por­ted that he had met with party pooh-bahs, in­clud­ing former Re­pub­lic­an Na­tion­al Com­mit­tee Chair­man Ed Gillespie and former Sen. John Sununu (from the early primary state of New Hamp­shire). On Feb­ru­ary 17, Kasich popped up in The Wash­ing­ton Post, talk­ing about IS­IS and telling re­port­er Robert Costa that he had been study­ing up on the for­eign policy land­scape. The next day, he took his bal­anced-budget road show to the key primary state of South Car­o­lina. He was in Wash­ing­ton this past week for Is­raeli Prime Min­is­ter Ben­jamin Net­an­yahu's con­tro­ver­sial ad­dress to Con­gress, pitch­ing him­self for post-speech me­dia com­ment­ary — and let­ting it be known that he was headed soon for New Hamp­shire.
If the gov­ernor does even­tu­ally plunge in­to the race, one thing seems guar­an­teed: He would be, by a large mar­gin, the Re­pub­lic­an field's most pro­voc­at­ive voice. No, he likely wouldn't win, and he might well get the snot kicked out of him. But more than any oth­er un­der­dog flirt­ing with 2016, John Kasich — de­fi­ant, out­spoken, crit­ic­al of con­ser­vat­ism from with­in — could upend the ten­or of the primary sea­son.
TO GRASP WHERE Kasich is com­ing from, it helps to skip the usu­al cat­egor­ies — liber­tari­an, so­cial con­ser­vat­ive, budget hawk, neo­con — and in­stead view his ac­tions through the lens of im­pa­tience: im­pa­tience with bur­eau­cracy, with par­tis­an pos­tur­ing, with ideo­lo­gic­al pur­ity. "John Kasich is one of the most en­er­get­ic and in­nov­at­ive idea-ori­ented Re­pub­lic­ans of his gen­er­a­tion," says former House Speak­er Newt Gin­grich. "He is a per­son who gets up in the morn­ing won­der­ing what six things he can get done by lunch."
Kasich's im­pa­tience is a vis­ible force: He is forever fid­get­ing in his chair, rock­ing on his toes, wav­ing his hands, jump­ing in­to con­ver­sa­tions, and gen­er­ally re­fus­ing to re­main at rest. (Two or three times dur­ing our hour-long in­ter­view, he popped up to go to the bath­room or simply pace.) The 62-year-old some­how looks disheveled even when sport­ing a suit — as though he has no time for dis­trac­tions like per­son­al pol­ish. His hair, trans­formed by time from a brown mop to a gray bristle, per­petu­ally ap­pears to have been slept on wrong. When not speak­ing, his lips twitch and purse.
His lead­er­ship style is equally rest­less. Staffers say he hurtles from one mis­sion to the next without tak­ing a breath. "There's al­ways the next thing," says his press sec­ret­ary, Rob Nich­ols. "You fin­ish something mo­nu­ment­al and get done, then every­body just kind of for­gets about it and moves on to the next gi­ant thing." Ex­plains Jon Al­lis­on, an Ohio GOP lob­by­ist who led Kasich's statewide charge for Medi­caid ex­pan­sion: "There is this con­stant churn of new ideas he's put­ting in front of the Le­gis­lature and the state."
The story of Kasich's polit­ic­al rise is cer­tainly one of a young man in a hurry. Raised in the Demo­crat­ic, blue-col­lar burg of Mc-Kees Rocks, Pennsylvania — the son of a mail car­ri­er, as he men­tions at every op­por­tun­ity — he headed west to at­tend col­lege at Ohio State. As the le­gend goes, a month in­to his fresh­man year, Kasich pestered his way in to see OSU Pres­id­ent Novice Faw­cett to gripe about all the rules and reg­u­la­tions gov­ern­ing dorm life. When he learned that Faw­cett was headed to Wash­ing­ton the next day to meet Pres­id­ent Nix­on, Kasich asked to tag along. Faw­cett de­murred but agreed to de­liv­er the pres­id­ent a let­ter from Kasich. In it, the fresh­man shared his thoughts on the state of the na­tion, then in­vited Nix­on to con­tact him if ever he wanted to talk. Two months later, Kasich found him­self be­ing ushered in­to the Oval Of­fice for a 20-minute heart-to-heart with the lead­er of the free world.
Fol­low­ing col­lege, Kasich went to work as a le­gis­lat­ive aide in the Ohio state­house. Two years in, he de­cided he'd make a bet­ter law­maker than any of the folks run­ning the place and launched a two-year, long-shot cam­paign to un­seat a Demo­crat­ic sen­at­or. He sur­prised every­one by win­ning and, at age 26, be­came the young­est mem­ber ever elec­ted to the Ohio Sen­ate. Four years later, in 1982, he ran for Ohio's 12th Con­gres­sion­al Dis­trict, again un­seat­ing a Demo­crat. (In between, Kasich's first mar­riage, to his col­lege sweet­heart, melted un­der the in­tens­ity of polit­ic­al life.)
Around Wash­ing­ton, Kasich quickly be­came known for his hard-char­ging man­ner ("He was a very young con­gress­man who val­ued brash­ness over re­flec­tion," re­calls Ging-rich) as well as for his fisc­al con­ser­vat­ism. A de­fi­cit fan­at­ic, he set out to slash fat wherever he saw it. In his 2006 book, Stand for Something, Kasich brags that Dick Cheney "to this day des­pises me" as a res­ult of the then-De­fense sec­ret­ary's clashes with Kasich over the then-con­gress­man's fight to de­fund the B-2 bomber. ("You know, I have three New York Times best-sellers," Kasich in­forms me early in our time to­geth­er. He hopes to write an­oth­er book soon­er rather than later; he says it would be called Noth­ing Good Is Ever Lost.)
In 1989, Kasich landed on the Budget Com­mit­tee, where he let his in­ner de­fi­cit hawk soar. With Bush 41 in the White House and Demo­crats con­trolling Con­gress, he began in­tro­du­cing his own lean­er, mean­er al­tern­at­ive budget every year. In 1993, he leapfrogged six seni­or col­leagues to be­come the com­mit­tee's rank­ing Re­pub­lic­an. When the GOP took the House the fol­low­ing Novem­ber, land­ing Kasich in the chair­man's seat, he be­came the key play­er in the bloody budget battles with Pres­id­ent Clin­ton. A couple of gov­ern­ment shut­downs later, Kasich emerged as chief ar­chi­tect of the Bal­anced Budget Act of 1997.
Rid­ing high, in Feb­ru­ary 1999, Kasich jumped in­to the race for pres­id­ent. He pitched him­self as the fresh, hip, dy­nam­ic "Jolt" cola can­did­ate amid a sea of blander, less-car­bon­ated op­tions. The San Fran­cisco Chron­icle re­por­ted the "Rockin' Re­pub­lic­an's" cheeky warn­ing to a group of pro­spect­ive cam­paign vo­lun­teers: "If you don't want to have fun, go some­where else. Go work for one of those oth­er fuddy-dud­dies, be­cause we may have to go get a beer every once in a while."
Five months later, Kasich 2000 was kaput, squashed flat by the George W. Bush jug­ger­naut. On his way out the door, however, he as­sured The Wash­ing­ton Post's Dav­id Broder, "I'm not giv­ing up my dream to be pres­id­ent."
If Kasich runs, says Gin­grich, he'll have to "learn to have serenity in the midst of the chaos."
Opt­ing not to run for an­oth­er House term, Kasich spent the next dec­ade in a (slightly) lower gear, sampling life in the private sec­tor. He served on cor­por­ate boards, made a chunk of change as a man­aging dir­ect­or of the now-de­funct Leh­man Broth­ers, and kept him­self in the polit­ic­al mix as host of his own Fox News show, From the Heart­land with John Kasich. He had a little more time for his second wife, Kar­en, and his twin daugh­ters, born in 2000. In 2006, Ohio Re­pub­lic­ans tried to re­cruit him to run for gov­ernor. He de­clined.
By 2010, however, he was ready. Buoyed by voter an­ger over the weak eco­nomy and rid­ing the anti-in­cum­bent, anti-Demo­crat­ic wave, Kasich ous­ted Demo­crat Ted Strick­land. In the pro­cess, he bon­ded with the tea party, whose own im­pa­tience for change im­pressed him. (In one ra­dio in­ter­view, Kasich warned Re­pub­lic­ans that tea parti­ers were itch­ing to hang ob­dur­ate pols "from the nearest tree.") At a press con­fer­ence in early 2010, he pro­claimed, "I think I was in the tea party be­fore there was a tea party!"
KASICH BLEW in­to the Gov­ernor's Man­sion with re­newed force. On week one, he summoned lob­by­ists to his of­fice and mem­or­ably warned them: "If you're not on the bus, we'll run you over with the bus."
For his first high-pro­file cru­sade, he took on or­gan­ized labor, cham­pi­on­ing le­gis­la­tion to lim­it col­lect­ive-bar­gain­ing rights for pub­lic em­ploy­ees. The Le­gis­lature was happy to ac­com­mod­ate, and less than three months after be­ing sworn in, Kasich signed Sen­ate Bill 5 in­to law. The uni­ons promptly struck back, launch­ing a fierce cam­paign to re­peal the meas­ure via ref­er­en­dum. Act­iv­ists mo­bil­ized. Money poured in from out of state. Kasich's pop­ular­ity cratered. Come Novem­ber, SB 5 was crushed at the bal­lot box, a de­feat that garnered na­tion­al cov­er­age and hu­mi­li­ated the gov­ernor.
But then things took a turn for the weird. The pug­na­cious Kasich con­ceded de­feat. Gra­ciously. On elec­tion night, he is­sued an of­fi­cial state­ment not­ing that "the people of Ohio have spoken, and I re­spect their de­cision." And then, he let the is­sue go.
For some Kasich-watch­ers, this was when the gov­ernor began to mod­er­ate. "Con­sid­er­ing how much skin he had in that is­sue, it was a pretty de­fin­ing mo­ment," says Jon Al­lis­on. "To take that de­feat, ac­cept it for what it is, to pivot, and move on." "He came in­to of­fice Mr. Tea Party," ob­serves Ohio polit­ic­al re­port­er Henry J. Gomez. "He im­me­di­ately went after the uni­ons. That didn't work. His poll num­bers were in the tank. Then he gradu­ally star­ted mov­ing back to­ward the cen­ter."
Oth­ers simply see Kasich as hav­ing grown in­to his role. "I think he has ad­vanced and ex­pan­ded in terms of un­der­stand­ing that he's now kind of the fath­er of Ohio," says Doug Pre­isse, a long­time Re­pub­lic­an act­iv­ist and Kasich pal.
Kasich of­fers a sim­il­ar self-ana­lys­is. "What's really happened is I have grown as a per­son, in my opin­ion," he says. "Some would prob­ably think I haven't. They would think I got di­ver­ted some­how. I have grown. I've be­come more soph­ist­ic­ated. And now I'm in a po­s­i­tion where I can really lead."
But whatever you do, do not sug­gest to the gov­ernor that he has mel­lowed — not un­less you are pre­pared to get an ear­ful. "When you're a pub­lic fig­ure, which I've been for al­most all my life — since I was 25 years old — every­body wants to do an ana­lys­is," he says with ex­as­per­a­tion. "First of all, they didn't know me be­fore, and they don't know me now. For ex­ample, I read, 'He makes verbal gaffes.' OK. Could you give me an ex­ample? 'He's un­dis­cip­lined.' Oh really? How did we turn Ohio around if we didn't have dis­cip­line? 'His at­ten­tion span is lim­ited.' No. It's just that you may be say­ing something that really bores me, and I hear it out of this ear, but my brain is over here do­ing something else."
TO THE EX­TENT that Kasich ac­know­ledges that he has changed, he at­trib­utes it, in part, to his faith — which, he says, is "deep­er than it was be­fore." In­deed, ask friends and col­leagues what mo­tiv­ates the gov­ernor and, pretty quickly, the dis­cus­sion circles around to re­li­gion. Kasich had your garden-vari­ety Cath­ol­ic up­bring­ing; then, as of­ten hap­pens, he drif­ted from the church when he struck out on his own. But in the sum­mer of 1987, a drunk driver rammed his par­ents' car as they were pulling out of a Bur­ger King park­ing lot. Neither sur­vived. The tragedy pro­voked an in­tense bout of soul-search­ing in Kasich, even­tu­ally lead­ing him to evan­gel­ic­al Chris­tian­ity. Over the years, it has be­come an in­creas­ingly in­flu­en­tial part of his life and his polit­ic­al think­ing.
"He is a man of faith. It's on his shirtsleeves all the time," says Terry Rus­sell, ex­ec­ut­ive dir­ect­or of the Na­tion­al Al­li­ance on Men­tal Ill­ness of Ohio and a big fan of Kasich's com­mit­ment to men­tal-health care. (This is a per­son­al as well as spir­itu­al is­sue for Kasich, whose young­er broth­er suf­fers from men­tal ill­ness.) "His faith tells him he has to help those who can­not help them­selves," Rus­sell says. "And it's hard for his col­leagues to ar­gue with him when he brings up mor­al and eth­ic­al is­sues."
"He does be­lieve that there is a re­spons­ib­il­ity to try and help people," says former De­fense Sec­ret­ary Le­on Pan­etta, an old friend of Kasich's from their days to­geth­er on the Budget Com­mit­tee (not to men­tion their budget battles when Pan­etta was Clin­ton's chief of staff). "John's heart is in the right place. He wants to do the right thing for people."
Kasich's will­ing­ness to drag God in­to polit­ic­al de­bates does not dis­tin­guish him from his con­ser­vat­ive brethren. His in­tense fo­cus on the bib­lic­al man­dates to help the poor and needy, however, does. It is, for in­stance, hard to en­vi­sion a Rick Perry or Scott Walk­er or Ted Cruz lec­tur­ing fel­low Re­pub­lic­ans, as Kasich did as an Ohio le­gis­lat­or in 2013: "Now when you die and get to the … meet­ing with St. Peter, he's prob­ably not gonna ask you much about what you did about keep­ing gov­ern­ment small, but he's go­ing to ask you what you did for the poor."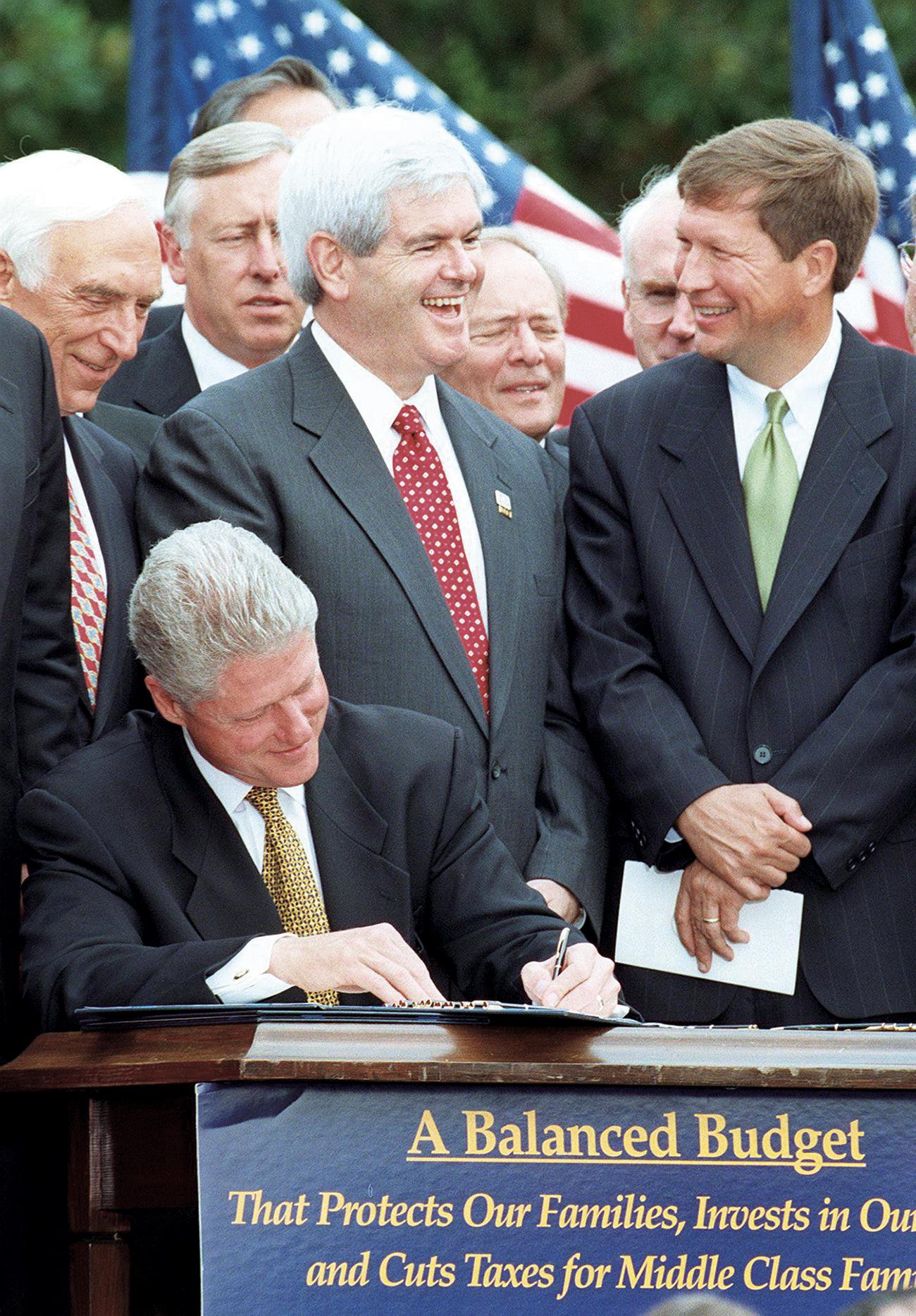 "He was a very young con­gress­man who val­ued brash­ness over re­flec­tion," re­calls Gin­grich. (Paul J. Richards/AFP/Getty Im­ages)This is, in fact, the very kind of so­cial-justice talk that lib­er­als have been throw­ing at free-mar­ket con­ser­vat­ives for years, which makes Kasich's lec­tures all the more galling to some. (More than one of­fen­ded so­cial con­ser­vat­ive has taken to the Web to fume that Kasich knows bub­kes about Mat­thew 25.) "If you ex­plain a con­tro­ver­sial move as an act of faith, you run the danger that every­body who dis­agrees with you will feel like you're say­ing that they don't have faith," says Gin­grich, not­ing gently, "I think John has a tend­ency to get ar­gu­ment­at­ive in a way that doesn't ne­ces­sar­ily win ar­gu­ments."
Fleis­cher agrees that any talk that smacks of so­cial justice can push Re­pub­lic­an but­tons. Even so, he says, this is a sub­ject on which the GOP would do well to en­gage: "Re­pub­lic­ans could learn a lot of les­sons from John Kasich about the im­port­ance of help­ing the needy. He ex­udes it. Emotes it. You feel it. For a party that's strug­gling to con­nect to people who are low-in­come or poor, John knows how to con­nect be­cause it is genu­ine and heart­felt."
For his part, Kasich ex­presses op­tim­ism that his vis­ion of faith is catch­ing on. "You know what I'm find­ing?" he asks ex­citedly. "You no­tice the lan­guage of people now that are run­ning for pres­id­ent? How that lan­guage is start­ing to change? It was poin­ted out to me the oth­er day. It's a little bit more about com­pas­sion, a little bit more about the poor. That means I'm win­ning. I don't know that I'm win­ning, but the force that's driv­ing me is win­ning."
ON FEB­RU­ARY 2, one day after in­tro­du­cing his 2016""17 budget, Kasich stands be­fore a fresh-faced audi­ence of busi­ness ma­jors at the Uni­versity of Dayton, prac­tic­ally beg­ging them not to move out of the state after they gradu­ate. "We need you to stay in Ohio!" he tells the sev­er­al dozen stu­dents, who are crowded in­to rows of nar­row fold­ing chairs. "We're get­ting older. I'm get­ting older!" His voice is pas­sion­ate — ur­gent even — as, with shout-outs to Ma­roon 5 and Linkin Park, he urges them to stay and make Ohio a hot­bed of cool­ness. "We need your en­ergy!" 
Fol­low­ing his talk, as oth­er speak­ers take the floor, the gov­ernor — dad-like in a blue-on-blue argyle sweat­er and black pleated slacks — fid­gets along the peri­met­er of the room, sip­ping his cof­fee and peri­od­ic­ally hi­jack­ing the con­ver­sa­tion. When the state's tax com­mis­sion­er asks for a show of hands from those plan­ning to leave Ohio, Kasich can­not con­trol him­self. "Why aren't you stay­ing?" he de­mands of the re­spond­ents. The young people eye one an­oth­er with awk­ward smiles, but the gov­ernor is dead ser­i­ous. He starts pick­ing them off one by one: Why aren't you stay­ing? Where are you go­ing? What about you? He calls on a young man in the row dir­ectly be­hind me, who, it turns out, is re­turn­ing to the Chica­go sub­urbs where his fam­ily lives.
"You are go­ing to live with your mom and dad?" Kasich ribs.
"Not that close," the stu­dent cla­ri­fies.
Kasich is not ap­peased: "Have you got feet in your pa­ja­mas, too?"
Amid the laughter, Kasich im­me­di­ately be­gins mak­ing nice, al­low­ing that you can't really fault a guy for stick­ing by his fam­ily. Still, the ex­change is a re­mind­er that, for Kasich, it's a fine line between charm­ing war­ri­or and off-put­ting jerk. As his com­mu­nic­a­tions dir­ect­or, Scott Mil­burn, so del­ic­ately puts it, "He kind of gets off on con­flict."
The fight­ing in­stinct has of­ten come in handy dur­ing Kasich's ten­ure as gov­ernor. His Medi­caid vic­tory, most not­ably, re­quired much blood, sweat, and polit­ic­al man­euv­er­ing — all while tak­ing in­com­ing fire from his own party. Then there was his 2011 battle with Ohio's power­ful nurs­ing-home in­dustry: Kasich wanted to shift fund­ing to­ward home-based care; nurs­ing homes were, un­der­stand­ably, dis­pleased; the in­dustry launched a PR blitz against the gov­ernor, in­clud­ing a TV at­tack ad ac­cus­ing him of lit­er­ally pulling the plug on grandma and grandpa. "That com­mer­cial was seen as hav­ing crossed a line," says Greg Moody, Kasich's chief health care ad­viser. The gov­ernor re­fused to back down and even­tu­ally won the ne­ces­sary votes in the Le­gis­lature. A de­cidedly un-con­cili­at­ory Kasich went on to veto sub­sequent bills by the Le­gis­lature to aid the in­dustry. "The gov­ernor," says Al­lis­on, "re­minded the nurs­ing homes that they really shouldn't have gone on TV."
Some find Kasich's fight­ing spir­it ap­peal­ing. "The thing that I like about John is, what you see is what you get. He doesn't pull any punches," says Pan­etta. "You really have a sense that you're deal­ing with some­body who's really telling you how he feels about an is­sue and where the pos­sib­il­it­ies are for try­ing to find some con­sensus."
Kasich's in-your-face dis­pos­i­tion doesn't go over well with every­one, however. Dems and con­ser­vat­ives alike will, when dis­gruntled, blast the gov­ernor as a bully. And some of the scars left by Kasich date back dec­ades. Matt Sch­lapp, chair­man of the Amer­ic­an Con­ser­vat­ive Uni­on, re­calls his first en­counter, as "a dewy, young" press sec­ret­ary newly ar­rived in Wash­ing­ton in the wake of the 1994 Re­pub­lic­an Re­volu­tion. "I'm full of vim, vig­or, and op­tim­ism. This is heady stuff!" he re­calls. "So I'm asked to go to a brief­ing from John Kasich, chair­man of the Budget Com­mit­tee and a con­ser­vat­ive hero. I show up for this brief­ing, I ask what I thought was very a ba­sic ques­tion, and he just rips in­to me in front of all the oth­er press sec­ret­ar­ies. This is John Kasich."
"He's prickly," says Henry Gomez. "And he doesn't take cri­ti­cism very well." Mem­bers of Team Kasich do not deny the gov­ernor's iras­cib­il­ity. "Oc­ca­sion­ally he'll give a speech where he's speak­ing very frankly, and folks are like, 'Oh, my good­ness, he just in­sul­ted me,'" says Moody. "Folks aren't used to folks be­ing as dir­ect as he is."
But it is, loy­al­ists ar­gue, all in the ser­vice of a noble cause. "He just has this real im­pa­tience and ur­gency to get about do­ing good work," says Moody, who also pre­vi­ously worked for Kasich on the Budget Com­mit­tee. "You can get so driv­en by that, that you're not ne­ces­sar­ily kind of think­ing through how that ur­gency is com­ing across." (Be­fore Moody agreed to come work for the gov­ernor again, he con­fron­ted Kasich about what a bad boss he had been the first go-round: "When he called me and said, 'I'm get­ting the band back to­geth­er,' what I said was, 'I re­mem­ber you were pretty dif­fi­cult to work with.' And he said, 'Yes, I was.' But he told me he be­lieved he had mel­lowed con­sid­er­ably. I said, 'Well, OK. I'm will­ing to take a chance.'" So far, so good, as Moody says Kasich has got­ten much bet­ter about valu­ing team mem­bers.)
Doug Pre­isse pos­its that Kasich's ar­gu­ment­at­ive man­ner is very much a part of the cul­ture in which he was raised. Five years ago, re­calls Pre­isse, he took a trip to McK­ees Rocks to get a sense of the forces that had shaped the gov­ernor — vis­it his fam­ily, his church, that sort of thing. "Over there," he says, "when people want to dis­cuss an is­sue, they jump in­to an ar­gu­ment. It's not a hos­tile ap­proach, more like, 'Oh, yeah? Here's what I think.' There's a banter and an ex­change that goes on."
"John has al­ways been out­side the coun­try-club, board-of-dir­ect­ors, CEO part of the Re­pub­lic­an Party," says Gin­grich. "He's closer to the caddy than to the guy who pays the coun­try-club fees." Kasich him­self cred­its part of his scrap­pi­ness to his up­bring­ing. "I come from a com­munity where, you know, I was al­ways taught by my par­ents to fight for the un­der­dog," he says.
But whatever the roots or reas­ons, Kasich's not-al­ways-gen­i­al per­sona could prove prob­lem­at­ic if he acts on his na­tion­al am­bi­tions. Be­cause, for bet­ter or worse, the Amer­ic­an elect­or­ate tends to go with pres­id­en­tial can­did­ates who come across as likable. Pan­etta chuckles at the thought of Kasich en­dur­ing the tri­als and tribu­la­tions of a pres­id­en­tial run: "He doesn't have a hel­luva lot of pa­tience. He likes to get to the point. Hav­ing the abil­ity to kind of sit back and be able to listen to a lot of view­points he dis­agrees with, that's not go­ing to be easy."
Gin­grich of­fers a slightly dif­fer­ent take. "People in­stinct­ively want a pres­id­ent to have a cer­tain kind of sta­bil­ity," he says. "They re­cog­nize that pres­id­ents can do a lot of dam­age." If Kasich de­cides to enter the pres­id­en­tial fray, ad­vises Gin­grich, he'll have to "learn to have serenity in the midst of the chaos."
Not every­one is such a down­er, though. "So he runs as the thin Christie!" quips Grover Nor­quist, with a nod to the pug­na­cious New Jer­sey gov­ernor cur­rently eye­ing the White House. In these scary glob­al times, "people want tough," Nor­quist says. "If it can be por­trayed as strength of per­son­al­ity or con­vic­tion, it can be an as­set." But he is quick to cla­ri­fy: "Grumpy doesn't work. You can­not be grumpy at your audi­ence."
KASICH'S BRAND of polit­ic­al im­pa­tience could fuel or tank his pres­id­en­tial for­tunes in 2016. Either way, it would ar­gu­ably do won­ders for the pro­cess as a whole. The Re­pub­lic­an Party has been strug­gling to define what it stands for, whom it rep­res­ents, and where its fu­ture lies. Hav­ing a seasoned, ar­tic­u­late com­batant will­ing to ask awk­ward ques­tions, poke sac­red cows, and call out epis­odes of pan­der­ing, pos­tur­ing, or hy­po­crisy would make the de­bate more hon­est and, ul­ti­mately, more valu­able. A vig­or­ous primary serves voters well, ar­gues Fleis­cher (who's stay­ing neut­ral in the race): "I want these guys to run and com­pete and have dif­fer­ences, so that primary voters can fig­ure out what they want."
Kasich ab­so­lutely wants to be a part of the polit­ic­al de­bate, say those around him. "He does have a real in­terest in par­ti­cip­at­ing in the con­ver­sa­tion about what it means to be a con­ser­vat­ive," Moody says. "He's very con­cerned there's a kind of cold-hearted ver­sion that has turned a lot of people off from — spe­cific­ally — the Re­pub­lic­an Party." In mul­tiple re­cent in­ter­views, the gov­ernor him­self has testily as­ser­ted that he has as much right as any­one to define con­ser­vat­ism — more even. As he huffed to CNN late last month: "We've cut taxes more than any­body in the coun­try, and they're won­der­ing about my con­ser­vat­ism? Maybe I should won­der about theirs."
So what are the odds that Kasich will run? In the past, he has said he would not ven­ture back onto the pres­id­en­tial trail without a surer flow of fund­ing than he had in 2000, when Team Bush crushed all comers. The irony is not lost on Kasich that, were he to run this cycle, he likely would face yet an­oth­er Bush. Asked if a Jeb can­did­acy gives him a case of déjà  vu, Kasich dip­lo­mat­ic­ally of­fers: "I know Jeb. I like Jeb. He's kind of a policy guy, like I am, more than a polit­ic­al guy. And good for Jeb. We'll see how he does out there. It's — we'll just have to see how it goes."
Lest any­one think that the re­turn of the Bush money ma­chine is a deal-break­er, however, Kasich of­fers a pre­dic­tion that even he al­lows may be wish­ful think­ing: "One thing I think may be true, al­though I think they say this every time there's an elec­tion: Money prob­ably won't mat­ter that much this time around. Those could be fam­ous last words. I don't know. But I think that there's clearly an un­der­cur­rent of change go­ing on in the coun­try. People are like, What is go­ing on?" Muses the gov­ernor hope­fully, "It might be that it will be something dif­fer­ent that will mat­ter more than money."
Bot­tom line, Kasich tells me: "All op­tions are on the table. I'm not tak­ing them off. I'm not mak­ing any de­cisions." But for now, he says, "my en­ergy and my pas­sion and my fight is in two things: Ohio and my bal­anced-budget cause."
Speak­ing of which: When I sug­gest that cris­scross­ing the coun­try in the hopes of con­vin­cing 34 states to call a con­sti­tu­tion­al con­ven­tion on bal­an­cing the budget seems a bit quix­ot­ic, he ap­pears al­most amused. "Is it? Am I Don Quix­ote? I've been that way be­fore!" He flashes me a smile. "And you know what? It seems to work out."