March 5, 2015, 12:12 p.m.
The slope of Cap­it­ol Hill isn't all that steep, the snow wasn't all that deep, and throngs of re­port­ers stood gawk­ingly in the way. But on this snow day, noth­ing was go­ing to stop a few dozen chil­dren and their par­ents from as­sert­ing their right to sled.
"I think we can de­clare vic­tory," Lyndsey Med­sker, the or­gan­izer of Thursday's "Sled Free or Die" sled-in protest, said an hour in­to the event. Since 2001, the Cap­it­ol Hill po­lice has banned sled­ding on the grounds. See­ing the fore­cast this week, Med­sker pos­ted a pe­ti­tion on Change.org to over­turn the policy. D.C. Del­eg­ate Elean­or Holmes Norton also took up the cause, re­quest­ing po­lice lift the ban, but to no avail. Dis­ap­poin­ted, Med­sker thought a dose of snowy civil dis­obedi­ence might work in­stead.
At least twenty sled­ders showed up to the sled-in Thursday af­ter­noon, some with protest mes­sages like "let us sled" em­blazoned on their little luges. "There are really ser­i­ous prob­lems out there in the world," Med­sker says. "I thought this was one little thing I might be able to change."
"Can we go home now?" her son, Fin­ley, said dur­ing our in­ter­view. Ap­par­ently, stick­ing it to the man is tire­some work.
Cap­it­ol po­lice were on scene and in­formed sled­ders of the ban, but made no ef­forts to stop the activ­it­ies. Med­sker sug­gest that it was the me­dia at­ten­tion that scared them off. Aside from print re­port­ers, film crews from CNN, CBS, and even the UK's Sky News were there to cap­ture the ac­tion. An hour and a half after the protest began, Holmes Norton de­clared vic­tory on Twit­ter (she was not in at­tend­ance):
Cap­it­ol po­lice on scene did not re­spond to ques­tions from Na­tion­al Journ­al. Calls for com­ment to Cap­it­ol po­lice have not been re­turned. A spokes­man for U.S. Sen­ate Ser­geant at Arms Frank J. Lar­kin said Lar­kin has no com­ment at the present time. Yes­ter­day, Lar­kin, who also is the chair­man of the Cap­it­ol po­lice board, re­af­firmed the sled­ding ban. "The Cap­it­ol grounds are not your typ­ic­al neigh­bor­hood hill or play­ground," Lar­kin said in a state­ment.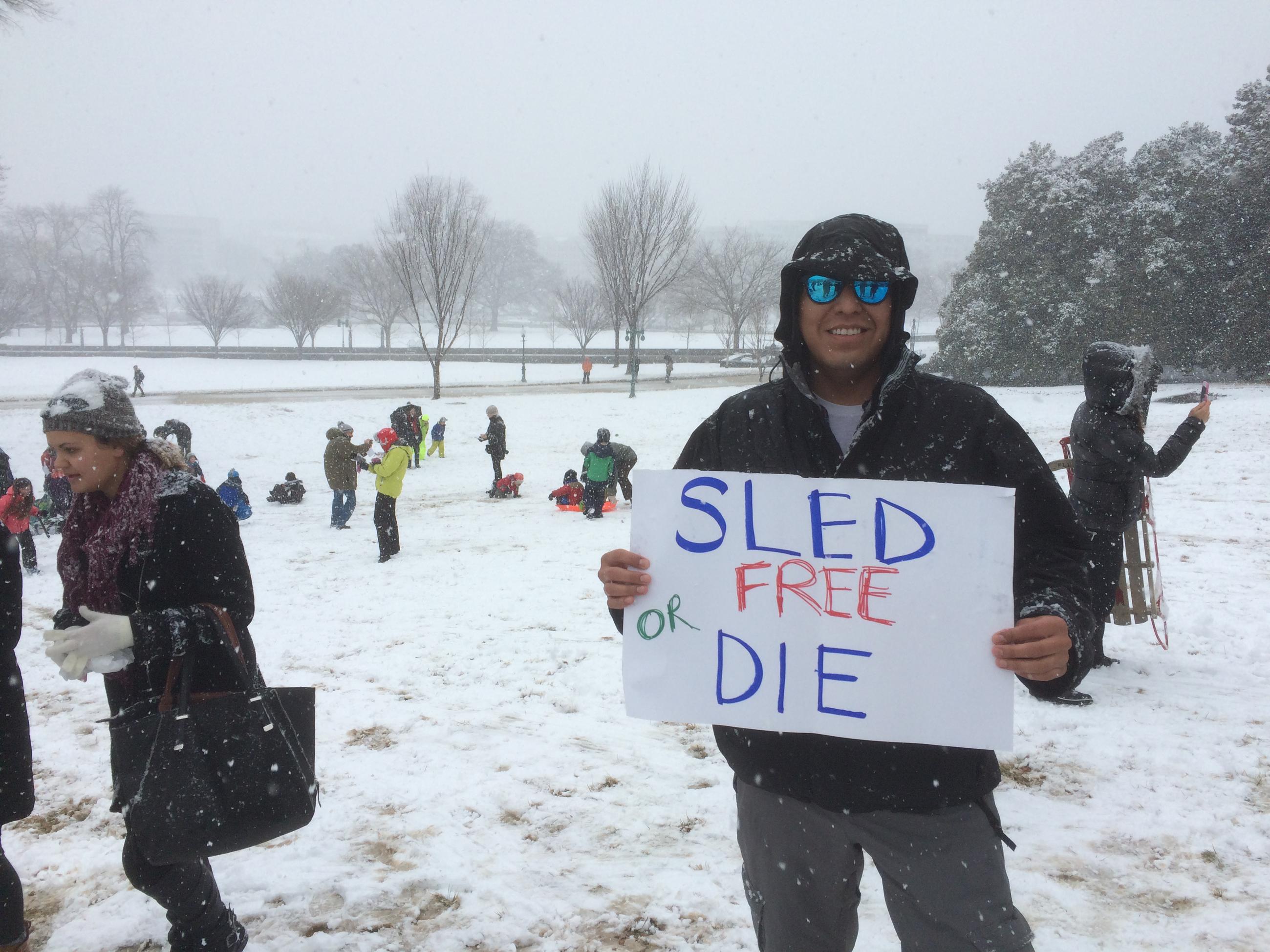 "I was a little bit nervous at first, but then I saw a lot of people here so I was less nervous," Eliza­beth Petty, 9, said from the top of the slope.
Her mom, Trish Petty, said the day provided a good les­son for her daugh­ter. "We talked about civic pride," she said. "If we let them say no to this, and no to that, and no to everything — then we have no rights." Petty and oth­er par­ents com­men­ted that as res­id­ents of Cap­it­ol Hill, se­cur­ity con­cerns of­ten in­trude in­to their lives.
"This is our neigh­bor­hood and we want to sled," Kat Cum­mins, a Cap­it­ol Hill res­id­ent, said. "The kids are cooped up all day, there is no school. This is their pub­lic space."
Her daugh­ter, Cate Mc­Greggor, 8, took a mo­ment to think about what she would do if Cap­it­ol Hill po­lice asked her to stop sled­ding. "I would want to keep sled­ding a lot," she said. Be­cause "it's cool."
Heath­er Hill, a 29-year-old Cap­it­ol Hill res­id­ent, came with a make­shift garbage bag sled. To this re­port­er's eyes, it didn't seem to be the most ef­fect­ive vehicle, though she did get down the slope in fits and starts. When asked about how the ride went, she re­spon­ded: "It felt like a ver­sion of free­dom: fast, short and sweet."