April 15, 2015, 5:29 a.m.
For years, vo­ca­tion­al edu­ca­tion was dis­missed as a path in­to blue-col­lar jobs for stu­dents who wer­en't go­ing to col­lege. But as ca­reer-train­ing pro­grams have be­come more di­verse, and edu­cat­ors have ac­know­ledged the be­ne­fit of prac­tic­al skills-train­ing for a wider vari­ety of stu­dents, per­cep­tions of vo­ca­tion­al edu­ca­tion are chan­ging. Now poli­cy­makers are point­ing to vo­ca­tion­al train­ing as a cure for what ails many Amer­ic­an high schools.
That's be­cause well-de­signed pro­grams can pre­pare stu­dents both for col­lege and for skilled jobs — the Holy Grail for suc­cess in today's eco­nomy. Over the past few years, states from Cali­for­nia to Geor­gia have in­ves­ted in build­ing con­nec­tions among high school course­work, post­sec­ond­ary edu­ca­tion, and job ex­per­i­ence. Some em­ploy­ers, seek­ing skilled work­ers, have in­ves­ted in part­ner­ships with loc­al school dis­tricts to de­vel­op more ro­bust train­ing pro­grams.
The re­ces­sion — with its com­bin­a­tion of high un­em­ploy­ment and skilled jobs go­ing un­filled — helped re­new in­terest in ca­reer and tech­nic­al edu­ca­tion, says Kim­berly Green, ex­ec­ut­ive dir­ect­or of the Na­tion­al As­so­ci­ation of State Dir­ect­ors of Ca­reer Tech­nic­al Edu­ca­tion Con­sor­ti­um. "That com­bin­a­tion really star­ted a new con­ver­sa­tion," she says. "It's a con­ver­sa­tion where em­ploy­ers are much more en­gaged."
The un­em­ploy­ment rate for young people has tra­di­tion­ally been high­er than the rate for all work­ers. But dur­ing the great re­ces­sion, it skyrock­eted and drew at­ten­tion to a longer-term trend.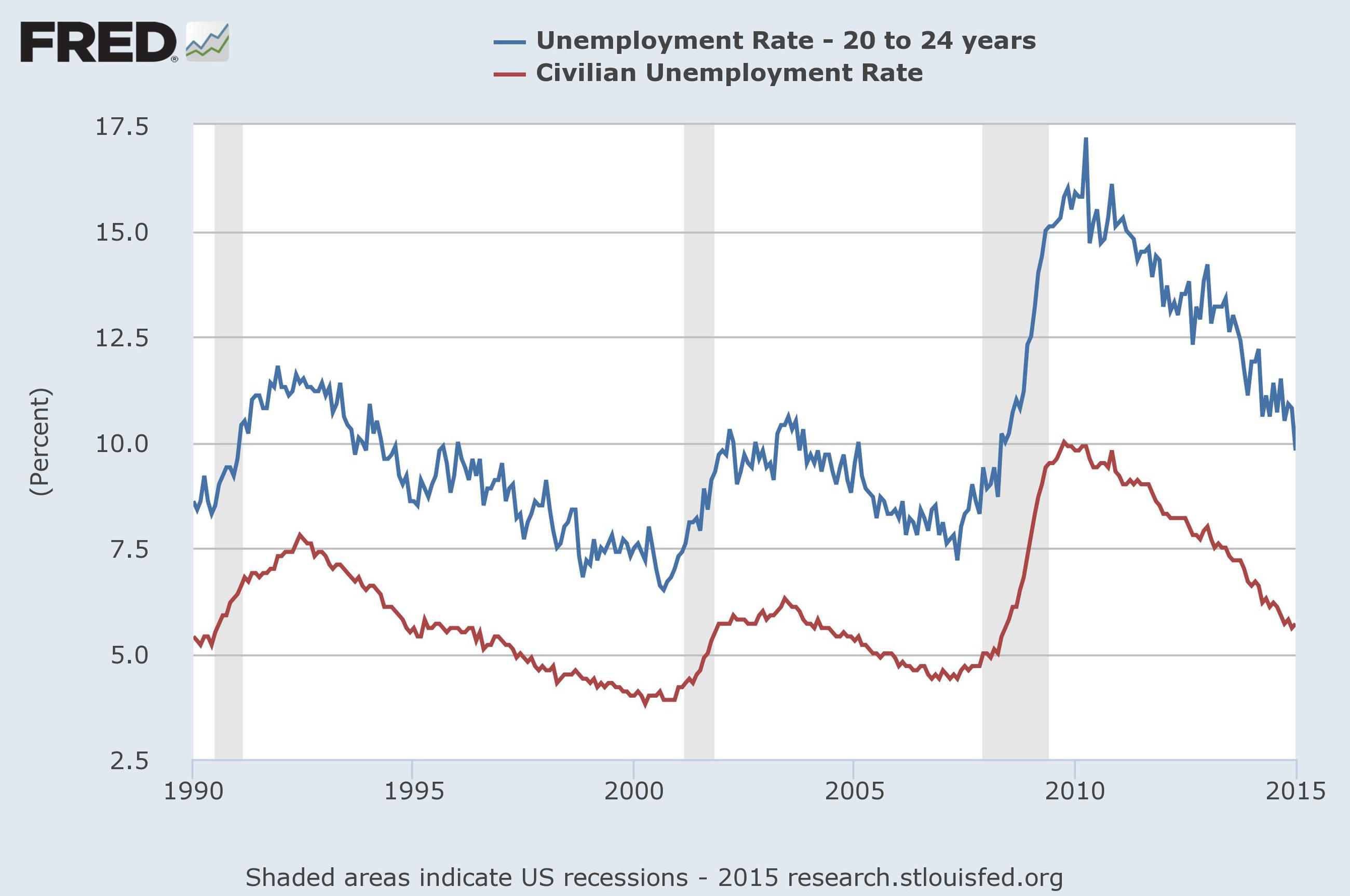 Middle-skill jobs have been van­ish­ing from the U.S. labor mar­ket, and many jobs re­quire more ad­vanced edu­ca­tion than in the past. The surest route to a high-pay­ing job today leads through col­lege and tech­nic­al ex­pert­ise in areas like sci­ence, tech­no­logy, en­gin­eer­ing, or math (STEM).
Ca­reer and tech­nic­al edu­ca­tion no longer means guid­ing stu­dents away from col­lege. Some pro­grams give stu­dents the chance to earn com­munity-col­lege cred­it. Some com­bine ad­vanced aca­dem­ic work with an oc­cu­pa­tion­al fo­cus or hands-on learn­ing — think study­ing bio­logy with a fo­cus on medi­cine, build­ing com­pu­ter­ized ro­bots, or es­tab­lish­ing a stu­dent-run cred­it uni­on.   
Yet many high school ca­reer pro­grams aren't yet liv­ing up to their po­ten­tial. "Ca­reer edu­ca­tion in too many of our sec­ond­ary schools re­flects an out­dated mod­el that tol­er­ates low ex­pect­a­tions and is of­ten mis­aligned with the evolving needs of the cur­rent labor mar­ket," the Coun­cil of Chief State School Of­ficers warned in a re­cent re­port.  
The re­port re­com­men­ded that states work with em­ploy­ers to cre­ate edu­ca­tion­al path­ways in­to high-de­mand in­dus­tries. While many states have em­barked on such ef­forts, it's a chal­len­ging task. It can be hard to know what skills em­ploy­ers will be look­ing for five or ten years down the line, let alone en­sure that what hap­pens in a giv­en high school classroom aligns with col­lege and ca­reer re­quire­ments.
This month, Next Amer­ica will ex­plore a range of strategies for help­ing stu­dents pre­pare for the work­ing world, in­clud­ing close part­ner­ships between high schools and em­ploy­ers. 
"Every­body thinks that ca­reer and tech­nic­al edu­ca­tion and course path­ways will be the an­swer to many of our prob­lems," says Gene Bot­toms, seni­or vice pres­id­ent of the South­ern Re­gion­al Edu­ca­tion Board. "Part of the struggle we're in­to is simply this: what, in the 21st cen­tury, what would qual­i­fy as high-qual­ity ca­reer and tech­nic­al stud­ies in high school?" 
Next Amer­ica's Edu­ca­tion cov­er­age is made pos­sible in part by a grant from the New Ven­ture Fund.