Add to Briefcase
April 24, 2015, 10:55 a.m.
Be­ware of the mis­lead­ing stat­ist­ic that says we've re­covered from the Great Re­ces­sion.
The Labor De­part­ment re­leased new 2014 fig­ures this week show­ing that the num­ber of fam­il­ies with at least one un­em­ployed per­son dropped by 1.2 mil­lion in the past year, and is now down to 6.5 mil­lion. On its face, this de­vel­op­ment looks prom­ising. But a deep­er look tells a more com­plic­ated and troub­ling story. 
The Wall Street Journ­al on Thursday re­leased a graph that shows while the num­ber of fam­il­ies with at least one un­em­ployed per­son may be de­creas­ing in sheer num­bers, the per­cent­age is still high­er than pre-re­ces­sion levels. In 2014, they made up 8 per­cent of fam­il­ies; in 2006, that fig­ure was only 6.4 per­cent.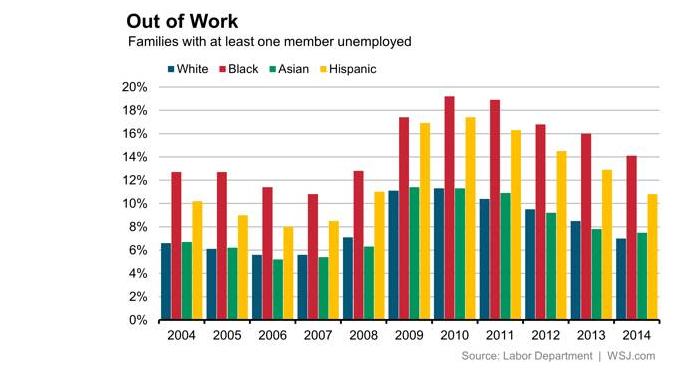 The ra­cial break­down of those num­bers is stark­er. There is still a sub­stan­tial gap between Afric­an Amer­ic­an and Latino house­holds on one end of the scale, and white and Asi­an house­holds on the oth­er. And the num­ber of those house­holds still is lar­ger than it was be­fore 2007.
In a sim­il­ar sense, in­creased job cre­ation and a de­creas­ing un­em­ploy­ment rate (5.5 per­cent as of March) don't ne­ces­sar­ily mean that the eco­nomy has re­covered from the down­turn. Middle-class wealth re­mains stag­nant, des­pite the massive gains en­joyed by up­per-in­come fam­il­ies.
If Amer­ic­ans aren't able to amass even small levels of wealth, they'll be more vul­ner­able the next time an eco­nom­ic down­turn comes along.