Add to Briefcase
May 11, 2015, 4 p.m.
Con­gress is about to run out of gas.
The High­way Trust Fund au­thor­ity runs out on May 31 un­less Con­gress ex­tends it, which would mean states would go without fed­er­al trans­port­a­tion dol­lars just ahead of con­struc­tion sea­son. A short-term ex­ten­sion is al­most a cer­tainty, but the House and Sen­ate can't even de­cide wheth­er the ex­ten­sion should run a few months or through the end of the year, let alone how to pay for it.
Sen­ate Fin­ance Com­mit­tee Chair­man Or­rin Hatch is still work­ing with col­leagues to find a solu­tion, a spokes­man said. Brendan Buck, a spokes­man for the House Ways and Means Com­mit­tee, put it more suc­cinctly: "All very flu­id right now."
But one thing is clear: Con­gress is un­likely to fol­low the lead of the dozen or so states this year that are tak­ing a look at the gas tax.
Des­pite pro­ponents like Sen. James In­hofe, the Ok­lahoma Re­pub­lic­an who leads the Sen­ate Com­mit­tee writ­ing trans­port­a­tion-au­thor­iz­a­tion lan­guage, rais­ing the fed­er­al 18.4-cent-per-gal­lon gas tax is a polit­ic­al non­starter. The tax hasn't been in­creased or ad­jus­ted for in­fla­tion since 1993, which has left the High­way Trust Fund nearly dry (the De­part­ment of Trans­port­a­tion says the fund will be bank­rupt in Au­gust). Rep. Bill Shuster, chair­man of the House Trans­port­a­tion and In­fra­struc­ture Com­mit­tee, said last month of a gas-tax in­crease that "I don't think at this point that's pos­sible."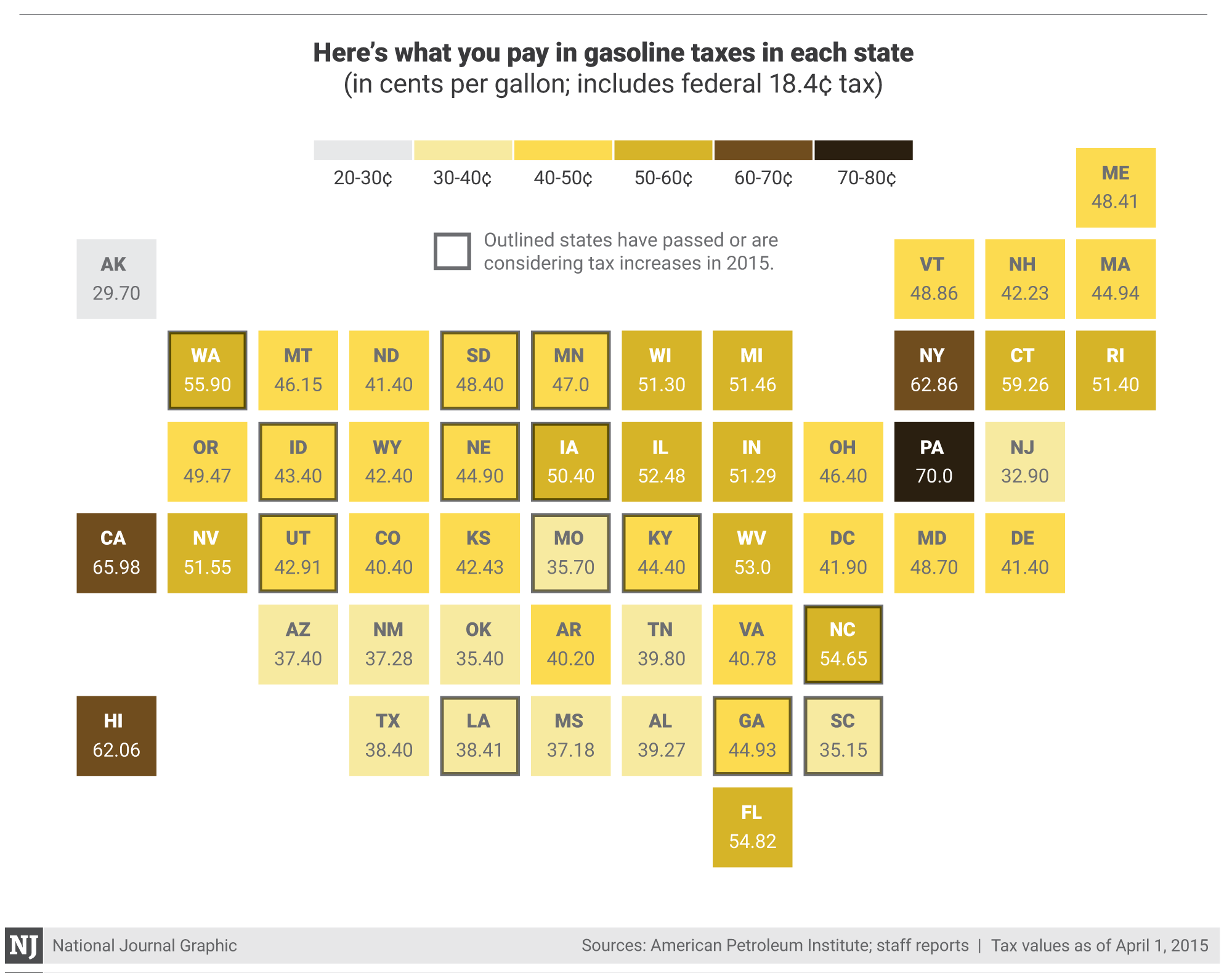 States, however, have in­creas­ingly latched onto the idea of hik­ing the gas tax—or "user fee" in more polit­ic­ally friendly par­lance—to cov­er their trans­port­a­tion cof­fers. Each state already puts its own gas tax on top of the fed­er­al one (al­though some use ex­cise taxes or sales taxes rather than a straight per-gal­lon fee), and giv­en per­il­ously low fund­ing levels, sev­en states in the 2013-2014 elec­tion cycle passed gas-tax in­creases on bal­lots or through le­gis­latures, with more look­ing at it this year.
And it's a trend high­lighted by red states. Iowa, led by Re­pub­lic­an Gov. Terry Bran­stad, in Feb­ru­ary raised its gas and dies­el tax by 10 cents a gal­lon. Re­pub­lic­an-led Utah raised its tax by 5 cents, which is set to take ef­fect in Ju­ly, and Idaho's le­gis­lature passed a 7-cent in­crease, with Re­pub­lic­an law­makers even seek­ing more.
And le­gis­latures in Louisi­ana, Neb­raska, South Car­o­lina, Mis­souri, and oth­ers are all weigh­ing op­tions to raise their fuel taxes. Geor­gia even re­struc­tured its tax sys­tem and tacked on a $5-per-night fee on hotel and motel stays to fund trans­port­a­tion. A com­plex trans­port­a­tion-fund­ing bal­lot meas­ure in Michigan failed last week, but the tax in­creases wouldn't have been solely for trans­port­a­tion, turn­ing some voters off. 
"This should be a wake-up call for le­gis­lat­ors at the fed­er­al level that states aren't wait­ing and they're get­ting out in front of this," said Matt Jean­ner­et, a spokes­man for the Amer­ic­an Road and Trans­port­a­tion Build­ers As­so­ci­ation. ART­BA planned to re­lease an ana­lys­is Tues­day show­ing that 96 per­cent of Re­pub­lic­an state le­gis­lat­ors and 88 per­cent of Demo­crats were reelec­ted after vot­ing for a gas-tax hike, in­dic­at­ing that there may be little polit­ic­al blow­back for the move.
There's been some tep­id in­terest on the Hill for a gas-tax in­crease—GOP Rep. Jim Ren­acci of Ohio has in­tro­duced a bi­par­tis­an bill in­dex­ing the fed­er­al rate to in­fla­tion. But the bill seems likely to see the same fate as oth­er gas-tax bills, which have not gained trac­tion.
Demo­crat­ic Rep. Earl Blumenauer of Ore­gon, who sup­ports the bill, said that the pro­gress in the states shows that the pub­lic can get be­hind high­way fund­ing tied to taxes.
"There is huge pub­lic sup­port when people de­cide, 'OK, we're go­ing to make a de­cision; it may not be the most pop­u­lar with every­body,'" Blumenauer said, adding that state le­gis­lat­ors faced little blow­back for gas-tax in­creases. "It's a case of will and ac­tion."