As the Sen­ate votes on the Trans-Pa­cific Part­ner­ship today, the para­dox of the trade de­bate is that Pres­id­ent Obama is fa­cing the most res­ist­ance from con­gres­sion­al Demo­crats, even though polls now show more sup­port for free trade among rank-and-file Demo­crats than Re­pub­lic­ans — and new eco­nom­ic data show that ex­ports are gen­er­at­ing the most jobs in blue urb­an strong­holds like New York, Los Angeles, Chica­go, and Seattle.
A Next Amer­ica ana­lys­is has found that Demo­crats hold a clear ma­jor­ity of House seats in the 20 met­ro­pol­it­an areas that de­rive the most jobs from ex­ports. Moreover, the Demo­crats from those ex­port-de­pend­ent areas now rep­res­ent a pre­pon­der­ant ma­jor­ity of all House Demo­crats. Yet even Demo­crat­ic sup­port­ers of the ex­ped­ited le­gis­lat­ive au­thor­ity Obama is seek­ing to com­plete the Asi­an trade deal say he faces an up­hill climb to win sup­port from as many as one-quarter of House Demo­crats.
This dis­con­nect un­der­scores the in­flu­ence among Demo­crat­ic le­gis­lat­ors of lib­er­al groups and uni­ons deeply skep­tic­al of free trade as well as the dis­ap­point­ment in the party about the eco­nom­ic pay­off from the North Amer­ic­an Free Trade Agree­ment Bill Clin­ton com­pleted dur­ing the 1990s. But it also cap­tures how many Demo­crats may be op­er­at­ing with ob­sol­ete as­sump­tions about the pref­er­ences and in­terests of their sup­port­ers as the party's demo­graph­ic and geo­graph­ic base of sup­port evolves.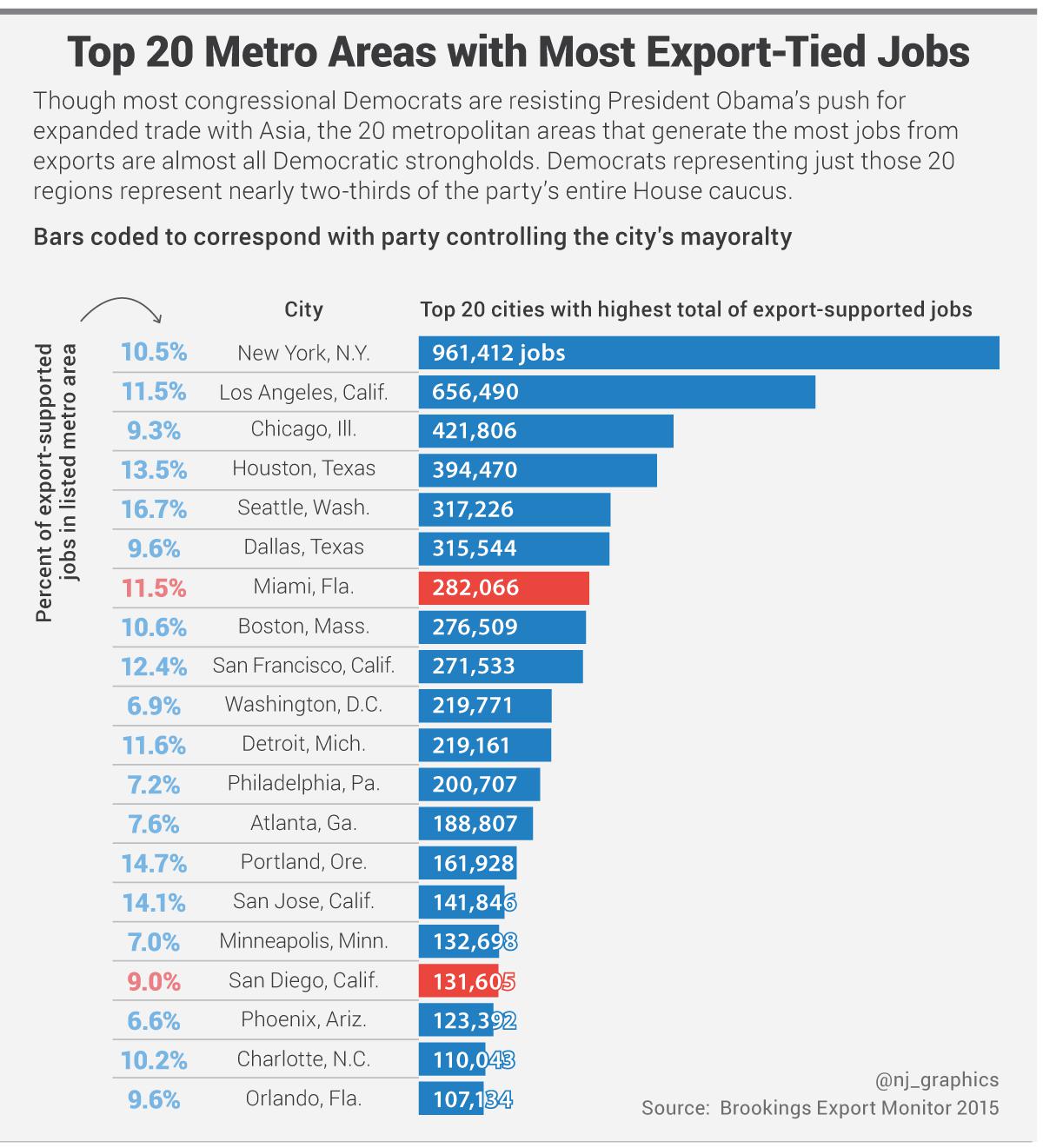 The im­port­ance of ex­ports to metro eco­nom­ies has opened a re­veal­ing di­vide between House and Sen­ate Demo­crats, who are mostly res­ist­ing Obama's re­quest for ex­ped­ited Trade Pro­mo­tion Au­thor­ity, and Demo­crat­ic may­ors, who are mostly sup­port­ing it. The U.S. Con­fer­ence of May­ors, which is dom­in­ated by Demo­crats, has en­dorsed the Trans-Pa­cific Part­ner­ship deal and the trade-pro­mo­tion au­thor­ity for Obama. Provid­ing Obama with ex­ped­ited le­gis­lat­ive au­thor­ity and com­plet­ing the Asi­an deal, which would lower trade bar­ri­ers among 12 coun­tries in­clud­ing Amer­ica, "is a crit­ic­al step to en­sur­ing that the United States and its metro eco­nom­ies re­main lead­ers in the glob­al mar­ket place," con­fer­ence pres­id­ent Kev­in John­son of Sac­ra­mento and vice-pres­id­ent Stephanie Rawl­ings-Blake of Bal­timore, each Afric­an-Amer­ic­an Demo­crats, wrote to Sen­ate lead­ers on May 12.
Hou­s­ton May­or An­nise Park­er, also a Demo­crat, was even more em­phat­ic in a con­fer­ence call with re­port­ers. "We live on trade," Park­er said of her city. "It is im­port­ant to our eco­nomy, it keeps people em­ployed, and we ab­so­lutely be­lieve it's our fu­ture."
New data re­leased May 13 by the Brook­ings In­sti­tu­tion's Met­ro­pol­it­an Policy Pro­gram helps ex­plain the may­ors' tilt to­ward trade. Though over­all U.S. ex­ports first slowed, and then de­clined after early 2014, Brook­ings found that fully 86 per­cent of U.S. ex­ports now ori­gin­ate from urb­an areas. Moreover, ex­ports drove more than one-quarter of all metro area eco­nom­ic growth from 2009-2014. "This has metro lead­ers and elec­ted of­fi­cials pla­cing an in­creas­ing fo­cus on ex­ports as a way to grow and main­tain their re­gion­al eco­nom­ies," said Bruce Katz, the Met­ro­pol­it­an Policy Pro­gram's co­dir­ect­or, in an email. In their let­ter to Sen­ate lead­ers, John­son and Rawl­ings-Blake in­dic­ated the con­fer­ence's own fore­cast pro­jects that ex­ports will ac­count for one-third of metro areas' eco­nom­ic growth in com­ing years.
The cit­ies at the very top of the list for ex­port-re­lated jobs over­whelm­ingly tilt to­ward the Demo­crats. The Met­ro­pol­it­an Policy Pro­gram's ana­lys­is found that the cit­ies that gen­er­ate the most jobs from ex­ports in­clude such Demo­crat­ic bas­tions as New York, Los Angeles, Chica­go, Hou­s­ton, Seattle, Dal­las, Bo­ston, San Fran­cisco, Wash­ing­ton, D.C., De­troit, Phil­adelphia, At­lanta, Port­land, San Jose, and Min­neapol­is.
In all of those cit­ies, Brook­ings cal­cu­lates that ex­ports sup­port at least 132,000 jobs. Ex­port-re­lated jobs ac­count for around one-in-six of all jobs in the Seattle metro area, about one-in-sev­en in Port­land, Ore­gon, and San Jose, Cali­for­nia, about one-in-eight in Hou­s­ton and San Fran­cisco, and roughly one-in-nine in Los Angeles, Miami, and De­troit, the ana­lys­is found. Ex­ports con­trib­ute just over one-in-ten jobs in New York, Bo­ston, Char­lotte, and Las Ve­gas, and just slightly less than one-in-ten in Chica­go, Dal­las, and San Diego. (The Met­ro­pol­it­an Policy Pro­gram cal­cu­lates metro-area jobs linked to ex­ports by adding the dir­ect jobs sup­por­ted by ex­port rev­en­ue, the jobs cre­ated by busi­nesses sup­ply­ing parts or ser­vices to the ex­port­ing in­dus­tries, and jobs in freight and trans­port­a­tion re­lated to ship­ping goods abroad.)
Demo­crats now con­trol the may­or's of­fice in 18 of the 20 cit­ies that an­chor the metro areas that Brook­ings found de­rive the most jobs from ex­ports. (The only ex­cep­tions are Re­pub­lic­ans Kev­in Faul­con­er in San Diego and To­mas Regalado in Miami.) More rel­ev­ant to Obama's im­me­di­ate chal­lenge, a Next Amer­ica ana­lys­is found, Demo­crats con­trol 121 of the 203 House seats mostly situ­ated in those 20 met­ro­pol­it­an areas. That means Demo­crats now con­trol about three-fifths of all the House seats in the metro areas pro­du­cing the most jobs from ex­ports. Put an­oth­er way, rep­res­ent­at­ives from just these 20 high-ex­port metro areas ac­count for al­most two-thirds of all 188 House Demo­crats.
(Next Amer­ica as­signed mem­bers of Con­gress to each met­ro­pol­it­an area us­ing the Mis­souri Census Data Cen­ter's Geo­graph­ic Cor­res­pond­ence En­gine, which over­lays con­gres­sion­al dis­trict with 2013 Census data. In cases where dis­tricts over­lapped met­ro­pol­it­an areas, Next Amer­ica al­loc­ated the seat to the metro with the largest share of the dis­trict's pop­u­la­tion.)
Though House Demo­crats are heav­ily de­pend­ent on the re­gions most de­pend­ent on ex­ports, Obama in his push for ex­ped­ited trade au­thor­ity is strug­gling to at­tract enough of them to fill a few minivans. His dif­fi­culties dis­tinctly echo Bill Clin­ton's troubles with House Demo­crats over the same is­sues. In 1993, a ma­jor­ity of House Demo­crats voted against NAF­TA; in 1998, four-fifths of House Demo­crats voted to deny Clin­ton the same ex­ped­ited le­gis­lat­ive au­thor­ity to pass fu­ture trade deals that Obama is seek­ing now.
What makes the con­tin­ued Demo­crat­ic res­ist­ance to Obama es­pe­cially strik­ing is that since Clin­ton's day, the party's un­der­ly­ing in­cent­ives have shif­ted even fur­ther to­ward sup­port­ing trade. Com­pared with Clin­ton's era, Demo­crats now are even more re­li­ant on the urb­an areas that be­ne­fit most from ex­ports. And re­l­at­ive to the 1990s, Demo­crats are less re­li­ant on the vot­ing blocs, es­pe­cially blue-col­lar whites, usu­ally the most skep­tic­al of trade agree­ments.
The un­ex­pec­ted res­ult is that a series of re­cent sur­veys have found that Demo­crat­ic par­tis­ans now ex­press more sup­port for free trade than rank-and-file Re­pub­lic­ans — in­vert­ing the his­tor­ic party ste­reo­types. In last month's na­tion­al NBC/Wall Street Journ­al poll, a 43 per­cent to 26 per­cent plur­al­ity of Demo­crats said that free trade has done more to help than hurt the United States, while Re­pub­lic­ans nar­rowly split in the op­pos­ite dir­ec­tion (33 per­cent said it helped, 36 per­cent said it hurt). Sim­il­arly, a Pew Re­search Cen­ter for the People and the Press poll in 2014 found that 63 per­cent of Demo­crats (in­clud­ing in­de­pend­ents who leaned to­ward the party) com­pared with 57 per­cent of Re­pub­lic­ans (and lean­ers) be­lieved "free-trade agree­ments between the U.S. and oth­er coun­tries have been a good thing" for the coun­try. In 2001, by con­trast, Pew found that more Re­pub­lic­ans than Demo­crats thought NAF­TA had been a good thing for the coun­try.
The shift, of course, may partly re­flect Demo­crats ral­ly­ing around Obama as he more vis­ibly makes the case for ex­pan­ded trade. But the role re­versal began be­fore Obama's spot­lighted the is­sue. The change also re­flects the Demo­crats' di­min­ish­ing elect­or­al re­li­ance on blue-col­lar whites gen­er­ally du­bi­ous of free trade and their in­creas­ing de­pend­ence on both the col­lege-edu­cated whites and minor­it­ies who are more open to it. In last year's Pew poll, for in­stance, fully 71 per­cent of Demo­crats hold­ing at least a four-year col­lege de­gree and 64 per­cent of non­white Demo­crats, said free trade had done more to help than hurt the coun­try.
Des­pite those num­bers, Obama is fa­cing stony res­ist­ance from most con­gres­sion­al Demo­crats. Jim Kessler, vice pres­id­ent for policy at Third Way, a cent­rist Demo­crat­ic group that sup­ports the Trans-Pa­cific deal, says that act­ive lob­by­ing from may­ors sup­port­ing ex­pan­ded trade may prod some ad­di­tion­al Demo­crat­ic rep­res­ent­at­ives to back it. But, he says, Obama's ceil­ing for sup­port when the House votes on ex­ped­ited trade au­thor­ity may be as low as one-quarter of Demo­crats. The core of Obama's prob­lem, Kessler ar­gues, is in­sti­tu­tion­al: The most power­ful or­gan­ized groups with­in the Demo­crat­ic co­ali­tion are all trade skep­tics.
"If there was a secret bal­lot on [trade au­thor­ity], half of the Demo­crats would vote for it in the House, is my guess," Kessler says. "[But] nearly all of the Demo­crat­ic­ally aligned in­terest groups that can really bring both grass­roots and money in­to cam­paigns are op­posed to trade deals, wheth­er it's the labor uni­ons or the on­line grass­roots or­gan­iz­a­tions. So if you are sit­ting in a con­gres­sion­al of­fice, it doesn't feel like there is as much sup­port [in the party] as pub­lic-opin­ion polls say. And that still has an ef­fect."
The trade de­bate hasn't been com­pletely im­mune to the parties' shift­ing demo­graph­ic and geo­graph­ic in­cent­ives. Against the back­drop of the GOP's grow­ing re­li­ance on rur­al and blue-col­lar whites, con­ser­vat­ive pop­u­lists like pres­id­en­tial con­tender Mike Hucka­bee have de­nounced Obama's push for trade-pro­mo­tion au­thor­ity. Still, the Sen­ate and House de­bates over trade will al­most cer­tainly end with most Re­pub­lic­ans in both cham­bers sup­port­ing Obama's re­quest and most Demo­crats op­pos­ing it. That's an align­ment both parties would have re­cog­nized in 1970.