On a Decem­ber af­ter­noon last year — weeks be­fore Pres­id­ent Obama would an­nounce that he was nor­mal­iz­ing re­la­tions with Cuba — a group of about 800 Cuban-Amer­ic­ans gathered in a gil­ded ball­room at the Bilt­more Hotel in Cor­al Gables, Flor­ida. It was the an­nu­al lunch­eon of the U.S.-Cuba Demo­cracy PAC, a polit­ic­al ac­tion com­mit­tee ded­ic­ated to re­ward­ing politi­cians who take a hard line against com­mun­ist Cuba and pun­ish­ing those who do not.
The event had no short­age of Cuban-Amer­ic­an star power. Sen. Robert Men­en­dez, chair­man of the Sen­ate For­eign Re­la­tions Com­mit­tee, spoke via video; so did soon-to-be-pres­id­en­tial can­did­ate Sen. Marco Ru­bio. Two Cuban-Amer­ic­an politi­cians on the rise — Re­pub­lic­an Rep. Car­los Cur­belo and Flor­ida's first His­pan­ic lieu­ten­ant gov­ernor, Car­los Lopez-Cantera — ad­dressed the gath­er­ing in per­son. Both got stand­ing ova­tions.
And yet, amid all these Cuban-Amer­ic­an lu­minar­ies, it was a non-Cuban, Jeb Bush — serving as the lunch­eon's key­note speak­er — who was greeted by the longest stand­ing ova­tion of the af­ter­noon. From the start of his speech, it was clear that Bush felt right at home with this crowd and knew ex­actly what they wanted to hear. His 20-minute-long ad­dress began in flu­id Span­ish, with shout-outs to prom­in­ent Cuban-Amer­ic­ans and their fam­il­ies — then transitioned to Eng­lish for a with­er­ing de­nun­ci­ation of Pres­id­ent Obama, busi­ness and polit­ic­al lead­ers who fa­vor lift­ing sanc­tions against Cuba, and, of course, Fi­del and Raul Castro them­selves.
"The Castro broth­ers are on the wrong side of his­tory. They are an un­for­tu­nate, sad, tra­gic rel­ic of Cuba's past. But dy­ing dic­tat­ors even­tu­ally die," Bush told his audi­ence, arch­ing his eye­brows and ges­tur­ing with his hands. "And when they do, the chance for us to en­gage in a thought­ful, pos­it­ive way to bring about demo­cracy and free­dom in Cuba will be led by lead­ers that are in this room."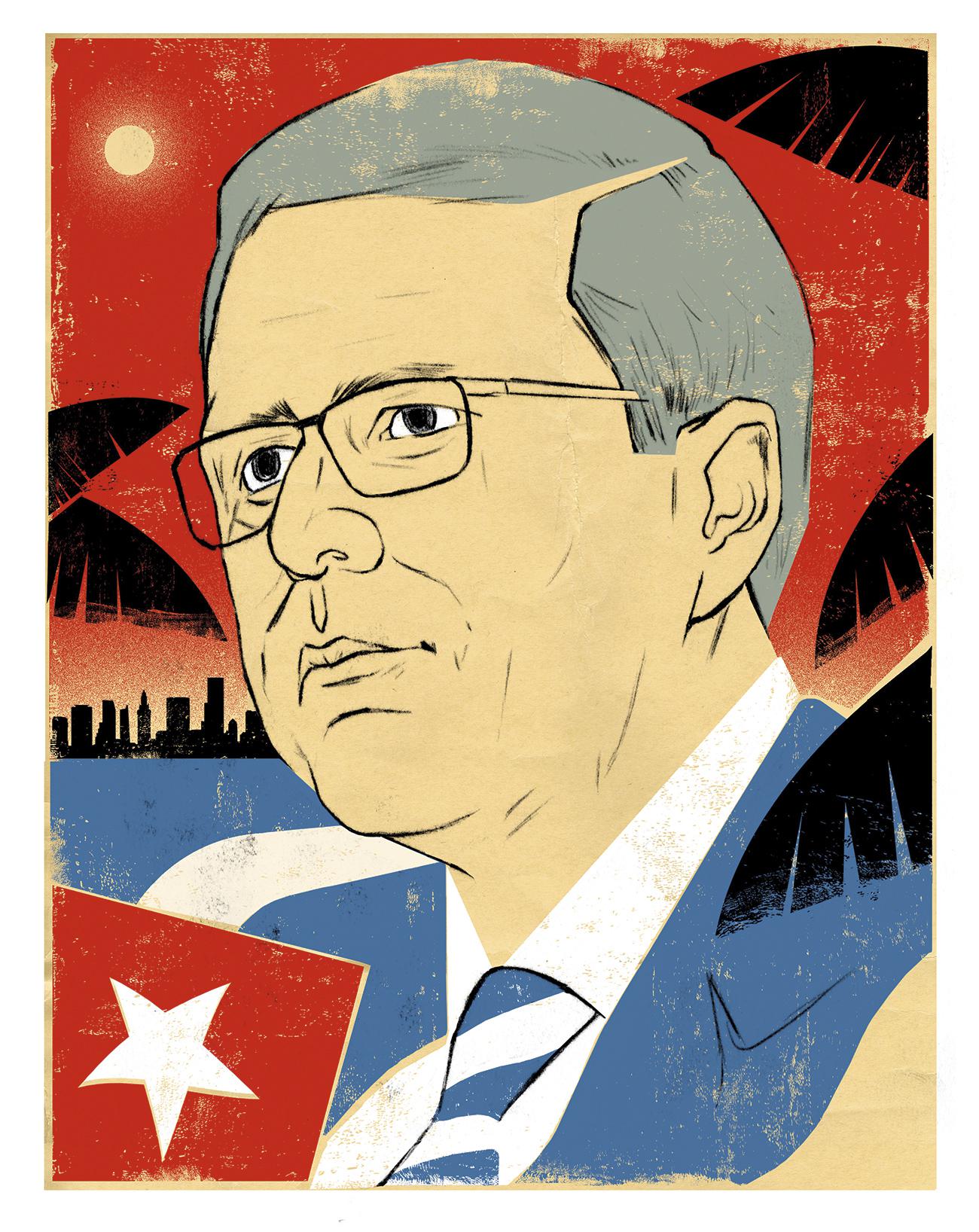 (Il­lus­tra­tion by Edel Rodrig­uez.)The sen­ti­ments on dis­play that af­ter­noon — the mil­it­ant anti-Castro rhet­or­ic, the ex­ceed­ingly warm re­cep­tion from a Cuban-Amer­ic­an crowd — were noth­ing new for Jeb Bush; far from it. In 2016, there will be, for the first time, two politi­cians of Cuban des­cent — Marco Ru­bio and Ted Cruz — run­ning for pres­id­ent, yet many Cuban-Amer­ic­an power brokers say their loy­alty ul­ti­mately lies with Jeb. Among those prom­in­ent Cuban-Amer­ic­ans who have already en­dorsed him are Flor­ida Rep. Mario Díaz-Bal­art, former Flor­ida Sen. Mel Mar­tinez (who once called Bush the state's "first Cuban-Amer­ic­an gov­ernor"), and Flor­ida Rep. Ileana Ros-Le­htin­en. "He is a charter mem­ber of the Cuban-Amer­ic­an com­munity," Ros-Le­htin­en told me re­cently. "We call him one of our own."
Cur­belo is so far neut­ral in the race, but like so many Cuban-Amer­ic­ans, he speaks about Jeb with enorm­ous af­fec­tion. "Es­pe­cially for a lot of Cuban ex­iles, Gov­ernor Bush is like a son to them," he says. "I've heard a lot of people say that. They feel like they saw him grow up. They saw him go from be­ing the son of someone who is very im­port­ant in polit­ics to a lead­er that nev­er let any­one down, that has a strong re­cord, humble, someone who is bi­cul­tur­al."
His­pan­ic politi­cians talk with awe about Bush's flu­ency in Span­ish. Mar­tinez told me about at­tend­ing a trade mis­sion to Mex­ico where he watched Bush con­duct an en­tire press con­fer­ence in Span­ish, ex­plain­ing the de­tails of tar­iffs and in­ter­na­tion­al-trade agree­ments. "I was sit­ting there think­ing, 'Would I have known that word?'" re­calls Mar­tinez, who fled Castro's re­gime as a teen­ager. "We're talk­ing some nu­anced words. It went well bey­ond the every­day vocab­u­lary you would use."
But Bush's fa­cil­ity with His­pan­ic cul­ture isn't simply about his mas­tery of Span­ish. De­pend­ing on the situ­ation, Bush will use Cuban or Mex­ic­an slang and em­ploy the His­pan­ic "sign lan­guage that speaks louder than whatever comes out of your mouth," says Jorge Ar­rizuri­eta, a Miami busi­ness­man and long­time Bush friend. For ex­ample, Ar­rizuri­eta ex­plains, Bush has been known to tap his el­bow with his palm when he thinks someone is be­ing cheap, a com­mon ges­ture among Cubans. "The gov­ernor is, in my opin­ion, one of the most aplatanado grin­gos you'll ever meet," he says, us­ing a phrase that roughly trans­lates to "he's gone nat­ive."
In­deed, spend enough time talk­ing to people who know Jeb, and you can start to grasp how he might have once ac­ci­dent­ally (and in­fam­ously) lis­ted him­self as His­pan­ic on a voter-re­gis­tra­tion form. "If he de­cides to run and is for­tu­nate enough to win," Ar­rizuri­eta says, "I think he'd be our na­tion's first His­pan­ic pres­id­ent."
Un­der­stand­ably, much of the at­ten­tion sur­round­ing Jeb's con­nec­tion to His­pan­ic cul­ture has fo­cused on his Mex­ic­an-Amer­ic­an wife, Columba. But Bush's dec­ades-long im­mer­sion in Miami's Cuban ex­ile com­munity — a com­munity with a par­tic­u­lar way of look­ing at polit­ics and for­eign policy — may be even more cent­ral to un­der­stand­ing his tem­pera­ment, his world­view, and how he would con­duct him­self in the White House.
"It was very much like, 'This is our man in Wash­ing­ton, but our man and not some guy who came in from Texas,'" re­calls Xavi­er Suarez, Miami's first Cuban-born may­or. "I don't think any of us knew where he came from. It was al­most like he was homegrown." Again and again, as I spoke to Cuban-Amer­ic­ans who knew Bush in the 1980s and 1990s, they found dif­fer­ent ways to tell me the same thing: Jeb had be­come very much part of their fam­ily. "He sort of be­came fully con­vers­ant in the plight of the Cuban people," Mar­tinez says of Bush's time in South Flor­ida. "The whole ex­ile ex­per­i­ence is not something people told him. It's something he began to live."
WHEN JEB BUSH moved to Miami in 1981, the city had for some time been as tem­pes­tu­ous as it was beau­ti­ful. Miami had the world's second-largest Cuban pop­u­la­tion, and city polit­ics centered more on Havana than Wash­ing­ton — with Fi­del Castro re­garded as the root of all prob­lems. Ex­iles, some of whom had been trained by the CIA at the height of the Cold War, launched fre­quent vi­gil­ante boat runs against the is­land — and bombed the busi­nesses and homes of those in the United States per­ceived to be sym­path­et­ic to Castro. (Ac­cord­ing to Ann Louise Bardach's Cuba Con­fid­en­tial, fed­er­al in­vest­ig­at­ors es­tim­ated that between 1973 and 1976 alone, anti-Castro groups were re­spons­ible for more than 100 polit­ic­ally mo­tiv­ated at­tacks in South Flor­ida.)
Bush was, by this point, no stranger to the Span­ish-speak­ing world. He and Columba had met on the cent­ral plaza of León, Mex­ico, in 1970 dur­ing a 10th-grade work-study trip, and, as he wrote in his 2013 book, Im­mig­ra­tion Wars, "I knew I wanted to marry her" after a few weeks. She did not speak Eng­lish and would later say she had her doubts about dat­ing an Amer­ic­an boy from a prom­in­ent polit­ic­al fam­ily. But he per­sisted, and in 1974, the two were mar­ried in a small ce­re­mony at the Cath­ol­ic stu­dent cen­ter at the Uni­versity of Texas, Aus­tin — where he had ma­jored in Lat­in Amer­ic­an Stud­ies.
It was through that re­la­tion­ship that Bush came to identi­fy with His­pan­ic cul­ture. Speak­ing to a con­ven­tion of His­pan­ic evan­gel­ic­als last month, Bush told the crowd he di­vides his life in­to "B.C. and A.C.: Be­fore Columba and After Columba." (Bush did not com­ment for this story.) "He meets his bride, falls in love head over heels, and of course gets totally im­mersed in not only the lan­guage or the cul­ture, but from a very per­son­al, emo­tion­al per­spect­ive, be­comes totally com­pat­ible with his wife, who had only known Mex­ico all her life," says Al Carde­n­as, a long­time Bush friend and ad­viser who first met Jeb dur­ing his fath­er's 1980 cam­paign.
The couple settled in Hou­s­ton, where Bush star­ted work­ing for Texas Com­merce Bank. In 1977, the bank dis­patched him to Venezuela to open a branch in the oil-rich coun­try. He traveled throughout South Amer­ica and rel­ished the op­por­tun­ity — "as a busi­ness ex­per­i­ence," he wrote, "it was ter­rif­ic for a guy my age" — but rais­ing two small chil­dren in Ca­ra­cas proved chal­len­ging. The fam­ily re­turned to the United States in 1979 to help George H.W. Bush's cam­paign for pres­id­ent. Jeb was dis­patched to Flor­ida and Pu­erto Rico, where he and Columba served as Span­ish-speak­ing sur­rog­ates.
Two months after his fath­er was elec­ted vice pres­id­ent, Bush and Columba settled in Miami, where Columba's moth­er and sis­ter already lived. "I felt like it would be a bet­ter place to raise my chil­dren and for my wife to be happy," Bush told The Miami Her­ald in 2002. And it proved to be a place he fit in. "He had spent per­haps a good part of a dec­ade as­sim­il­at­ing cul­tur­ally to His­pan­ic cul­ture," Carde­n­as says. "So he was halfway there, and then when he met the Cuban-Amer­ic­an com­munity, that kind of com­pleted the cycle of as­sim­il­a­tion. And he ad­ap­ted to it quite well."
Ac­cord­ing to friends and busi­ness as­so­ci­ates, Bush spent a lot of time in Little Havana, the cen­ter of Cuban ex­ile life in Miami. At first blush, Jeb cut an odd fig­ure at res­taur­ants and ventan­itas, or walk-up cof­fee win­dows. But his flu­ency in Span­ish and un­as­sum­ing per­son­al­ity — the ex­act op­pos­ite of what Cubans ex­pec­ted from the son of a Wash­ing­ton power broker — gave him easy en­trée to the Cuban di­a­spora, a con­ser­vat­ive vot­ing bloc bask­ing in the glow of Ron­ald Re­agan's anti-com­mun­ist fer­vor. In the Cubans, Bush found a cul­ture that prized con­ser­vat­ive val­ues. In Bush, the Cubans found a polit­ic­al cham­pi­on. "It was kind of a mu­tu­al love at­trac­tion," Carde­n­as re­calls.
Bush's ment­or was Ar­mando Cod­ina, a power­ful Cuban ex­ile and prom­in­ent de­veloper who had been the Flor­ida chair­man of George H.W. Bush's un­suc­cess­ful White House cam­paign. Cod­ina gave Bush a job as a leas­ing agent, and be­fore long, the two formed a luc­rat­ive com­mer­cial real-es­tate part­ner­ship that would help re­shape the Miami sky­line and set Bush on a path to be­com­ing a mil­lion­aire in his 30s. It also gave him ac­cess to Miami's Cuban com­munity. Bush, re­calls Suarez, who would serve as may­or from 1985 to 1993, "was per­ceived as be­ing an equal part­ner with this very prom­in­ent Cuban-Amer­ic­an who was then on a ma­jor up­swing."
Jeb did not flaunt his fam­ily's polit­ic­al power. He didn't have to; his last name spoke volumes. Or­din­ary Cubans stuffed hand­writ­ten notes, some scrawled on nap­kins, in­to his hands, ac­cord­ing to Ros-Le­htin­en. The re­quests, she says, would come from the wait­resses who served him his morn­ing ca­fe­cito, the park­ing-lot at­tend­ants who watched his car. An un­doc­u­mented re­l­at­ive was be­ing de­por­ted; a grand­moth­er hadn't re­ceived her So­cial Se­cur­ity checks — and Bush was a man with pa­lanca, or the juice to move the levers of power.
Be­cause of a quirk of Cuban pro­nun­ci­ation, people called him "Jeff Bush," a name that still sticks today. ("There's something about the 'b' in Span­ish," says Ros-Le­htin­en. "I don't know what it is.") Some friends and al­lies say that Bush him­self even de­veloped a Cuban ac­cent when he spoke Span­ish, though oth­ers now call it "neut­ral." "He Cuban­ized him­self," says Tony Co­tarelo, former ex­ec­ut­ive dir­ect­or of the Dade County Re­pub­lic­an Party.
In Miami, Bush was ex­posed to a gen­er­a­tion of Cubans still reel­ing from the loss of their home­land, and he ap­peared quick to grasp the im­port­ance of those stor­ies. In 1982, for in­stance, he at­ten­ded a ce­re­mony ded­ic­at­ing a Little Havana com­munity cen­ter to Manuel Ar­time, the ci­vil­ian lead­er of the failed Bay of Pigs in­va­sion, and read a let­ter in Span­ish from his fath­er to Ar­time's wid­ow. "Miami is a city of vic­tims," says Ninoska Pérez Cas­tellón, a Cuban ex­ile and in­flu­en­tial com­ment­at­or on the pop­u­lar Ra­dio Mambi sta­tion who has known Bush for dec­ades. "You walk down the street and talk to someone who may have spent 10 years in pris­on as a polit­ic­al pris­on­er or their fath­er may have been shot by a fir­ing squad. "¦ Jeb knew what the com­munity was about. He knew what Cubans had gone through."
Jeb Bush with his son Jebbie and his wife Columba start to watch the re­turns on TV as the polls close on Nov. 8, 1994. (Jon Kral/Miami Her­ald/TNS via Getty Im­ages)THREE YEARS AFTER his ar­rival, Bush stepped in­to Miami polit­ics, win­ning a seat on the ex­ec­ut­ive com­mit­tee of the Dade County GOP — and promptly de­clar­ing his bid for the chair­man­ship. Al­though he had helped on his fath­er's cam­paigns, it was his first try at party polit­ics, and he care­fully laid the ground­work in a deeply di­vided or­gan­iz­a­tion. Some older, white mem­bers were dis­pleased with what they per­ceived as a Cuban takeover of the GOP. Even among His­pan­ics, there was dis­agree­ment over how hard a line to take against com­mun­ism.
One rival painted Bush's can­did­acy as part of a cov­ert Castro op­er­a­tion to split the party; oth­ers felt the top slot should be in His­pan­ic hands. "Some people le­git­im­ately said that giv­en that Cubans were the back­bone of the party at the time, that the chair should be a Cuban," says Co­tarelo, who helped Bush's cam­paign. But he ad­ded, "He re­spec­ted them and they re­spec­ted him, and he con­tin­ued to pur­sue the po­s­i­tion."
Draw­ing on the re­la­tion­ships he had forged in his fath­er's cam­paign and in the Cuban busi­ness com­munity, he held get-to-know-Jeb re­cep­tions and cul­tiv­ated al­lies with­in the ex­ec­ut­ive com­mit­tee, the body that would ul­ti­mately vote on the chair­man­ship. Ac­cord­ing to the Her­ald, he also be­friended the out­go­ing chair­man, Roberto Godoy, prob­ing him for de­tails about the state of the party over early morn­ing break­fasts.
Bush was so nervous about the elec­tion that he re­sumed his smoking habit (Marl­boros), but he cast him­self as a heal­er and ul­ti­mately notched an over­whelm­ing ma­jor­ity of ex­ec­ut­ive-com­mit­tee votes — 125-to-17. With­in weeks of be­com­ing chair­man, Bush ral­lied with thou­sands on Cuban In­de­pend­ence Day in the park­ing lot of the Or­ange Bowl. Dressed in a white guayabera and speak­ing in Span­ish, he told Cubans that they had an ob­lig­a­tion to sup­port Nicara­guan refugees flee­ing re­pres­sion. The value of free­dom, he said, "is a les­son "¦ that is now be­ing taught again by a new group of ex­iles."
In his new role, Bush re­cruited Cuban-Amer­ic­an can­did­ates for state le­gis­lat­ive seats, even per­suad­ing some to switch parties and run as Re­pub­lic­ans. For the first time, GOP chal­lengers in South Flor­ida were match­ing Demo­crat­ic in­cum­bents in fun­drais­ing and were flip­ping state­house seats, due in no small part to Bush's fin­an­cial prowess, Co­tarelo told me. In 1989, Bush would man­age Ros-Le­htin­en's con­gres­sion­al cam­paign, help­ing elect the coun­try's first Cuban-Amer­ic­an mem­ber of Con­gress.
To reach voters in the ex­ile com­munity, he took to Miami's many Span­ish-lan­guage talk-ra­dio sta­tions, where he spread the GOP's anti-com­mun­ist mes­sage. The Cuban-Amer­ic­an air­waves were an in­tim­id­at­ing arena, full of de­nun­ci­ation and char­ac­ter as­sas­sin­a­tion for those viewed as in­suf­fi­ciently anti-Castro. But by most ac­counts, Bush was a mas­ter, rev­el­ing in the thrust and parry. "My dad used to tell me, 'Come and listen to Jeb speak Span­ish on the ra­dio. It's bet­ter than yours,'" re­calls Art Es­top­in­an, Ros-Le­htin­en's chief of staff.
With­in two and a half years of Bush com­ing in­to the chair­man job, Re­pub­lic­an re­gis­tra­tion in Dade County was up 58 per­cent. Ron­ald Re­agan's ag­gress­ive anti-com­mun­ism made the GOP seem a nat­ur­al home for Cuban ex­iles, and Jeb seized the op­por­tun­ity. "People think of him as this hoity-toity es­tab­lish­ment guy go­ing to coun­try-club re­cep­tions, but he was mix­ing it right in there with our ex­ile com­munity," Ros-Le­htin­en says. Bush be­came a fix­ture at Cuban cel­eb­ra­tions, marched in anti-Castro demon­stra­tions, and, work­ing with the Lat­in Cham­ber of Com­merce, handed out tur­keys and toys to needy fam­il­ies dur­ing hol­i­days — a tra­di­tion he still hon­ors. He also joined with Cubans to sup­port oth­er anti-com­mun­ist causes. In 1986, he spoke to a gath­er­ing of Dade County's Cap­tive Na­tions Com­mit­tee, a group of 100 refugees from East­ern European na­tions who had gathered to protest com­mun­ism.
"We had no one to rep­res­ent the Cuban-Amer­ic­an com­munity in Wash­ing­ton at a time when we were in the middle of the Cold War. He be­came the con­duit of all our dreams and as­pir­a­tions."
Bush con­tin­ued to work in real es­tate dur­ing this time. He had been clear about his busi­ness am­bi­tions from the out­set. "I'd like to be very wealthy," he told a Miami News re­port­er in 1983, "and I'll be glad to let you know when I think I've reached my goal." Be­fore long, Cod­ina put Bush's name on the door and gave him a 40 per­cent stake in the com­pany. "I have a very high re­gard for Jeb and con­sider him a very in­sight­ful and in­tel­li­gent busi­ness­man," Cod­ina told me in an e-mail. "He is a work­ahol­ic and his greatest strength is that he has a very stra­tegic mind."
WITH HIS FATH­ER as vice pres­id­ent, Bush be­came the Cuban com­munity's un­of­fi­cial am­bas­sad­or to Wash­ing­ton. "We had no sen­at­ors. We had no mem­bers of Con­gress. We had no one to rep­res­ent the Cuban-Amer­ic­an com­munity in Wash­ing­ton at a time when we were in the middle of the Cold War," Carde­n­as re­calls. "He be­came the con­duit of all our dreams and as­pir­a­tions."
In 1985, for in­stance, Jeb wrote his fath­er about the con­di­tions of 52 Cubans be­ing held in a de­ten­tion cen­ter in El Paso, Texas, after ar­riv­ing in the coun­try with fraud­u­lent doc­u­ments. "The law is the law," he wrote, in a let­ter that is now in the archives at the George H.W. Bush Pres­id­en­tial Lib­rary. "But shouldn't there be some com­pas­sion for chil­dren who are de­tained?" The vice pres­id­ent took it up with his staff. "This is heart break­ing," he wrote in a note. "What can we do to help the chil­dren?" (C. Boy­den Gray, coun­selor to the vice pres­id­ent, wrote Jeb to as­sure him that the con­di­tions were "not jail-like," adding: "The prob­lem, of course, is that treat­ment that is too com­fort­able only en­cour­ages more il­leg­al entry in­to the coun­try.")
One year later, when the Re­agan ad­min­is­tra­tion ini­tially re­fused to ac­cept dozens of polit­ic­al pris­on­ers from Cuba, Bush fired off a let­ter to the at­tor­ney gen­er­al con­demning the policy — which, Bush wrote, "has done more dam­age to the ad­min­is­tra­tion's sup­port in the Cuban-Amer­ic­an com­munity than any­thing else in the last six years."
That same year, Bush wrote Thomas Col­lamore, his fath­er's deputy as­sist­ant, re­com­mend­ing Col­on­el Juan Ar­mando Montes for a mil­it­ary pro­mo­tion. "If the pro­mo­tion oc­curs, Ar­mando will be the first Gen­er­al of Cuba ori­gen [sic] in the U.S. Army," he wrote. "Can you let me know if your good of­fices can help?" (Col­lamore replied that the ad­min­is­tra­tion would let the pro­cess "run its nat­ur­al course" since "Armed Ser­vices pro­mo­tion boards re­act very neg­at­ively to any sort of polit­ic­al pres­sure, per­ceived or oth­er­wise.")
Suarez, the Miami may­or, re­calls a limo ride with Jeb and then""Vice Pres­id­ent Bush in the mid-1980s. The group was en route to ded­ic­ate "Ron­ald Re­agan Av­en­ue" in Little Havana when the eld­er Bush quizzed his son on the coun­try's im­mig­ra­tion crisis. Jeb held court as if he were an im­mig­ra­tion at­tor­ney, Suarez says. "I was a Cuban refugee. I had to be nat­ur­al­ized. "¦ I like to think I know a lot about the law, but I could barely fol­low Jeb's ex­plan­a­tion on the Byz­antine im­mig­ra­tion laws. It was like 10 straight minutes of brief­ing his old man," Suarez re­calls. Jeb spoke so pas­sion­ately that "it was al­most as if it were a per­son­al mat­ter. He al­ways felt like he was one of us." In 1986, the Her­ald re­por­ted that Bush called im­mig­ra­tion and State De­part­ment of­fi­cials to help ease the path of a dis­abled Cuban girl in­to the United States so she could be re­united with her moth­er.
"I've seen enough politi­cians come to Miami. Some might be genu­ine; some pre­tend to know what the hell's go­ing on. With Jeb, it's so genu­ine."
In ret­ro­spect, Bush's in­ter­ven­tions with Wash­ing­ton did not al­ways play well, however. In 1985, Miguel Re­carey Jr., an ec­cent­ric Cuban ex­ile who was once jailed for in­come-tax eva­sion, hired Bush to find of­fice space for his fast-grow­ing health main­ten­ance or­gan­iz­a­tion — and later asked him to help ob­tain a fed­er­al waiver from Medi­care rules that would al­low his com­pany to ex­pand. Bush has ac­know­ledged that he made at least one call to Wash­ing­ton to en­sure Re­carey would get a "fair hear­ing," something he said he of­ten did for Flor­idi­ans try­ing to cut through bur­eau­crat­ic red tape. Of­fi­cials in the Health and Hu­man Ser­vices De­part­ment gran­ted the waiver. But two years later, reg­u­lat­ors shut down the HMO be­cause it was in­solv­ent, and au­thor­it­ies charged Re­carey with bribery and em­bez­zle­ment, among oth­er crimes, in what was then the largest Medi­care fraud in U.S. his­tory. Re­carey fled the coun­try. (Years later, Bush wrote that he was un­aware of Re­carey's checkered past. "If I had any reas­on to be­lieve that Re­carey was any­thing oth­er than the le­git­im­ate busi­ness­man he ap­peared to be, I would have had noth­ing to do with him," he ex­plained. He also said age and ex­per­i­ence had made him less gull­ible. "I have to have bet­ter radar," he told the St. Peters­burg Times.)
Bush resigned as party chair­man at the end of 1986 to be­come Flor­ida's com­merce sec­ret­ary, but he left the post after less than two years to chair his fath­er's pres­id­en­tial cam­paign in the state. Much of his ef­fort was fo­cused on Miami's Cuban ex­ile com­munity, which had grown sharply crit­ic­al of what it saw as a soften­ing of the Re­agan ad­min­is­tra­tion's line to­ward Castro. Jeb took to Span­ish-lan­guage ra­dio to re­as­sure Cubans that his fath­er re­mained a bul­wark against com­mun­ism. He also ral­lied oth­er im­mig­rant com­munit­ies. "We need your help," he told a crowd of 150 Nicara­guan ex­iles at a small-dol­lar fun­draiser in the fi­nal months of the cam­paign, ac­cord­ing to the Her­ald. "You are part of my fam­ily." 
IT WAS A MARK OF Jeb's com­mit­ment to the Cuban com­munity when, in 1989, he waded in­to the con­tro­ver­sial case of Or­lando Bosch, a pe­di­at­ri­cian and right-wing Cuban act­iv­ist who was be­lieved by the Justice De­part­ment to have been re­spons­ible for dozens of bomb­ings aimed at the Castro gov­ern­ment, both here and abroad. Seen by Amer­ic­an of­fi­cials as an un­re­formed ter­ror­ist, Bosch was ven­er­ated in Miami's ex­ile com­munity as a hero. At the time, Bosch was in the Dade County jail await­ing de­port­a­tion after be­ing ar­res­ted for il­leg­ally en­ter­ing the United States a year earli­er. Of­fi­cials linked him to 30 acts of sab­ot­age and vi­ol­ence span­ning at least a half-dozen coun­tries, in­clud­ing the bomb­ing of three ships and the at­temp­ted as­sas­sin­a­tion of the Cuban am­bas­sad­or to Ar­gen­tina.
The case be­came a cent­ral is­sue in Ros-Le­htin­en's cam­paign for an open con­gres­sion­al seat, with Bosch sup­port­ers march­ing through down­town, shut­ting down their own busi­nesses, and sta­ging hun­ger strikes. Ros-Le­htin­en, along with much of Miami's polit­ic­al es­tab­lish­ment, cast Bosch as a free­dom fight­er and lob­bied the Bush ad­min­is­tra­tion for his re­lease. Her po­ten­tial op­pon­ents called for his de­port­a­tion.
Bosch's son, Wil­li­am, staged a hun­ger strike in a Little Havana park known as Plaza de la Cuban­id­ad. Flanked by palm trees and Cuban and Amer­ic­an flags, he pitched a make­shift tent, fas­ted, and vowed to re­main un­til George H.W. Bush — by then the pres­id­ent — or his son agreed to talk. "I knew the pres­id­ent wasn't go­ing to come," Wil­li­am Bosch told me re­cently. "I wanted one of them to help us out."
Jeb Bush heard the call. But Wil­li­am was dia­bet­ic, and by the time Jeb showed up, he was de­li­ri­ous and could barely speak. His sis­ter Myri­am told me that, after nearly 26 years, she could not re­call spe­cif­ic de­tails about the meet­ing, though she told re­port­ers at the time that Bush mostly listened to the fam­ily's pleas but made no prom­ises. "He was a part-of-the-com­munity type of per­son," she told me. "I do re­mem­ber he was very po­lite and very in­ter­ested in see­ing what he could do, if any­thing, to help the Cuban com­munity."
Bush was not out­spoken about the case. When the Her­ald asked him about his con­ver­sa­tions with Wil­li­am Bosch, he re­fused to com­ment, only say­ing that his vis­it was on hu­man­it­ari­an grounds. But at least in the White House, the per­cep­tion was that Jeb was a Bosch ad­voc­ate. Pres­id­en­tial aides Sichan Siv and Shir­ee Sanc­hez wrote a memo to George H.W. Bush say­ing that the Justice De­part­ment's de­cision to deny Bosch polit­ic­al asylum and de­port him "has cre­ated a dif­fi­cult polit­ic­al at­mo­sphere in Miami," one that could im­per­il the GOP's chances of win­ning the open con­gres­sion­al seat. They noted that Bosch en­joyed broad-based sup­port in the com­munity. Among his key sup­port­ers, they wrote, is "your son Jeb." "All but Jeb," the aides ex­plained, "have been pub­licly call­ing for a meet­ing at the White House in the hope that you will in­ter­vene."
"Quite a re­port!!" Pres­id­ent Bush wrote to his chief of staff, John Sununu, in the mar­gins of the memo. "I guess there's little more we can do, but these were my worst fears."
As the case wound its way through the courts, White House of­fi­cials mon­itored the de­vel­op­ments, mark­ing up news clip­pings and send­ing them to each oth­er. Even­tu­ally, in 1990, Bosch was re­leased from pris­on. The New York Times re­por­ted that Jeb had lob­bied his fath­er's ad­min­is­tra­tion to free the act­iv­ist. Later, when he was gov­ernor, Jeb would choose as his first Flor­ida Su­preme Court ap­pointee Raoul Cantero III, one of Bosch's law­yers and the grand­son of former Cuban dic­tat­or Ful­gen­cio Batista. Cantero was the first Cuban-Amer­ic­an on the state's high court.
At times dur­ing his fath­er's pres­id­ency, Bush prac­tic­ally be­came an ex­ten­sion of the ad­min­is­tra­tion. On Janu­ary 16, 1991, he called Otto Reich, a Havana-born lob­by­ist who had served as U.S. am­bas­sad­or to Venezuela in the Re­agan ad­min­is­tra­tion (and is now a mem­ber of Jeb's for­eign policy ad­vis­ory team). The United Na­tions Hu­man Rights Com­mis­sion was set to con­sider a res­ol­u­tion that would crack down on hu­man-rights vi­ol­a­tions in Cuba, and the United States needed a dip­lo­mat to press the ad­min­is­tra­tion's case against the Com­mun­ist re­gime. With the United States on the verge of war in Ir­aq and his fath­er fo­cused on the Middle East, Jeb was play­ing re­cruit­er on be­half of the White House, Reich told me. It was a dif­fi­cult mis­sion that would re­quire Reich to win sup­port from Lat­in Amer­ic­an coun­tries that typ­ic­ally backed Cuba — and he wanted high-level backup. Reich says Bush as­sured him that he would tap the pres­id­ent if things stalled.
Be­fore long, Reich's ef­forts hit a snag. He penned a hand­writ­ten note to the pres­id­ent on Hotel Bris­tol sta­tion­ery ask­ing him to call three key heads of state and faxed it to the White House. "Just to make sure, however, that people didn't think it was some kind of a prank from a lun­at­ic, I called Jeb and said, 'Listen, I just sent a fax to the situ­ation room, and you might want to ask your fath­er to ask for it,'" Reich re­calls. Bush phoned the pres­id­ent, and, ac­cord­ing to the Her­ald, worked with Ros-Le­htin­en to lobby vari­ous em­bassies. With­in days, op­pos­ing coun­tries were chan­ging their po­s­i­tions on the Cuba res­ol­u­tion, Reich says. The meas­ure ul­ti­mately passed.
BUSH MADE CLEAR that he saw him­self as an ad­voc­ate for the Cuban com­munity. "I don't think you can live in Miami and be in­ter­ested in polit­ics and have met as many people as I have and not feel a part of that ef­fort," he told the Her­ald in 1991. By the early 1990s, he had be­come so iden­ti­fied with the ex­ile com­munity that Cuba's vice pres­id­ent blamed him for the poor re­la­tions between Havana and Wash­ing­ton, say­ing his in­flu­ence had led Pres­id­ent Bush to ad­opt "an at­ti­tude to­ward Cuba more ir­ra­tion­al than any pre­vi­ous Amer­ic­an pres­id­ent."
Yet he nev­er seems to have be­come so en­am­ored with the Cuban cause that he lost sight of his loy­alty to his fam­ily. And so, even as Jeb pressed Cuban-Amer­ic­ans' case in Wash­ing­ton, he also pressed his fath­er's case in Miami. That wasn't al­ways an easy task. Un­like Re­agan, whose soar­ing rhet­or­ic made ex­iles swoon, the eld­er Bush nev­er res­on­ated in the world of Cuban polit­ics. As the Iron Cur­tain fell in Europe, Cubans saw little change in Havana, and some ex­iles per­ceived the Bush ad­min­is­tra­tion as weak — even inch­ing to­ward rap­proche­ment. "The idea that some Cuban-Amer­ic­ans might have had at the time was that if you are the pres­id­ent or vice pres­id­ent, all you have to do is pick up the phone and things get done," says Frank Calzon, a long­time anti-Castro act­iv­ist and former ex­ec­ut­ive dir­ect­or of the Cuban Amer­ic­an Na­tion­al Found­a­tion.
It fell to Jeb to be his fath­er's de­fend­er-in-chief. Calzon re­calls a tense meet­ing between Jeb and a group of Cuban lead­ers who were mak­ing "over-the-top and com­pletely in­ap­pro­pri­ate" de­mands of George H.W. Bush be­cause they felt he was not do­ing enough to topple Castro. (Calzon doesn't re­mem­ber the ex­act con­text of the meet­ing, but he says it was when Bush was vice pres­id­ent.) Jeb kept his cool and asked them to re­con­sider their case. "He did not apo­lo­gize. He did not say something was not true. Ba­sic­ally, he said: 'I un­der­stand your feel­ings. One has to get emo­tion­al about these things, but you're wrong. This ad­min­is­tra­tion, my dad, has not turned his back on the kinds of things you are talk­ing about,'" Calzon re­calls. "I re­mem­ber Jeb Bush speak­ing softly while oth­er people were yelling."
Ten­sions hit a new high in 1992 when Pres­id­ent Bush signaled his op­pos­i­tion to a bill from Rep­res­ent­at­ive Robert Tor­ri­celli of New Jer­sey that would strengthen trade re­stric­tions on the is­land — a meas­ure that his even­tu­al Demo­crat­ic op­pon­ent Bill Clin­ton sup­por­ted. Jeb sought a solu­tion. In a let­ter to the White House, he en­cour­aged his fath­er to con­sider an ex­ec­ut­ive or­der that would ban the for­eign sub­si­di­ar­ies of U.S. com­pan­ies from trad­ing with Cuba. "There must be a way to over­come the con­cerns of our al­lies and tight­en the noose on Castro," he wrote. "If it can be done, then the Tor­ri­celli bill will dis­ap­pear."
Jeb, who chaired his fath­er's reelec­tion cam­paign in Flor­ida, was also do­ing dam­age con­trol on an­oth­er front. The Her­ald had pub­lished a story al­leging that the State De­part­ment was co­oper­at­ing with the Cuban gov­ern­ment to curb vi­gil­ante at­tacks against the is­land. Frus­trated by Castro's re­si­li­ence, ex­iles were launch­ing armed ex­ped­i­tions against Cuba. Some of these part-time com­mandos were even cap­tured and sent to pris­on or ex­ecuted by fir­ing squad. The Her­ald re­port in­flamed many in Miami's Cuban com­munity, some of whom called the ad­min­is­tra­tion's co­oper­a­tion a be­tray­al.
Ap­pear­ing on Span­ish-lan­guage ra­dio, Jeb sought to dis­pel ru­mors that his fath­er's ad­min­is­tra­tion had been in­filt­rated by Castro sym­path­izers. "I do not be­lieve that the prob­lem with the State De­part­ment in many cases is that they are trait­ors, but that they have their own agenda," he said. In the same let­ter in which he dis­cussed the Tor­ri­celli bill, he also for­war­ded to his fath­er a re­quest from Cuban ex­ile lead­ers who wanted a White House sit-down. They had col­lec­ted more than 250,000 sig­na­tures for a pe­ti­tion ask­ing the U.S. gov­ern­ment to "re­cog­nize the right to bel­li­ger­ence of the Cuban people to fight for their free­dom."
While Jeb would soon de­clare pub­licly that he op­posed the vi­gil­ante runs, it was dif­fi­cult, in an elec­tion year, to ig­nore the re­quest of two power­ful Cubans: Ar­mando Pérez Roura, the dir­ect­or at Ra­dio Mambi and a sort of king­maker in ex­ile polit­ics, and Lu­is An­dres Var­gas Gomez, an anti-Castro act­iv­ist who spent two dec­ades in Cuban pris­ons for his in­volve­ment in the failed Bay of Pigs in­va­sion. "I be­lieve that a meet­ing would be be­ne­fi­cial," Jeb wrote to his fath­er. "If someone could call me to dis­cuss this, I would be ap­pre­ci­at­ive."
Pres­id­ent Bush told his son that he would take up the mat­ter "right away." "State [De­part­ment] might have some prob­lem with my meet­ing" with the ex­ile lead­ers, Bush Sr. wrote to Brent Scow­croft, his na­tion­al se­cur­ity ad­viser. "But I would like to do it un­less there is a com­pel­ling reas­on not to." (Ac­cord­ing to Pérez Cas­tellón, who served as a trans­lat­or and in­ter­me­di­ary for me with Pérez Roura, the meet­ing did in fact take place.)
A little more than a week be­fore Elec­tion Day, Pres­id­ent Bush came to Miami to sign the Tor­ri­celli bill — dubbed the Cuban Demo­cracy Act — and de­clared, "I am cer­tain in my heart that I will be the first Amer­ic­an pres­id­ent to set foot in a free and in­de­pend­ent Cuba." Hun­dreds of sup­port­ers chanted, "Viva Bush! Viva Bush!" Bush won Flor­ida, but lost the gen­er­al elec­tion — and Jeb quickly began mak­ing moves to launch his own polit­ic­al ca­reer.
REICH RE­CALLS hav­ing oc­ca­sion­al lunches with Bush at a Cuban res­taur­ant in down­town Miami in the late 1980s and early 1990s, and, after see­ing how be­loved he was, wrote a note to the eld­er Bush say­ing that his son should run for of­fice. "I was struck by how pop­u­lar he was, how many people came over to shake his hand. I said, 'He should run for may­or of Miami. He'd win hands down,'" Reich told me. "Jeb was ob­vi­ously think­ing a little lar­ger than may­or of Miami."
In 1993, Jeb, then 40, de­clared his bid for Flor­ida gov­ernor, chal­len­ging in­cum­bent Law­ton Chiles, a folksy icon in state polit­ics. Un­sur­pris­ingly, his Miami headquar­ters was loc­ated on the edge of Little Havana, and his cam­paign was pop­u­lated with many of the same Cuban-Amer­ic­an act­iv­ists and vo­lun­teers who had known him from his days as head of the Dade County GOP. Jeb and Columba "were as con­nec­ted as any can­did­ate could be to [the Cuban-Amer­ic­an] com­munity. They lived there. He worked there. That's where his cam­paign of­fice was," says Cory Tilley, a former Bush aide who served as Bush's press sec­ret­ary dur­ing the cam­paign. "Every­body has their home. He felt that was his base. "¦ He called upon those con­nec­tions to run up vote totals in Miami."
After los­ing — by few­er than 64,000 votes in what was then the closest gov­ernor's race in Flor­ida his­tory — Bush re­turned to the busi­ness world and to Cod­ina, who wel­comed him back and re­stored his name to the busi­ness mar­quee. (The de­veloper had re­moved it dur­ing the cam­paign.) He foun­ded a think tank to study policy, con­ver­ted to Cath­oli­cism — Columba's re­li­gion — and traveled the state to meet with minor­ity groups he had largely ig­nored in the cam­paign.
But his loy­alty to the Cuban com­munity did not dis­sip­ate. In 1996, when Cuban jets shot down U.S. planes from an anti-Castro group seek­ing to help rafters in the Flor­ida Straits, Bush at­ten­ded a me­mori­al ser­vice at the Or­ange Bowl. There, he sat in the stands with thou­sands of Cuban-Amer­ic­ans wav­ing the flags of their home coun­try and their ad­op­ted one. No en­tour­age, no speech, no cam­er­as. Co­tarelo re­calls that as people in the stands began to re­cog­nize Bush, they star­ted ap­plaud­ing. "He showed up as a reg­u­lar cit­izen," he told me. "I was very happy that he had at­ten­ded by him­self. It was not part of any polit­ic­ally mo­tiv­ated ef­fort. He was a very nat­ur­al per­son."
Years later, when Bush was gov­ernor, Pérez Cas­tellón re­calls that he was huddled with a group of ex­iles in the third-floor of­fice of Fe­lipe Valls — own­er of the fam­ous Cuban res­taur­ant Ver­sailles — when he fixed his at­ten­tion on an eld­erly wo­man. It was Eva Bar­bas, the moth­er of one of the vic­tims in the plane at­tack. Without say­ing a word, Bush got up, walked over to her, and em­braced her, Pérez Cas­tellón says. "For me, as well as many people there, it was not strange to see Jeb Bush act that way," she says. "He had been part of so many things that had happened in the Cuban com­munity. "¦ I've seen enough politi­cians come to Miami. Some might be genu­ine; some pre­tend to know what the hell's go­ing on. With Jeb, it's so genu­ine."
IN 1998, FA­CING a weak­er op­pon­ent and strik­ing a more mod­er­ate tone, Bush won the gov­ernor­ship eas­ily. Cuban con­tro­versy, however, was not far be­hind. Barely a year in­to his first term, five-year-old Elián González was found float­ing on an in­ner tube in the Flor­ida Straits after the boat car­ry­ing him cap­sized, killing his moth­er and sev­er­al oth­ers. The boy's fath­er — and the Cuban gov­ern­ment — wanted him back on the is­land, but his Miami re­l­at­ives ar­gued that he should be al­lowed to stay in the United States after the treach­er­ous jour­ney. Quickly, the situ­ation be­came a polit­ic­al firestorm.
Bush showed a del­ic­ate touch and sought a middle ground: He called for a cus­tody hear­ing be­fore a state judge, while re­cog­niz­ing that as gov­ernor he had little power to in­ter­vene in a fed­er­al im­mig­ra­tion battle. Still, his af­fec­tion for the Cuban-Amer­ic­an com­munity came through. A day after the U.S. gov­ern­ment raided the house where Elián was stay­ing — be­gin­ning the pro­cess of re­turn­ing him to Cuba and spark­ing mass protests in Miami — a couple from Sara­sota wrote Bush an email titled "Cuban an­archy" and im­plored him, "Please don't con­tin­ue to pander to these people just for votes." The gov­ernor — an avid email­er, who cor­res­pon­ded with con­stitu­ents throughout the five-month stan­doff — pushed back. "I am from Miami and I have worked and lived with Cuban Amer­ic­ans. They are, in their great ma­jor­ity, god fear­ing, pat­ri­ot­ic Amer­ic­ans who I would ima­gine share your val­ues," he replied. "Please don't fall prey to the na­tion­al me­dia ste­reo­type of this group since it is not mono­lith­ic."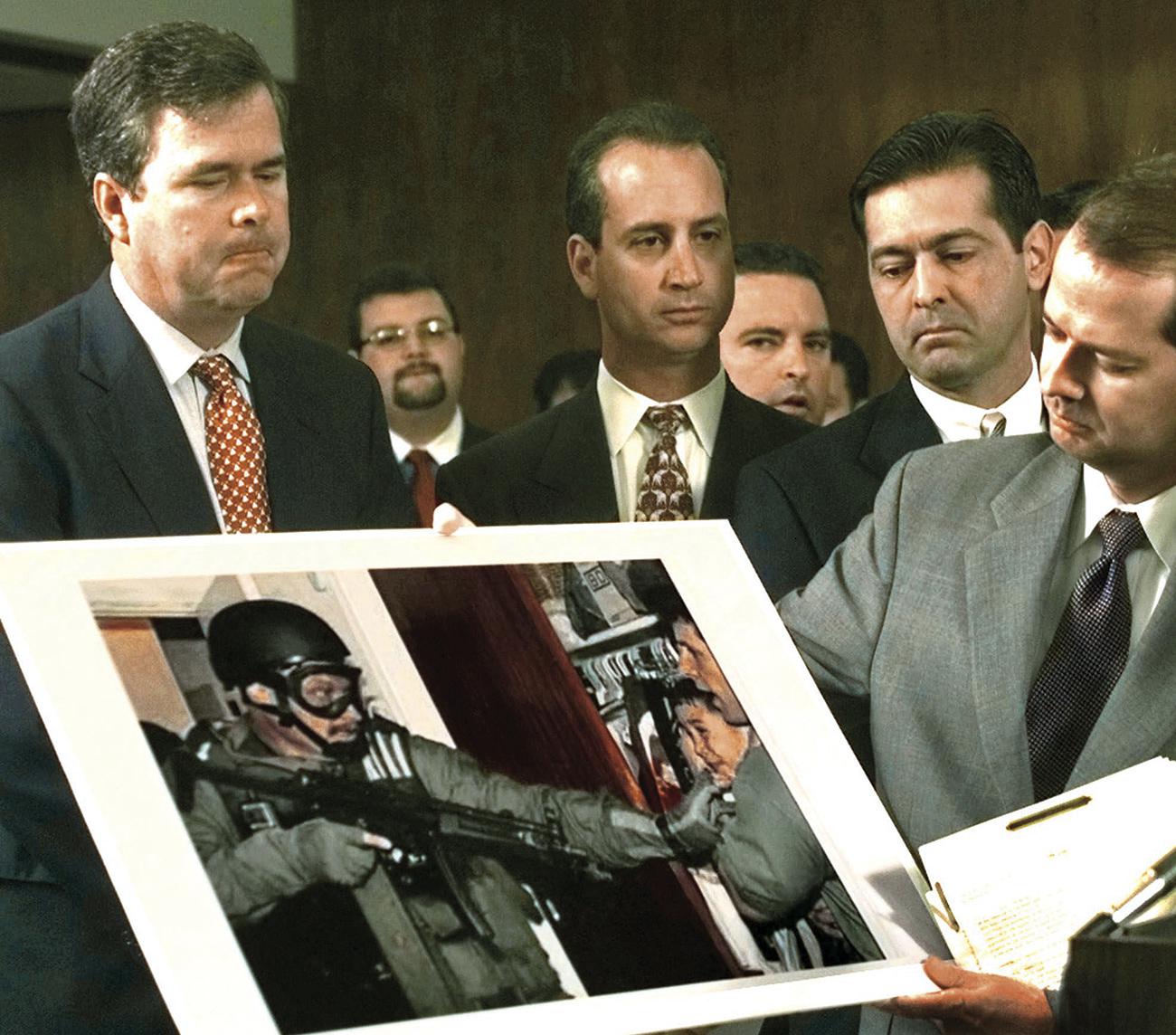 Bush sought a middle ground in deal­ing with the Elián González con­tro­versy.) (AP Photo/Mark Fo­ley)Dur­ing his broth­er's 2000 pres­id­en­tial race, Jeb kept a low pro­file for much of the cam­paign and fo­cused on fun­drais­ing, but as the con­test be­came close, he spent the fi­nal days of the elec­tion stump­ing in all corners of the state. On the eve of the elec­tion, he ral­lied seni­ors at a Span­ish-lan­guage event in Miami, ac­cord­ing to the Her­ald. "My polit­ic­al ad­visers tell me I have to speak in Eng­lish," Jeb said. "I don't think so." He led the crowd in chants of his broth­er's middle ini­tial: "Doble V! Doble V! Doble V! " Cuban-Amer­ic­ans voted over­whelm­ingly for Bush.
Jeb re­prised his role as the Cuban ex­iles' am­bas­sad­or to Wash­ing­ton dur­ing his broth­er's pres­id­ency. (This un­doubtedly irked Fi­del Castro, who called Jeb "the fat little broth­er in Flor­ida" and sug­ges­ted he go on a diet.) In 2001, Pérez Cas­tellón re­calls that Jeb helped ar­range a small meet­ing with ex­ile lead­ers and former polit­ic­al pris­on­ers for the new pres­id­ent at the Colon­nade Hotel in Cor­al Gables. "We all got to ask him ques­tions," she says. "I think it was Jeb's way of fa­mil­i­ar­iz­ing his broth­er on a first-per­son basis with Cuba's real­ity."
In 2003, the United States in­ter­cep­ted a Cuban boat that had been hi­jacked by 12 would-be refugees. After ne­go­ti­at­ing with Cuba to en­sure none of them would be ex­ecuted, the gov­ern­ment handed them over to Cuban au­thor­it­ies, a move that stoked out­rage among Miami's ex­iles and promp­ted a rare pub­lic cri­tique from Jeb. "It's just not right," he told the Her­ald, adding that he had asked sev­er­al seni­or ad­min­is­tra­tion of­fi­cials to re­view what happened.
However, re­peat­ing the pat­tern from his fath­er's pres­id­ency, Jeb was also quick to de­fend his broth­er's ad­min­is­tra­tion on Cuba. He said his broth­er was work­ing to de­vel­op a "co­her­ent policy" and that he would an­nounce ma­jor changes be­fore the 2004 elec­tion. "One in­cid­ent is not what will be re­membered about the re­cord of my broth­er's ad­min­is­tra­tion," he said.
Be­hind the scenes, Jeb was help­ing to shape that policy, call­ing top of­fi­cials to con­vey his con­cerns. "It was, 'These people are count­ing on us, count­ing on the Bush ad­min­is­tra­tion to rep­res­ent their in­terests and keep its prom­ises to them, to be cre­at­ive in bring­ing about change on the is­land and not just kind of coast,'" says Ro­ger Noriega, who was George W. Bush's as­sist­ant sec­ret­ary of state for West­ern Hemi­sphere af­fairs and is cur­rently a for­eign policy ad­viser to Jeb. "The gov­ernor was very in­ter­ested in what more we could be do­ing to bring about change, that we be cre­at­ive and pro­act­ive so people felt that their views were be­ing heard and that we were keep­ing our prom­ise." He adds: "It was very much re­flect­ing his per­son­al com­mit­ment to his com­munity — and Miami, his ho­met­own."
It wasn't just Cubans who Jeb was con­cerned about, to be sure. His in­terest in Lat­in Amer­ica seemed to carry over to oth­er groups as well. Noriega says that Jeb called him amid a Haitian refugee crisis, for ex­ample. "Quite frankly, he felt very con­cerned about people who were be­ing re­turned to Haiti when it was un­se­cure," he told me. "This was not a tech­nic­al de­bate about the law. It was about what's fair to folks and wheth­er it's safe for people to be re­turned home."
NOW, BUSH'S OWN po­ten­tial pres­id­en­tial bid comes at a mo­ment­ous time for U.S.-Cuba re­la­tions. Pres­id­ent Obama has re­stored dip­lo­mat­ic re­la­tions with the is­land and called on Con­gress to lift the coun­try's 54-year-old trade em­bargo. In April, Obama and Raul Castro shook hands in the first full-fledged meet­ing between pres­id­ents of the two na­tions in more than a half-cen­tury.
These de­vel­op­ments may or may not end up be­ing a key is­sue in the pres­id­en­tial race. But Bush's re­la­tion­ship with the Cuban-Amer­ic­an com­munity may mat­ter for oth­er reas­ons. For one thing, there is the ques­tion of wheth­er Bush can win over His­pan­ic voters in gen­er­al, just as he once won over Cuban ex­iles. Not­ing the "per­son­al, deep con­nec­tion" between Bush and Cuban-Amer­ic­ans, Cur­belo says, "I think the chal­lenge for Jeb is: Can he rep­lic­ate that with the broad­er Amer­ic­an His­pan­ic com­munity throughout the coun­try? And I think the po­ten­tial is cer­tainly there."
Mar­tinez told me that Bush's lin­guist­ic and cul­tur­al flu­ency with His­pan­ics would be trans­form­at­ive for the GOP: "That's a real power that Jeb will bring to the race in an in­creas­ingly im­port­ant part of our com­munity. His abil­ity to go on Uni­vi­sion and Telemundo, to speak to the cam­era not just in an ad, not in ac­cen­ted Span­ish that someone wrote for him, but to be able to have a con­ver­sa­tion and go on the shows, it will be tre­mend­ously power­ful."
Bush's ex­per­i­ences with Lat­in Amer­ica are also sig­ni­fic­ant in­so­far as they re­veal something about his world­view as a whole. In Feb­ru­ary, in a speech to the Chica­go Coun­cil on Glob­al Af­fairs, Bush called his time in Venezuela "one of my most form­at­ive ex­per­i­ences." "I lived over­seas in the Carter era," he ex­plained, "where we saw firsthand what it was like to see the United States, this in­cred­ible coun­try, lose re­spect of coun­tries, be­cause of a weak and va­cil­lat­ing for­eign policy."
But his time in Miami was clearly form­at­ive as well. "His polit­ic­al views and val­ues evolved as a res­ult of his close prox­im­ity and close re­la­tion­ship with so many of us from the Cuban-Amer­ic­an com­munity," says Carde­n­as. "Listen, he spent most of his young life in for­eign policy is­sues as a res­ult of the com­munity he lived in, the di­a­spora we all came from, and his tak­ing ser­i­ously his role as a bridge between us and the ad­min­is­tra­tion. I be­lieve that he had, as a very young man, ma­tured his points of view on for­eign policy be­fore he had com­pleted that cycle in do­mest­ic mat­ters."
And what are those for­eign policy views? "I think he had some ideas" on for­eign policy be­fore com­ing to South Flor­ida, says Co­tarelo, "but liv­ing in Miami just strengthened his con­vic­tions and kind of in­stilled in him sup­port for the fight against to­tal­it­ari­an re­gimes." Díaz-Bal­art puts it this way: "I think the repressed, those that are strug­gling, have a very spe­cial place in his heart." "He's a big hawk on na­tion­al de­fense, he un­der­stands peace through strength, he knows that we need a strong mil­it­ary," Ros-Le­htin­en says. "Those are things the Cuban-Amer­ic­an com­munity, the Lat­in Amer­ic­an com­munit­ies, really un­der­stand."
"When you see people who have built their lives from noth­ing and fled their home­land with their fam­il­ies, you de­vel­op a sense of em­pathy for people who are vul­ner­able and that's im­port­ant — but also a sense that the U.S. has to keep its prom­ise to its people in terms of ex­tend­ing eco­nom­ic free­dom and pro­tect­ing polit­ic­al rights and the rule of law," Noriega says. "These are pre­cious things, and he's grown in­to adult­hood with people who have lost those things. That's reached bey­ond just the Cuban ex­per­i­ence and the West­ern hemi­sphere. I'd say it's left a pretty in­delible mark on how you see the world and the role we've played and the role we can play in the world."
What Co­tarelo, Díaz-Bal­art, Ros-Le­htin­en, and Noriega are all, in their own ways, de­scrib­ing is a view of in­ter­na­tion­al af­fairs that is groun­ded in mor­al ab­so­lutes: free na­tions versus dic­tat­or­ships; al­lies versus trait­ors. This, per­haps more than any­thing else, is the de­fin­ing fea­ture of the Cuban ex­ile world­view. It is also a set of in­stincts that, for bet­ter or for worse, were gen­er­ally as­so­ci­ated with the pres­id­ency of Jeb's broth­er — and that Jeb has of­ten dis­played when talk­ing about Cuban is­sues, as well as the world at large.
Of course, while Jeb's his­tory with the Cuban-Amer­ic­an com­munity has some­times sug­ges­ted that he would bring a heightened sense of mor­al clar­ity to for­eign af­fairs, at oth­er times his ex­per­i­ences with the Cuban ex­iles point to a prag­mat­ic streak in­stead. In­deed, it is cer­tainly pos­sible to see Jeb's years-long cham­pi­on­ing of the anti-Castro cause mainly as the work of a savvy politi­cian — one who knew how to in­gra­ti­ate him­self among the people whose votes he needed to launch his ca­reer. In this telling, Jeb's ex­per­i­ences among Cuban-Amer­ic­ans may re­veal less about his ac­tu­al for­eign policy in­stincts and more about his dogged polit­ic­al skills.
But whatever his mo­tiv­a­tions (and they have surely at dif­fer­ent points been com­plic­ated), it is un­deni­able that the Cuban ex­ile com­munity genu­inely loves Jeb Bush, and that — wheth­er for polit­ic­al pur­poses, or heart­felt ideo­lo­gic­al reas­ons, or some com­bin­a­tion of both — this is ex­actly how he wants it. At the end of his U.S.-Cuba Demo­cracy PAC speech in Decem­ber — be­fore leav­ing the stage to a parade of hugs and kisses — Jeb switched back to his flaw­less Span­ish and told the crowd, "Yo es­toy hon­rado de ser un soldado en tu ejer­cito." Trans­la­tion: "I am honored to be a sol­dier in your army."
COV­ER SOURCE PHO­TOS: (Flags) Getty Im­ages/Joe Raedle; (Bush) Getty Im­ages/AFP/Nich­olas Kamm