With the Su­preme Court near­ing its his­tor­ic rul­ing on same-sex mar­riage, re­cent Gal­lup polling shows a re­mark­ably broad-based pub­lic shift to­ward sup­port of such uni­ons.
Earli­er this month, Gal­lup re­por­ted that 60 per­cent of all adults agreed that "mar­riages between same-sex couples should … be re­cog­nized by the law as val­id." That was the most sup­port the Gal­lup Poll has ever re­cor­ded for same-sex mar­riages, and more than double the 27 per­cent who en­dorsed such mar­riages when Gal­lup first asked the ques­tion in 1996.
As strik­ing as the depth of this opin­ion shift is its breadth. While sup­port for same-sex mar­riage still var­ies across key demo­graph­ic lines—young Amer­ic­ans, for in­stance, are more sup­port­ive than older Amer­ic­ans—all groups have moved to­ward great­er ac­cept­ance since Gal­lup's March 1996 sur­vey. In 1996, same-sex mar­riage did not draw ma­jor­ity sup­port from any ma­jor group that Gal­lup meas­ured. Now it re­gisters ma­jor­ity sup­port from vir­tu­ally every sig­ni­fic­ant com­pon­ent of the Amer­ic­an elect­or­ate.
Gal­lup's ini­tial 1996 sur­vey took place dur­ing the same year Pres­id­ent Bill Clin­ton signed the De­fense of Mar­riage Act, which pre­ven­ted the fed­er­al gov­ern­ment from re­cog­niz­ing same-sex mar­riages and al­lowed states to deny re­cog­ni­tion to uni­ons per­formed in oth­er states. (The Su­preme Court has since struck down part of the law.)
As the chart be­low demon­strates, Gal­lup's sur­veys show that from 1996 through 2015, sup­port for same-sex mar­riage has in­creased by at least 30 per­cent­age points among vir­tu­ally every ma­jor group in the pop­u­la­tion: men and wo­men, whites and all non­whites, whites with and without col­lege edu­ca­tion, adults at all ages, and those on all rungs of the in­come lad­der.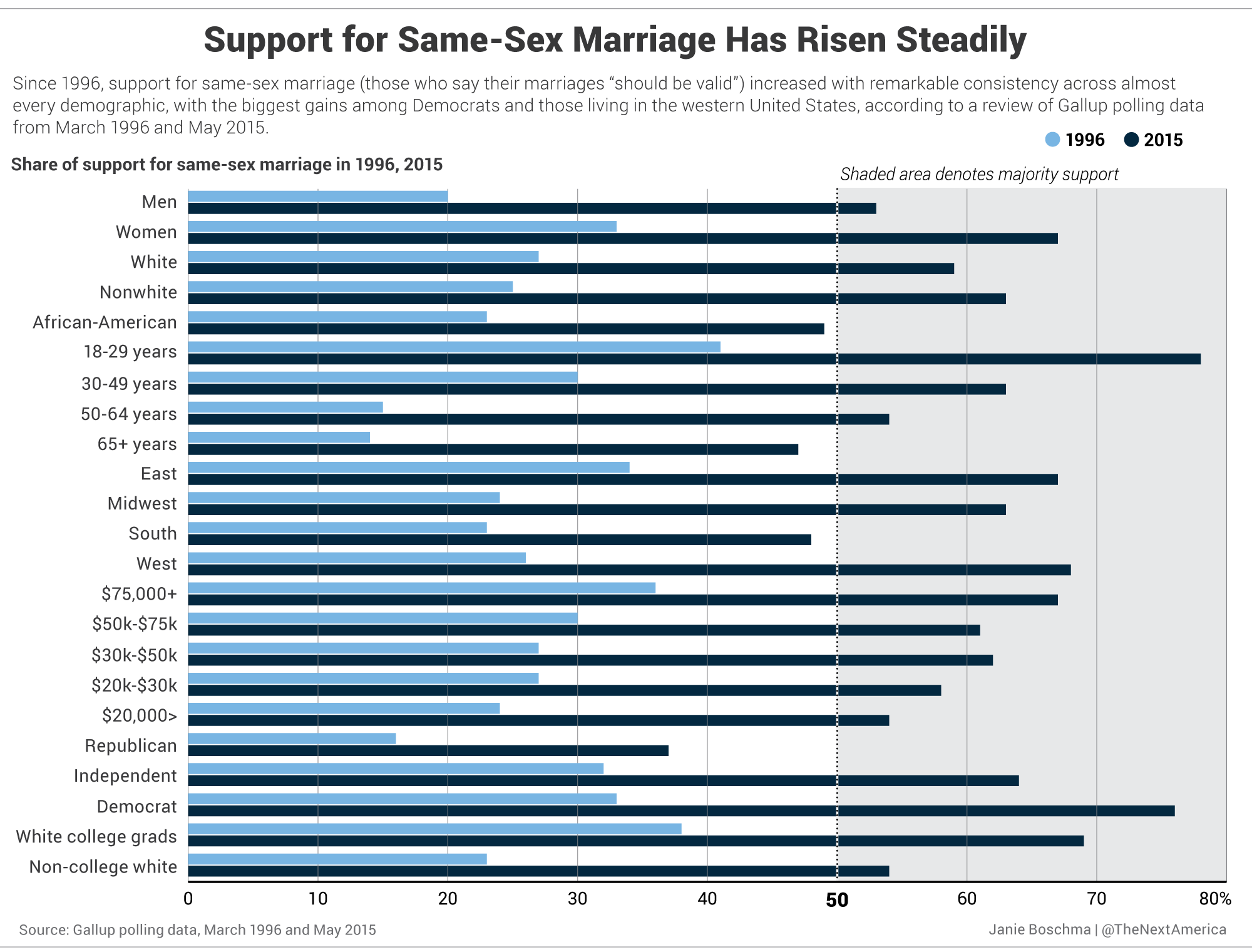 In only three groups did sup­port for same-sex mar­riage in­crease by few­er than 30 per­cent­age points since 1996: Afric­an-Amer­ic­ans (up 26 per­cent­age points), South­ern­ers (up 25), and Re­pub­lic­ans (up only 21). Con­versely, the biggest gains in sup­port have oc­curred among Demo­crats (up 43 per­cent­age points), those who live in the West (up 42), Mid­west­ern­ers (up 39), and those aged 50 to 64 (also up 39).
In ab­so­lute terms, the latest poll shows the greatest sup­port for same-sex uni­ons among young adults aged 18 to 29 (78 per­cent), Demo­crats (76 per­cent sup­port), His­pan­ics (72 per­cent), and people who live in the West (68 per­cent). It re­cords the low­est ab­so­lute sup­port among Afric­an-Amer­ic­ans (49 per­cent), South­ern­ers (48 per­cent), those aged 65 or older (47 per­cent), and Re­pub­lic­ans (37 per­cent). The only oth­er group that did not re­gister ma­jor­ity sup­port for gay mar­riage in the latest Gal­lup sur­vey was the co­hort of people who at­tend church at least weekly (also only 37 per­cent).
Gay mar­riage also now draws sup­port not only from 66 per­cent of single adults, but a sol­id 56 per­cent ma­jor­ity of mar­ried couples. (Com­par­is­ons to 1996 for these groups are not avail­able be­cause Gal­lup did not ask about church at­tend­ance or mar­it­al status in that earli­er sur­vey.)
Though some clear fis­sures re­main—primar­ily along these re­li­gious lines—Gal­lup's res­ults, like oth­er re­cent polls, sug­gest the big story on same-sex mar­riage is the in­creas­ing con­ver­gence of at­ti­tudes across the gen­er­a­tion­al, ra­cial, and in­come lines that sep­ar­ate Amer­ic­ans on so many oth­er is­sues.