I thought I could quit him. I swear I did. From the first time we met, in Iowa in 2007, Mike Hucka­bee was noth­ing but trouble, un­set­tling my fixed ideas, se­du­cing me in­to pooh-poo­hing some of my staunchest con­vic­tions. The man was nev­er really my type — the farthest thing from it — but you know how that can make an at­trac­tion stronger. For­bid­den love and all that. Most of my friends, of course, nev­er ap­proved. He's not like the rest of them, I'd protest. When he says he hates Wall Street and wants to build in­fra­struc­ture, he means it. He's a Re­pub­lic­an pok­ing holes in trickle-down eco­nom­ics! My friends ten­ded to look at me either with gentle pity or the kind of with­er­ing scorn I might have ex­pec­ted if I an­nounced I'd taken a new job as Dick Cheney's speech­writer.
But then, after the cam­paign, Hucka­bee broke up with me. He got rich and fam­ous from Fox TV, wrote best-sellers ca­ter­ing to the pre­ju­dices of his con­ser­vat­ive fans, built a de­cidedly un­pop­u­list sea­side man­sion in Flor­ida, even en­dorsed mir­acle cures for can­cer and dia­betes. He said mean­er and mean­er things about queer folk like me, and — per­haps fore­shad­ow­ing his re­cent, now-in­fam­ous de­fense of the fun­da­ment­al­ist Dug­gar fam­ily — grew even less reas­on­able in his over­all ap­proach to the cul­ture wars. All the while, he was tamp­ing down his icon­o­clast­ic, good-gov­ern­ment mes­sage — and sound­ing more and more like a stand­ard-is­sue Re­pub­lic­an rail­ing at "big gov­ern­ment."
Still, the old Hucka­bee con­tin­ued to show up now and then. Last Labor Day week­end, for in­stance, I found my­self half-watch­ing his weird, weekly ver­sion of a polit­ic­al vari­ety show, when he launched in­to a ser­mon­ette about the mean­ing of the hol­i­day. He cel­eb­rated the his­tor­ic role of uni­ons as "an im­port­ant tool in pro­tect­ing work­ers from be­ing ex­ploited and en­dangered" (though he was care­ful to cast it in con­ser­vat­ive-audi­ence-friendly lan­guage, ex­plain­ing why uni­ons once were im­port­ant). He also sung the praises of profit-shar­ing and em­ploy­ee-owned com­pan­ies in a way his white, older, Chris­ti­an con­ser­vat­ive audi­ence could glom onto: "Pub­lix su­per­mar­kets are strong in the South and South­east, and I love shop­ping there, be­cause em­ploy­ees act like they're truly grate­ful for their cus­tom­ers. It's a cus­tom­er-fo­cused cul­ture. And Pub­lix stores are em­ploy­ee-owned. So the bet­ter the store does, the bet­ter the em­ploy­ee does."
This was the Hucka­bee lib­er­als like me — the few, the slightly em­bar­rassed — had fallen for back in 2007. I hadn't had much com­pany, but I hadn't been alone. E.J. Di­onne, the lib­er­al sage of The Wash­ing­ton Post, wrote glow­ingly of "Hucka­bee the Rebel," whose eco­nom­ic pop­u­lism was put­ting "the fear of God in­to the Re­pub­lic­an es­tab­lish­ment." The New York­er's Hendrik Hertzberg, who found Hucka­bee "funny" and "curi­ously un­threat­en­ing," was im­pressed by his prag­mat­ic re­cord as gov­ernor of Arkan­sas, writ­ing that "his his­tory sug­gests that he prefers con­sensus to con­front­a­tion, that he re­gards gov­ern­ment as a tool for so­cial bet­ter­ment, and that he has little taste for war, cul­tur­al or oth­er­wise." Even as hard-core a left­ist as Cor­nel West be­came a fan after meet­ing with Hucka­bee fol­low­ing a de­bate at his­tor­ic­ally black Mor­gan State Uni­versity — an event skipped by the oth­er ma­jor Re­pub­lic­an con­tenders. "I told him, 'You are for real,'" West re­called to then""New York Times colum­nist Frank Rich. "Black voters in Arkan­sas" — who'd voted in un­usu­ally high num­bers for Hucka­bee — "aren't stu­pid. They know he's sin­cere about fight­ing ra­cism and poverty."
"Who Doesn't Heart Hucka­bee?" Gail Collins de­man­ded to know in The New York Times. She got right to the crux of why some lib­er­als did: Hucka­bee was not only ex­pos­ing the fal­la­cies of trickle-down eco­nom­ics to work­ing-class Re­pub­lic­ans but also un­mask­ing the hy­po­crisy lib­er­als tend to see in Chris­ti­ans who sup­port wealth-first eco­nom­ics rather than heed­ing Je­sus's calls to forgo riches and help the poor. "[T]he fact that as gov­ernor Hucka­bee spent a lot of time try­ing to spend money on the needy doesn't go over all that well with the ones who be­lieve that God's top pri­or­ity is elim­in­at­ing the es­tate tax," Collins wrote with no small meas­ure of glee.
This lib­er­al ro­mance with a Bible-be­liev­ing South­ern Re­pub­lic­an peaked around the same time that Hucka­bee's poll num­bers did. By late Novem­ber 2007, he'd snuck up on the lead­ing GOP con­tenders — Rudy Gi­uliani, John Mc­Cain, Fred Thompson, and Mitt Rom­ney — with an old-fash­ioned, low-money grass­roots cam­paign, and stood poised to win the Iowa caucus. Then, at a CNN/You­Tube de­bate in which oth­er can­did­ates were fiercely com­pet­ing to outdo one an­oth­er with harsh anti-im­mig­ra­tion rhet­or­ic, Hucka­bee struck "com­pas­sion­ate con­ser­vat­ive" gold. Rom­ney was badger­ing him about the be­ne­fits he'd sup­por­ted for the chil­dren of il­leg­al im­mig­rants back in Arkan­sas. "In all due re­spect," Hucka­bee said, "we're a bet­ter coun­try than to pun­ish chil­dren for what their par­ents did." His tone, wrote Rich, "leapt off the screen." Re­pub­lic­ans, Rich de­cided, had found "their Obama."
As gov­ernor of Arkan­sas, we were now learn­ing, Hucka­bee hadn't simply talked nice talk. What his lib­er­al fan club found most be­witch­ing wasn't just his de­li­cious jabs at Re­pub­lic­an elites — people who were "busy go­ing to up­scale, nice parties with folks who haven't been im­pacted by the down­turn in the eco­nomy" and who were "a wholly owned sub­si­di­ary of Wall Street" — but the way he'd gov­erned for 10 and a half years. His lips of­ten said "theo­crat," but his ac­tions in of­fice had shown a de­cidedly pro­gress­ive streak. He'd not only signed a DREAM Act; he'd de­nounced a bill to deny health ser­vices to il­leg­al im­mig­rants — floated by a fel­low Baptist min­is­ter — as "race-bait­ing" and had helped de­feat it. He'd not only de­cried ra­cial in­equit­ies in the crim­in­al-justice sys­tem but had pardoned more pris­on­ers — up­ward of 1,000 — than his three pre­de­cessors com­bined. His greatest con­ser­vat­ive apostasy, though, had been re­ject­ing Grover Nor­quist's no-new-taxes pledge, which Re­pub­lic­ans were routinely sign­ing. Hucka­bee had raised taxes for pub­lic schools, state parks, and bet­ter high­ways. By the time he'd left of­fice, he'd been ap­plauded by Time magazine as one of the coun­try's five best gov­ernors, pro­filed as a "Pub­lic Of­fi­cial of the Year" by Gov­ern­ing magazine, and called "the best gov­ernor in liv­ing memory" by the Arkan­sas Demo­crat-Gaz­ette.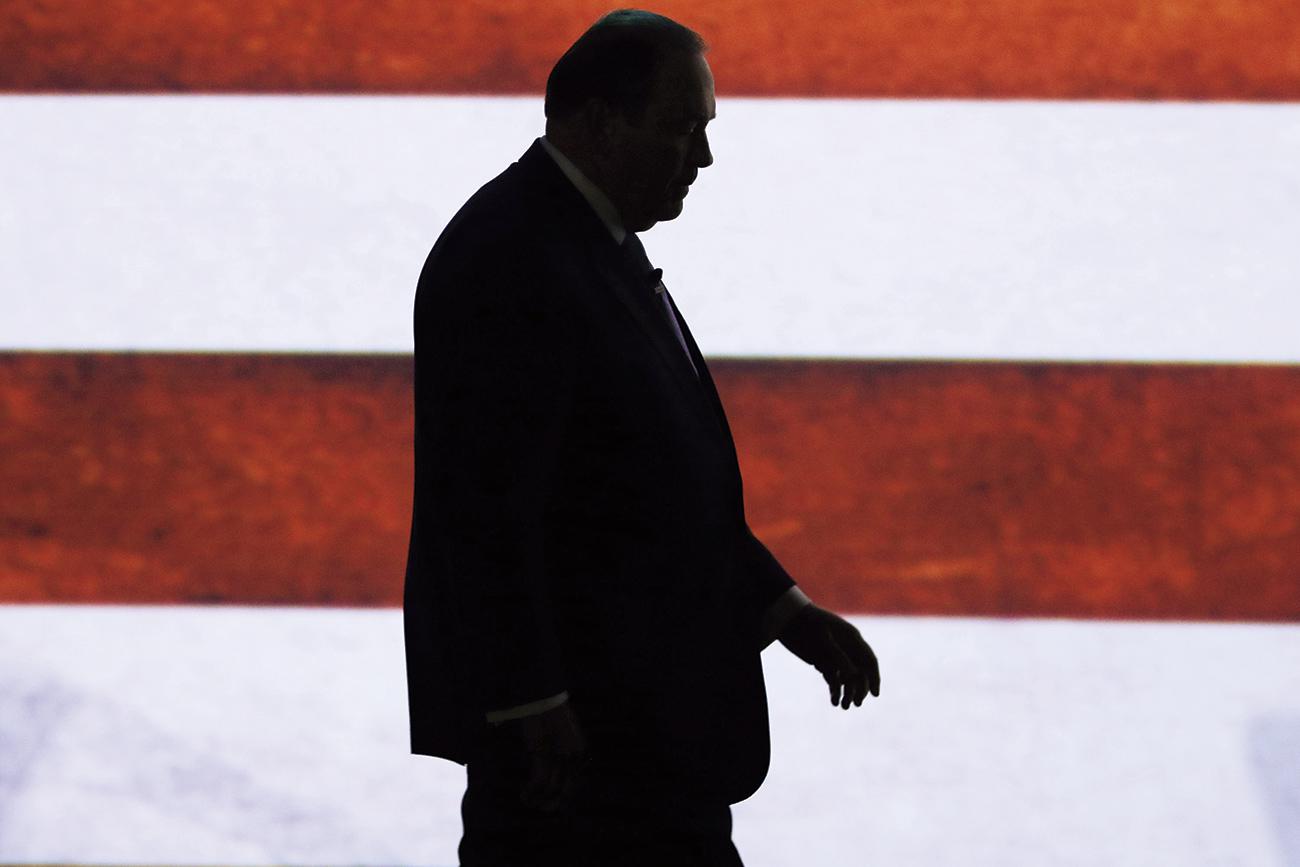 On the cam­paign trail, Hucka­bee ten­ded to talk about gov­ern­ment the way one might talk about a friend who'd put on a bit too much weight. (He was fam­ous back then for di­et­ing, too.) He didn't hate it; in fact, he was call­ing on it to do quite a lot. Like pass cap-and-trade to ease car­bon pol­lu­tion. Or fund a na­tion­al high­way-build­ing pro­ject — two new lanes from Bangor to Miami — that would cre­ate jobs. Or pro­mote arts and mu­sic pro­grams in pub­lic schools, which Hucka­bee thought was es­sen­tial: "We have to change and re­form the edu­ca­tion sys­tem so that we're cap­tur­ing both the left and right sides of the kid's brain." Hucka­bee was no hard-liner on for­eign policy, either: In an es­say for For­eign Af­fairs, he called for "con­tain­ing Ir­an" through ag­gress­ive dip­lomacy and cri­ti­cized the Bush ad­min­is­tra­tion for not en­ga­ging Amer­ica's en­emies enough. A good-gov­ern­ment Re­pub­lic­an and a for­eign policy real­ist! Be still our hearts.
Sure, there were naysay­ers. Not long after I sheep­ishly con­fessed my "crush" on Hucka­bee in The Na­tion, my col­league Katha Pol­litt wondered aloud in her column why "lib­er­al guys" — plus Gail Collins — seemed so smit­ten. "Is there some weird mas­ochism op­er­at­ing here," Pol­litt asked, "whereby left-lean­ing men, weary of fail­ure and scorn, roll over for right-wing­ers who smile and throw them a bone? Does the is­sue of abor­tion — which is a mark­er for a whole range of wo­men's is­sues — just not mat­ter to them the way it does to wo­men with the same polit­ics? Are they so des­per­ate for a can­did­ate who uses the lan­guage of 'eco­nom­ic pop­u­lism' — when he isn't push­ing re­gress­ive tax­a­tion — that they'll over­look everything else?"
That stung a little. And it was true that "everything else" — Hucka­bee's hide­bound views on mar­riage and abor­tion, in par­tic­u­lar — did take a good bit of over­look­ing. But we lib­er­al men­folk wer­en't cast­ing around for someone to vote for; we were look­ing for a Re­pub­lic­an who'd preach John Ed­wards's "Two Amer­icas" gos­pel to Re­pub­lic­ans, es­pe­cially the white work­ing class, from in­side the tent — who would en­cour­age a re­volt against eco­nom­ic policies that these folks had been vot­ing for, and suf­fer­ing from, for dec­ades. If Hucka­bee's fire-breath­ing South­ern Bap­tism made that mes­sage more pal­at­able, well, maybe that was the only way his eco­nom­ic pop­u­lism could get a hear­ing from his fel­low con­ser­vat­ives. We took heart — tons of it — from Hucka­bee's fam­ous de­clar­a­tion: "I'm a con­ser­vat­ive, but I'm not mad at any­body about it. I've learned that you don't have to give up your own con­vic­tions. But you do need to be will­ing to have an open mind, spir­it, and heart to­ward people who are com­pletely dif­fer­ent from you."
It helped that Hucka­bee had all the right en­emies. The con­ser­vat­ive Club for Growth, which Hucka­bee had long ago deemed the "Club for Greed," was sat­ur­at­ing the air­waves in Iowa and South Car­o­lina with at­tacks on his "big gov­ern­ment" re­cord in Arkan­sas. Rom­ney was call­ing him "lib­er­al" so of­ten that it began to sound like a tic. The anti-im­mig­ra­tion people were see­ing red. Both George Will and Rush Limbaugh were fum­ing about his "con­ser­vat­ive apostas­ies," while The Wall Street Journ­al snip­pily summed up his plat­form as "More God, More Gov­ern­ment." In Na­tion­al Re­view, Jo­nah Gold­berg was la­beling Hucka­bee a "right-wing pro­gress­ive." He did not mean it as a com­pli­ment.
It was too good to be true. Just two weeks after he'd tickled our fan­cies with that elo­quent de­fense of his im­mig­ra­tion policies in Arkan­sas, Hucka­bee rolled out the most com­pre­hens­ively anti-im­mig­ra­tion plat­form of any Re­pub­lic­an can­did­ate — a plan lif­ted al­most ver­batim from a Na­tion­al Re­view art­icle by one of the coun­try's staunchest anti-im­mig­ra­tion act­iv­ists, Mark Krikori­an of the Cen­ter for Im­mig­ra­tion Stud­ies. Hucka­bee, who'd gone from speak-your-mind up­start to the fa­vor­ite in Iowa, sud­denly had something to lose — and it showed. He in­tens­i­fied his cul­ture-war talk. He flipped and flopped on for­eign policy. He talked less about us­ing gov­ern­ment to solve prob­lems and more about a bal­anced-budget amend­ment. (He'd already giv­en in and signed Nor­quist's tax pledge.) By the time his cam­paign petered out in March, after he'd car­ried eight states with heavy con­cen­tra­tions of evan­gel­ic­als, about all that was left of Hucka­bee the pop­u­list was his ex­quis­ite tal­ent for jab­bing at Rom­ney, that walk­ing sym­bol of all things power­ful and monied: "I want to be a pres­id­ent who re­minds you of the guy you work with, not the guy who laid you off."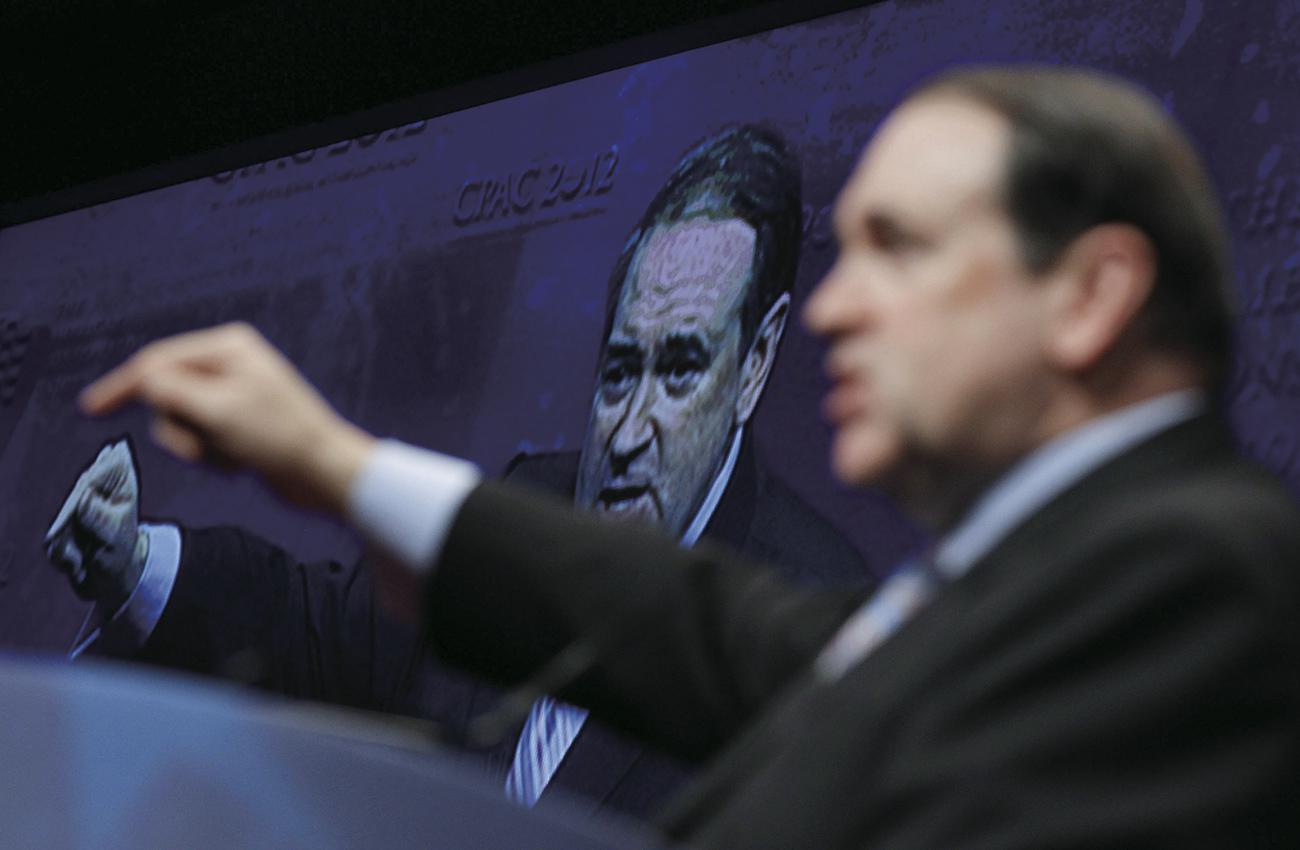 That de­li­cious sally was enough to stop me from writ­ing a blog post apo­lo­giz­ing to Na­tion read­ers for hav­ing been duped. The fact was, I still had a weak­ness for the man. Even his watered-down pop­u­lism coun­ted as something rad­ic­al in the con­tem­por­ary GOP. I rel­ished the pro­spect of a Hucka­bee-Rom­ney show­down in 2012, which would surely bring out the plu­to­crat-bash­er in Hucka­bee and re-em­phas­ize his eco­nom­ic pop­u­lism. Or would it? After the wild zigs and zags of his 2008 cam­paign, only one thing was now crys­tal clear about Mike Hucka­bee: He was one slip­pery fel­low.
WHAT HAD SPARKED Hucka­bee's un­likely rise to vi­able pres­id­en­tial can­did­ate had not, of course, been the de­vi­ations from Re­pub­lic­an doc­trine that had pricked up lib­er­als' ears. While we tender-hearted types cher­ished his re­buke to im­mig­ra­tion foes, the people who ended up vot­ing for him had been swayed by a very dif­fer­ent de­bate mo­ment. It had happened months earli­er, in June 2007 in New Hamp­shire, when Hucka­bee — who was already com­plain­ing about get­ting all the "God ques­tions" — was asked if he be­lieved in evol­u­tion. After ob­ject­ing to the ques­tion — "I'm not plan­ning on writ­ing the cur­riculum for an eighth-grade sci­ence book; I'm ask­ing for the op­por­tun­ity to be pres­id­ent of the United States" — the former gov­ernor, ticked off, launched in­to a de­fense of his faith.
"Let me be very clear," he said. "I be­lieve there is a God. I be­lieve there is a God who was act­ive in the cre­ation pro­cess. Now, how did he do it, and when did he do it, and how long did it take? I don't hon­estly know, and I don't think that know­ing would make me a bet­ter or a worse pres­id­ent." He was just get­ting go­ing. "But I'll tell you what I can tell the coun­try. If they want a pres­id­ent who doesn't be­lieve in God, there's prob­ably plenty of choices. But if I'm se­lec­ted as pres­id­ent of this coun­try, they'll have one who be­lieves in those words that God did cre­ate. And as [in] the words of Mar­tin Luth­er, 'Here I stand. I can do no oth­er.' And I will not take that back."
In his cam­paign mem­oir, Do the Right Thing, Hucka­bee hap­pily re­calls the im­me­di­ate re­ac­tion. "When I fin­ished, the audi­ence burst in­to ap­plause. Frank Luntz of Fox News told me that his 'dial-o-meters' re­gis­ter­ing fa­vor­able re­ac­tion went off the charts, and our Web site lit up like Times Square on New Year's Eve."
This is, more or less, the Hucka­bee we know now. He had found his base, and — sur­prise — it was not a gaggle of wish­ful-think­ing East Coast lib­er­als or an un­tapped con­stitu­ency of dis­gruntled work­ing stiffs. After his first pres­id­en­tial cam­paign ended, he in­creas­ingly catered to the faith­ful. He was be­com­ing a tri­bal politi­cian, and his tribe was re­flec­ted in the stu­dio audi­ence for Hucka­bee, his prime-time Sat­urday night show on Fox: white, aging baby boomers in their "vis­it­ing the Big Apple" garb, ap­plaud­ing with po­lite ap­pre­ci­ation for Hucka­bee's Obama­care jibes and same-sex-mar­riage doom­say­ing, chuck­ling at his Will Ro­gers""meets""Jerry Fal­well wit­ti­cisms, prob­ably fret­ting that their hero was get­ting a bit too racy when he picked up his axe and joined Ted Nu­gent for a grungy rendi­tion of Cat Scratch Fever. ("Make the pussy purr"? Well, all righty then!)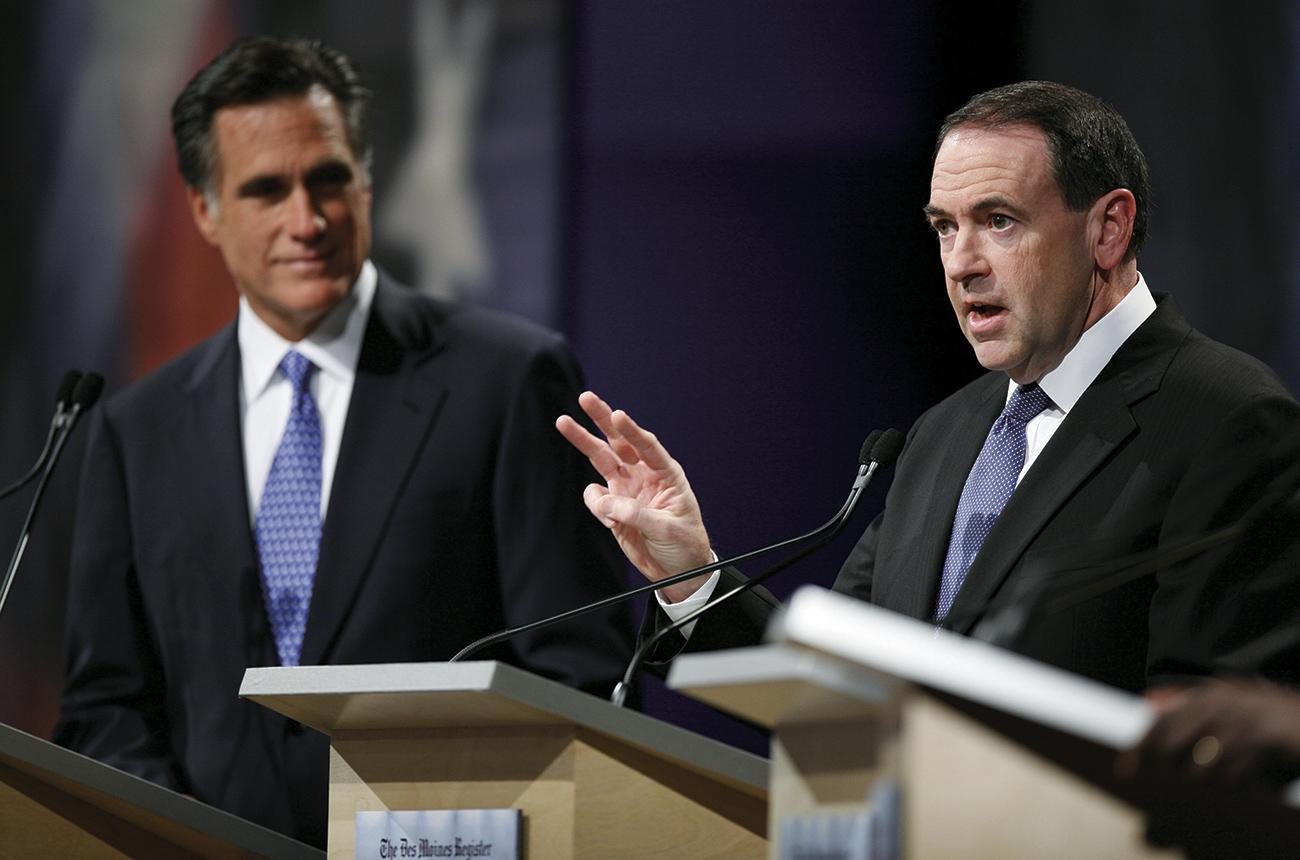 Hucka­bee could still startle you in a good way, though. In the run-up to what most ex­pec­ted to be his 2012 cam­paign, he lav­ished praise on Pres­id­ent Obama's speech in Tuc­son fol­low­ing the shoot­ing of Rep. Gab­ri­elle Gif­fords. He called the birth­er move­ment "non­sense." He set off a battle roy­ale with Glenn Beck by hail­ing Michelle Obama's healthy-eat­ing ini­ti­at­ives. And on his show and in his books, he still flashed glim­mers of good-gov­ern­ment pop­u­lism. Even in his 2014 pander­fest, God, Guns, Grits, and Gravy, Hucka­bee re­peatedly nudges his ad­mirers to step back from anti-gov­ern­ment ab­so­lut­ism — when he's not too busy tut-tut­ting at Mi­ley Cyr­us's twerking or ac­cus­ing Jay Z of be­ing Bey­on­cé's "pimp," that is. (Ser­i­ously: Did you hear any­thing else about that book?) You won't find a can­ni­er way to make a pro-reg­u­la­tion, anti-lais­sez-faire ar­gu­ment, for in­stance, than the one Hucka­bee pulls off in God, Guns, and Oth­er Al­lit­er­a­tions. After de­fend­ing Michelle Obama again, he flows in­to the sub­ject of food safety. "I real­ize some of my liber­tari­an friends would end pretty much all gov­ern­ment reg­u­la­tion and let the mar­ket de­cide," he writes, "but some of us fear that by the time the 'mar­ket' fig­ures out that a par­tic­u­lar res­taur­ant is serving sal­mon­ella, some of us might already be dead."
Hucka­bee was also, surely, the only politi­cian in Amer­ica who would still give a shout-out to John Ed­wards — not without a few caveats, mind you — and he even com­pared his polit­ics fa­vor­ably against those of some Re­pub­lic­ans. "Dur­ing the 2008 elec­tion cycle, the seri­al adulter­er, no­tori­ous li­ar, and all-around con man John Ed­wards spoke con­vin­cingly of 'Two Amer­icas,' in which one Amer­ica was blessed with prosper­ity, op­por­tun­ity, and plenty while the oth­er Amer­ica was a land of poverty, need, and help­less­ness," Hucka­bee wrote. "Ed­wards and I would cer­tainly dis­agree as to the rem­ed­ies for this prob­lem, but he did de­scribe it well, des­pite the scorn he got from some of the finer tables at Re­pub­lic­an gath­er­ings, where they couldn't ima­gine any­one ac­tu­ally liv­ing in poverty in the United States. They cer­tainly didn't know any­one like that, not per­son­ally."
But as Hucka­bee's polit­ic­al sab­bat­ic­al wore on, the erstwhile "right-wing pro­gress­ive" was slowly, stead­ily, giv­ing way to the grim fin­ger-wag­ger of the cul­ture wars. After Hucka­bee de­clined to pick up the pop­u­list pitch­fork for a re­match with Rom­ney in 2012, his so­cial rhet­or­ic grew harsh­er. Fol­low­ing the Sandy Hook shoot­ing, he ven­tured that it was no sur­prise that Amer­ic­an schools had be­come a "place of carnage," since "we have sys­tem­at­ic­ally re­moved God" from them. When the Su­preme Court struck down the De­fense of Mar­riage Act in 2013, Hucka­bee tweeted: "Je­sus wept." Last year, he told the Re­pub­lic­an Na­tion­al Com­mit­tee that Demo­crats who stood be­hind Obama­care's re­pro­duct­ive man­date "in­sult the wo­men of Amer­ica by mak­ing them be­lieve they are help­less without Uncle Sug­ar com­ing in" to give them birth con­trol, "be­cause they can­not con­trol their li­bido or their re­pro­duct­ive sys­tem." He in­ten­ded it as a gibe at Demo­crat­ic pa­ter­nal­ism, but main­stream Amer­ica wasn't giv­ing Hucka­bee the be­ne­fit of the doubt any­more. He'd won his demo­graph­ic, but he'd lost the leftover ven­eer of good­will from 2008 in the pro­cess.
ON THE FIRST Sat­urday of this year, Hucka­bee made it clear that he was crank­ing up for a White House run in 2016. At the end of that week's Hucka­bee, he told his audi­ence that he was fin­ished (for now) as a TV host. "As much as I have loved do­ing the show," he said, "I can­not bring my­self to rule out an­oth­er pres­id­en­tial run."
You could prac­tic­ally hear the alarm bells clanging across the small-gov­ern­ment uni­verse. Just 36 hours later, the Club for Growth fired off its ini­tial warn­ing shot, de­tail­ing Hucka­bee's con­ser­vat­ive apostas­ies in Arkan­sas and strongly hint­ing it would spend whatever it took to en­sure that this Bible-thump­ing Marx­ist would nev­er get with­in sniff­ing dis­tance of the White House. Glenn Beck picked up his cudgel again, con­jur­ing up the ul­ti­mate in­sult for any hard-core con­ser­vat­ive: "He is Jeb Bush hid­ing be­hind the cross." Na­tion­al Re­view's Quin Hilly­er re­minded folks that no less an au­thor­ity than Phyl­lis Sch­lafly had ac­cused "Tax-Hike Mike" of "des­troy­ing the con­ser­vat­ive move­ment in Arkan­sas." "Hucka­bee thinks he can sell snake oil even to wa­ter moc­cas­ins," Hilly­er wrote. "Neither the moc­cas­ins nor Re­pub­lic­an voters should buy what he's selling."
But what, ex­actly, would he be ped­dling this time? In late April, a week be­fore his cam­paign kick­off, I sat down with Hucka­bee in Wash­ing­ton — or, in Hucka­bee-speak, "The Roach Motel," where "the roaches went in, but they nev­er left." What, I wanted to know, was left of the good-gov­ern­ment pop­u­list? A lot, was the sur­pris­ing an­swer. Hucka­bee lit in­to Re­pub­lic­an elites and their dis­con­nect from work­ing people. He mused about how to cre­ate bet­ter job-train­ing and poverty-fight­ing pro­grams. He lamen­ted the fact that Afric­an-Amer­ic­an males now "have the highest un­em­ploy­ment rate ever in his­tory" and that work­ing-class folks across the board have con­tin­ued to get the shaft un­der Pres­id­ent Obama. "We've got to be more hon­est about the eco­nomy where it really is," he said. "What has happened in our eco­nomy that has caused so much pain on the people who can least af­ford it?"
After Hucka­bee de­clined to pick up the pop­u­list pitch­fork for a re­match with Rom­ney in 2012, the so­cial rhet­or­ic grew harsh­er.
Who was this man, and what had he done with Old Test­a­ment Mike? In­come in­equal­ity, he told me, "is an im­port­ant is­sue for a faith per­son, be­cause you un­der­stand that Je­sus said more about poverty than he did about heav­en and hell. There was more about poor people in the Bible; a lot of people, either they've nev­er read it or nev­er as­sessed it. The way we treat the poor, or for that mat­ter the sick, or even for that mat­ter those who have com­mit­ted a crime — the man­ner in which we treat the least of these is viewed by God as the way we treat him."
When a gaggle of Wash­ing­ton re­port­ers showed up for a roundtable in­ter­view a half hour later, Hucka­bee re­peatedly harked back to his gov­ernor­ship in Arkan­sas. For six years, most of Amer­ica had for­got­ten that he ever was any­thing but a former Baptist preach­er with a gui­tar and a bot­tom­less sup­ply of cul­ture-war quotes. Now he was tout­ing his ex­ec­ut­ive ex­per­i­ence — and mak­ing it clear that he was still a far cry from a stand­ard-is­sue anti-gov­ern­ment can­did­ate. As a gov­ernor, he said, "It's really easy to meas­ure what you did. Did test scores go up? Did you cre­ate more jobs than you lost? What's the per-cap­ita in­come — did it im­prove or de­cline? What kind of in­fra­struc­ture chal­lenges did you face, and what did you do to change it? A per­son can say, 'Well, I'll fight.' But the ques­tion is, can you fix?" Once again, he was cast­ing him­self as the kind of con­ser­vat­ive who'd rather make gov­ern­ment work than de­fang it.
Listen­ing to him go on in this vein, I couldn't help think­ing that maybe, just maybe, this Hucka­bee cam­paign could be as fun as the first one. But I'd been stung be­fore by such wish­ful think­ing. Per­haps this was just an­oth­er case of Hucka­bee charm­ing the "lib­er­al me­dia." Would he sound any­thing like this back home in Hope, Arkan­sas, when he of­fi­cially launched Hucka­bee 2.0? I had my hard-won doubts.
But damned if he didn't. Hucka­bee de­livered an un­usu­ally sol­emn and oc­ca­sion­ally elo­quent ad­dress that was light on so­cial is­sues and heavy on re­mind­ers about the good work he'd done as gov­ernor. And then, call­ing on his sneaky tal­ent for couch­ing a good-gov­ern­ment mes­sage in small-gov­ern­ment rhet­or­ic, he dropped a pop­u­list bomb straight in­to the Re­pub­lic­an nom­in­at­ing pro­cess. "There are some people who pro­pose that to save the safety nets like Medi­care and So­cial Se­cur­ity, we ought to chop off pay­ments for the people who have faith­fully had their paychecks and pock­ets picked by the politi­cians, prom­ising them that their money would be wait­ing for them when they were old and sick," he said, pok­ing that pitch­fork straight in­to the sides of en­ti­tle­ment re­formers like Marco Ru­bio and Chris Christie. "My friend, you were forced to pay for So­cial Se­cur­ity and Medi­care. For 50 years, the gov­ern­ment grabs the money from our paychecks and says it'll be wait­ing for us when we turn 65. If Con­gress wants to take away some­body's re­tire­ment, let them end their own con­gres­sion­al pen­sions, not your So­cial Se­cur­ity."
Hucka­bee didn't stop there: He also lit in­to that oth­er sac­red Re­pub­lic­an cow, free trade, ex­cor­i­at­ing sup­port­ers of fast-track au­thor­ity for the Trans-Pa­cific Part­ner­ship. "We don't cre­ate good jobs for Amer­ic­ans by en­ter­ing in­to un­bal­anced trade deals that forgo con­gres­sion­al scru­tiny and look­ing the oth­er way as the law is ig­nored," Hucka­bee thundered, "so we can im­port low-wage labor, un­der­cut Amer­ic­an work­ers, and drive wages lower than the Dead Sea."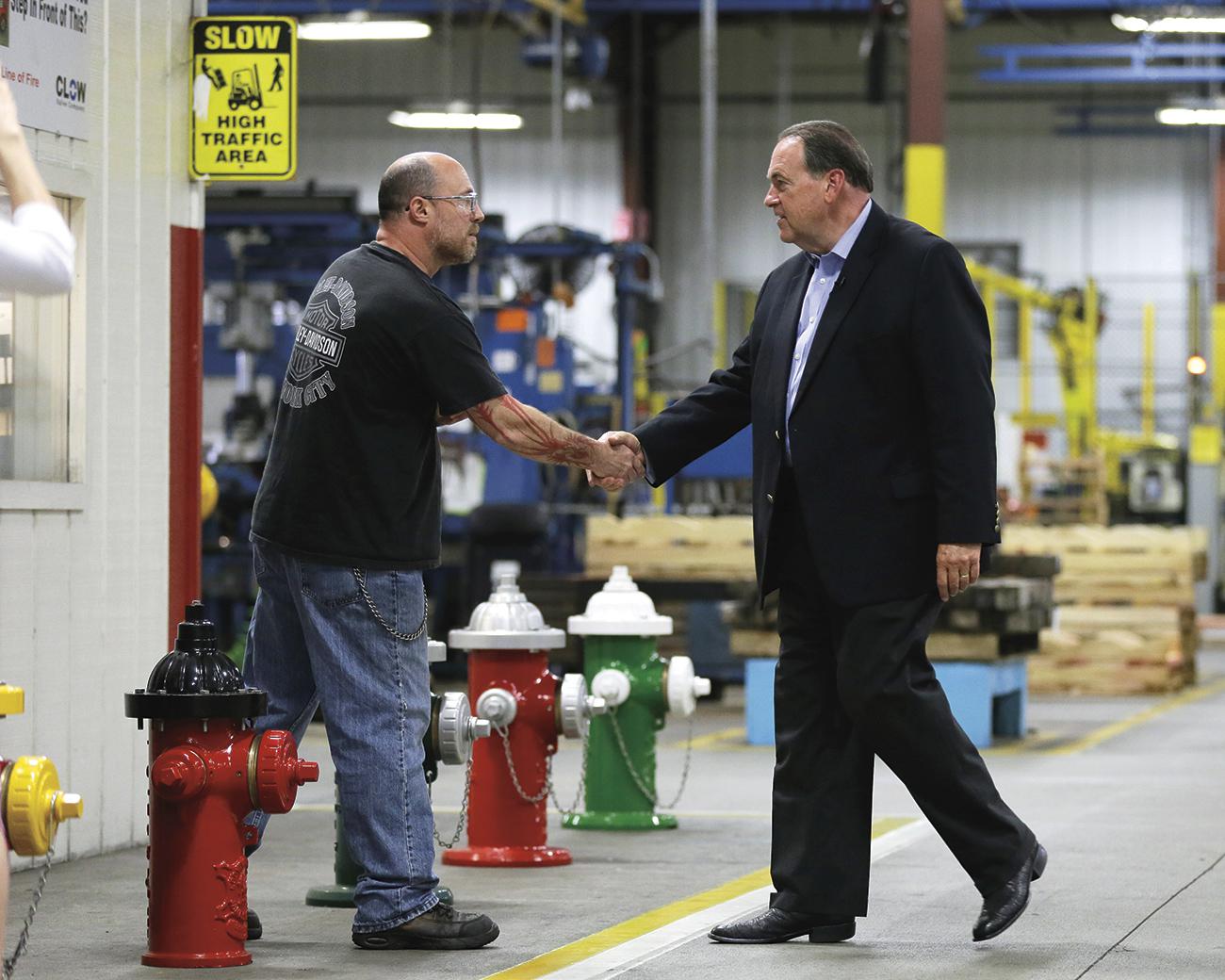 The next day, Hucka­bee set off across Iowa on a "Factor­ies, Farms, and Free­dom Tour." He rat­cheted up the pop­u­list talk, say­ing he was fed up with "Amer­ica's work­ers get­ting punched in the gut" and "tak­ing it in the back­side" — a pretty nasty one-two com­bin­a­tion, you have to ad­mit. At the Clow Valve Com­pany in Oskaloosa, NBC News re­port­er Kasie Hunt quizzed Hucka­bee about his stance on trade; does it both­er you, she asked the former gov­ernor, that op­pos­ing the TPP "puts you to the left of Hil­lary Clin­ton"?
"You know, I don't care," Hucka­bee replied. "If we do an­oth­er trade deal that drives Amer­ic­an wages lower, and that isn't mon­itored, and isn't se­cured to be com­pletely fair in how it's ad­min­istered, then that's not free trade."
Next thing you knew, Hucka­bee was telling Bloomberg News that he was also dead set against Re­pub­lic­an pro­pos­als to cur­tail (or "re­form") So­cial Se­cur­ity dis­ab­il­ity be­ne­fits to com­bat fraud. "You nev­er want to make it so that people who are go­ing through a hard­ship are go­ing to have a worse hard­ship," Hucka­bee said, "when they're not only fight­ing a dis­ab­il­ity but then they're hav­ing to fight the gov­ern­ment. Sure, you've got to clean up any fraud and deal with that. But to as­sume that any­one who is dis­abled is really fraud­u­lent: I think that's an in­sult to a per­son."
Golly, as Hucka­bee would say: This fel­low soun­ded fa­mil­i­ar! It wasn't ex­actly the pop­u­list Hucka­bee of eight years be­fore — the quirky guy tout­ing cap-and-trade, arts and mu­sic edu­ca­tion, and a massive high­way-build­ing pro­gram. By pick­ing trade and wel­fare as his rabble-rous­ing is­sues for 2016, Hucka­bee was chal­len­ging the Re­pub­lic­an es­tab­lish­ment, all right — but he was also preach­ing to the choir of ac­tu­al GOP voters, whose views on those is­sues are sur­pris­ingly far to the left of the politi­cians they've been vot­ing for.
Sixty-two per­cent of Re­pub­lic­ans told Pew poll­sters in 2013, for in­stance, that pre­serving cur­rent spend­ing levels for So­cial Se­cur­ity and Medi­care mattered more than trim­ming the budget de­fi­cit. And what did they think about the pro­spect of an en­ti­tle­ment-cut­ting deal that was gar­ner­ing so much buzz in Wash­ing­ton at that time? Not much: Pew found that only 17 per­cent of Re­pub­lic­ans favored cut­ting So­cial Se­cur­ity as part of a deal. Twice as many, 35 per­cent, wanted So­cial Se­cur­ity spend­ing in­creased. And when it comes to trade? Sub­stan­tially more Re­pub­lic­ans op­pose the TPP and the pro­posed ar­range­ment with Europe, the TTIP, than Demo­crats — and when they were asked by poll­sters a few years back if free trade was bad for the eco­nomy, Re­pub­lic­ans said "yes" by a stun­ning 2-to-1 mar­gin.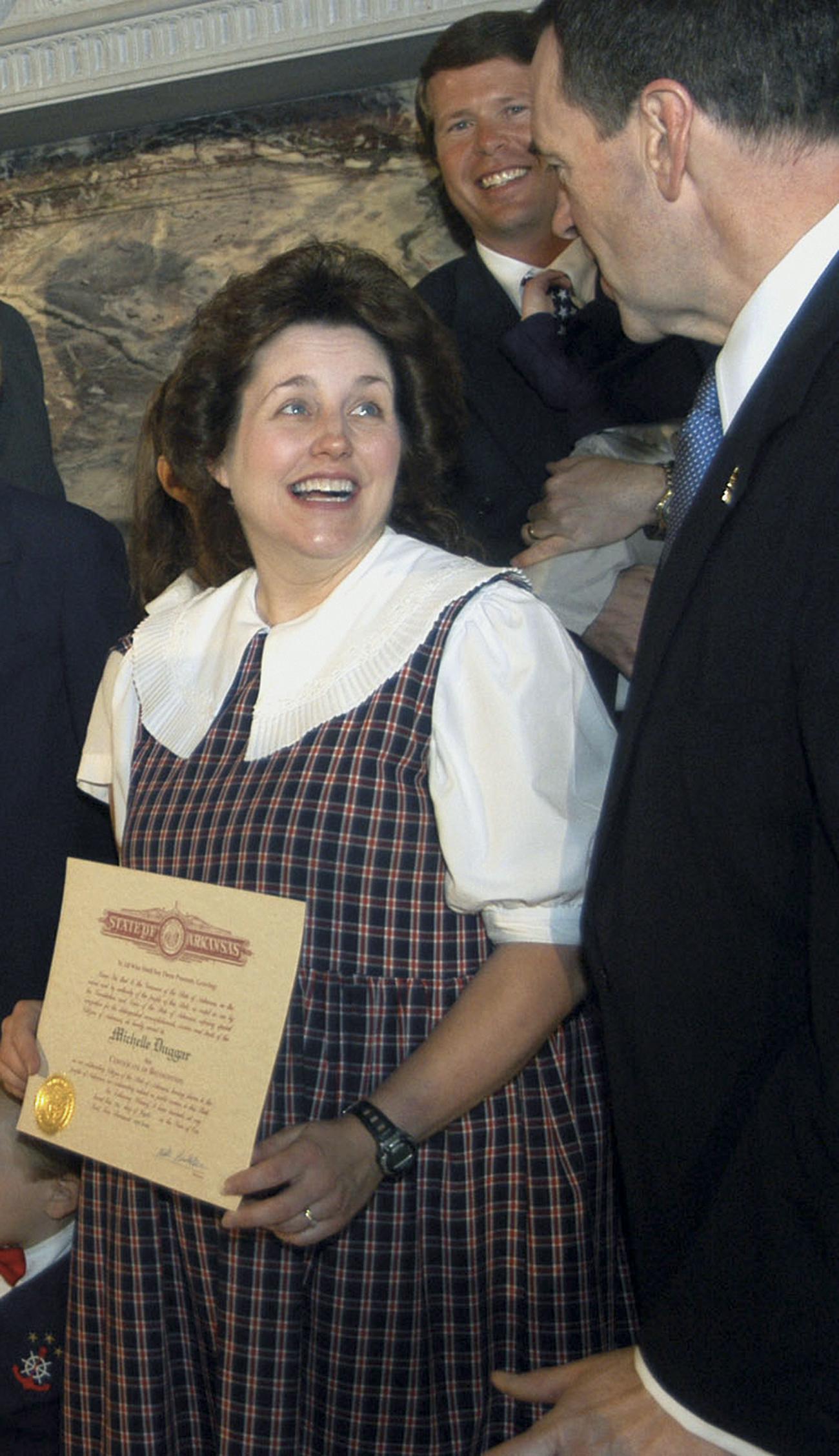 Hucka­bee's pop­u­list re­viv­al had those folks — the un­heeded ma­jor­ity of Re­pub­lic­an voters — fixed squarely in its sights. And once again, lib­er­al me­dia types were rel­ish­ing his tilt­ing at the tea party's wind­mill, though the praise now came with plenty of ob­lig­at­ory caveats. Even if Hucka­bee's pop­u­lism was a "cyn­ic­al strategy," Bri­an Beut­ler wrote at The New Re­pub­lic, "what mat­ters is that he's mo­tiv­ated enough to pull back the cur­tain on the party's double deal­ing." Of the 2016 Hucka­bee, John Nich­ols wrote at The Na­tion: "Truth­fully, he isn't all that much of an eco­nom­ic pop­u­list. But he is enough of one to stand out from the Wall Street""can-do-noth­ing-wrong Re­pub­lic­ans he is run­ning against. And if the man from Arkan­sas of­fers work­ing-class evan­gel­ic­als in states such as Iowa the right com­bin­a­tion of so­cial con­ser­vat­ism and sup­port for So­cial Se­cur­ity and fair trade, he could prove that even Re­pub­lic­ans are sick of aus­ter­ity." Hope springs etern­al in the lib­er­al breast.
TWO WEEKS AFTER Hucka­bee kicked off his cam­paign on a pop­u­list note, a head­line popped up on The Huff­ing­ton Post that surely caused a few double takes from the site's left-lean­ing read­ers: "Mike Hucka­bee Be­comes Latest GOP Can­did­ate to Call For More Spend­ing on Sci­ence Re­search." The can­did­ate many would auto­mat­ic­ally as­sume to be "anti-sci­ence" was join­ing Jeb Bush and Lind­sey Gra­ham to call for in­creased fund­ing for the budget-threatened Na­tion­al In­sti­tutes of Health. It's one of the most idio­syn­crat­ic planks on Hucka­bee's plat­form — and NIH fund­ing is merely the tip of the ice­berg. "It's been in­cred­ibly short­sighted for us to pull back from fo­cused and fact-driv­en sci­entif­ic re­search," Hucka­bee writes in God, Guns, Grits, and Gravy. He's call­ing for an all-out, JFK-takes-Amer­ica-to-space-style pro­gram to find cures for Alzheimer's, can­cer, and heart dis­ease — not to men­tion a full-scale re­com­mit­ment to space re­search.
You might think the fact that Hucka­bee, of all people, was pro­pos­ing a New Fron­ti­er""style ap­proach to med­ic­al and space sci­ence would count as news­worthy. But The Huff­ing­ton Post piece was picked up by ex­actly one news or­gan­iz­a­tion, the con­ser­vat­ive News­max. Hucka­bee was all over the news later that day, but it had noth­ing to do with the grand vis­ions of an act­iv­ist fed­er­al gov­ern­ment that he was spin­ning at Iowa farms, factor­ies, and Pizza Ranches. Quite the con­trary: Hucka­bee was back in the head­lines after a par­tic­u­larly mem­or­able rant about re­li­gious liber­ties that he let loose at a Fam­ily Lead­er­ship Re­gion­al Sum­mit in Ce­dar Falls.
"We are rap­idly get­ting to the place in the United States of Amer­ica where we are crim­in­al­iz­ing Chris­ti­an faith," Hucka­bee had pro­claimed. The gov­ern­ment — you know, that same gov­ern­ment he'd been busily re­cast­ing as the friend of work­ing-class Re­pub­lic­ans — was "goose-step­ping in­to our lives" to tell us "what we can and can­not be­lieve." And if the U.S. Su­preme Court were to join that march and leg­al­ize same-sex mar­riage this sum­mer, Hucka­bee darkly im­plied, re­li­gious con­ser­vat­ives just might have to rise up and res­ist — by un­spe­cified means — be­cause the rul­ing would not only mor­tally of­fend their val­ues; it would also be in­val­id. "The no­tion that the Su­preme Court is the su­preme branch is nowhere in the Con­sti­tu­tion," he said. "The Su­preme Court is not the su­preme be­ing."
Hucka­bee is still try­ing (and fail­ing) to ex­plain just what he meant by that: Was he really as­sert­ing that Chris­ti­ans could, or should, ig­nore the law of the land if it didn't jibe with their read­ing of the Bible? For some­body who en­joys tak­ing pot­shots at liber­tari­ans for their "an­arch­ist" tend­en­cies, that would seem a bit self-con­tra­dict­ory, to say the least. But it is, of course, pure cat­nip for the me­dia. Just two weeks in­to the cam­paign, Hucka­bee's pop­u­list mes­sage was already be­ing drowned out by a cul­ture-war con­tro­versy of his own cre­ation.
A couple of days later, Hucka­bee threw him­self smack-dab in­to the middle of an even hot­ter firestorm over the Dug­gar fam­ily, fam­ous for the TLC real­ity show 19 Kids and Count­ing. Two weeks earli­er, the Dug­gars had en­dorsed Hucka­bee and cheered his an­nounce­ment in per­son; now, after rev­el­a­tions that 27-year-old Josh Dug­gar had mo­les­ted five girls, in­clud­ing four of his sis­ters, as a teen­ager — acts that his par­ents con­cealed — Hucka­bee leapt to the fam­ily's de­fense in a Face­book post that may haunt him till the end of his days. "Josh's ac­tions when he was an un­der­age teen are as he de­scribed them him­self, 'in­ex­cus­able,'" Hucka­bee wrote, "but that doesn't mean 'un­for­giv­able.' He and his fam­ily dealt with it and were hon­est and open about it with the vic­tims and the au­thor­it­ies" — an as­ser­tion con­tra­dicted by the facts of the case. "Good people make mis­takes and do re­gret­table and even dis­gust­ing things," he ad­ded.
The blow­back to his Dug­gar apo­lo­gia was fe­ro­cious, with scores of Hucka­bee's fans tak­ing to Face­book to say he'd lost them for good. His motives were de­bat­able: Was he show­ing mis­placed but sin­cere loy­alty to his old friends? Dis­play­ing a highly se­lect­ive ver­sion of Chris­ti­an com­pas­sion for a teen­age of­fend­er? Show­ing a mind-bend­ing lack of con­cern for fe­male vic­tims? Or was he simply, cyn­ic­ally, cling­ing to the bloc of homeschool act­iv­ists who were in­stru­ment­al in his Iowa vic­tory in 2008? One thing was clear: Whatever Hucka­bee was say­ing about trade and eco­nom­ic in­equal­ity was now just back­ground noise.
Maybe this was in­ev­it­able. Between the first cam­paign and the second, after all, Hucka­bee be­came something oth­er than a former gov­ernor and pres­id­en­tial as­pir­ant: He be­came a brand. And that brand is not "work­ing-class cham­pi­on." It's not "sur­pris­ingly pro­gress­ive former gov­ernor." It's something closer to "nos­tal­gic Chris­ti­an scold." Even if he wanted to — and it's any­thing but clear that he does — he prob­ably couldn't shed that brand, stamped as it is in the na­tion­al mind by all those Fox-host­ing years and the ginned-up con­tro­ver­sies he used to keep his pro­file high. Had he nev­er breathed a sol­it­ary syl­lable on the cam­paign trail about cul­tur­al is­sues, Hucka­bee would still be houn­ded by re­port­ers want­ing to hear him say something out­rageous about every fresh re­li­gious-liberty de­bate, every court de­cision on mar­riage and abor­tion, every hint of a Dug­gar or Duck Dyn­asty or Ted Nu­gent scan­dal.
It's im­possible to run two cam­paigns at once. And that's what Hucka­bee is try­ing to do — selling his take on eco­nom­ic pop­u­lism to work­ing-class and middle-class Re­pub­lic­ans, yet sim­ul­tan­eously fear-mon­ger­ing evan­gel­ic­al Re­pub­lic­ans in­to view­ing him as their cham­pi­on. The tar­get audi­ences have plenty of over­lap, of course. But you'd have to pos­sess al­chem­ic­al polit­ic­al skills bey­ond even Hucka­bee's to make these two cam­paign themes blend in­to a smooth and con­vin­cing pack­age. You can't sell hope and des­pair, or em­power­ment and vic­tim­hood, all at the same time. You can't con­vince people to see the gov­ern­ment as their friend when you're also telling them it's out to ex­tin­guish the prac­tice of Chris­tian­ity.
You can hear the dis­son­ance as Hucka­bee cam­paigns: The day after his Ce­dar Falls speech, Hucka­bee was still car­ry­ing on about re­li­gious liber­ties at his first stop — "I do be­lieve there is an as­sault against the ba­sic fun­da­ment­al liber­ties of the United States that we have nev­er seen be­fore" — when he at­temp­ted an awk­ward trans­ition: Not only is the coun­try "spir­itu­ally sick," he said, but also "eco­nom­ic­ally sick." From there, he was off and run­ning about the loss of man­u­fac­tur­ing jobs and the evils of trade.
I feel pretty con­fid­ent in as­sert­ing that Hucka­bee is los­ing no sleep over the dis­sol­u­tion of his lib­er­al fan club. We wer­en't ex­actly his tar­get audi­ence. But Hucka­bee once had the po­ten­tial to be a trans­form­a­tion­al fig­ure, the Chris­ti­an pop­u­list who could spark a true de­bate with­in the GOP about eco­nom­ics and the size of gov­ern­ment — and now he has painted him­self in­to a corner that prob­ably makes this im­possible. Which is a shame, if you ask this lib­er­al. It's still the case that nobody in Amer­ic­an polit­ics can give a more power­ful, per­suas­ive pop­u­list testi­mony than Mike Hucka­bee. But who can hear it any­more?