Iowa, New Hamp­shire, and South Car­o­lina have marked the route to the White House for more than a gen­er­a­tion. But in 2016, the path to the pres­id­ency will run through new ter­rit­ory — your Face­book news feed.
As the race be­gins in earn­est, the world's largest so­cial net­work is emer­ging as the single most im­port­ant tool of the di­git­al cam­paign, with con­tenders as dif­fer­ent and dis­par­ate as Hil­lary Clin­ton and Ben Car­son, Rand Paul and Bernie Sanders, all in­vest­ing in the plat­form already.
Thanks to power­ful new fea­tures un­veiled since the 2012 cam­paign, Face­book now of­fers a far more cus­tom­ized and soph­ist­ic­ated spli­cing of the Amer­ic­an elect­or­ate. And, for the first time in pres­id­en­tial polit­ics, it can serve up video to those thinly tar­geted sets of people.
That un­pre­ced­en­ted com­bin­a­tion is inch­ing cam­paigns closer to the Holy Grail of polit­ic­al ad­vert­ising: the emo­tion­al im­pact of tele­vi­sion de­livered at an al­most at­om­ized, in­di­vidu­al level. It makes the old talk of mi­cro-tar­get­ing soc­cer moms and NAS­CAR dads sound quaint.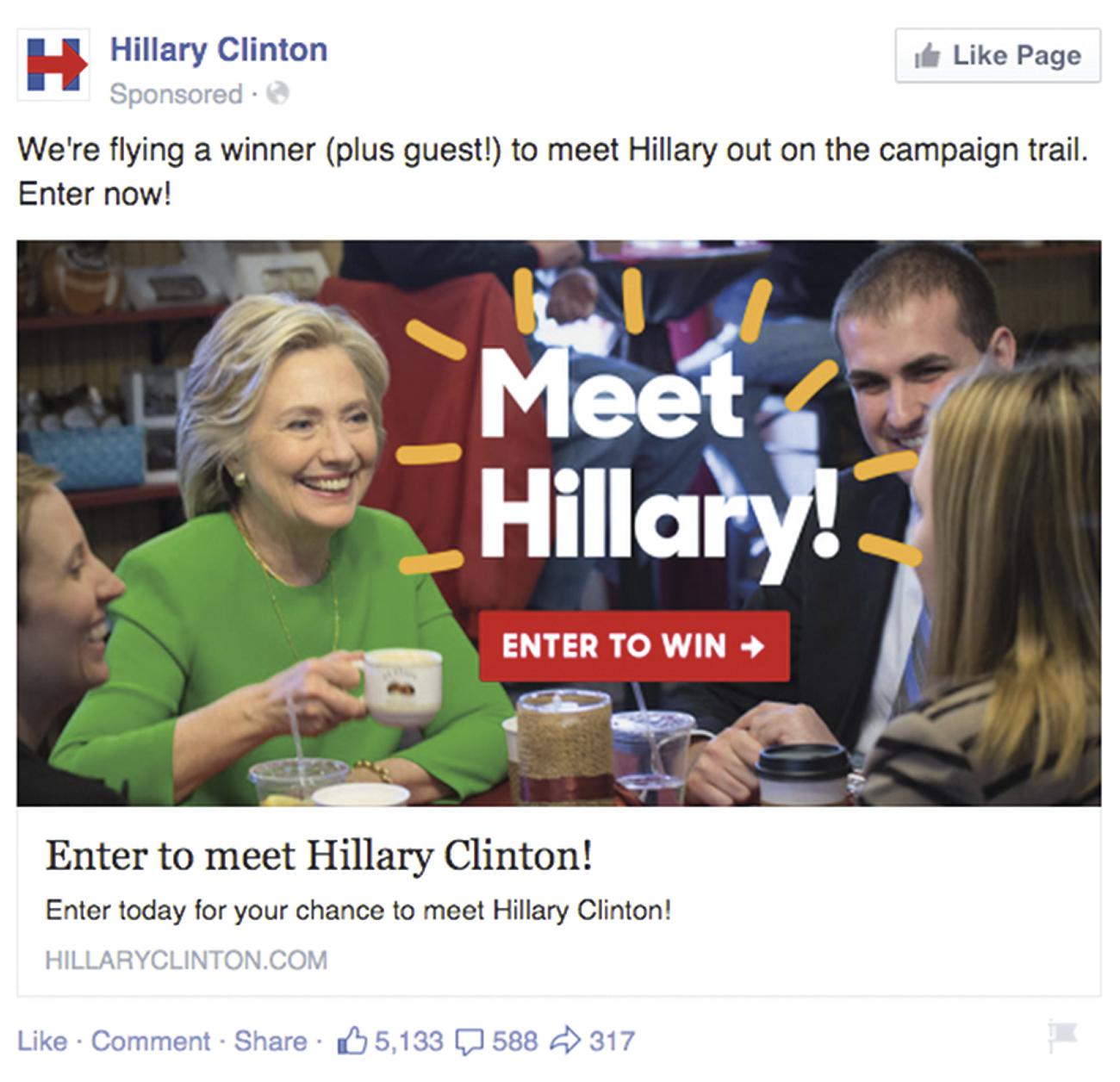 "I can lit­er­ally bring my voter file in­to Face­book and start to buy ad­vert­ising off of that," says Zac Mof­fatt, who was Mitt Rom­ney's di­git­al dir­ect­or and whose firm now works for Rick Perry's cam­paign and Scott Walk­er's su­per PAC.
"We use Face­book more than any single tool," says Wes­ley Done­hue, a top di­git­al strategist for Marco Ru­bio, speak­ing about both his polit­ic­al and cor­por­ate cli­ents. "The level of tar­get­ing has got­ten so soph­ist­ic­ated, al­low­ing us to drive dif­fer­ent mes­sages to dif­fer­ent audi­ences. I mean, the amount of con­tent we're pump­ing out on Face­book right now is just un­be­liev­able."
With 190 mil­lion Amer­ic­an users, Face­book's wealth of in­form­a­tion about its mem­bers is un­matched: iden­tity, age, gender, loc­a­tion, pas­sions — much of which is coughed up vol­un­tar­ily. But it doesn't end there; Face­book has a far more com­plete pic­ture of its mem­bers than even what they've typed in them­selves. Through part­ner­ships with big data firms, like Acx­iom, the site lay­ers on a trove of be­ha­vi­or­al in­form­a­tion, such as shop­ping habits.
What that means is that Face­book, with its reach across a huge swath of the U.S. elect­or­ate, can pin­point in­di­vidu­al voters at the most gran­u­lar of levels. And that's why cam­paigns are buy­ing their way in, re­shap­ing not only cam­paign budgets but how the polit­ic­al battle it­self is fought and won.
"The secret is out," says Alex Ska­tell, an in­flu­en­tial GOP di­git­al strategist who is not af­fil­i­ated with any 2016 cam­paign. "Face­book is kind of the first place people go now."
ALREADY, DI­GIT­AL op­er­at­ives are mod­el­ing the uni­verses of likely Iowa caucus-go­ers and po­ten­tial New Hamp­shire primary voters and up­load­ing those mod­els in­to Face­book. Then, they match them with Face­book pro­files of ac­tu­al voters in those states. (Strategists say match rates can run as high as 80 per­cent.) It's a power­ful fea­ture — cus­tom-design­ing the audi­ence for your ads to co­in­cide with the voter rolls — that didn't ex­ist four years ago.
"We are guar­an­tee­ing you will reach the right per­son at the right time and elim­in­ate the waste that you might find in email mar­ket­ing, cer­tainly in TV ad­vert­ising," says Eric Laurence, who is in charge of polit­ic­al ad­vert­ising on Face­book. "That's really the power of Face­book tar­get­ing."
The pre­ci­sion and price of such spots, to bor­row a fa­vor­ite Sil­ic­on Val­ley aph­or­ism, threatens to dis­rupt the way cam­paigns are run, cut­ting down on in­ef­fi­cien­cies and demo­crat­iz­ing some of the data and tar­get­ing leaps pi­on­eered by the Obama cam­paigns.
A statewide tele­vi­sion buy in Iowa, for in­stance, reaches more than 3.1 mil­lion po­ten­tial view­ers. But only 121,000 people ac­tu­ally turned out at the Re­pub­lic­an caucuses in 2012. So in­stead of blanket­ing the state, Face­book al­lows cam­paigns to tar­get only those who they be­lieve to be likely caucus-go­ers and then to frag­ment that uni­verse fur­ther in­to a thou­sand smal­ler sub­sets. One ad could run to stu­dents at the Uni­versity of Iowa and an­oth­er to those at Iowa State. Or just alumni. Or fe­male alumni. Or alumni who "like" Rush Limbaugh. In Des Moines.
"Think about how power­ful this is. This is so, so power­ful, and I hon­estly think it's still un­der­used," says Vin­cent Har­ris, Paul's chief di­git­al strategist. "And it's cheap. It's so cheap. I am get­ting Face­book video views for one cent a view — one cent a view! … It's a fun­drais­ing tool, it's a per­sua­sion tool, and it's a [get-out-the-vote] tool. It's a way to or­gan­ize, too."
"Face­book is ac­tu­ally everything," Har­ris adds. "And this is what scares people."
AT THIS PHASE, the cam­paigns are mostly min­ing Face­book for new donors.
"Any na­tion­al cam­paign that we work with, we re­com­mend Face­book ad­vert­ising as part of ac­quis­i­tion strategy," says Kee­gan Gou­d­iss, a Demo­crat­ic di­git­al strategist whose firm, Re­volu­tion Mes­saging, is help­ing the Sanders team. Gou­d­iss says pro­spect­ing for donors through Face­book typ­ic­ally pays three-to-one — that is, three dol­lars raised for every dol­lar in­ves­ted, though the pay­out of­ten can take as long as 12 months.
In a re­mark­able stat­ist­ic Face­book likes to tout, the 2013 cam­paign of Terry McAul­iffe for Vir­gin­ia gov­ernor, run by Robby Mook, now Clin­ton's cam­paign man­ager, im­me­di­ately re­covered a whop­ping 58 per­cent of its Face­book ac­quis­i­tion costs by link­ing new email sub­scribers to on­line con­tri­bu­tion forms.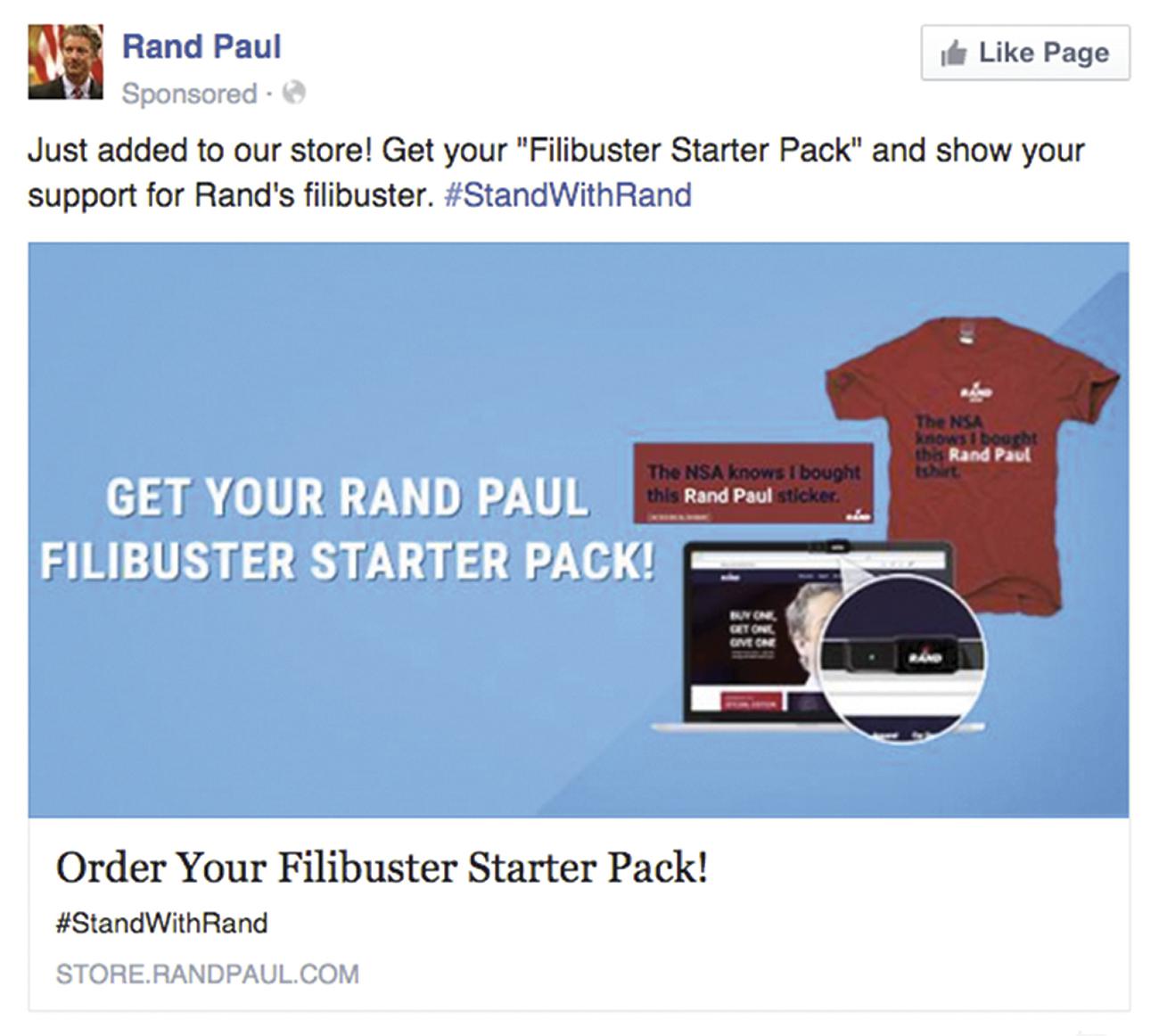 That kind of re­turn on in­vest­ment is why Clin­ton uses Face­book to pro­mote a con­test to meet her, Sanders asks people to en­dorse his plat­form, Paul touts a "fili­buster starter pack," and Ted Cruz searches there to sign up "cour­ageous con­ser­vat­ives."
Face­book won't be the only di­git­al be­hemoth that gets a rev­en­ue boost from polit­ic­al spend­ing in 2015 and 2016. Google, one of Face­book's chief rivals for cam­paign dol­lars, is ex­pec­ted to garner big sums, es­pe­cially with its pre-roll ads on You­Tube, in­vent­ory for which is already run­ning low in Iowa and New Hamp­shire. A rising tide, after all, lifts all boats, and For­res­t­er Re­search pro­jects that total spend­ing on di­git­al ads — for all Amer­ic­an ad­vert­isers, not ne­ces­sar­ily those in polit­ics — will over­take tele­vi­sion in 2016. But when it comes to know­ing its audi­ence, cam­paign strategists say Face­book re­mains king. "You're just not go­ing to find that level of data with any oth­er ad net­works," Ska­tell says.
Al­most every ma­jor con­tender or their PAC has already bought Face­book ads this year. One reas­on is how pre­cise cam­paigns can be. Paul's team is try­ing to gath­er email ad­dresses for po­ten­tial Iowa voters. So the cam­paign is run­ning Face­book ads "to people who we know are likely caucus-go­ers, who like Rand Paul's page, for ex­ample, and whose email we don't have," Har­ris says.
Na­tion­ally, Paul re­cently ran a t-shirt design con­test, and it garnered more than 10,000 votes, mostly through Face­book, and thus a treas­ure trove of data and email ad­dresses for the cam­paign. "If you voted for the t-shirt that came in second, guess what, now you're see­ing an ad for that t-shirt, and people are buy­ing it," Har­ris says. The goal is to turn clicks in­to con­trib­ut­ors. (The win­ning design reads, "The NSA knows I bought this Rand Paul t-shirt." Iron­ic­ally, the Paul cam­paign now knows if you clicked on it, voted for it, or bought it.)
There are new built-in Face­book tools that can help cam­paigns, too. Can­did­ates can up­load their data­bases of donor emails, find their cor­res­pond­ing pro­files on the site, and ask Face­book to spit out ads to a "look-alike" uni­verse of users whom they haven't yet pitched for money. Or they can take the sign-ups from an event,  up­load them, and ask to ad­vert­ise to people who look like them. While the best-fun­ded cam­paigns will al­most cer­tainly do some of this mod­el­ing them­selves, Face­book's "look-alike" fea­ture didn't ex­ist un­til 2013, and it prom­ises to al­low poorer cam­paigns to tap in­to soph­ist­ic­ated ana­lyt­ics on the cheap.
BY FAR THE BIGGEST de­vel­op­ment for 2016 is video. "Video ad­vert­ising wasn't around in the 2012 cycle," says Gou­d­iss. "That's go­ing to be huge in 2016."
Face­book says users log about 4 bil­lion video views every day. Already, cam­paigns have taken no­tice that Face­book's al­gorithm has been push­ing videos em­bed­ded on the site high­er and high­er in users' news­feeds. (Har­ris says Paul's videos now get triple the in­ter­ac­tions that more stat­ic posts get.)
"The ex­plo­sion of video on Face­book, we be­lieve, is go­ing to be a huge driver for these can­did­ates," says Face­book's Laurence.
In the past, cam­paigns chiefly used Face­book to build lists of their sup­port­ers and then to en­cour­age those people to go to the polls. (Face­book ended the tool Obama lever­aged to have people ask friends in swing states to vote.) But the ad­vent of video turns the plat­form in­to a per­sua­sion play that tar­gets the crit­ic­al pool of un­de­cided voters.
"Face­book is ac­tu­ally everything," Har­ris adds. "And this is what scares people."
"Every­body agrees video is king. It makes the emo­tion­al con­nec­tion," Gou­d­iss says. What's more, he says, Face­book lets cam­paigns meas­ure that con­nec­tion with likes, shares, and com­ments in al­most real time. "Un­like any oth­er types of on­line video ad­vert­ising, you really get to see how your audi­ence is re­act­ing to the con­tent."
Polit­ic­al op­er­at­ives have long seen loc­al news­casts as one of the most ef­fect­ive out­lets for TV ads be­cause view­ers are ripe for per­sua­sion as they con­sume the news. In­creas­ingly, Face­book is such an out­let. In a re­cent Pew study, a whop­ping 61 per­cent of mil­len­ni­als said they keep up with polit­ics via Face­book, mak­ing it their top news source. Even 39 per­cent of baby boomers are get­ting polit­ic­al news on the site (though loc­al TV re­mains their top source).
Di­git­al re­mains far from sup­plant­ing tele­vi­sion's su­prem­acy in the ad budget, but it is an in­creas­ingly im­port­ant sup­ple­ment. "You might have an ad­vert­ise­ment on TV to reach a broad amount of people, but your polling might say, 'Hey, you're still weak with this spe­cif­ic niche,'"‰" says Done­hue, the Ru­bio strategist. "Well, that niche is too small to go up on TV, but it's a per­fect place for us to go and tar­get on Face­book."
"You're ba­sic­ally able to treat video the way you were able to treat dir­ect mail," he says. Only bet­ter. "You can ob­vi­ously meas­ure it and see if people saw it, rather than just throw it in the trash."
THE CAM­PAIGNS ARE STILL fig­ur­ing out how to tap in­to Face­book's polit­ic­al po­ten­tial. If, say, MS­N­BC's Rachel Mad­dow heaps praise on Sanders, should his cam­paign flood that clip to every voter in the coun­try who likes Mad­dow on Face­book? Or, dur­ing de­bates, do cam­paigns re­pack­age an op­pon­ent's gun gaffe and send it to the site's Second Amend­ment en­thu­si­asts? Just ima­gine Rom­ney's "self-de­port­a­tion" clip on auto­play in the Face­book feeds of Lati­nos in every swing state.
"The sky's the lim­it," Har­ris says.
In­deed. It in­cludes the pos­sib­il­ity of lay­er­ing Face­book on top of tra­di­tion­al tools — hit­ting  voters in their mail­boxes, on TV, and on iPhones in co­ordin­ated fash­ion. It in­cludes stealth­i­er strategies that ex­ploit the lack of reg­u­la­tions gov­ern­ing dis­clos­ure of who's buy­ing what in the di­git­al-ad space. It in­cludes achiev­ing something no oth­er ad­vert­ising can — a ven­eer of au­then­ti­city when trus­ted friends are shown "lik­ing" the politi­cian pay­ing for the ad.
These will be the keys for cam­paign mes­sages break­ing through in 2016. And they add up to one thing: "Face­book," says Mof­fatt, "is the 800-pound gor­illa in the room."