The ideal age to re­tire falls some­where between the ages of 60 to 65, ac­cord­ing to a new All­state/Na­tion­al Journ­al Heart­land Mon­it­or Poll. Re­tir­ing then works best, poll re­spond­ents say, be­cause it's the sweet spot for both age and fin­ances. People are young, healthy, and fin­an­cially se­cure enough then to en­joy their time.
"You've got at least 20 good years after that to pur­sue whatever else would make you happy," says Bar­bara Ar­gan­bright, 60, of Parma, New York, who plans to re­tire with­in the next five years.
But poll re­spond­ents split on the ques­tion of wheth­er they'll be able to get to a se­cure re­tire­ment. Only 29 per­cent of those sur­veyed ex­pect to re­tire with­in that ideal 60-65 age range, and those dif­fer­ing ex­pect­a­tions fall mostly along class lines, es­pe­cially when it comes to edu­ca­tion and in­come. Half of those who de­scribe them­selves as middle class and two-thirds of those in the up­per class ex­pect to re­tire at their ideal re­tire­ment age. About a third of those who identi­fy in the lower or lower-middle class ex­pect the same.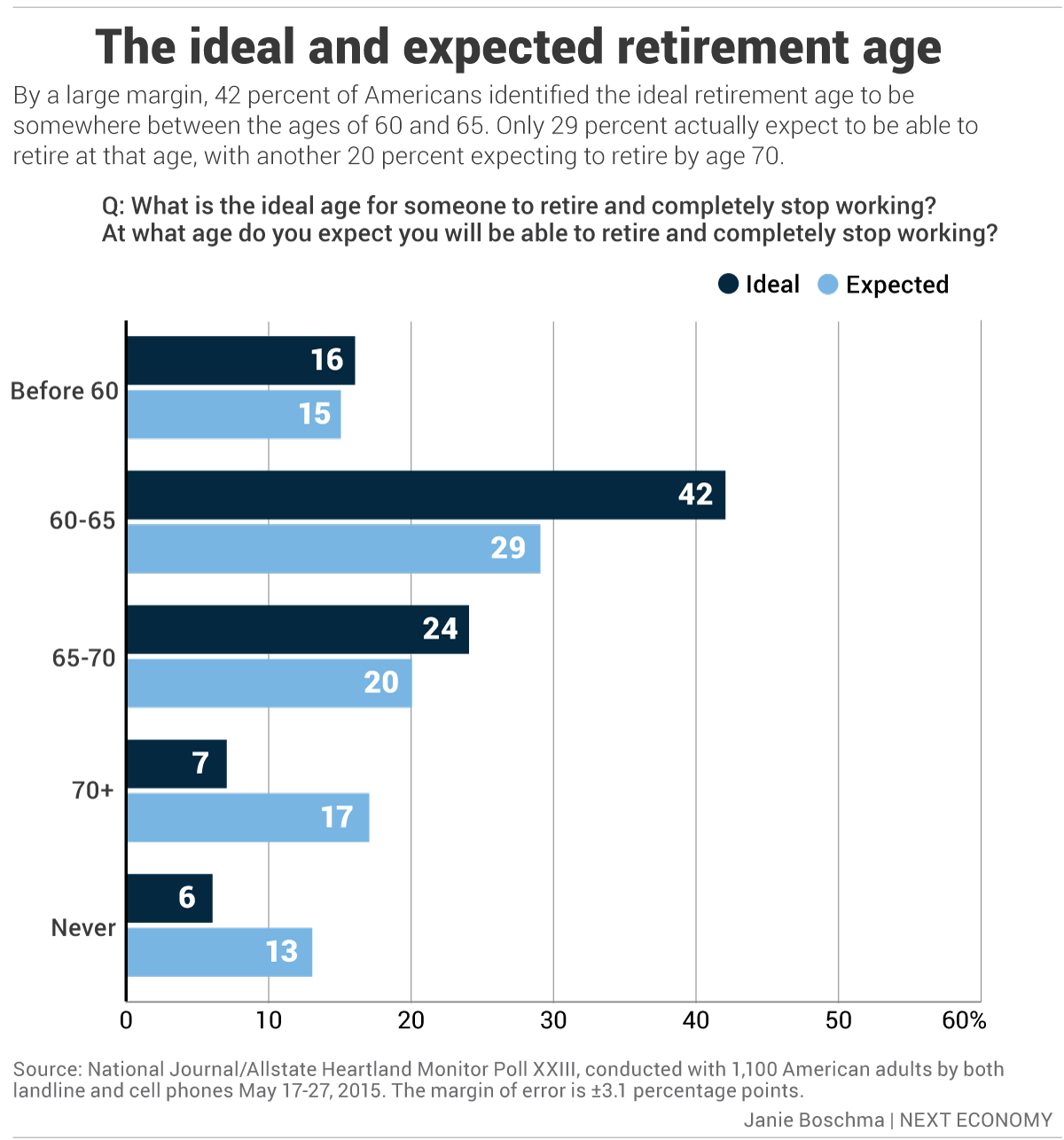 Re­spond­ents mak­ing at least $100,000 a year were the biggest group who ex­pec­ted to re­tire in that 60-65 age range, while those mak­ing $30,000 or less were most likely to say that they might nev­er re­tire. Sim­il­arly, 22 per­cent of those who de­scribe them­selves as lower class don't ex­pect to re­tire, a six- to 12- point gap among those who iden­ti­fied them­selves in high­er class groups.
More than half of col­lege gradu­ates between the ages of 18-39 ex­pect to be able to re­tire on time, fol­lowed by col­lege gradu­ates aged 40-64 (49 per­cent) and those aged 18-39 without a col­lege de­gree (45 per­cent).
There are also clear di­vi­sions with­in age brack­ets. Between 45 per­cent and 53 per­cent of those un­der the age of 50, feel op­tim­ist­ic that they'll be able to re­tire between the ages of 60 and 65. Between the ages of 50-59, the ex­pect­a­tion to re­tire when they ex­pec­ted drops to 41 per­cent and to 29 per­cent for those who are at least 65 and not yet re­tired. "I haven't saved enough, that's why I pre­dict my re­tire­ment will be far in the fu­ture," says George Her­son, 50, now a stu­dent for a mas­ter's de­gree in com­puter sci­ence in Con­necti­c­ut. "It's good to be able to re­tire, but if you don't have the money, you can't, it's as simple as that."
Over­all, mil­len­ni­als are much more op­tim­ist­ic than their baby-boomer pre­de­cessors now near­ing re­tire­ment. That's partly be­cause mil­len­ni­als are un­der no il­lu­sions that they'll be able to rely on any of the So­cial Se­cur­ity be­ne­fits they have paid in­to, but be­lieve that they still have time to save up on their own. "I'm not go­ing to rely on [So­cial Se­cur­ity]," says Eliza­beth Chil­dress, 25, of Rich­mond, Vir­gin­ia. "I think there's a lot of un­cer­tainty and neg­at­iv­ity around wheth­er it will be avail­able. It's just not something I'm will­ing to put in the hands of someone else."
Stu­dent-loan debt is one of the ma­jor clouds linger­ing over ex­pect­a­tions on re­tire­ment. Of all re­spond­ents with stu­dent-loan debt, 46 per­cent agree that the 60-65 year win­dow is ideal for re­tire­ment. But only 31 per­cent say they think that's a real­ist­ic tar­get for them­selves.
"Every loan pay­ment I make is money that's not go­ing to­ward re­tire­ment or any short-term sav­ings, either," says Chil­dress, who will be tak­ing out loans for law school. "For my gen­er­a­tion, so much of it is de­pend­ent on stu­dent loans and at what age people are able to move past pay­ing off stu­dent loans and get­ting to sav­ing for re­tire­ment. Most of my friends aren't even think­ing about re­tire­ment be­cause their stu­dent loan pay­ments are so big that the idea of sav­ing for something 45 years down the road just seems crazy to do at this point."