In South Car­o­lina, the de­bate over wheth­er a Con­fed­er­ate battle flag should fly on its Cap­it­ol grounds is serving as a reck­on­ing of its South­ern pride with the more ra­cist ele­ments of its his­tory.
That de­bate is now spill­ing over in­to Mis­sis­sippi, which faces a much lar­ger po­ten­tial iden­tity crisis.
In Mis­sis­sippi—the state with the highest pro­por­tion of Afric­an-Amer­ic­an res­id­ents—Con­fed­er­ate sym­bols are in­cor­por­ated dir­ectly on the state flag, which flies in pub­lic view in front of court­houses, schools, and oth­er civic in­sti­tu­tions. Ac­cord­ing to the Mis­sis­sippi code of laws, "The state flag shall re­ceive all of the re­spect and ce­re­mo­ni­ous etiquette giv­en the Amer­ic­an flag."
In the wake of the Char­le­ston church shoot­ing, state law­makers in Mis­sis­sippi are re­con­sid­er­ing wheth­er these Con­fed­er­ate sym­bols should be held in such high re­gard.
On Monday night, Philip Gunn, Mis­sis­sippi's Re­pub­lic­an speak­er of the House, called for a new flag. "As a Chris­ti­an, I be­lieve our state's flag has be­come a point of of­fense that needs to be re­moved," Gunn said in a state­ment. "We need to be­gin hav­ing con­ver­sa­tions about chan­ging Mis­sis­sippi's flag."
Mis­sis­sippi has had these con­ver­sa­tions be­fore. In 2000, after the state's Su­preme Court found the flag was in­ad­vert­ently re­pealed by a tech­nic­al­ity in 1906, the gov­ernor ap­poin­ted a 17-mem­ber com­mis­sion to design a new flag to be put to a vote on a bal­lot ref­er­en­dum. (See the pro­posed design be­low. The com­mis­sion chose to re­place the Con­fed­er­ate battle flag with a circle of 20 stars, to rep­res­ent the fact that Mis­sis­sippi was the 20th state ad­mit­ted in­to the uni­on.)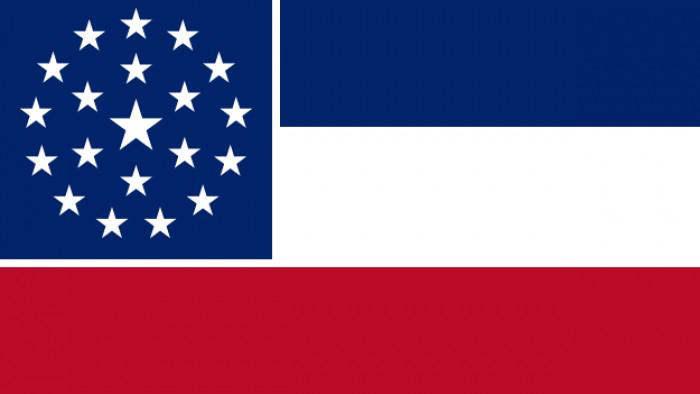 The res­ults were clear: 64 per­cent chose to keep the design that still flies. "The state is two-thirds white and one-third black, just like the vote split on the flag," a 2001 Los Angeles Times ac­count of the vote noted.
Mis­sis­sippi Gov. Phil Bry­ant, a Re­pub­lic­an, is in­clined to let the res­ults of that ref­er­en­dum stand. Ac­cord­ing to the Clari­on-Ledger, a Jack­son, Mis­sis­sippi daily, Bry­ant said "he didn't ex­pect the Le­gis­lature to 'su­per­sede the will of the people on this is­sue.'"
But oth­ers say times have changed. "That was 14 years ago," Mis­sis­sippi state Rep. Earle Banks, a Demo­crat, told CNN Tues­day about the voter ref­er­en­dum. "You have a whole new gen­er­a­tion of young people com­ing in, and I be­lieve the mar­gin to keep the flag lowered is much more than it was."
Mis­sis­sippi's sen­at­ors dis­tanced them­selves from ques­tions about the state flag Tues­day. "I feel that it's up to the le­gis­lature," Sen. Thad Co­chran told re­port­ers. "I sup­port the will of the people of Mis­sis­sippi, as well as the rights of oth­er states to make their own de­term­in­a­tion on this is­sue," Sen. Ro­ger Wick­er said in a state­ment.
The 2001 ef­fort to re­place the flag was led by the Mis­sis­sippi Eco­nom­ic Coun­cil, an as­so­ci­ation rep­res­ent­ing state busi­nesses. The coun­cil ar­gued the Con­fed­er­ate sym­bol has hurt the state's eco­nomy, scar­ing away com­pan­ies that might want to move to Mis­sis­sippi.
"We still hold that po­s­i­tion," said Blake Wilson, the as­so­ci­ation's pres­id­ent and CEO. "There's no ques­tion about it: This is an of­fens­ive sym­bol to a large part of our pop­u­la­tion."
After the ref­er­en­dum loss in 2001, Wilson com­mis­sioned a polling firm to ask 300 voters if they thought the flag would could ever be amended; 48.3 per­cent said, "Yes." It wasn't a ma­jor­ity, and it wasn't even half of those polled. But that 48 per­cent fig­ure rep­res­en­ted a lar­ger por­tion of voters than those who favored change on Elec­tion Day. 
"It's been 14 years," Wilson said, when asked if he thinks the res­ult of the ref­er­en­dum would be dif­fer­ent if held today. "A lot has happened in Mis­sis­sippi."