One of Blaise In­goglia's first moves as chair­man of the Re­pub­lic­an Party of Flor­ida was to shut it down.
He blocked ac­cess to the party's headquar­ters build­ing and sus­pen­ded all fin­an­cial activ­ity in a scramble to take charge. But by that point, $1.4 mil­lion had already been shif­ted by Gov. Rick Scott and Re­pub­lic­ans in the state Sen­ate to sep­ar­ate polit­ic­al com­mit­tees un­der their con­trol. They said the raid, which came just hours be­fore In­goglia's elec­tion, was due to un­cer­tainty about the party's fu­ture. "At the end of the day," says state Sen­ate Pres­id­ent Andy Gardiner, "we moved the money for Sen­ate cam­paigns un­til we knew the fu­ture of the party."
Yet now, lead­er­ship clearly in place and "un­cer­tainty" gone, the money re­mains out­side the grasp of the state's Re­pub­lic­an Party. And while In­goglia in­sists party busi­ness is back to nor­mal and touts his re­la­tion­ships with Scott and Gardiner, signs of strain among state Re­pub­lic­ans are un­mis­tak­able and per­sist­ent.
That starts with Scott. While most gov­ernors are in­tim­ately in­volved in their party or­gan­iz­a­tions, Scott has largely fo­cused on his own per­son­al polit­ic­al com­mit­tee, Let's Get to Work, giv­ing rise to fin­an­cial con­cerns about the state party. When Scott re­cently lured sev­en Re­pub­lic­an White House hope­fuls to Or­lando for a cattle call, the state party was ex­cluded from the po­ten­tially luc­rat­ive fun­drais­ing op­por­tun­ity. In­deed, the can­did­ates spoke on stage at Walt Dis­ney World from a po­di­um em­blazoned with Scott's name, be­fore a back­drop tout­ing Scott's com­mit­tee.
"Who ever heard of such a thing?" asked one prom­in­ent state Re­pub­lic­an. "Who's ever heard of pres­id­en­tial can­did­ates com­ing to a state for the gov­ernor and hav­ing noth­ing to do with the party?"
"This gov­ernor is act­ing very dif­fer­ently to­ward the party than former gov­ernors have," said Paula Dock­ery, a former Re­pub­lic­an le­gis­lat­or who is now a syn­dic­ated colum­nist. "Even when [Scott] con­trolled it more, he still wanted his own polit­ic­al com­mit­tee and seems like he wanted it to be in even bet­ter stand­ing than the party."
Frosty re­la­tion­ships and Byz­antine turf wars are noth­ing new to polit­ics in any state, es­pe­cially when one party dom­in­ates, the way Re­pub­lic­ans have in Flor­ida. But with a pres­id­en­tial elec­tion 17 months away, many Re­pub­lic­ans are wor­ried that the party's trouble with state lead­ers could do more than fray nerves — it could ul­ti­mately deny the GOP's even­tu­al nom­in­ee Flor­ida's 29 elect­or­al votes.
In 2016, Flor­ida is a must-win for the Re­pub­lic­an nom­in­ee if the GOP in­tends to re­take the White House. And after watch­ing the Obama cam­paign out-or­gan­ize and out-man­euver them for sev­er­al years lead­ing up to the 2012 elec­tion, state Re­pub­lic­ans from In­goglia on down want to get an early start lay­ing ground­work for their nom­in­ee's cam­paign to take over and ex­ploit.
But time is run­ning out. "We're prob­ably six months be­hind sched­ule," said one state Re­pub­lic­an in May. "Es­pe­cially com­pared to what Obama was do­ing in 2011," when his team was already build­ing a massive vo­lun­teer base more than a year be­fore the elec­tion.
When it comes to loc­al polit­ics, Flor­ida looks less like a fam­ous battle­ground state than it does a pen­in­su­lar ex­ten­sion of the Deep South. In fact, only two Demo­crats have man­aged to win statewide of­fice in the 21st cen­tury.
Flor­ida Re­pub­lic­ans have con­trolled the le­gis­lature un­in­ter­rup­ted since 1997. And since 1994, when Jeb Bush nar­rowly lost his first run for gov­ernor, the GOP has won every single gubernat­ori­al elec­tion — a level of Re­pub­lic­an dom­in­ance sur­passed only in deeply con­ser­vat­ive states such as Idaho, the Dakotas, Texas, and Utah.
But when pres­id­en­tial can­did­ates come to the state, Flor­ida's com­pet­it­ive nature breaks through. In the last six pres­id­en­tial elec­tions, Demo­crats and Re­pub­lic­ans have split their wins — three to three. In the last of those elec­tions, Re­pub­lic­ans first mocked and then watched sul­lenly as Obama's cam­paign built, over the course of sev­er­al years, an enorm­ous vo­lun­teer-driv­en field pro­gram that boos­ted him to a one-point vic­tory.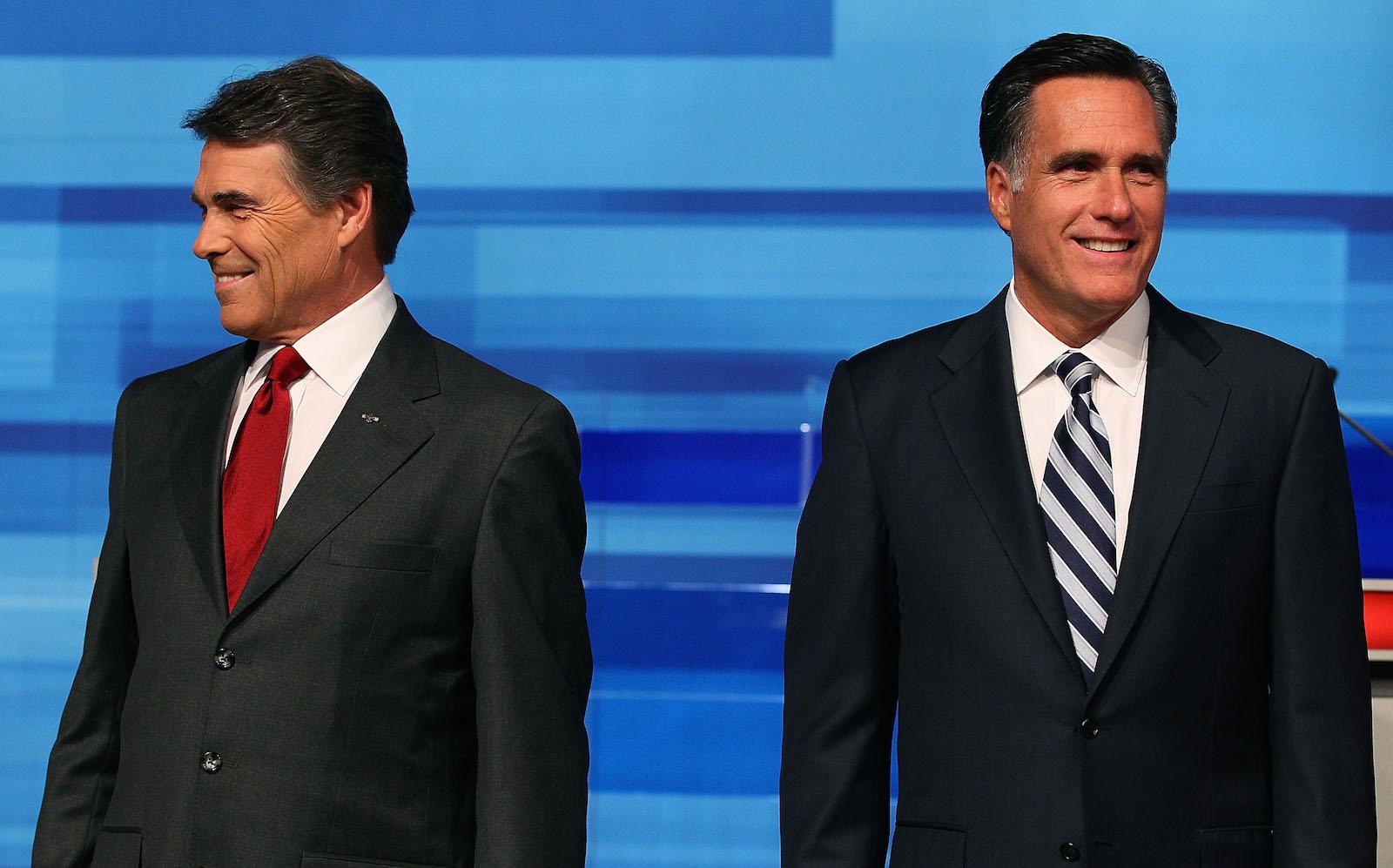 The Rom­ney cam­paign, which spent the bet­ter part of 2011 and 2012 con­cerned with primary polit­ics, was quite simply less pre­pared, and state Re­pub­lic­ans are de­term­ined to not let it hap­pen again. "I per­son­ally have spent a lot of time re­view­ing a lot of doc­u­ments and pa­pers on what the Obama cam­paign did and how they ex­ecuted," In­goglia says. "I'm not one to sit back and wait for someone else to come up with solu­tions, but in­stead take the bull by horns. I ran for chair­man on a plat­form of do­ing some of those things."
That's the im­petus for "Pro­ject 29," In­goglia's ini­ti­at­ive, an­nounced in mid-May, to prep Flor­ida to go red long be­fore Re­pub­lic­ans choose their pres­id­en­tial nom­in­ee. The pro­ject, ac­cord­ing to In­goglia, has three parts: en­ga­ging vo­lun­teers and dif­fer­ent demo­graph­ic com­munit­ies early, ag­gress­ive di­git­al out­reach, and ac­quir­ing data and new tech­no­logy to make the pres­id­en­tial cam­paign more ef­fi­cient and ef­fect­ive in the state. (In­goglia re­fused to elab­or­ate on the party's data work, call­ing it "pro­pri­et­ary.")
But the tur­moil this year has cre­ated enough trep­id­a­tion that some Re­pub­lic­ans are look­ing out­side the party for a way to set the stage for their 2016 nom­in­ee. Mul­tiple sources con­firmed pre­lim­in­ary dis­cus­sions by some well-fun­ded GOP busi­ness groups and in­terest groups to set up a new ef­fort to gath­er data, or­gan­ize vo­lun­teers, and con­duct de­tailed re­search on Flor­ida voters start­ing this year to max­im­ize the party's odds of win­ning the pres­id­ency.
"There's so much im­port­ant data to be gathered "¦ that any group that's ser­i­ous about turnout in Novem­ber 2016 needs to be act­ive and ready to go in fall 2015, lead­ing up to the pres­id­en­tial primary," one source says. "You can't wait un­til after the primary or near the con­ven­tion to be­gin a ser­i­ous op­er­a­tion in a state that's go­ing to have 9 mil­lion votes cast."
In­goglia dis­misses both talk of in­tra­party fric­tion and this ex­tra-party ef­fort, in­sist­ing his op­er­a­tion will be able to set the table for the nom­in­ee. "Noth­ing's go­ing to get us side­tracked. We un­der­stand the task at hand, and we'll de­liv­er the state," In­goglia says. "At the end of the day, noth­ing's go­ing to be as power­ful as RPOF [Re­pub­lic­an Party of Flor­ida] be­cause we have the in­fra­struc­ture already in place — data, di­git­al, grass­roots — and his­tory has proven that a strong RPOF can de­liv­er for the nom­in­ee."
Not since 2004, though. And since then, the state's demo­graph­ics have changed rap­idly.
Flor­ida's pres­id­en­tial elect­or­ate is about two-thirds big­ger than the midterm elect­or­ate Re­pub­lic­ans dom­in­ate so thor­oughly. And many of the voters swell­ing the rolls dur­ing pres­id­en­tial elec­tions are His­pan­ic and Afric­an-Amer­ic­an — the vot­ing groups that loc­al Re­pub­lic­ans don't need to lure to win and that na­tion­al GOP can­did­ates have failed to pur­sue in re­cent elec­tions. The GOP's re­la­tion­ship with Flor­ida's Cuban voters frays a little bit more with each gen­er­a­tion, while the large num­bers of Pu­erto Ric­ans mi­grat­ing to Cent­ral Flor­ida have be­come a solidly Demo­crat­ic bloc.
"We do ex­tremely well dur­ing midterms be­cause our elec­ted of­fi­cials do a fant­ast­ic job on the ground, be­ing in the com­munit­ies," state party spokes­man Wadi Gait­an says. "What we want to cor­rect is dur­ing the pres­id­en­tial year, when someone who hasn't been in the com­munity for the past two to four years is just in­tro­du­cing them­selves and the party."
An early start could help Re­pub­lic­ans ride Flor­ida's demo­graph­ic tide in­stead of fight­ing it. In part­ner­ship with the Re­pub­lic­an Na­tion­al Com­mit­tee, the RPOF has sta­tioned a num­ber of per­man­ent His­pan­ic out­reach co­ordin­at­ors around the state, people who didn't fly out after the 2014 midterms but in­stead are aim­ing to cre­ate a per­man­ent pres­ence in His­pan­ic com­munit­ies. These co­ordin­at­ors could, the the­ory goes, give the GOP pres­id­en­tial can­did­ate a head start in 2016, rather than for­cing the nom­in­ee to start from scratch in court­ing the Lati­nos who will be cru­cial to a win in Flor­ida.
"Un­for­tu­nately, Rom­ney did a ter­rible job with the His­pan­ic com­munity, and that's why our com­munity over­all was a little frus­trated," says Jean­nette Quinones, the state party's His­pan­ic field dir­ect­or for Cent­ral Flor­ida. "That's why this ex­cites me. I'm happy to be do­ing things dif­fer­ently. "¦ We're stay­ing in the com­munit­ies, just talk­ing about what the Re­pub­lic­an Party play­book is and how the policies work for the His­pan­ic com­munity here."
Flor­ida Re­pub­lic­ans also have a po­ten­tial ace in the hole: Of their three most likely pres­id­en­tial nom­in­ees, two are home-state can­did­ates. Jeb Bush and Marco Ru­bio have or­gan­ized Flor­ida be­fore, and they could do it again rap­idly, their cul­tur­al ex­per­i­ences and lan­guage skills help­ing break through to pop­u­la­tions that get plenty of at­ten­tion in Span­ish in loc­al elec­tions but less from Re­pub­lic­ans on the na­tion­al stage. Bush re­cently made a show of an­swer­ing ques­tions in Span­ish on mul­tiple na­tion­al TV net­works, and he told en­thu­si­ast­ic sup­port­ers in the im­port­ant Tampa area that he would open his state cam­paign headquar­ters there, in ad­di­tion to his Miami-based na­tion­al HQ.
Hil­lary Clin­ton's own pop­ular­ity with His­pan­ic voters (she out­per­formed Obama among the group dur­ing the 2008 primar­ies) un­der­scores Re­pub­lic­ans' im­per­at­ive to woo that demo­graph­ic, es­pe­cially if her his­tor­ic can­did­acy wins more white wo­men to her side than Obama's. Already this year, she has staked out ground to Re­pub­lic­ans' left on im­mig­ra­tion, not only back­ing a path to cit­izen­ship but also Obama's im­mig­ra­tion ex­ec­ut­ive or­ders, which are pop­u­lar among Lati­nos. Bush and Ru­bio have car­ried Flor­ida Lati­nos be­fore, but like nearly every oth­er Re­pub­lic­an run­ning for pres­id­ent, they have nev­er be­fore grappled with a pres­id­en­tial-year elect­or­ate.
It all adds up to cloudy skies for Re­pub­lic­ans head­ing in­to 2016. Yet the skies of­ten clear in Flor­ida after in­tense but brief storms, es­pe­cially around this time of year. In­deed, there's pre­ced­ent for a party com­mit­tee play­ing a smal­ler role in a Flor­ida pres­id­en­tial vic­tory, one offered by Pres­id­ent Obama in 2008.
"The fact that there was no func­tion­al state party in '08 ac­tu­ally made my job easi­er, be­cause I didn't have to deal with bur­eau­cracy or in­tern­al polit­ics," says Steve Schale, Obama's state dir­ect­or that year.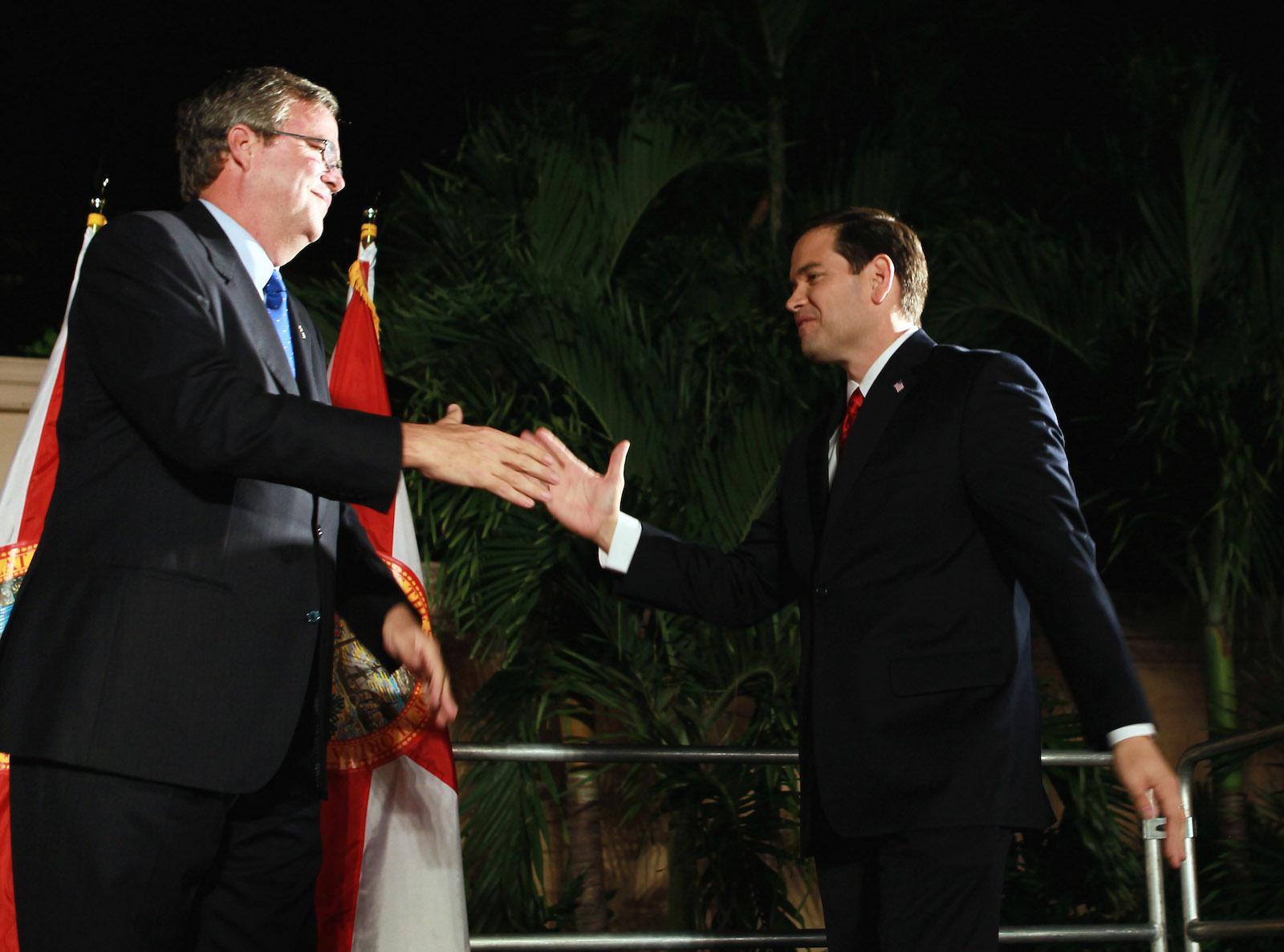 Jeb Bush and Marco Ru­bio in 2010 in Cor­al Gables, Flor­ida. (Joe Raedle/Getty Im­ages)Whatever dis­com­fit­ing in­cid­ents have oc­curred in 2015, the Re­pub­lic­an Party of Flor­ida is in ex­po­nen­tially bet­ter shape than its Demo­crat­ic coun­ter­part, which has been weakened fin­an­cially and struc­tur­ally by dec­ades out of power. That led to the Obama cam­paign's own early or­gan­iz­a­tion in Flor­ida dur­ing the pres­id­ent's first term. "In 2012, we didn't really have an op­tion but to or­gan­ize early, and I be­lieve it made a sig­ni­fic­ant dif­fer­ence," says Ash­ley Walk­er, Obama's Flor­ida state dir­ect­or in 2012.
Their ef­forts gen­er­ated about 300,000 new-voter re­gis­tra­tions, after which Obama car­ried the state by few­er than 100,000 votes. "Or­gan­iz­ing is all about build­ing a found­a­tion and then grow­ing upon that found­a­tion," Walk­er says.
If Bush or Ru­bio emerges with the nom­in­a­tion, Flor­ida Re­pub­lic­ans would have a strong found­a­tion to build on, no mat­ter what hap­pens in 2015. That might be ex­actly how Re­pub­lic­ans grapple with a chan­ging state, even if the im­per­at­ive to get a quick start doesn't amount to much.
But bar­ring that, in­tern­al drama could hurt the state party's abil­ity to gath­er data, con­nect with minor­ity voters, and build lists that can turn in­to votes on Elec­tion Day. For Re­pub­lic­ans, that would prove a dis­aster with na­tion­wide con­sequences.
"We're not ready. We're not ready," one seni­or Re­pub­lic­an strategist in Flor­ida stressed. "Just 67 per­cent of the elect­or­ate will be white. We're not ready for that."