Add to Briefcase
Dec. 23, 2015, noon
In­fra­struc­ture fans across the U.S. had plenty to en­joy in 2015. New York got its first new sub­way sta­tion in a quarter-cen­tury, Port­land, Ore­gon, gave the U.S. a ma­jor bridge that bans cars, Hou­s­ton showed how to re­ima­gine a bus sys­tem for the 21st cen­tury—all of it punc­tu­ated by the pas­sage of the first long-term fed­er­al high­way bill in about a dec­ade. That's a tough list to top, but 2016 will give it a run for its tax­pay­er money.
Here are some of the key city trans­port­a­tion pro­jects to keep an eye on in the com­ing year.
Sub­way / Metro Rail
It only seems like New York has been build­ing the Second Av­en­ue sub­way line since the Dutch owned Man­hat­tan. First pro­posed about a cen­tury ago, the pro­ject has been un­der­way in earn­est since 2007, when ground broke on Phase I. The wait is nearly over: 2016 is the year when ser­vice on this seg­ment—which con­nects 96th Street to 63rd Street, at a cost of $4.45 bil­lion—will sup­posedly enter ser­vice. Un­less of course it doesn't. Dur­ing a board meet­ing this month, the MTA re­vealed that the pro­ject car­ries a "mod­er­ate risk of delay" bey­ond the Decem­ber 2016 open­ing, ow­ing to power, sta­tion, and track com­plic­a­tions. And re­gard­less of wheth­er Phase I launches on time, the sub­sequent seg­ments re­main a long, un­fun­ded way off.
Light Rail / Street­car
It only seems like Wash­ing­ton, D.C., has been build­ing the H Street and Ben­ning Road street­car line since the Dutch owned Man­hat­tan. Dur­ing its de­vel­op­ment over the past dec­ade, this pro­ject has suffered nu­mer­ous false starts, not to men­tion a hand­ful of col­li­sions with cars dur­ing test runs. The latest word has ser­vice be­gin­ning in early 2016 fol­low­ing pre-rev­en­ue op­er­a­tions. At this point you have to won­der wheth­er the poorly con­ceived line—the street­cars not only run in mixed traffic but ad­ja­cent to on-street park­ing—is still worth the trouble. After all, the eco­nom­ic be­ne­fits it was sup­posed to de­liv­er to H Street have already ar­rived.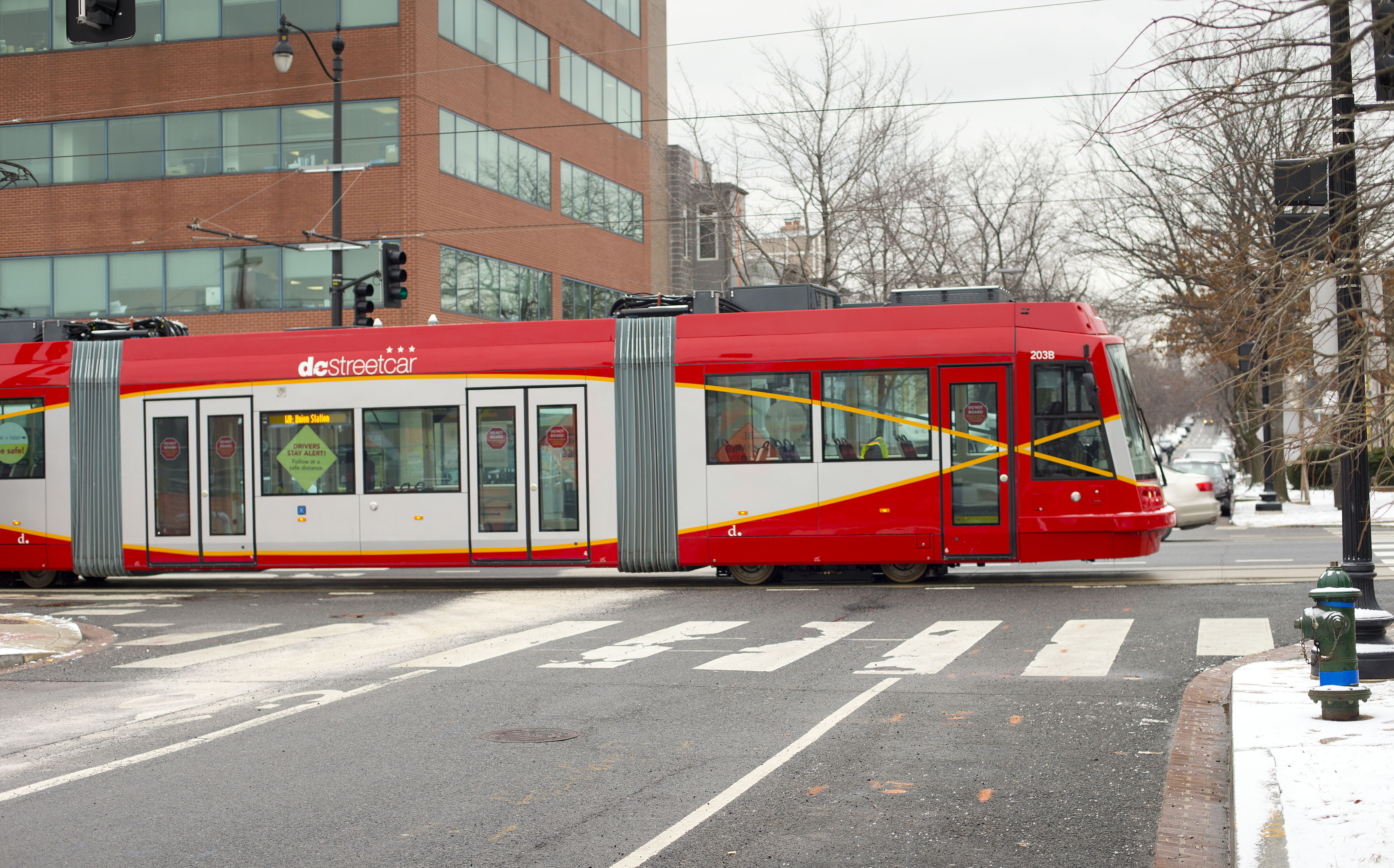 A far more crit­ic­al pro­ject from the per­spect­ive of urb­an mo­bil­ity is the open­ing of the second seg­ment of the Expo light-rail line in Los Angeles. Phase II, which ex­tends the route from down­town to Santa Mon­ica at a cost of $1.5 bil­lion, is about to enter fi­nal test­ing, with an ex­pec­ted ser­vice launch in spring 2016. All told, the Expo is ex­pec­ted to carry some 64,000 daily riders by 2030, fol­low­ing the city's gen­er­al timeline for giv­ing res­id­ents a net­work of reas­on­able non-car travel op­tions by 2035. The Expo line might not have done much for traffic on I-10 so far—thank you, in­duced de­mand—but there's evid­ence that it has in­deed re­duced car-re­li­ance along the cor­ridor.
Bus-Rap­id Trans­it
Though Chica­go's Loop Link BRT cor­ridor tech­nic­ally opened to ser­vice this month, its struggles and suc­cesses will be watched closely in 2016. Des­pite the pro­ject's im­per­fec­tions, which in­clude a lack of sev­er­al top-notch fea­tures of BRT ser­vice, the Loop Link rep­res­ents a sig­ni­fic­ant for­ay in­to bet­ter buses by a ma­jor U.S. metro. In the com­ing year, the line will test out pre­paid board­ing, get a ded­ic­ated lane along Canal Street, and serve a new bus hub be­side Uni­on Sta­tion. Ped­es­tri­ans and cyc­lists will also be­ne­fit from short­er cross­ings and pro­tec­ted lanes. If Chica­go falls in love with the Loop Link in 2016, not only does the city it­self have a bet­ter chance to re­vive its grander BRT scheme, but all big U.S. cit­ies will have a bus blue­print to build on.
In­ter­city Rail
Hopes for a much-needed new Hud­son River rail tun­nel con­nect­ing New York and New Jer­sey, left for dead after New Jer­sey Gov. Chris Christie can­celled the ARC pro­ject in 2010, got new life this year with ser­i­ous pro­gress on the latest in­carn­a­tion, known as the Gate­way pro­ject. After some squab­bling over fin­an­cial re­spons­ib­il­ity, of­fi­cials from Amtrak as well as both key states agreed to split the tun­nel cost, cur­rently tabbed at $20 bil­lion.
Gate­way won't be done for many years (some es­tim­ates say 2025), but it's crit­ic­al for the pro­ject to main­tain its mo­mentum in 2016. That's be­cause the "clock is tick­ing" on the ex­ist­ing tun­nel, so badly dam­aged dur­ing Su­per­storm Sandy that Amtrak has said it will even­tu­ally need to shut down for re­pairs—a fright­en­ing pro­spect for the North­east that Sen. Chuck Schu­mer calls "trans­port­a­tion Armaged­don."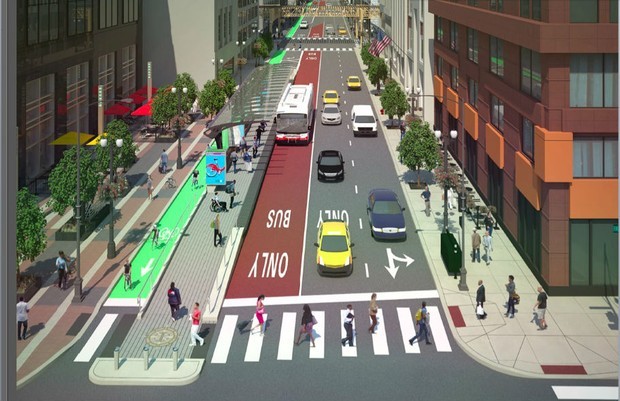 In a re­lated pro­ject worth watch­ing, the first phase of Moyni­han Sta­tion, which ex­pands the Amtrak con­course of the cur­rent Penn Sta­tion, is sched­uled to open in 2016. In an un­re­lated pro­ject also worth watch­ing, the privately fun­ded All Aboard Flor­ida pas­sen­ger rail line link­ing Miami and Or­lando should make sig­ni­fic­ant ad­vances as it pre­pares to enter ser­vice in 2017.
High­ways and Bridges
The tear­down and re­place­ment of Seattle's Alaskan Way Via­duct, an el­ev­ated high­way that cuts off the city from its wa­ter­front, will get a big boost in 2016 with the re­turn of Ber­tha—the gi­gant­ic tun­nel-bor­ing ma­chine dig­ging State Route 99 be­low the city. Out of com­mis­sion since late 2013, Ber­tha will re­portedly get go­ing again in the fi­nal days of 2015 (when, it's worth not­ing, the four-lane tun­nel was ori­gin­ally sup­posed to open). The up­com­ing year will also see loc­als vote on wheth­er or not they want to keep part of the via­duct in place as an el­ev­ated park or push for­ward with the multi-part, bil­lion-dol­lar wa­ter­front trans­form­a­tion plan favored by the city.
Mean­while the first span of the new Tap­pan Zee Bridge—of­fi­cially the New NY Bridge—is sup­posed to open in 2016. The $4 bil­lion pro­ject will be merely "mass-trans­it ready," as op­posed to equipped with ded­ic­ated bus lanes, but like so many new U.S. bridges it at least will have a sig­ni­fic­ant ped­es­tri­an and cyc­list com­pon­ent.
Street Design
The dra­mat­ic trans­form­a­tion of Clev­e­land's Pub­lic Square is on frantic pace for com­ple­tion by sum­mer 2016—just in time for the Re­pub­lic­an Na­tion­al Con­ven­tion. That's a bit of an odd con­ver­gence, con­sid­er­ing that con­ser­vat­ives aren't typ­ic­ally great fans of city street pro­jects that pri­or­it­ize ped­es­tri­ans over cars. And the new Pub­lic Square, de­signed by James Corner of High Line fame, will do just that: turn a former traffic hub in­to a walk­able plaza sur­roun­ded by green­ery and largely cut off to through-traffic. But long after Don­ald Trump and friends leave town, the square will be a selling point for the city's newly re­vived down­town.
Freight
The enorm­ous Panama Canal ex­pan­sion is sched­uled for com­ple­tion in April 2016, a little more than a cen­tury after the open­ing of the ori­gin­al. The $5.3 bil­lion widen­ing—already 95 per­cent done—will have a ma­jor ripple ef­fect on Amer­ic­an ship­ping. As Dan Glass re­por­ted last year for CityLab's Fu­ture of Trans­port­a­tion series, ports in Sa­van­nah, New York, Char­le­ston, Miami, and bey­ond are in­vest­ing bil­lions to ac­com­mod­ate the su­per-sized ships ex­pec­ted in the fu­ture. The new canal will fit ves­sels cap­able of car­ry­ing up to 13,000 TEUs (a cargo di­men­sion short for Twenty-Foot Equi­val­ent Units), more than double the ex­ist­ing 5,000 TEU lim­it. And once the ex­pan­sion is done, canal of­fi­cials are already eye­ing a $17 bil­lion en­core.
Air­ports
In 2014, Vice Pres­id­ent Joe Biden fam­ously called La­Guardia Air­port a "third world" piece of in­fra­struc­ture un­be­fit­ting of Amer­ica's first city, and this sum­mer New York Gov. An­drew Cuomo an­nounced a plan to do something about it. The pro­posed La­Guardia renov­a­tion has loc­al trans­it ad­voc­ates miffed that Cuomo, long re­luct­ant to make sub­way in­vest­ments, would rather spend money on tour­ists than res­id­ents. But if ap­proved, the $4 bil­lion over­haul—half fin­anced with private money—could re­portedly break ground as soon as mid-2016 (though its com­ple­tion re­mains tracked for 2021).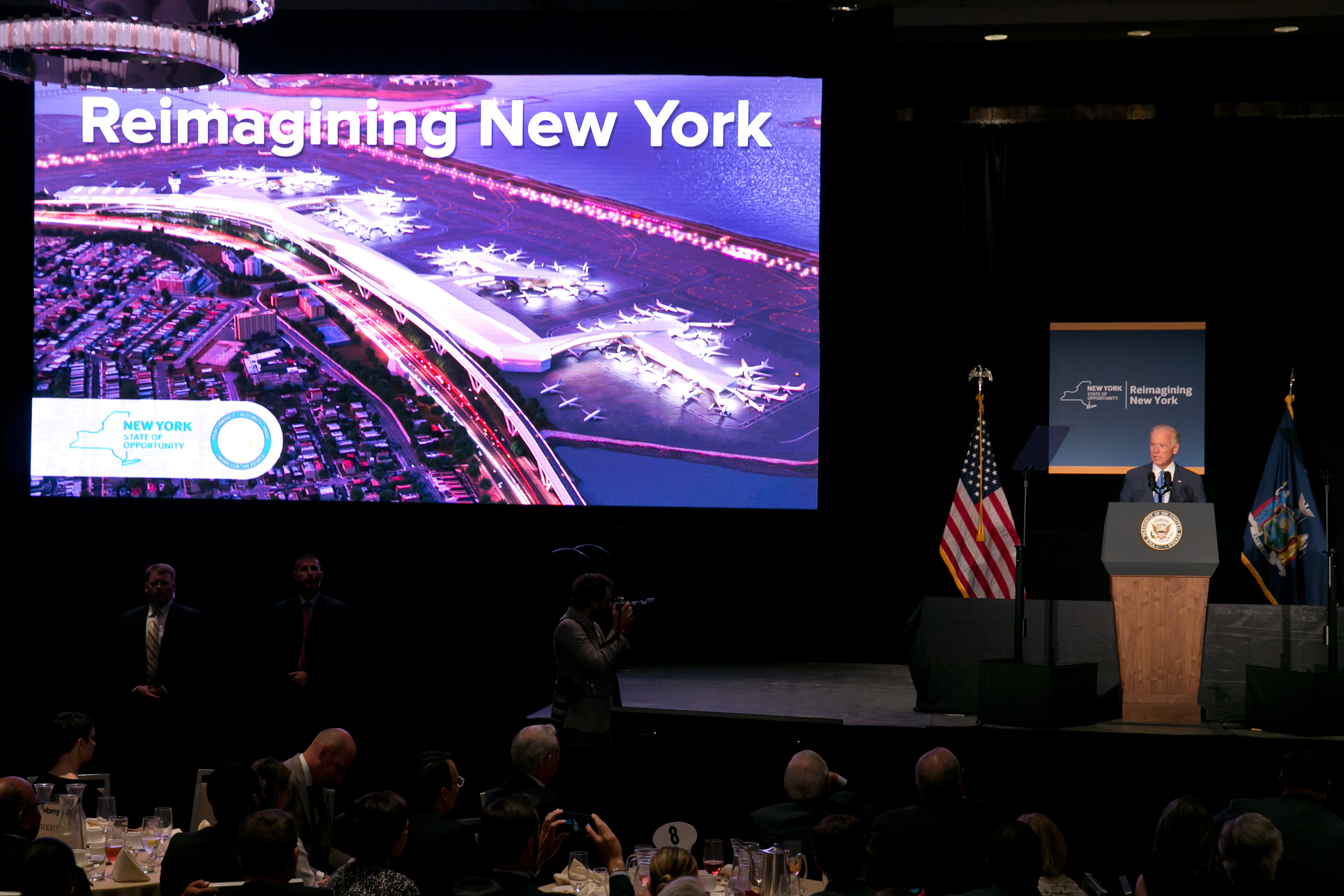 Wheth­er or not La­Guardia's face-lift moves for­ward, dozens of air­ports across the U.S. stand to get a touch of mod­ern­iz­a­tion in 2016. As part of its am­bi­tious Nex­t­Gen tech­no­logy up­grade, the Fed­er­al Avi­ation Ad­min­is­tra­tion plans to de­ploy new data-com­mu­nic­a­tions equip­ment at 56 air­port towers by the end of next year. The "Data Comm" up­grade will en­able air-traffic con­trol­lers and pi­lots to com­mu­nic­ate via di­git­al mes­sages rather than re­ly­ing on tra­di­tion­al ra­di­os—a change that FAA says will re­duce mis­com­mu­nic­a­tions, help planes avoid bad weath­er, and gen­er­ally save trav­el­ers time.
Quick­er, safer, more com­fort­able trips: Isn't that what bet­ter in­fra­struc­ture is all about?