Add to Briefcase
Dec. 21, 2015, 11:02 a.m.
In the sum­mer of 2012—around the time that the Is­lam­ic State's in­cho­ate plans for a ca­liphate mer­ited a mere foot­note in a U.S. con­gres­sion­al re­port on the year-old Syr­i­an con­flict—Robert Satloff ar­gued that a civil war was tak­ing shape in Syr­ia, and that its ter­rible con­sequences would ex­tend far bey­ond Syr­i­ans; Amer­ic­ans, too, would soon be ac­quain­ted with the hor­ror.
Among the plaus­ible scen­ari­os, he reasoned in the New Re­pub­lic, were a re­vived Kur­d­ish in­sur­gency in Tur­key and thou­sands of ji­hadists "des­cend­ing on Syr­ia to fight the apostate Alaw­ite re­gime, trans­form­ing this large East­ern Medi­ter­ranean coun­try in­to the glob­al nex­us of vi­ol­ent Is­lam­ist ter­ror­ists."
"None of this is fantasy," Satloff, the ex­ec­ut­ive dir­ect­or of the Wash­ing­ton In­sti­tute for Near East Policy, as­sured his read­ers.
Today, they need no con­vin­cing. In the three years since Satloff is­sued his warn­ing, the Syr­i­an Civil War has stead­ily meta­stas­ized as a per­ceived threat to U.S. na­tion­al se­cur­ity, nur­tur­ing IS­IS, bludgeon­ing Ir­aq, and ra­di­at­ing refugees in the Middle East and Europe. Con­sider, for ex­ample, the res­ults of a new sur­vey of Amer­ic­an for­eign-policy ex­perts and prac­ti­tion­ers by the Coun­cil on For­eign Re­la­tions' Cen­ter for Pre­vent­ive Ac­tion. Nearly 500 re­spond­ents es­tim­ated the like­li­hood and im­pact on U.S. in­terests of 30 po­ten­tial con­flicts in 2016. These con­flicts were then sor­ted in­to three tiers of risk to Amer­ica.
A deep­en­ing of the Syr­i­an con­flict "res­ult­ing from in­creased ex­tern­al sup­port for war­ring parties, in­clud­ing mil­it­ary in­ter­ven­tion by out­side powers" was rated both highly likely and high-im­pact—the only "con­tin­gency" in the study to be ranked so gravely.
The coun­tries in red be­low rep­res­ent all con­flicts that were as­sessed as either highly likely to oc­cur/in­tensi­fy or high-im­pact, mean­ing the con­tin­gency could threaten the U.S. main­land, spark U.S. mil­it­ary in­volve­ment be­cause of mu­tu­al-de­fense treaty com­mit­ments, or en­danger the sup­ply of stra­tegic U.S. re­sources. (The an­nu­al CFR re­port fo­cuses on polit­ic­al- or se­cur­ity-re­lated scen­ari­os rather than eco­nom­ic crises, ex­treme-weath­er events, and oth­er types of dis­asters; you can find the res­ults of pre­vi­ous sur­veys here and here.)
The find­ings are per­haps less a fore­cast of things to come than a re­flec­tion of the primary con­cerns among ex­perts head­ing in­to 2016. The map doesn't ne­ces­sar­ily de­pict where fight­ing, in­stabil­ity, or hu­man­it­ari­an suf­fer­ing will be most acute; in­stead, it of­fers a sense what U.S. poli­cy­makers and crisis-man­agers might see when they look out onto the world, weigh Amer­ica's stra­tegic in­terests, and de­cide how to al­loc­ate their fi­nite time and re­sources in the com­ing year.
Pres­id­ent Obama may be­lieve Amer­ica's fu­ture lies in Asia, but the Middle East en­dures as the cap­it­al of Amer­ic­an pre­oc­cu­pa­tion. As Paul Stares, the re­port's lead au­thor, writes, "Of the el­ev­en con­tin­gen­cies clas­si­fied as Tier 1 pri­or­it­ies, all but three are re­lated to events un­fold­ing" in the Mideast. Sev­er­al stem from the Syr­i­an Civil War.
High-Priority Threats to America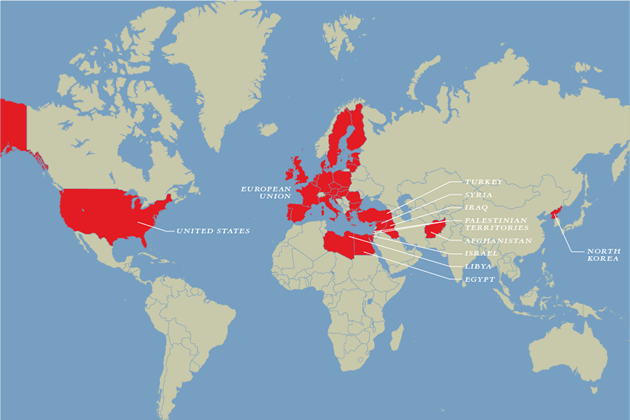 Among the scen­ari­os in this high-pri­or­ity tier of con­flict are a mass-cas­u­alty at­tack on the U.S. home­land; a ma­jor cy­ber­at­tack on U.S. crit­ic­al in­fra­struc­ture; a crisis with or in North Korea over, say, nuc­le­ar-weapons test­ing or polit­ic­al tu­mult in Py­ongy­ang; in­creased fight­ing between Kur­d­ish groups and Turk­ish forces, ag­grav­ated by the Syr­i­an Civil War; a de­teri­or­a­tion in the Is­raeli-Palestini­an con­flict; polit­ic­al dis­ar­ray in Libya and Egypt; and Ir­aq splin­ter­ing fur­ther as a res­ult of IS­IS ad­vances and Sunni-Shiite vi­ol­ence.
An­oth­er worry ap­peared for the first time in the sur­vey: "polit­ic­al in­stabil­ity in EU coun­tries stem­ming from the in­flux of refugees and mi­grants, with heightened civil un­rest, isol­ated ter­ror­ist at­tacks, or vi­ol­ence against refugees and mi­grants." And this judg­ment was made be­fore IS­IS's Novem­ber at­tacks in Par­is; the sur­vey con­cluded the day of the ram­page.
This fear isn't solely about the in­flux of asylum-seekers from Syr­ia and oth­er coun­tries, or Europe's on­go­ing eco­nom­ic struggles, Stares told me: "I think there's this sort of un­ease among Amer­ic­an ex­perts about the whole European pro­ject, the in­teg­rity of the European Uni­on," and its vi­ab­il­ity as a U.S. part­ner.
"The hope that this will con­tin­ue to be a vi­brant and stable place has been shaken some­what by not only the ter­ror­ist at­tacks, but also signs of dis­sen­sion between coun­tries, par­tic­u­larly in the east, who are res­ist­ant to tak­ing in refugees and are clearly turn­ing to the right and be­com­ing more con­ser­vat­ive. And you see this in oth­er parts of West­ern Europe," he ad­ded. "I think [un­ease about Europe] has some­what sup­planted con­cern that was evid­ent this time last year about fric­tion between European/NATO coun­tries and Rus­sia."
Stares was struck by the re­l­at­ive lack of anxi­ety about a worsen­ing of the war in Afgh­anistan, which was deemed highly likely but only of mod­er­ate im­pact. "Afgh­anistan has sort of re­ceded in­to the back­ground mainly be­cause of con­cern over the Middle East … which is some­what sur­pris­ing giv­en that the Taliban have made some sig­ni­fic­ant ad­vances since last year," he said. "But I think it's this sort of dis­place­ment ef­fect of the Middle East on people's per­cep­tions of risk."
There's this unease among American experts about the whole European project, the integrity of the European Union. "
Two con­tin­gen­cies were down­graded from high to me­di­um pri­or­it­ies between this year's sur­vey and last year's, even though hos­til­it­ies in each case are still pro­nounced: an armed con­front­a­tion between China and its neigh­bors over ter­rit­ori­al dis­putes in the South China Sea, and an es­cal­a­tion in fight­ing between Rus­si­an-backed mi­li­tias and Ukrain­i­an se­cur­ity forces in east­ern Ukraine.
A cease-fire in east­ern Ukraine "seems to be hold­ing," Stares noted, "and Rus­sia has a lot on its plate both in­tern­ally and in terms of its [mil­it­ary] in­ter­ven­tion in­to Syr­ia. Why would they dial up ten­sions in Ukraine at this mo­ment?" Sim­il­arly, "there's prob­ably a sense that China has made the is­land grabs that it wants to do, and it is con­sol­id­at­ing its po­s­i­tion [in the South China Sea]. And giv­en China's [slug­gish] eco­nom­ic situ­ation … and a cer­tain level of high-level agree­ment between the U.S. and China with the vari­ous meet­ings between [Pres­id­ents] Xi and Obama, people are say­ing, 'Look, I don't think the Chinese are really go­ing to rock the boat here this year.'"
A third scen­ario—an in­ten­tion­al or un­in­ten­tion­al mil­it­ary face-off between Rus­sia and one or more NATO mem­ber states—ap­peared for the first time in the sur­vey, in the second tier shown be­low. As for Ir­an, angst has shif­ted since 2014 from the coun­try's nuc­le­ar pro­gram, which was sub­stan­tially re­stric­ted in Ju­ly as part of an agree­ment with world powers, to its sup­port of proxy mi­li­tias in vari­ous Middle East­ern con­flicts. This tranche of pri­or­it­ies also in­cludes vi­ol­ence from or­gan­ized crime in Mex­ico, destabil­iz­ing spillover from Syr­ia to nearby coun­tries, and China and Ja­pan con­test­ing the sov­er­eignty of is­lands in the East China Sea.
Medium-Priority Threats to America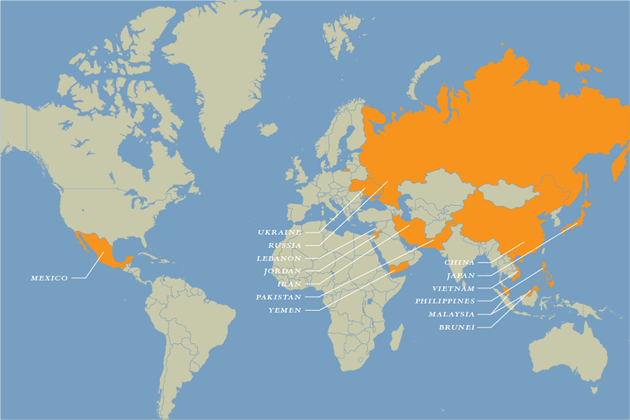 The third tier in­cludes three con­tin­gen­cies that haven't fea­tured in the sur­vey be­fore: polit­ic­al in­stabil­ity in both Saudi Ar­a­bia and the Demo­crat­ic Re­pub­lic of Congo, and the growth of Is­lam­ist mil­it­ancy in Rus­sia and par­tic­u­larly the North Cau­cas­us re­gion, spurred in part by Vladi­mir Putin's mil­it­ary op­er­a­tions in Syr­ia and the threat of Rus­si­an IS­IS fight­ers re­turn­ing home.
Stares at­trib­uted Saudi Ar­a­bia's pres­ence on this year's list to three factors: "I think it's the com­bin­a­tion of some re­ports of in­tern­al dis­sen­sion with­in the Saudi roy­al fam­ily … re­ports of fin­an­cial, eco­nom­ic, or budget­ary dif­fi­culties in the King­dom as a res­ult of de­pressed oil prices and there­fore de­pressed gov­ern­ment rev­en­ues … and thirdly the Saudi [mil­it­ary] in­ter­ven­tion in [the civil war in] Ye­men, which has had some res­on­ance with­in Saudi elites. I think there's con­cern about wheth­er Saudi Ar­a­bia may have over­stretched it­self there. And it's un­clear how this will end, and how much of a bur­den—and how much blow­back—there might be."
In Ni­ger­ia, where a new pres­id­ent was elec­ted in March, tur­moil re­lated to the ji­hadist group Boko Haram was judged to be less of a risk than it was last year, even though Boko Haram re­mains the world's dead­li­est ter­ror­ist or­gan­iz­a­tion. Also men­tioned here were the pro­spects for a ma­jor clash between In­dia and Pakistan and a more pro­found crisis in post-Chavez Venezuela, where the eco­nomy is in tat­ters and the op­pos­i­tion has won con­trol of the le­gis­lat­ive but not the ex­ec­ut­ive branch. (Re­spond­ents wrote in their own con­flicts as well, in­clud­ing ter­rit­ori­al com­pet­i­tion in the Arc­tic, fal­lout from the po­ten­tial death of Zi­m­b­ab­wean Pres­id­ent Robert Mugabe, now 91, and pos­sible mass at­ro­cit­ies in polit­ic­ally po­lar­ized Bur­undi, where 87 people were killed last Fri­day.)
Low-Priority Threats to America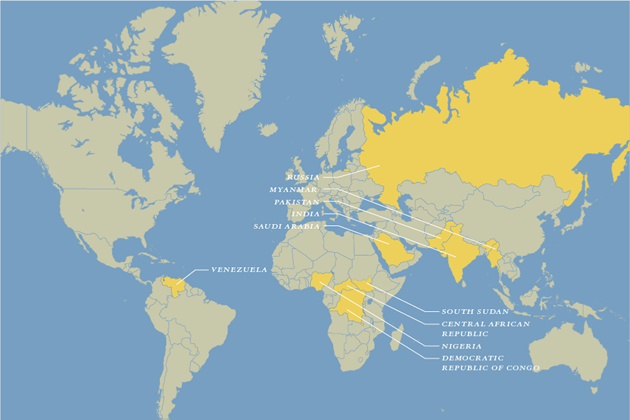 In a re­cently re­leased guide to the multisided con­flict in Congo, the Coun­cil on For­eign Re­la­tions notes that for al­most two dec­ades, the coun­try's east­ern provinces have been the site of the dead­li­est fight­ing since World War II. And the costs of that vi­ol­ence are stag­ger­ing. CFR points out that Congo's hy­dro­power po­ten­tial is great­er than sub-Saha­ran Africa's total cur­rent en­ergy ca­pa­city, that its ar­able land could feed nearly all of Africa, and that its min­er­al wealth is crit­ic­al to the world's con­sumer elec­tron­ics—but that much of this eco­nom­ic prom­ise has yet to be real­ized. These nat­ur­al re­sources have ex­acer­bated the con­flict, but they also high­light the huge up­side to resolv­ing it. Wheth­er war ebbs de­pends in part on elec­tions in Novem­ber 2016, when Pres­id­ent Joseph Kab­ila could either per­mit a demo­crat­ic trans­ition or flout the con­sti­tu­tion and try to main­tain his 15-year hold on power.
It's quite a con­sequen­tial mo­ment for Congo. But judging by the maps above, it's one that U.S. of­fi­cials may not pay all that much at­ten­tion to.