Add to Briefcase
Dec. 15, 2015, 4:27 p.m.
With Don­ald Trump's in­cess­ant calls for the U.S. to bar Muslims, it's easy to for­get that three months ago, a pho­to­graph of a Syr­i­an tod­dler face­down in the sand spurred a glob­al call to ac­tion on the refugee crisis.
Roughly one in six Amer­ic­ans now say ter­ror­ism is the coun­try's biggest prob­lem, ac­cord­ing to a Gal­lup poll con­duc­ted just after the at­tack in San Bern­ardino, Cali­for­nia, the dead­li­est on U.S. soil since 9/11. That's the highest per­cent­age in a dec­ade, up from just 3 per­cent last month. Mean­while, Amer­ic­ans' be­lief that the gov­ern­ment can pro­tect them sank to an all-time low in the Gal­lup poll.
As for Trump, 60 per­cent of Amer­ic­ans dis­agree with his pro­posed Muslim ban, but nearly six out of 10 Re­pub­lic­an voters back it, ac­cord­ing to a Monday Wash­ing­ton Post/ABC News poll. Many Re­pub­lic­an lead­ers have re­pu­di­ated his rhet­or­ic — but said they'd still sup­port him as nom­in­ee.
It's not just the New York busi­ness­man. Sen. Ted Cruz, hot on Trump's heels, said he wouldn't "cri­ti­cize and at­tack" him (pub­licly at least) but simply "dis­agreed" with his ap­proach. In­stead, Cruz said last week, the U.S. mil­it­ary should start "car­pet bomb­ing" in Ir­aq and Syr­ia, fol­low­ing his earli­er dark quip that it'd show wheth­er "sand can glow in the dark."
The ten­sion has put the polit­ics of na­tion­al se­cur­ity and nativ­ism on a col­li­sion course. How did we get here? And per­haps more troub­lingly still: Where are we go­ing?
When the photo of 3-year-old Syr­i­an Ay­lan Kur­di was pub­lished Sept. 3, it promp­ted a world­wide out­cry. In an in­stant, it put a face to the 4.4 mil­lion refugees who had left Syr­ia since its civil war began in 2011, the largest dis­place­ment of people since WWII.
It also shamed the U.S., once a lead­er in help­ing the world's dis­placed peoples, but which has re­settled just over 2,200 Syr­i­ans, less than one-tenth of the ap­plic­ants re­ferred by the United Na­tions High Com­mis­sion­er for Refugees. One week after Ay­lan's photo was pub­lished, the Obama ad­min­is­tra­tion an­nounced the U.S. would take 10,000 Syr­i­an refugees over the next year. Soon af­ter­ward, it said the U.S. would raise its an­nu­al cap on glob­al refugees to 100,000 by 2017. Demo­crat­ic and even some Re­pub­lic­an pres­id­en­tial can­did­ates urged Obama to do more.
But ad­min­is­tra­tion of­fi­cials said "na­tion­al se­cur­ity con­cerns" con­strained its re­sponse. Se­cur­ity agency chiefs told Con­gress that they were wor­ried about in­tel­li­gence gaps on war-torn Syr­ia. "If someone has nev­er made a ripple in the pond in Syr­ia," FBI Dir­ect­or James Comey said on Oct. 21, "We can query our data­base un­til the cows come home but … there will be noth­ing."
Still, they could pro­duce no evid­ence that Syr­i­an refugees posed a threat. (Of the 784,000 refugees the U.S. has re­settled since 9/11, only three have been ar­res­ted for ter­ror­ism—none of them Syr­i­ans.) And they con­firmed that that the refugee-screen­ing pro­cess had tightened in re­cent years. Over five years, U.S. of­fi­cials have denied ad­mis­sion to about 30 in­di­vidu­als flagged in data­bases, and to sev­er­al hun­dred more after re­quired in-per­son in­ter­views. Last year, they ad­ded a screen­ing lay­er for Syr­i­ans "to en­sure po­ten­tial gaps are covered."
Ul­ti­mately, both parties' lead­ers ex­pressed con­fid­ence in the strict meas­ures for refugees. Eighty-four law­makers even wrote to Kerry and Home­land Se­cur­ity Sec­ret­ary Jeh John­son, sug­gest­ing that vari­ous re­dund­an­cies in the screen­ing pro­cess were slow­ing things down un­ne­ces­sar­ily.
Then Par­is happened.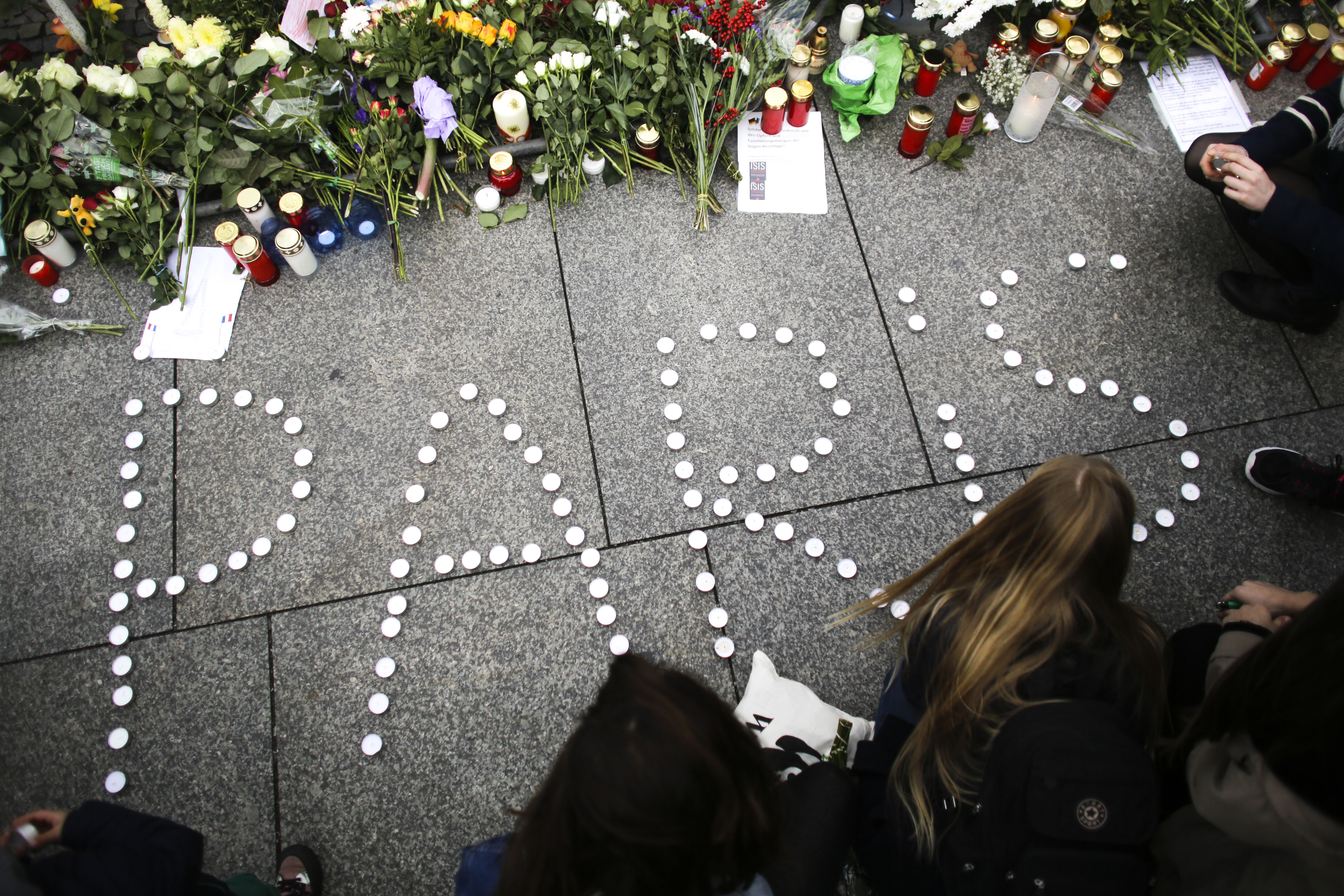 On Nov. 13, Is­lam­ic State-af­fil­i­ated ter­ror­ists killed 130 people in co­ordin­ated at­tacks across Par­is, shak­ing a world already on edge from at­tacks in Beirut and a bomb that downed a Rus­si­an jet­liner over Egypt.
Most of the at­tack­ers were French cit­izens. Sev­er­al are be­lieved to have used fake Syr­i­an pass­ports, and the Par­is pro­sec­utor's of­fice re­por­ted one's fin­ger­prints matched a man who entered through Greece.
On Nov. 16, the U.S. and France signed a new IS­IS in­tel­li­gence-shar­ing agree­ment. On Nov. 18, Pres­id­ent Fran­cois Hol­lande de­fen­ded his de­cision to re­settle 30,000 refugees over the next two years, after rig­or­ous se­cur­ity checks.
"France will re­main a coun­try of free­dom," he said.
The United States, re­cently awoken to the plight of Syr­i­an refugees, des­cen­ded just as swiftly in­to fear.
On Nov. 15, Cruz said the U.S. shouldn't al­low Muslim refugees. On Nov. 17, New Jer­sey Gov. Chris Christie said the U.S. shouldn't ac­cept even "orphans un­der five." On Nov. 18, Trump said the U.S. had "ab­so­lutely no choice" but to shut­ter mosques. On Nov. 19, Ben Car­son com­pared refugees to ra­bid dogs. In short or­der, some two dozen gov­ernors—mostly, but not en­tirely Re­pub­lic­an—vowed to block the re­set­tle­ment of refugees (though fed­er­al courts re­af­firmed they leg­ally can­not).
An in­fam­ously "do-noth­ing" Con­gress leapt to slam the door on Syr­i­an refugees. On Nov. 17, Sen­ate Ma­jor­ity Lead­er Mitch Mc­Con­nell and new House Speak­er Paul Ry­an called for a "pause." Two days later, 47 Demo­crats helped pass the "Amer­ic­an Se­cur­ity Against For­eign En­emies Act" to ef­fect­ively block refugees from Syr­ia and Ir­aq, by a veto-proof ma­jor­ity of 289-137. "Today the House put polit­ics aside to help keep the Amer­ic­an people safe," Ry­an said.
The White House threatened to veto, but sev­er­al sen­at­ors, des­pite re­ject­ing the scape­goat­ing of refugees, said they'd sup­port the House pro­pos­al.
Obama slammed the re­sponse as anti-Amer­ic­an and dan­ger­ous—and in re­turn was charged for be­ing a "di­vider in chief." The ad­min­is­tra­tion scrambled to counter the mis­in­form­a­tion that the U.S. wasn't vet­ting refugees by or­gan­iz­ing brief­ings for law­makers and re­port­ers and launch­ing the "#RefugeesWel­come" cam­paign.
France will remain a country of freedom. "
President François Hollande
On Nov. 19, Comey and At­tor­ney Gen­er­al Lor­etta Lynch said they wer­en't aware of any cred­ible, spe­cif­ic threats of a "Par­is-type at­tack," in the U.S. "We are watch­ing people of con­cern us­ing all of our law­ful tools, and if we see something, we're go­ing to dis­rupt it," Comey said.
On Nov. 20, gun­men af­fil­i­ated with al-Qaida killed 19 at a Mali hotel, in­clud­ing one Amer­ic­an.
On Nov. 25, Obama again took a po­di­um to re­as­sure the Amer­ic­an pub­lic. Flanked by Lynch and Comey, he said, "The com­bined re­sources of our mil­it­ary, our in­tel­li­gence and our home­land se­cur­ity agen­cies are on the case. In the event of a spe­cif­ic, cred­ible threat, the pub­lic will be in­formed."
On Nov. 27, a man killed a po­lice­man and two oth­ers at a Planned Par­ent­hood in Col­or­ado, spark­ing de­bate on do­mest­ic ter­ror­ism.
At a rally the next day, Trump didn't men­tion Col­or­ado, but said, "If some of those folks that were just slaughtered in Par­is, if a couple of guns were in that room that were held by the good guys, you woulda had a dif­fer­ent story."
The White House began shift­ing the heat from refugees to the U.S. visa-waiver pro­gram, which al­lows 20 mil­lion vis­it­ors per year to travel here without a visa if they are cit­izens of 38 part­ner coun­tries—in­clud­ing France. They go through mul­tiple screen­ings, but the ad­min­is­tra­tion has ac­know­ledged ter­ror­ists, such as 9/11 hi­jack­er Za­cari­as Mous­saoui, have ex­ploited the pro­gram.
On Nov. 30, the White House an­nounced that DHS could flag pas­sen­gers who had traveled to "a ter­ror­ist safe haven" and hike fines on air­lines that don't veri­fy pass­ports.
On Dec. 1, In­tel­li­gence com­mit­tee rank­ing mem­ber Sen. Di­anne Fein­stein and Sen. Jeff Flake in­tro­duced the "Visa Waiver Pro­gram Se­cur­ity En­hance­ment Act." (There are at least eight pending bills ad­dress­ing the pro­gram.)
Flake stressed bi­par­tis­an­ship. "It's im­port­ant that Con­gress work to­geth­er in a mean­ing­ful way to en­sure that those who would do us harm on our own soil are un­able to do so," he said.
Then San Bern­ardino happened.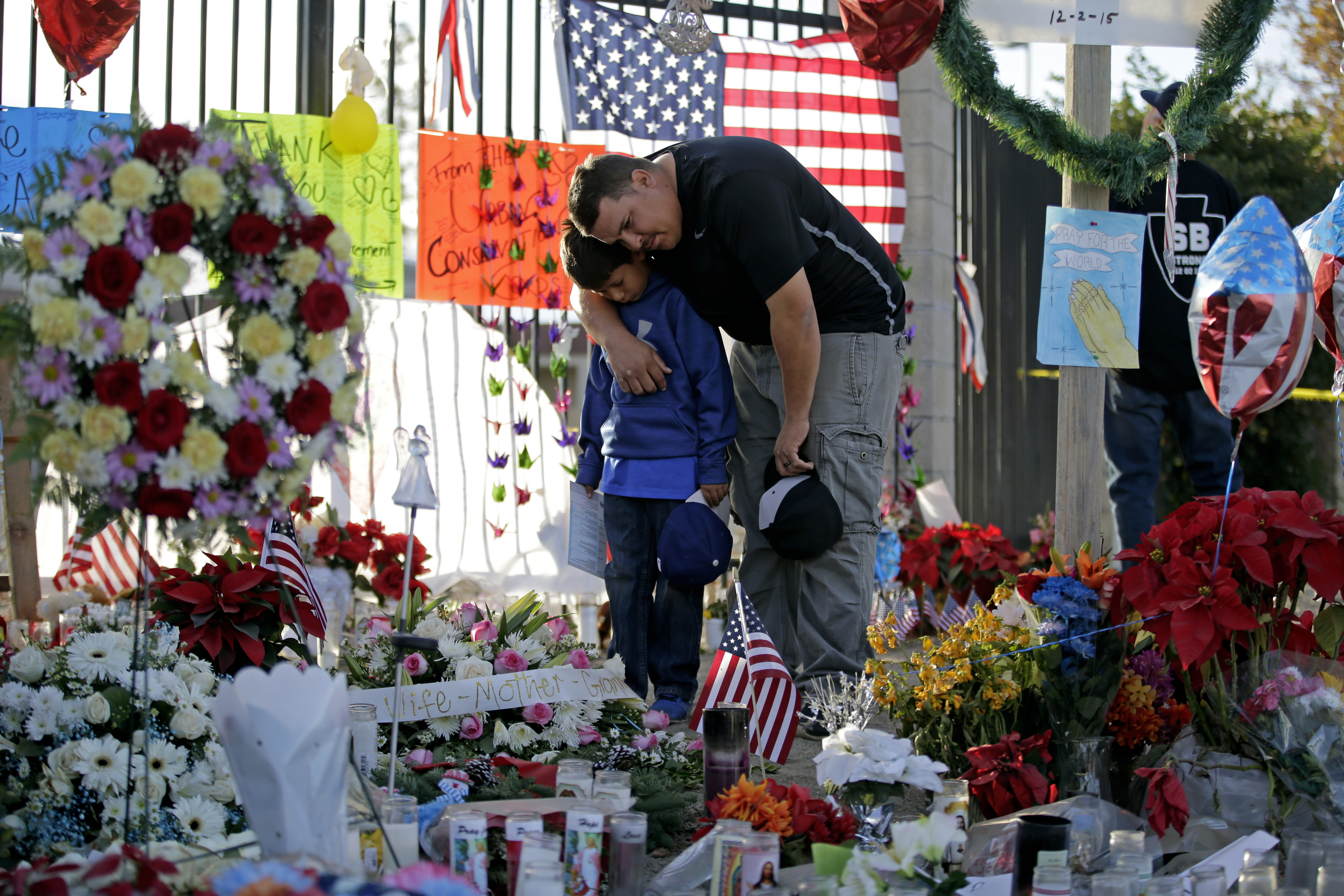 On Dec. 2, a couple used two mil­it­ary-style as­sault rifles to kill 14 people at a hol­i­day party in San Bern­ardino be­fore be­ing killed by po­lice.
The FBI and oth­er law en­force­ment are re­fer­ring to the at­tack­ers as do­mest­ic ter­ror­ists who had been "self-rad­ic­al­ized" for at least two years. The couple pledged al­le­gi­ance to IS­IS on so­cial me­dia, and the group called them "sym­path­izers."
Tash­feen Ma­lik, a Pakistani re­lated to Is­lam­ic mil­it­ants, came to the U.S. in Ju­ly 2014 on a K-1 "fi­ancee" visa and mar­ried Syed Rizwan Farook, an Amer­ic­an cit­izen.
Des­pite stat­ing on so­cial me­dia that she sup­por­ted ji­had, Ma­lik passed three U.S. na­tion­al se­cur­ity and crim­in­al back­ground checks and two in-per­son in­ter­views. She didn't flag data­bases, and of­fi­cials don't typ­ic­ally re­view so­cial me­dia. On Monday, the The Wall Street Journ­al re­por­ted that the ad­min­is­tra­tion is now con­sid­er­ing re­quir­ing so­cial-me­dia re­views, which Con­gress is look­ing at as well, with Armed Ser­vices Com­mit­tee Chair­man John Mc­Cain in­tro­du­cing a bill to do so Tues­day af­ter­noon.
A friend who pur­chased the weapons used in the at­tack is also con­nec­ted to the couple by mar­riage; his wife, a re­l­at­ive of Ma­lik, came to the U.S., along with her sis­ter, on J-1 vis­it­or ex­change visas, an­oth­er scru­tin­ized pro­gram.
The con­trast between 2016 can­did­ates' re­sponses was stark: the Re­pub­lic­ans is­sued nearly identic­al state­ments us­ing "thoughts and pray­ers" while the Demo­crat­ic field called for gun re­form.
In Wash­ing­ton, Obama crit­ics again seized on the at­tack and his prime­time call to stay the course. While not­ing that the in­tel­li­gence com­munity failed to an­ti­cip­ate the at­tack, they also of­ten con­flate the se­cur­ity re­quire­ments of the refugee, visa-waiver, and K-1 pro­grams.
As we squeeze its heart, we'll make it harder for ISIL to pump its terror and propaganda to the rest of the world. "
President Barack Obama
Last Tues­day, the House passed the Visa Waiver Pro­gram Im­prove­ment Act of 2015 by an over­whelm­ing vote of 407-19. (Thus far, Re­pub­lic­ans have been re­luct­ant to go after the "fi­ancee visa.")
Though au­thor­it­ies haven't found that the at­tack­ers used en­cryp­tion, on Dec. 9, Comey noted that they still can't ac­cess 109 en­cryp­ted mes­sages a Texas shoot­er ex­changed with an "over­seas ter­ror­ist," be­cause the May at­tack oc­curred after cer­tain NSA powers lapsed. But he ad­ded, "To find those that are rad­ic­al­iz­ing and be­ing in­spired by these ter­ror­ist groups is a very, very hard thing."
That hasn't stopped 2016 can­did­ates. Ahead of the GOP de­bate, Sen. Marco Ru­bio has been hit­ting Cruz's vote to end the NSA's bulk metadata pro­gram as "isol­a­tion­ist."
At first, it seemed Trump's Muslim ban went too far. House Speak­er Ry­an said: "This is not con­ser­vat­ism." Mc­Con­nell called it "com­pletely in­con­sist­ent with Amer­ic­an val­ues." Mc­Cain told De­fense One it was "fool­ish­ness," not­ing Muslim al­lies. Yet all three said they'd sup­port Trump if he were nom­in­ee.
Pentagon spokes­man Peter Cook said Trump's rhet­or­ic was "con­trary" to na­tion­al se­cur­ity. De­fense Sec­ret­ary Carter said law­makers are sty­my­ing the coun­terter­ror­ism ef­fort. He en­cour­aged Con­gress to pass an "om­ni­bus" spend­ing bill, call­ing con­tinu­ing res­ol­u­tions a "strait­jack­et."  
On Thursday, Con­gress passed a con­tinu­ing res­ol­u­tion to Dec. 16. Ry­an said Tues­day there will be an­oth­er short ex­ten­sion, though the $1.1 tril­lion deal is near com­ple­tion.
Mean­while, the White House is ratchet­ing up its pub­lic-re­la­tions cam­paign, be­gin­ning on Dec. 8 to provide reg­u­lar NSC "Counter-ISIL Round-Ups," and on Fri­day launch­ing a web­site on the counter-IS­IS fight. Last Sunday, Pres­id­ent Obama gave a rare Oval Of­fice ad­dress ur­ging Amer­ic­ans to unite in the wake of San Bern­ardino. Ramp­ing up his pub­lic re­as­sur­ance, on Monday Obama con­vened a na­tion­al se­cur­ity meet­ing at the Pentagon; on Thursday he'll vis­it the Na­tion­al Coun­terter­ror­ism Cen­ter.
"As we squeeze its heart, we'll make it harder for ISIL to pump its ter­ror and pro­pa­ganda to the rest of the world," Obama said Monday.
The ad­min­is­tra­tion is also call­ing out con­gres­sion­al in­ac­tion on "com­mon-sense" se­cur­ity steps, such as keep­ing those on ter­ror watch­lists from buy­ing mil­it­ary-style weapons and passing an au­thor­iz­a­tion for the use of mil­it­ary force, or AUMF, against IS­IS.
As House Demo­crats re­peatedly fail to force a gun-con­trol vote, Rep. Tom Mc­Clin­tock, who was in­ad­vert­ently put on a no-fly list, summed up op­pos­i­tion: "The best de­fense against an armed ter­ror­ist is an armed Amer­ic­an."
Aides said the hand­ful of com­pet­ing im­mig­ra­tion meas­ures, from refugees to visa waivers, were also a live part of the om­ni­bus ne­go­ti­ations, but Ry­an told his caucus Monday night lan­guage to tight­en re­stric­tions on Ir­aqi and Syr­i­an refugees didn't make it in. More than half the Demo­crats who backed the House refugee "pause" have re­versed, and visa waiver changes are more likely — a small but much-needed vic­tory for the ad­min­is­tra­tion.
And yet as Re­pub­lic­ans and Demo­crats on the cam­paign, in Con­gress, and at 1600 Pennsylvania Av­en­ue look to score polit­ic­al points on na­tion­al se­cur­ity, many are ab­dic­at­ing re­spons­ib­il­ity in the race to 2016.
Ry­an re­it­er­ated Tues­day that Re­pub­lic­ans want the White House give them a plan, but don't count an AUMF. The White House sub­mit­ted its AUMF 10 months ago, and some dozen dif­fer­ent ver­sions have been in­tro­duced, but Con­gress hasn't ac­ted.
In­tel­li­gence Com­mit­tee Chair­man Richard Burr told De­fense One last week, "Be­lieve it or not, you can solve all of that by hav­ing a strategy in Syr­ia to de­feat IS­IS. And if you don't do that, then you prob­ably can't beef up visa waiver and refugee policy enough."
Sen. Chuck Schu­mer said an AUMF could be a for­cing mech­an­ism—for Re­pub­lic­ans.
The White House says law­makers are dodging, but it doesn't need new au­thor­ity. "I'm not a law­yer," Carter, "but I'm told, and I'm glad, oth­er­wise it would be a prob­lem, we have the leg­al au­thor­ity to do what we want to do."
In the Syrian seeking refuge today, we should see the Jewish refugee of WWII. "
President Barack Obama
The 2016 can­did­ates talk tough, but most have yet to spe­cify how their na­tion­al se­cur­ity strategy would dif­fer from Obama.  
"Our strategy with rad­ic­al Is­lam­ic ter­ror­ism should be very simple: We win, they lose," Cruz said last week. But when asked how, he said, "whatever else is ne­ces­sary."
Clin­ton will give a coun­terter­ror­ism speech Tues­day on "the threat of do­mest­ic rad­ic­al­iz­a­tion," demon­strat­ing "the most ef­fect­ive plan" is true to Amer­ic­an val­ues  — as Obama has also em­phas­ized.
"In the Syr­i­an seek­ing refuge today, we should see the Jew­ish refugee of WWII," Obama said at a nat­ur­al­iz­a­tion ce­re­mony Tues­day.
As Obama heads to Hawaii for the hol­i­days, Carter to the Middle East, and Kerry to Rus­sia, the 16-month-old war against IS­IS goes on. The U.S.-car­ried co­ali­tion has con­duc­ted nearly 9,000 strikes. The U.N. pre­dicts 2016 will be the high­wa­ter mark for refugees. And des­pite more ne­go­ti­ations set for Fri­day, even Obama ac­know­ledges that Bashar al-As­sad will likely out­last him.
Wel­come to 2016.