If you're zoom­ing from Tampa to Or­lando on In­ter­state 4, you'll pass, and prob­ably ig­nore, Lake­land, Flor­ida, pop­u­la­tion 100,710. When the town makes it in­to the na­tion­al news, it's usu­ally thanks to a loc­al who has made a bad choice, such as the 23-year-old who re­cently used the video plat­form Peri­scope to broad­cast her­self driv­ing home drunk, or the 31-year-old who po­lice said beat his broth­er in the face with a three-foot marijuana plant. But when it comes to pres­id­en­tial elec­tions, Lake­land is sig­ni­fic­ant: It oc­cu­pies one of the purplest re­gions of one of the weight­i­est swing states in the coun­try. In 2008 and 2012, John Mc­Cain and Mitt Rom­ney both edged Barack Obama by sev­en points in Polk County—where Lake­land is loc­ated—but re­gistered Demo­crats cur­rently out­num­ber re­gistered Re­pub­lic­ans.
"The I-4 cor­ridor swings Flor­ida," says Bruce An­der­son, a polit­ic­al sci­ent­ist at Flor­ida South­ern Col­lege. "And Lake­land is the heart of the I-4 cor­ridor. Lake­land de­term­ines the out­come. If you're look­ing for one but­ton in the gen­er­al elec­tion, it's right here. You're at Ground Zero." Be­cause of Lake­land's repu­ta­tion as a de­cis­ive spot, politi­cians and their spouses are di­li­gent about stop­ping there, in­clud­ing, in re­cent years, Obama, Rom­ney, Mc­Cain, Paul Ry­an, Dick Cheney, George W. Bush, and Eliza­beth Ed­wards.
This, however, is not a story about swing voters—those people who, when in­ter­viewed, re­veal that every well-in­formed voter on Elec­tion Day will be can­celed out by someone who thinks Ted Cruz is the star of Mis­sion Im­possible. It is about their less-pub­li­cized cous­ins: non-voters, a group that, in Amer­ic­an polit­ics, is usu­ally either ig­nored or scorned.
There are, ad­mit­tedly, some grounds for in­dif­fer­ence or neg­at­iv­ity to­ward the non-voter. I sus­pect one of the reas­ons we re­sent these ab­stain­ers is that, at some level, we view them as selfish. Vot­ing, after all, in­volves some (small) meas­ure of sac­ri­fice: The "Downs Para­dox," based on a 1957 book by eco­nom­ist An­thony Downs, pos­its that, for any self-in­ter­ested cit­izen, the cost of vot­ing—the lines, the in­ter­rup­tions to the work­day—are great­er than any real­ist­ic in­di­vidu­al be­ne­fits, giv­en the min­is­cule chances that one vote will de­term­ine the out­come of a race. For those of us who, out of a sense of civic ob­lig­a­tion, stand in line to toss a drop in the buck­et for our can­did­ate of choice, the idea that we should make much of an ef­fort to listen or cater to the shirk­ers might seem pre­pos­ter­ous.
Even so, I was curi­ous. There are a lot of non-voters—more than two-fifths of the vot­ing-eli­gible pop­u­la­tion—which means that to­geth­er they wield con­sid­er­able un­used power. And I figured Lake­land was the ideal place to learn more about them. Bal­anced on the knife-edge of a ma­jor swing state, one in which a hand­ful of people really did come close to swinging a whole elec­tion in 2000, it's the kind of loc­ale where one would ex­pect the lure of vot­ing to be es­pe­cially strong. In such an en­vir­on­ment, the per­son who stays home on Elec­tion Day must be a hard-core non-voter, someone who feels … well, what, ex­actly?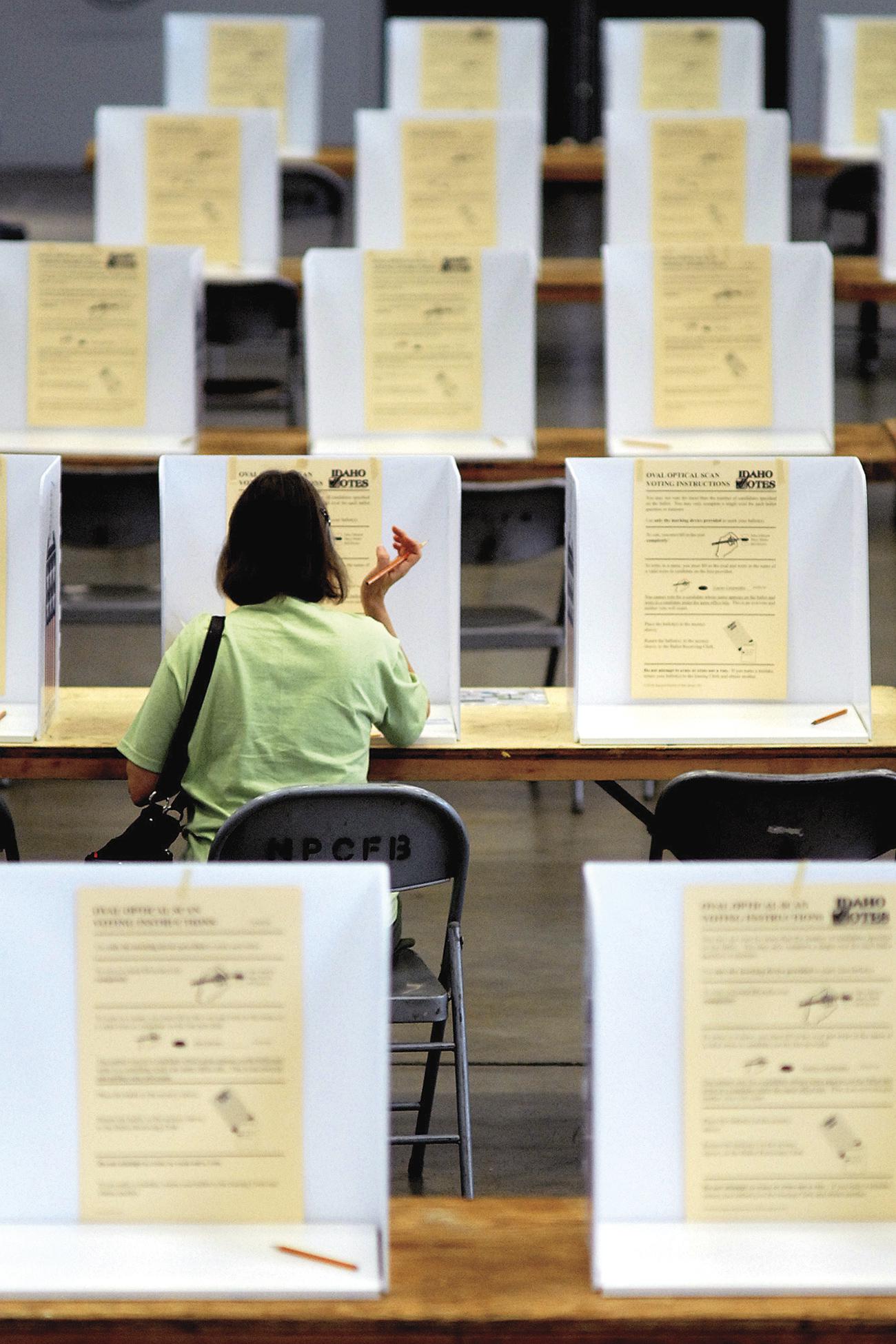 I AR­RIVED IN Lake­land on Sunday af­ter­noon, Novem­ber 1. It was a few days be­fore a loc­al elec­tion, and, along the north-south artery of Flor­ida Av­en­ue, I saw signs ad­vert­ising an in­cum­bent city com­mis­sion­er, Phil­lip Walk­er, and two chal­lengers—one of whom seemed to have run and lost in just about every loc­al race over the past dec­ade, and an­oth­er who looked to be 14 years old. I con­tac­ted the can­did­ates in hopes of watch­ing them try to rally the masses, but none re­spon­ded.
How do you find a non-voter? The only tech­nique I knew of was to ask—and ask, ask, and ask. Over the course of sev­er­al days, I ap­proached people in parks, on their porches, in their yards, in res­taur­ants, at Wal­mart, at the DMV.
I soon learned that many people in Lake­land are well aware of their po­ten­tial power. On Elec­tion Day in 2012, about 57 per­cent of eli­gible Amer­ic­ans turned out to vote. In Lake­land, that fig­ure was 72 per­cent, identic­al to the gen­er­al turnout in Flor­ida. My in­ter­views on a nature trail on the south­ern side of Lake Hollings­worth, a pros­per­ous area near the Yacht Club, led only to voters. At the Wal­mart Su­per­cen­t­er, to the west, all the white shop­pers and most of the black shop­pers told me they voted.
Over at Hoot­ers, which was hon­or­ing the troops that week by hav­ing wait staff wear in­suf­fi­cient cloth­ing in a cam­ou­flage pat­tern, the cus­tom­ers were all older, mostly white, and mostly male—and they voted. I ap­proached three young His­pan­ic-look­ing men, but they told me that they came from out­side Lake­land and happened to be in an im­port­ant meet­ing. This seemed be­liev­able. I found no non-voters there, and my club sand­wich was dis­ap­point­ing.
At the his­tor­ic Polk Theatre near Main Street, where there was a packed house for an event fea­tur­ing Chris­ti­an mu­si­cians, the kids ex­it­ing the show were voters or voters-to-be.
What I was start­ing to see up-close was something that the na­tion­wide demo­graph­ic data bears out: Voters are wealth­i­er, more edu­cated, and more white than non-voters. Ac­cord­ing to the Pew Re­search Cen­ter, while 72 per­cent of voters have a re­tire­ment ac­count, only 37 per­cent of non-voters do. While 71 per­cent of voters have edu­ca­tion bey­ond high school, only 45 per­cent of non-voters do. And while Lati­nos make up 15 per­cent of the pop­u­la­tion, they make up 6 per­cent of voters and 23 per­cent of non-voters.
In oth­er words, as long as I was look­ing in middle-class or up­per-class set­tings, chat­ting with middle-class or up­per-class people, non-voters were nearly im­possible to find. I was far like­li­er to be suc­cess­ful when I ap­proached people who ap­peared to be work­ing-class or poor (and who, when in­ter­viewed, turned out to be so).
Some of the first non-voters I found were work­ing-class His­pan­ic wo­men. (I met sev­er­al people who were un­doc­u­mented im­mig­rants, but I didn't in­ter­view them, since the ques­tion of "Why don't you vote?" had an ob­vi­ous an­swer.) Jo­hem San­ti­ago, a 26-year-old nurs­ing stu­dent, said she'd like to see more jobs, bet­ter schools, and bet­ter pro­tec­tion for re­li­gious people, but she didn't think vot­ing made any dif­fer­ence. Jack­eline Rivera, who'd lived in Lake­land for three years, said she wor­ried about sup­port­ing her kids and pro­tect­ing them, es­pe­cially from pe­do­philes, but "I don't be­lieve any hu­man can change the world." Vir­gin­ia Rivera (no re­la­tion) said she voted for Obama in 2008 but hadn't voted since; she said "maybe" to vot­ing again but also said she didn't know what she cared about polit­ic­ally. I spoke to one middle-aged couple, Juan and Sylvia Son­era, who were faith­ful voters, but Sylvia's moth­er, whom they were vis­it­ing, hadn't voted since she moved here from Pu­erto Rico dec­ades ago. You might say these non-voters viewed Wash­ing­ton in the same way oth­ers view weath­er—as something pleas­ant or un­pleas­ant but either way un­con­trol­lable.
An­oth­er type of non-voter who came up again and again: the Flor­idi­an with a felony con­vic­tion. Flor­ida has one of the harshest laws in the na­tion re­gard­ing ex-con­victs, de­priving most felons of the vote for life. The rule af­fects one-in-10 Flor­idi­ans of vot­ing age—about 1.5 mil­lion people. Chad Fox, a young white man in Munn Park in the cen­ter of town, had gone to jail for meth pro­duc­tion. He said he wished he could vote, and if he did, he'd vote Re­pub­lic­an. Next to him was a friend, a young white wo­man with her child, get­ting some sun in the park. She, too, could no longer vote be­cause of a felony. At the ser­vice sta­tion where I bought Pay­day candy bars and gum at night, the lady be­hind the counter said she was a felon. Lori Ed­wards, the Polk su­per­visor of elec­tions, told me that ex-con­victs vis­it her of­fice reg­u­larly to plead for a res­tor­a­tion of full civil rights, something only the state's Board of Ex­ec­ut­ive Clem­ency can grant. "They come in here and tell me what they're do­ing to turn their lives around and how im­port­ant vot­ing is to them," Ed­wards said. "It's years and years and years of wait­ing and pa­per­work."
ON TUES­DAY AF­TER­NOON, Elec­tion Day, I drove to Chest­nut Woods Drive, a street with a couple dozen single-story houses—some brick, oth­ers wood or stucco—bounded on one end by a cul-de-sac. It is a no­tori­ously crime-plagued loc­a­tion, and drugs are an eco­nom­ic staple. Meet­ing me there were three mem­bers of an ini­ti­at­ive called Boots on the Ground—a group of Afric­an-Amer­ic­an wo­men from a loc­al church who each week march up and down Chest­nut Woods Drive, loudly singing and pray­ing, with the aim of bring­ing peace to the area.
Group founder Debbie Crumb­ley had agreed to come out to help in­tro­duce me to res­id­ents, and she had brought two oth­ers with her—Phyl­lis Wil­li­ams and Cyn­thia Hailey. All three had dressed for the oc­ca­sion, sport­ing cam­ou­flage fa­tigues and black com­bat boots, in­ten­ded to sig­nal war-like in­tens­ity of mis­sion. We parked at one end of the street, near an aban­doned car tire, and headed over to­ward two black wo­men stand­ing in front of a nearby house.
"Good to see y'all," called Crumb­ley to them. "Y'all doin' all right?"
"Strug­gling," said the older wo­man, who had short hair and a weathered face. Her name was An­nie Young, and her lips were clenched in dis­gust. "This new land­lord. He's nasty." Young's house was fall­ing in­to dis­repair, with closet doors com­ing off, pipes leak­ing, and air con­di­tion­ers break­ing. Her land­lord was re­fus­ing to fix it, ac­cus­ing her of fail­ing to pay rent. "I say, 'You nev­er had to run me down for my money.' But he been har­ass­in' me and har­ass­in' me ever since."
I don't want to vote. I don't like to vote. Anytime I go get my ID, I saw, 'I don't wanna vote.' "
After a short dis­cus­sion, Crumb­ley gen­er­ously launched in­to a segue for my be­ne­fit. "But you know some­times the people we vote for in of­fice, some­times they have to be the voice for us on cer­tain things," she said, turn­ing Young's at­ten­tion to me. "Let me in­tro­duce you to some­body."
Learn­ing I was a journ­al­ist, Young told me she'd love to vote, if she could. She was a felon. "I don't know how long you got to be out of the pris­on to vote," she said. "All the drugs, all the shoot­ing, to get the drugs out of here, that's what I'd vote for. Some­times I be scared to walk to my door at night."
I asked the young­er wo­man, Young's daugh­ter, An­gela Wil­li­ams, if she voted. "What for?" she answered. She didn't care to elab­or­ate. "I just don't." What things about life did she want to see changed? "I don't wanna be here," she said.
The school bus was due, and up the street came two young wo­men to meet their chil­dren. Min­erva Per­rin, 23, told me she planned to vote but nev­er had done so. I asked if she was a Demo­crat or Re­pub­lic­an. "I don't know if I'm either," she said. "I really don't know what I am." The oth­er wo­man, Latice Fish­er, 30, who wore her hair in fine braids, said, "I don't want to vote. I don't like to vote. Any­time I go get my ID, I say, 'I don't wanna vote.' " Why? "I feel they gonna stick us with some­body any­way, so just let 'em do what they do, and I just go along." But, she ad­ded, ges­tur­ing to­ward the street, "If you asked me to vote to knock this down, you got my vote. I'd be the first voter."
Across the street, on a porch, sat a lean, eld­erly wo­man with her hair pulled severely back and a ci­gar­ette in hand. Next to her was an urn filled with butts. Her name was Linda Henry, and she voted, she said, be­cause "look at all the years we wer­en't able to vote." But the young people on her street didn't vote. "I used to go around try­ing to lead the young­er gen­er­a­tion, but it got a little hard, even with pray­ing," she said.
A few doors down, sit­ting on a crate in his drive­way, was a gray-haired, quiet man in a navy work shirt. His name was Ar­thur Payne, and he'd worked for years driv­ing a skid-steer load­er. Payne used as few words as pos­sible and looked at me with in­credu­lity when I asked if he voted. "I say who wins, wins," he said. What did he care about—what would he want to change? He was quiet. "I'd like to see me do bet­ter than I'm do­ing," he even­tu­ally said. "I know that'll nev­er hap­pen." Was there noth­ing he could do to shape our polit­ics? "No," he said. "The world's gonna do what it's gonna do."
As we walked away, Phyl­lis Wil­li­ams began to dab her eyes. "Sorry, stuff like that both­ers me, it's just too sad," she said. "You have to—I don't know. Life can beat you so hard for so long you just give up. Which is what he's done. He's ac­tu­ally giv­en up."
The day was hot, and people sat out­doors. One young man sat in a chair in the shade, play­ing with his phone, look­ing like he wanted to be left alone. When Crumb­ley joked with him about games on his phone, though, he flashed a grin. "You're a re­port­er?" he asked me. "So people will listen to your voice? Can you tell them to put the speed bumps out here? So many kids out here, and people are speed­ing up and down, up and down."
Well, I said, this got to the idea of vot­ing. Why not pres­sure your coun­cil­man? He said he had a felony on his re­cord. No one was go­ing to listen.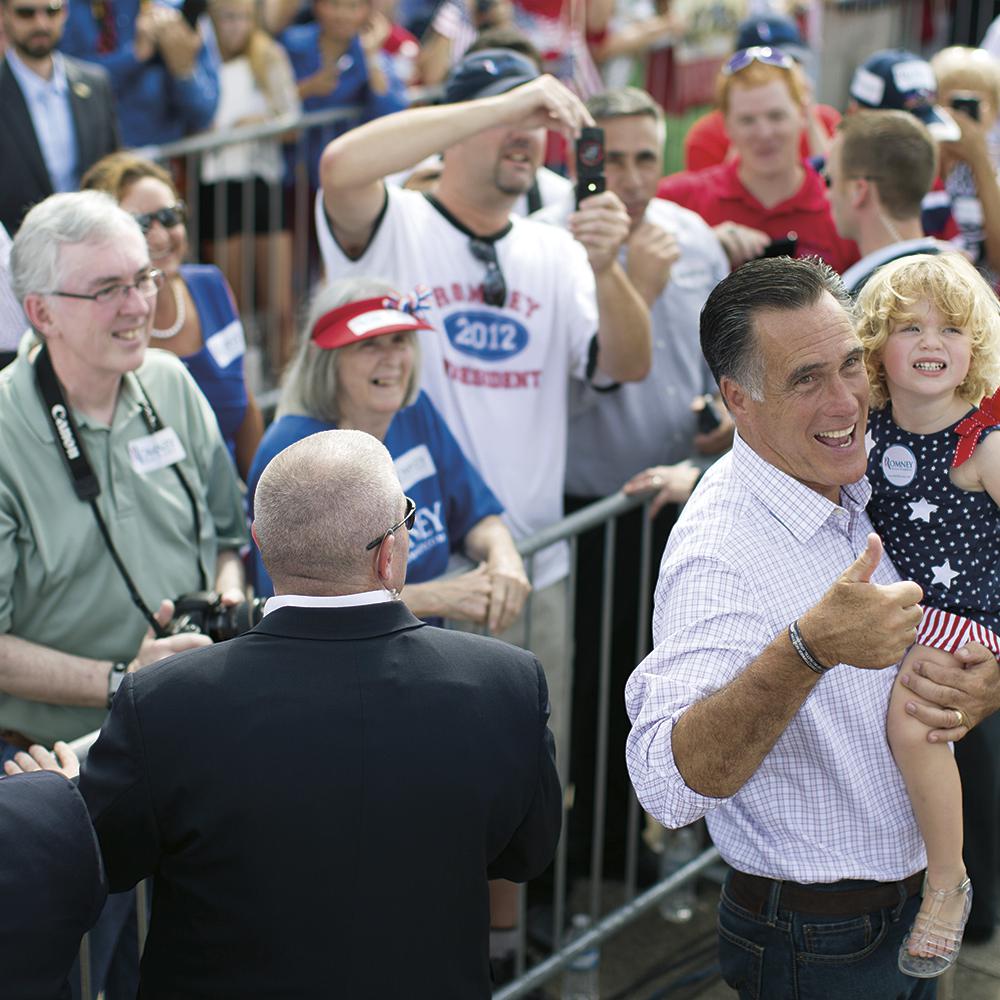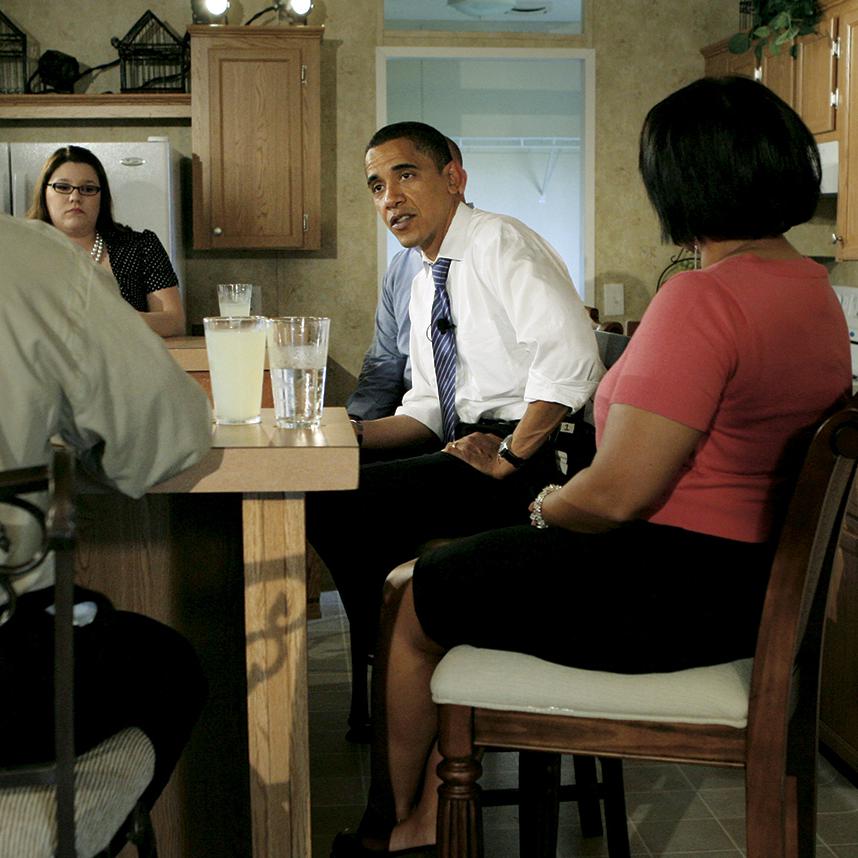 Nearby sat a group of older men play­ing dom­in­oes around a table in a drive­way. Some said they voted, but one, a middle-aged man named Eu­gene War­ing, said he didn't, of­fer­ing the same resig­na­tion that I'd heard from so many oth­ers. "It don't mean noth­ing to me," he said. "It gonna be the same no mat­ter what. They gonna do what they do."
When we knocked on the door of a small house with a garden out front, an eld­erly white wo­man, whose name was Laura Tyler, answered it, after shoo­ing two dogs out of the way. She'd got­ten di­vorced and was forced to sell a house in a wealthy part of town, buy­ing this one in a hurry in or­der to have a place to live with a house­mate. On a block with high crime and few white res­id­ents, she said she'd felt un­safe at first, but people there seemed to look out for her. "I don't know if any­body here does vote. That's why I de­cided to wear this," she said, point­ing to an "I Voted" stick­er on her shirt. "If they don't vote, things aren't gonna change."
One the­ory about non-voters holds that they are fun­da­ment­ally con­tent. "Amer­ic­ans are vol­uble com­plain­ers but are mostly com­fort­able," wrote colum­nist George Will in 2012, lay­ing out this line of thought. "The stakes of polit­ics are agree­ably low be­cause con­sti­tu­tion­al rights and oth­er es­sen­tial ele­ments of hap­pi­ness are not men­aced by elec­tions." I did not bring up Will's the­ory with the non-voters of Chest­nut Woods Drive.
IN THE WEALTHY south­ern sec­tion of Lake­land, pres­id­en­tial can­did­ate Ben Car­son was due for a pro­mo­tion­al sales ap­pear­ance at Books-A-Mil­lion. His bus rolled in­to a lot and parked out­side the store, as hun­dreds of people stood in line to get their books signed. Most were middle-aged and white, though a fair num­ber were black or Latino. What they ap­peared to have in com­mon was not race but class—middle, up­per-middle, up­per. People wore new eye­wear and but­ton-down shirts and gen­er­ally crisp, pressed cloth­ing.
I walked down the lines call­ing out for non-voters, look­ing for the non-par­ti­cipant who might have been in­spired by Ben Car­son to get in­volved for the first time. "Any­one here nor­mally a non-voter?" I asked, walk­ing slowly from the front to the back of the line. "Hi there. Any­one here nor­mally a non-voter? Any­one? No?"
No.
"You've got to vote," said Griselda Valdes, a vol­uble and merry middle-aged Cuban-Amer­ic­an wo­man who de­scribed Car­son as her "ima­gin­ary hus­band." (She cla­ri­fied: "He doesn't know it. My hus­band does.") Next to Valdes was her daugh­ter, in her 20s, who fo­cused on her iPhone and glanced oc­ca­sion­ally at her moth­er with af­fec­tion­ate mor­ti­fic­a­tion. Valdes said she was pro-life and pro-busi­ness, re­call­ing a teach­ing mo­ment from when her daugh­ter was 12 and saw a broad­cast about a rap­per who had a house with 18 bath­rooms. "And out of my dear daugh­ter's mouth came out, 'That's not fair,' " Valdes said. "Oh my God! That's not fair? He can have a 180 bath­rooms if he made his money from rap­ping and work­ing his butt off. This is cap­it­al­ism. You want your 180 bath­rooms, you freakin' get your 180 bath­rooms."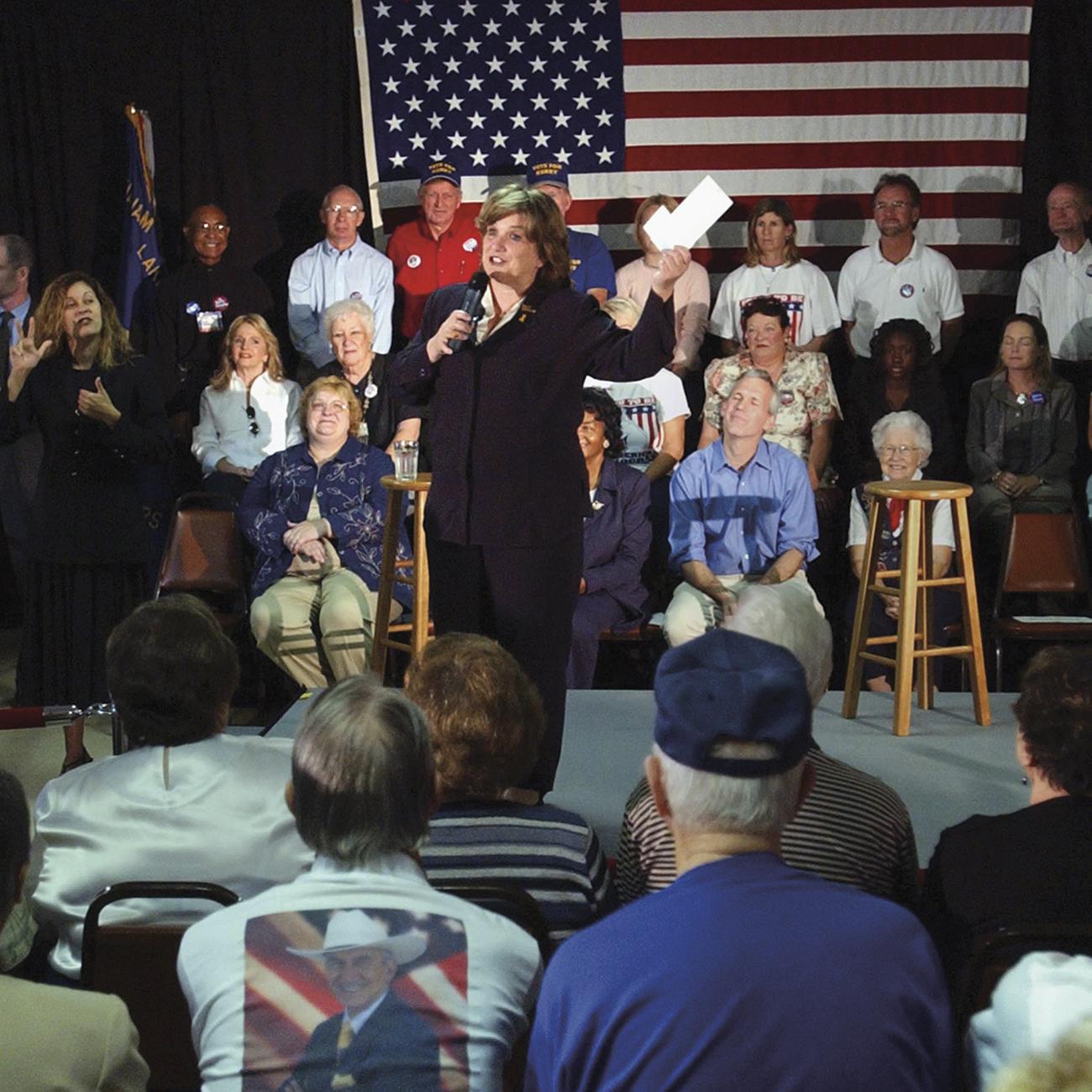 The con­trast between this scene and Chest­nut Woods Drive was a lot to take in, and I needed a place to think. I headed back to Hoot­ers. This time, it was less crowded and young­er. At the end of the bar sat a lean, middle-aged white male in a base­ball cap nurs­ing a beer. He of­ten grim­aced when he spoke, and it took me a mo­ment to real­ize it was noth­ing per­son­al. His name was Jerry Shauber­ger, and he was a non-voter who felt politi­cians "talk a lot of shit." He'd been in the ser­vice for 20 years, in­clud­ing a stint in the first Gulf War, and he felt pres­id­ent after pres­id­ent had let down the mil­it­ary. In the 1990s, he'd worked in con­struc­tion, but he even­tu­ally stopped be­ing able to get jobs, be­cause em­ploy­ers were hir­ing un­au­thor­ized work­ers and pay­ing them half the price. Now he was on dis­ab­il­ity, just over $700 a month, go­ing on five years, after be­com­ing par­tially para­lyzed on his left side. He'd moved in with his uncle. The only can­did­ate he felt talked any sense was Don­ald Trump, "who doesn't walk around the is­sues, says what's on his mind." He said a Trump nom­in­a­tion would make him con­sider a trip to the vot­ing booth.
At the oth­er end of the bar sat a Mar­ine Corps vet­er­an named Bobby Beote. He'd also served in the Gulf War, which had left him with severe stom­ach prob­lems and oth­er ail­ments—re­lated to what is now known as Gulf War Syn­drome—ever since. He had a full-time job at a re­cyc­ling com­pany, and he was re­ceiv­ing dis­ab­il­ity from the fed­er­al gov­ern­ment for his war-re­lated ill­ness. Like Shauber­ger, Beote, too, wanted to see more done for the mil­it­ary, and he offered an in­formed take on the news. Still, while he said he kind of liked Trump, he didn't see him­self vot­ing. Gov­ern­ment, he said, was "crooked from the bot­tom up."
Government, said one man who didn't see himself voting, is "crooked from the bottom up."
Dur­ing our in­ter­view, the bar­tender, Court­ney, a 22-year-old white wo­man out­fit­ted in the mil­it­ary cam­ou­flage shorts, broke in. "He's eat­ing," she pro­tested. "In­ter­view me. I've got noth­ing to do."
Court­ney, whose last name was Reese, said she'd re­gistered to vote be­cause she'd been ca­joled in­to it by the lady at the DMV. "She said, 'Meh, meh, meh, what about the world?' " said Reese. "I was like, 'Fuck­ing sign me up. Whatever.' " Reese said she had no in­ten­tion of go­ing to the polls: "No mat­ter what, I have to pay a shit-ton, and I get noth­ing back." She re­sen­ted be­ing forced to pay $180 for health in­sur­ance each month. What if she got hit by a bus? "If I get hit by a bus, which I have, when I was 14, I sued the fuck out of them and they paid for everything," she said. I asked if she would like a can­did­ate who prom­ised to lower taxes. She replied, "It wouldn't be a bad idea."
ON WED­NES­DAY, we learned that Phil­lip Walk­er had won reelec­tion to the City Com­mis­sion. I'd stopped by some polling sta­tions on Tues­day to see if any­one was there, but I saw only elec­tion work­ers. Since most Amer­ic­ans are guilty of non-par­ti­cip­a­tion in loc­al polit­ics, Lake­land non-voters were noth­ing un­usu­al in this re­spect.
My plan for the day, grim in the ex­treme, was to park my­self for many hours at the De­part­ment of Mo­tor Vehicles. This would en­sure a steady in­flux of people from all demo­graph­ic and eco­nom­ic groups. The Lake­land DMV is housed in an at­tract­ive Art Deco build­ing, but the in­teri­or was one of drab pas­tels and wait­ing-room chairs. I settled in.
As the day went on and I in­tro­duced my­self to per­son after per­son, the pat­terns were look­ing fa­mil­i­ar. Every­one who looked middle-class or wealth­i­er—crisper clothes, fan­ci­er hair, sharp­er eye­wear—voted. People who looked work­ing-class voted less re­li­ably. Lati­nos and Asi­ans (al­though I came across only two of the lat­ter, both non-voters) seemed to vote least, some­times be­cause they were not U.S. cit­izens, oth­er times be­cause they seemed dis­con­nec­ted from polit­ics. Among the His­pan­ic U.S. cit­izens I met, one, who had moved to Flor­ida from Hon­dur­as 12 years ago, said he didn't think his vote would change any­thing. An­oth­er, a car de­tail­er, said that if he voted, he'd be a Re­pub­lic­an, be­cause that's what his dad had told him to be; he in­dic­ated he might vote some­time, but he didn't seem in a hurry.
I spoke to a black teen­ager who said he didn't in­tend to vote be­cause we hadn't had a strong lead­er since JFK and he didn't trust any of the cur­rent can­did­ates. What he wanted to see was a "big­ger army," leg­al­ized marijuana, and dom­in­ance in the pro­duc­tion of oil. I spoke to a 24-year-old white wo­man who worked two full-time jobs, in­clud­ing one at KFC, at $8.25 an hour. She said she was a Re­pub­lic­an by up­bring­ing but didn't vote be­cause she was "just not that in­to all that stuff." She ex­plained that what bothered her were stor­ies of the De­part­ment of Chil­dren and Fam­il­ies pla­cing kids with ab­users but tak­ing away kids from moth­ers over marijuana pos­ses­sion. "I think that's bullcrap," she said. I spoke to a white 21-year-old with a heart con­di­tion who said he wanted a pres­id­ent who'd stop get­ting us in­to wars, as three of his friends had got­ten killed in Ir­aq, but he didn't in­tend to vote, be­cause noth­ing, he felt, could rein in U.S. for­eign in­ter­ven­tion. "I don't think any of them ac­tu­ally truly want to get all the way out," he said.
The story of non-voting in Lakeland was a story of poverty—of money and of hope. 
It was clear by now that the story of non-vot­ing, at least in a place like Lake­land, was a story of poverty—both of money and of hope. The tribu­la­tions of the non-voter were es­pe­cially vivid in the case of Den­ise Co­hagan, a white 48-year-old in blouse and slacks with long brown hair and a scar run­ning down the side of her throat. She'd had re­peated sur­ger­ies on her neck, and she seemed to need to shift reg­u­larly in her chair. "I feel like right now it's such a mess that it doesn't mat­ter who is in charge," she said, with a laugh. "They have a chal­lenge."
Co­hagan had a half-time job in a pain-man­age­ment clin­ic. The broken neck had been sus­tained dur­ing an ar­gu­ment with her ex-boy­friend, she said. The story got dark­er and dark­er: She'd been caught with sev­er­al grams of marijuana (and charged with a mis­de­mean­or—not a felony); she'd lost cus­tody of her chil­dren as a res­ult; she'd waited years in vain for Sec­tion 8 hous­ing; she'd re­cently taken in one of her chil­dren, now a moth­er her­self. But her man­ner was rarely self-pity­ing. "I walk three miles at least three times a week," she said at one point. "Life is a gift."
Among the fin­an­cial ob­lig­a­tions she had each month were $700 in rent, $130 in elec­tric bills, $50 for her cell phone, $106 for in­sur­ance pay­ments on a car that someone had giv­en her, and then food and cloth­ing. She can cov­er these with $793 in dis­ab­il­ity and her part-time job, which nets her an ex­tra $140 a week after taxes, al­beit at the ex­pense of $160 a month in food stamps. But her up­com­ing sur­gery would take her out of the work­force and back down to $793 a month.
"Then I go back in the hole again," she said.
How could she hold onto her apart­ment?
"I have a very gra­cious land­lord right now."
I re­turned to the sub­ject of polit­ic­al in­volve­ment. "I think they have their plan up­stairs, and us little people down here don't really mat­ter to them," she said. "I was glad that Obama won, only be­cause it was a minor­ity, you know, something dif­fer­ent. Now, I don't know."
She said she liked one pres­id­ent: Bill Clin­ton. "That's be­cause he got me my So­cial Se­cur­ity," Co­hagan said. "I struggled for six or sev­en years. Three little girls look­ing at me say­ing, 'Mom, what are we go­ing to do?' And my mom ac­tu­ally wrote Pres­id­ent Clin­ton, and that was the end of Oc­to­ber, and be­fore Thanks­giv­ing I got a let­ter say­ing we have checked in­to your situ­ation, and you'll be hear­ing from So­cial Se­cur­ity. I heard from them with­in three days."
I asked how she came to the con­vic­tion that "up­stairs" had noth­ing to do with her life, con­sid­er­ing she be­lieved that a U.S. pres­id­ent had in­ter­vened on her be­half. "Maybe I'm not fair on it," she said. "But when you're sick, or you're on dis­ab­il­ity, your every­day struggle is enough. What's go­ing on in the big world is some­times too much to handle."
IN 1980, polit­ic­al sci­ent­ists Ray­mond Wolfinger and Steven Ro­sen­stone pub­lished an in­flu­en­tial book called Who Votes? Ex­amin­ing sur­vey data and re­cent pres­id­en­tial elec­tion res­ults, they con­cluded that, on most polit­ic­al is­sues, voters showed the same dis­tri­bu­tion of opin­ions as non-voters. They also in­ferred, based on these sim­il­ar­it­ies of opin­ion, that the par­ti­cip­a­tion of a high­er num­ber of voters would have been un­likely to af­fect which can­did­ate won in re­cent elec­tions. This find­ing has been echoed in the work of schol­ars ex­amin­ing sub­sequent elec­tions. Many polit­ic­al sci­ent­ists have there­fore come to see non-vot­ing as a phe­nomen­on of min­im­al con­sequence.
Chal­len­ging this con­sensus, however, is a 2013 book by polit­ic­al sci­ent­ists Jan Leigh­ley and Jonath­an Na­gler. They ar­gue that Wolfinger and Ro­sen­stone, and those mak­ing sim­il­ar ar­gu­ments about elec­tion out­comes, omit­ted an im­port­ant factor: the in­flu­ence of voters on the policy pri­or­it­ies of the can­did­ates who win. As every­one knows, a pres­id­ent wins of­fice by ap­peal­ing—some­times pan­der­ing—to cer­tain blocs of voters based on their pet is­sues, and they face little pres­sure to heed the views of non-voters. Leigh­ley and Na­gler write that "if voters' pref­er­ences for the Demo­crat are based on the prom­ise of lib­er­al so­cial policies, and non-voters' pref­er­ences for the Demo­crat are based on the prom­ise of lib­er­al eco­nom­ic policies, then the non-voters are go­ing to suf­fer for stay­ing home." To put it an­oth­er way, if every­one voted, you might get Hil­lary Clin­ton either way, but the ver­sions of her would dif­fer. As the au­thors ex­plain, "who votes mat­ters for the most ba­sic out­come of polit­ics: who gets what."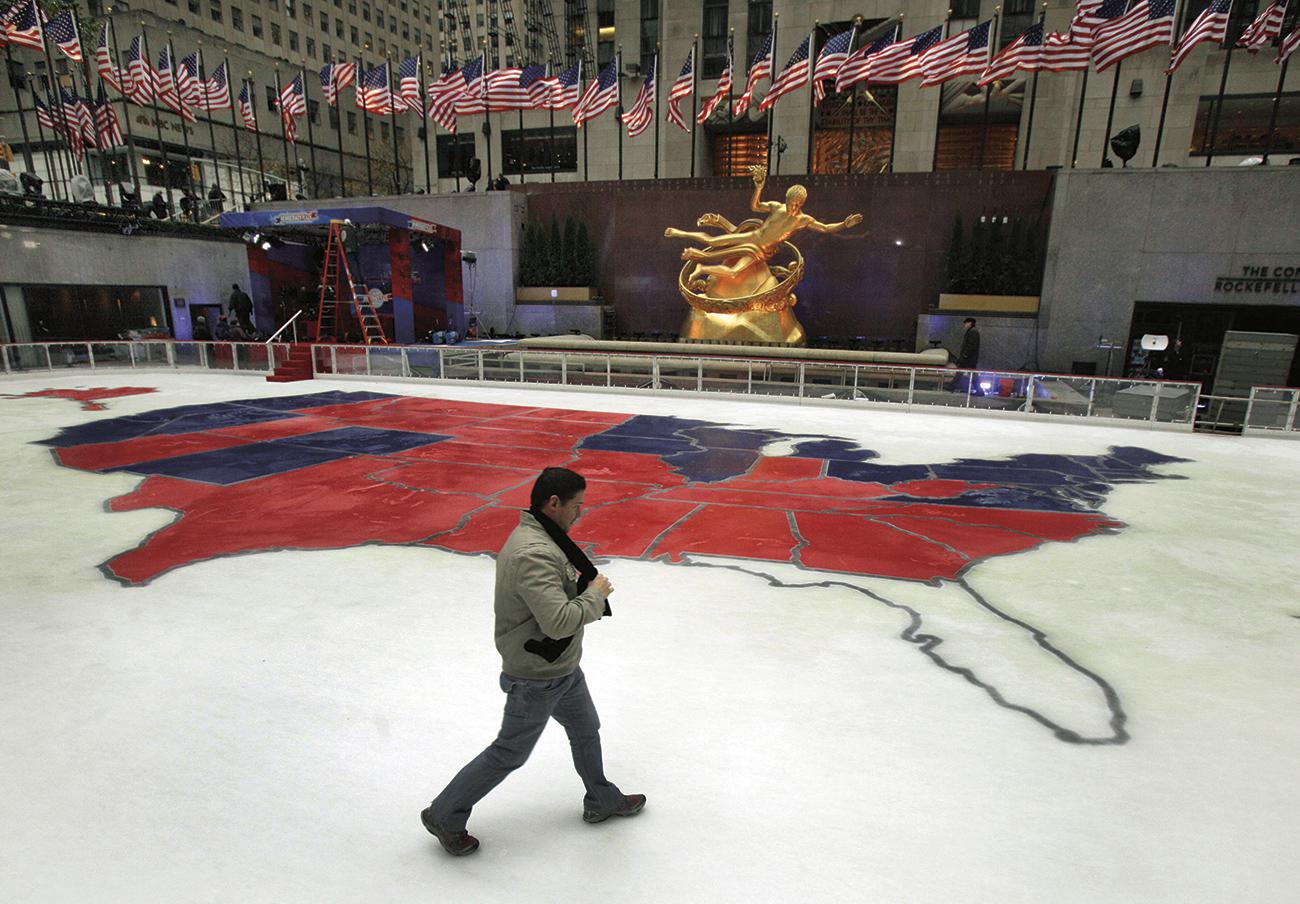 And voters and non-voters tend to dis­agree in one es­pe­cially im­port­ant realm: eco­nom­ics. As be­came all too clear to me in Lake­land, non-voters and voters have a dif­fer­ent so­cioeco­nom­ic pro­file, and so it should be no sur­prise that they have dif­fer­ent views on where the money should go. In 2010, Pew found that likely voters pre­ferred "a smal­ler gov­ern­ment provid­ing few­er ser­vices," by 61 to 32 per­cent, while non-voters pre­ferred the op­pos­ite, "a big­ger gov­ern­ment provid­ing more ser­vices," by 52 to 39 per­cent.
I MADE SOME fi­nal stops in a low-in­come neigh­bor­hood of small res­id­ences, trail­er-like in size. Out­side one was a thin, eld­erly white man who was walk­ing to­ward his front door with a plastic gro­cery bag in his hand. His name was Wil­li­am Holt, age 69, and he said he hadn't voted in over 30 years, after get­ting in trouble over child sup­port. (When I tried to un­der­stand more about the al­leged re­la­tion­ship between his dis­en­fran­chise­ment and de­lin­quent child sup­port, Holt seemed un­able to cla­ri­fy things.) His ac­cent, spoken in a gentle voice, was one of the deep South; he was born and raised in Lake­land. He said he liked Don­ald Trump, be­cause "he tells it like it is," but he didn't fol­low polit­ics that closely. He'd worked around the mines (phos­phate, ore) start­ing at age 15 and then worked 25 years as a paint­er, un­til be­ing af­flic­ted with brain can­cer at age 59. "I went on SSI," he said. "Then they put me on So­cial Se­cur­ity but they didn't give me that much raise." His cur­rent monthly check was $783, plus $62 in food stamps. The house, a mod­est trail­er-like struc­ture, was his moth­er's.
I asked how he covered his costs. "Struggle. Buy chips. Eat them at night," he said, point­ing to a large bag of tor­tilla chips in his gro­cery bag. "Go down and get me a can of Spam. Got my food stamps. When they run out, I don't eat that much right now." He felt wel­fare al­loc­a­tions favored his black neigh­bors, with young moth­ers get­ting un­fair amounts in food stamps. Then he changed the top­ic. "I heard we was in bil­lion-dol­lar debt to China," he said. "You know any­thing about that?" I said it was more like a tril­lion. He asked why the United States would let that hap­pen.
Sev­er­al doors down, in a yard en­closed by a chain-link fence, was a mar­ried white couple, Norma and Richard Ear­ley, both in their late 40s. Richard, with a white goat­ee and hair in a pony­tail, had been out of the work­force since the age of 22, when he'd gone on dis­ab­il­ity after an auto­mobile trans­mis­sion had fallen on his spine and shattered nine ver­teb­rae. Norma, short­er and broad­er, spoke in a low and husky voice. "They all say, we're gonna do this, we're gonna do that, and when they get in the White House, they do noth­ing," Norma said. Al­though Richard said he'd liked Bill Clin­ton and now sup­por­ted Hil­lary Clin­ton, neither he nor his wife voted.
Both Ear­leys said they wanted to see more gen­er­ous dis­ab­il­ity be­ne­fits, bet­ter im­mig­ra­tion en­force­ment, and re­stored rights to former felons. That's when it emerged that Norma was among this lat­ter group, re­leased from pris­on 11 years ago, which is why she couldn't vote. Her stint in pris­on also made her hard to em­ploy, and she felt she de­served an­oth­er chance in so­ci­ety. She worked "everything from ban­quets to bar­tend­ing to cash­ier­ing," thanks to a temp ser­vice. "I'm grate­ful for that," she said. "But I'll be lucky if I work three days a week. That's not enough to sur­vive on." Richard got $752 a month in dis­ab­il­ity. They had two kids liv­ing at home. Mean­while, she felt people could come across the bor­der il­leg­ally and take sim­il­ar jobs, while Wash­ing­ton politi­cians looked the oth­er way. "They're for­get­ting us," she said.
WHILE LAKE­LAND AT­TRACTS plenty of cam­paign­ing politi­cians, none of the non-voters I in­ter­viewed re­coun­ted ever be­ing ap­proached by any­one for their votes—and I asked many of them about this. (The res­id­ents of Chest­nut Woods claimed that no city com­mis­sion­er had ever paid a vis­it to their street.) Nor is ac­tiv­at­ing non-voters something that politi­cians speak of of­ten. After all, if adding new voters to the mix is un­likely to af­fect elec­tion out­comes, why spend re­sources cul­tiv­at­ing them, es­pe­cially if it might mean ad­just­ing your policy pri­or­it­ies? You risk dis­turb­ing a del­ic­ate co­ali­tion. "What do politi­cians have to gain by this?" asks El­len Shear­er, a North­west­ern Uni­versity journ­al­ism pro­fess­or who has stud­ied non-voters since 1996. "I don't like to sound cyn­ic­al, but they know their voters. They know how cer­tain groups will act. They don't know their non-voters."
If everyone voted, you might get Hillary Clinton either way, but the versions of her would have different policy priorities.
The res­ults feed on them­selves. The less politi­cians see any reas­on to try to ap­peal to non-voters, the less non-voters see any reas­on to prefer one over an­oth­er. "The low­est in­come group sees no dif­fer­ence between Re­pub­lic­an and Demo­crat­ic can­did­ates," says Leigh­ley. "That bot­tom 20 per­cent—they're out of the sys­tem. They are dis­con­nec­ted from the sys­tem, and the sys­tem has dis­con­nec­ted from them. Do we blame them? Or does it have to do with how cam­paigns are run? Or the nature of the me­dia and how cam­paigns are covered? We have no an­swers to that."
Nor do I. Should we have com­puls­ory vot­ing, as ex­ists in Aus­tralia or Bel­gi­um? There's a de­cent case for it, but co­er­cion of that sort seems con­trary to Amer­ic­an no­tions of liberty, in­clud­ing my own. Mak­ing it easi­er to vote is the aim of many act­iv­ists, but in most places vot­ing is pretty easy. In many states, you can vote early, vote ab­sent­ee, vote by mail, re­gister at the DMV, and show up without ID. There aren't many bar­ri­ers left to be lowered.
I do know that I came to de­test Flor­ida's life­time vot­ing ban on felons—es­pe­cially in an age when poor people are im­prisoned for the kind of drug crimes that rarely seem to catch up with rich people. Those I in­ter­viewed some­times asked me how long it would take for them to get their rights re­stored, and I had to an­swer it might be a long time, if ever. (Of­fend­ers must wait at least five years to ap­ply for a res­tor­a­tion of their rights, and as of earli­er this year, there was an enorm­ous back­log.) Ken­tucky's gov­ernor re­cently re­stored vot­ing rights to felons in his state who had served their time, leav­ing Flor­ida and Iowa as the only states with this vin­dict­ive policy. Time and again, I heard from people who seemed hu­mi­li­ated to be ex­cluded. They said you ought to get a second chance at cit­izen­ship once you've done your time. It's pretty hard to dis­agree.
I can't deny that many of these non-voters were min­im­ally edu­cated and poorly in­formed. One could ar­gue, and some writers and schol­ars have, that it's for the best for every­one, in­clud­ing non-voters, if they con­tin­ue to stay far from a bal­lot. But even a pat­ron­iz­ing case like this would be more per­suas­ive in a so­ci­ety that had pre­vail­ing norms of noblesse ob­lige, norms that say we must look out for our less for­tu­nate fel­low cit­izens. The days of such norms, if they ever held sway, are now re­mote. Who is look­ing out for An­nie Young, Den­ise Co­hagan, or Wil­li­am Holt?
In a na­tion of people liv­ing in bubbles, of opin­ion-makers talk­ing mainly to one an­oth­er, the views and lives of non-voters are about the fur­thest thing from the na­tion­al polit­ic­al agenda. The voices of right and left prefer to clash in the cul­ture wars—about sex, race, re­li­gion—all of which prom­ise more ex­hil­ar­a­tion than fights over dis­ab­il­ity be­ne­fits and hous­ing al­loc­a­tion and food stamps. Yes, vot­ing is pretty easy for most of us, and many non-voters are flawed and ir­re­spons­ible. But they are fel­low Amer­ic­ans, and many of them seem to be stuck on the side­lines of a rough game in which they feel they have little stake, oth­er than a jus­ti­fied fear of get­ting hit by the ball. For many people, non-vot­ing is an­oth­er way of say­ing: Amer­ica is not work­ing out for me. I wish Amer­ica had a bet­ter reply.