Last Novem­ber in Chica­go, on the Sat­urday after the Fer­guson grand jury de­clined to in­dict the of­ficer who shot Mi­chael Brown, Jesse Jack­son headed to the Plexiglas lectern in the Rain­bow PUSH chapel to de­liv­er his weekly ser­mon. He began his re­marks the way he al­ways does, by re­cit­ing a poem by At­lanta Pas­tor Wil­li­am Holmes Bor­ders that has be­come his sig­na­ture.
I am some­body.
I am some­body.
Re­spect me. Pro­tect me. Nev­er neg­lect me.
I am some­body.
In the late 1980s and 1990s, the chapel at the Rain­bow PUSH Co­ali­tion—the civil rights or­gan­iz­a­tion Jack­son foun­ded in 1971—was crammed each week with hun­dreds of wor­ship­pers, re­port­ers, and politi­cians wait­ing to hear him speak; TV satel­lite trucks routinely idled out­side. "The un­writ­ten book should be called, Any Giv­en Sat­urday, be­cause any giv­en Sat­urday, you didn't know who you were go­ing to meet," says Marty King, who has been chair­man of the Rain­bow PUSH board since 2000.
Today isn't any giv­en Sat­urday: It's one on which Jack­son will re­spond to a sig­ni­fic­ant civil-rights-re­lated event and lead con­greg­ants in a protest after the ser­vice. And yet there are only about 60 people in at­tend­ance. These days, it's not un­usu­al for the Sat­urday crowd to be figured in dozens; vo­lun­teer ush­ers have grown ac­cus­tomed to cor­ralling wor­ship­pers in­to the first five or six rows of the middle sec­tion of the sanc­tu­ary, so as to present a suit­able back­drop for the live-broad­cast cam­er­as. (The event is streamed on Rain­bow PUSH's web­site, and sim­ul­cast on iHeartRa­dio and the Afric­an-Amer­ic­an re­li­gious sta­tion The Word.)
"It doesn't both­er me one bit," Jack­son told me a month or so later, in his of­fices at Rain­bow PUSH, when I asked him how he felt about speak­ing to largely empty pews. "If I was go­ing to fo­cus on Chica­go like I used to, and went to every loc­al meet­ing and kind of beat the drums, it would be dif­fer­ent. I got back this morn­ing, I speak to­mor­row, and then I go to New York. That is more im­port­ant than hav­ing a church full."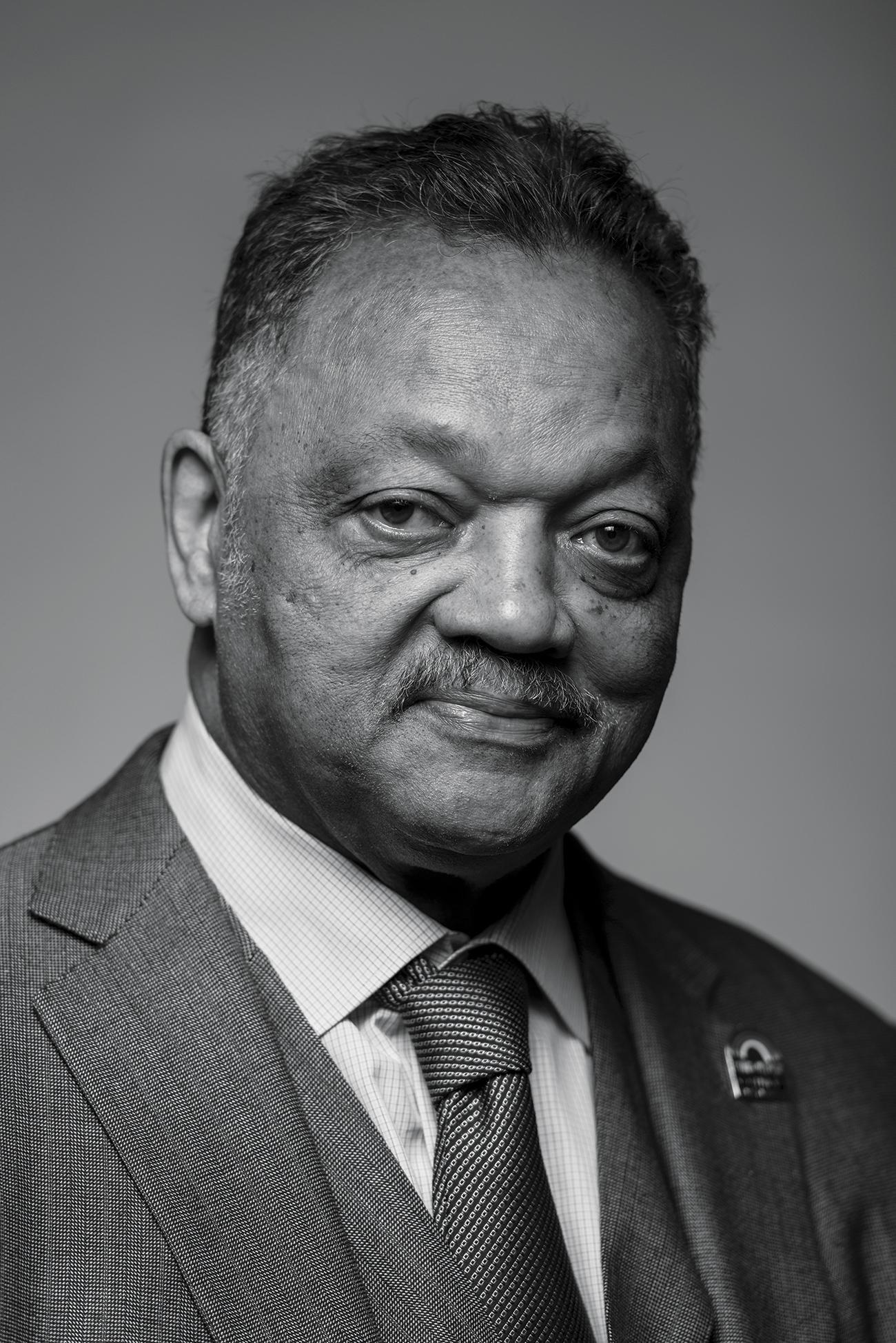 Jack­son, the son of the South­ern Chris­ti­an Lead­er­ship Con­fer­ence who seized the civil rights torch after Mar­tin Luth­er King's as­sas­sin­a­tion, tells me he's all about the big pic­ture these days. The civil rights move­ment, he likes to say, is in the fourth stage of the struggle: The first was to end slavery, the second was to end Jim Crow, the third was to win the right to vote, and the cur­rent phase is to gain ac­cess to cap­it­al, in­dustry, and tech­no­logy. This kind of change, he says, re­quires na­tion­al and glob­al, not loc­al, think­ing. So Rain­bow PUSH, which is fo­cused on urb­an eco­nom­ic de­vel­op­ment and minor­ity hir­ing, has branched out from its Chica­go base over the past dec­ade and now has satel­lite of­fices in At­lanta, De­troit, New York, San Fran­cisco, and Wash­ing­ton, D.C. And over the past year, Jack­son has led a pub­lic lob­by­ing cam­paign to in­crease the di­versity of the work­force and cor­por­ate board­rooms in Sil­ic­on Val­ley. These ef­forts have met with some suc­cess: Com­pan­ies like Apple, In­tel, Twit­ter, and two dozen oth­er tech firms have re­leased their demo­graph­ic stat­ist­ics and set new hir­ing tar­gets for blacks and Lati­nos. Mean­while, Apple has pledged $50 mil­lion to non­profit or­gan­iz­a­tions fo­cused on cor­por­ate di­ver­si­fic­a­tion, and In­tel an­nounced a $300 mil­lion minor­ity hir­ing ini­ti­at­ive.
Why, then, do Jack­son's friends and as­so­ci­ates sud­denly sound so wor­ried about his leg­acy? Al­though he still works con­stantly and main­tains a pun­ish­ing travel sched­ule, he is no longer the ubi­quit­ous pub­lic pres­ence—or the mass-me­dia fix­ture—he was for more than four dec­ades. He very much sees him­self as a link in a chain, yet he has no ob­vi­ous suc­cessor; no one seems in­clined or po­si­tioned to fol­low in his foot­steps the way he fol­lowed in MLK's. In­deed, in re­cent years, the dis­tance between him and those be­hind him has been grow­ing: He has found him­self all but sum­mar­ily dis­missed by the na­tion's first black pres­id­ent; sup­planted by Al Sharpton as the voice of the old guard on cable TV; and at odds with the Black Lives Mat­ter move­ment. He has had strong pub­lic dif­fer­ences with his name­sake son, whose once-prom­ising polit­ic­al ca­reer went down in scan­dal. And the fu­ture of his Rain­bow PUSH Co­ali­tion is also very much in doubt. Can it live bey­ond him? The ques­tion gives even his closest al­lies pause. "My guess is when he is no longer with us, that is when we find out," says Frank Watkins, Jack­son's long­time aide-de-camp.
The reas­ons have to do with Jack­son him­self—who he is, the choices he has made, the battles he has fought and won—but also with the pas­sage of time. Things have changed and so, per­haps, has the na­tion's need for, and use for, Jack­son's brand of civil rights lead­er. "We are wit­ness­ing all tra­di­tion­al in­sti­tu­tions in a crisis mo­ment," says Raphael War­nock, the pas­tor of King's former church, Ebenez­er Baptist, in At­lanta. "I think we are in a post-mod­ern mo­ment where all in­sti­tu­tions are viewed with sus­pi­cion, par­tic­u­larly by mil­len­ni­als." This sus­pi­cion ex­tends to in­di­vidu­als like Jack­son who, to some ex­tent, are in­sti­tu­tions them­selves.
Although he still works constantly and maintains a punishing travel schedule, he is no longer the ubiquitous public presence—or the mass-media fixture—he was for more than four decades.
As the ob­it­u­ar­ies con­tin­ue to fill up with the names of King's aco­lytes, those who re­main—Jack­son, Andy Young, C. T. Vivi­an, Joseph Lowery—are in­creas­ingly dis­con­nec­ted from the pub­lic con­ver­sa­tion on race and rights in Amer­ica. There are per­son­al con­sequences to this, of course: Without strong links to young­er act­iv­ists or the causes the next gen­er­a­tion finds most com­pel­ling, in whose memor­ies will the old guard and their con­tri­bu­tions live? But there is also the ques­tion of what a break in the chain would mean for the move­ment. If we are see­ing the last of a par­tic­u­lar type of civil rights lead­er, what, if any­thing, will we have lost when Jack­son and his peers are gone?
BORN IN GREEN­VILLE, South Car­o­lina, in 1941, to a teen­age moth­er and her mar­ried neigh­bor, Jack­son began at an early age to use his prodi­gious tal­ents to define him­self. By the time he reached high school, he was known for hav­ing a way with words and was also a prom­ising ath­lete; he later be­came a star quar­ter­back at North Car­o­lina A&T, as well as class pres­id­ent. But Jack­son also had a strong sense of high­er pur­pose, which led him to sem­in­ary school in Chica­go, where he moved with his wife, Jac­queline, and their young fam­ily be­fore re­turn­ing briefly to the South to join the protest marches in Selma and Mont­gomery. It was in these theat­ers that Jack­son won the af­fec­tion of King, who draf­ted him in­to the SCLC to serve as head of Op­er­a­tion Bread­bas­ket—an ini­ti­at­ive that or­gan­ized cam­paigns for eco­nom­ic justice. Their work­ing re­la­tion­ship would last just a few years, be­fore King was as­sas­sin­ated in Mem­ph­is in 1968.
Al­most from the mo­ment of King's death, Jack­son began to lay claim to the civil rights lead­er's mantle. His mach­in­a­tions in the im­me­di­ate af­ter­math—most in­fam­ously, his ap­pear­ance on the Today show wear­ing a tur­tle­neck he said was stained with King's blood—put him in the spot­light but also drew the wrath of King as­so­ci­ates, in­clud­ing Rev­er­end Ral­ph Abernathy, King's suc­cessor as the lead­er of the SCLC, and Cor­etta Scott King. Three years later, on­go­ing ten­sions with Abernathy led Jack­son to resign from Op­er­a­tion Bread­bas­ket, which he had suc­cess­fully ex­pan­ded from At­lanta to Chica­go. Jack­son, by then an or­dained min­is­ter, formed his own or­gan­iz­a­tion, PUSH, People United to Save Hu­man­ity. (He later changed the name to the more mod­est People United to Serve Hu­man­ity.) Ini­tially, the or­gan­iz­a­tion's mis­sion was sim­il­ar to Op­er­a­tion Bread­bas­ket's: It ad­voc­ated for eco­nom­ic op­por­tun­ity, spe­cific­ally fair em­ploy­ment and hous­ing prac­tices. But over the course of the 1970s and early 1980s, as Jack­son him­self be­came more in­volved in main­stream polit­ics, the group in­creas­ingly con­cerned it­self with voter re­gis­tra­tion and vot­ing rights.
The apo­theosis of this ef­fort came dur­ing Jack­son's runs for pres­id­ent. In 1984, he won 3.5 mil­lion votes dur­ing the Demo­crat­ic primar­ies; four years later, he nearly doubled that tally, fin­ish­ing a strong second in the nom­in­at­ing con­test and win­ning 11 primary races. Jack­son also chal­lenged the win­ner-take-all sys­tem of award­ing del­eg­ates, ul­ti­mately per­suad­ing his party to al­ter its rules and al­loc­ate seats pro­por­tion­ally. To­geth­er, his cam­paigns brought hun­dreds of thou­sands of new minor­ity voters in­to the polit­ic­al pro­cess.
In 1991, Jack­son moved from Chica­go to Wash­ing­ton, D.C., where he over­saw the es­tab­lish­ment of the Rain­bow Co­ali­tion, the mul­tiracial polit­ic­al pro­ject that grew out of his pres­id­en­tial bids. He also served as D.C.'s shad­ow sen­at­or, the closest he would ever come to hold­ing polit­ic­al of­fice. He re­turned to Chica­go in 1995, after his son Jesse Jr. was elec­ted to Con­gress, and merged his two or­gan­iz­a­tions. Today, Jack­son's domin­ion in­cludes four dif­fer­ent en­tit­ies: He serves as founder and pres­id­ent of the Rain­bow PUSH Co­ali­tion; pres­id­ent of the Cit­izen­ship Edu­ca­tion Fund, a voter-out­reach and pub­lic-policy or­gan­iz­a­tion; pas­tor of PUSH's church; and founder of PUSH for Ex­cel­lence, an edu­ca­tion­al non­profit.
"I think Jesse is like most of us—his time is over," says C.T. Vivian, a veteran civil rights leader.
At 74, Jack­son has now lived al­most twice as long as King did, and in some ways, the years them­selves have chipped away at his abil­ity ever to be the same kind of icon. "Hymi­etown," an af­fair with a staffer, an out-of-wed­lock child, and trouble with the IRS, among oth­er comedowns, have all di­min­ished the odds that he will ever be me­mori­al­ized on the Na­tion­al Mall. And his stumbles have been re­li­ably seized upon by a cast of crit­ics, on both the left and the right, who have con­demned him as an op­por­tun­ist, eager to sell the mor­al high ground to the top bid­der.
But the pas­sage of time has also al­lowed some of the seeds he helped sow to bear fruit. When we met back in Janu­ary, I asked Jack­son about Sharpton—spe­cific­ally why he, not Jack­son, was the one with the MS­N­BC show (it has since been can­celed) and how Jack­son felt about it. (Jack­son hos­ted a weekly cable show on CNN from 1992 to 2000.) "I have known Al since he was 12; I helped push him along," Jack­son said, in a voice gone ragged from his non­stop speak­ing sched­ule and a slight cold. This, to some ex­tent, is Jack­son's an­swer to all such ques­tions: that he has al­ways known he was en­sur­ing his own ob­sol­es­cence—that it is what he has been work­ing to­ward. When I ask him about the fu­ture of Rain­bow PUSH, for ex­ample, and about who might take the helm from him, he re­sponds: "I have al­ways spent time cul­tiv­at­ing the next, if not the next two, gen­er­a­tions. So many came in­to the move­ment dur­ing the 1984 cam­paign. They are now coun­cil­men, con­gress­men, and the like. So many came through the '88 cam­paign, and they are now work­ing in the private sec­tor, the pub­lic sec­tor. So there is now a broad fam­ily that has come through here."
One of the doors Jack­son helped open, his friends and sup­port­ers are quick to men­tion, is the one to the White House. Not only did his two cam­paigns help make it pos­sible for voters to en­vi­sion an Afric­an-Amer­ic­an pres­id­ent, they note, but it was Jack­son's in­sist­ence on the pro­por­tion­al al­loc­a­tion of del­eg­ates that al­lowed Barack Obama to win the nom­in­a­tion in 2008. In Septem­ber, at the fu­ner­al of Jack­son's moth­er, Helen, in Green­ville, South Car­o­lina, Max­ine Wa­ters, the Cali­for­nia con­gress­wo­man, told mourn­ers: "If there had been no Jesse Jack­son, there would be no Barack Obama."
But it is also true that, now that there is a Barack Obama, it is harder, if not down­right im­possible, to have a Jesse Jack­son. "Jesse is han­di­capped. All of us are han­di­capped," Andy Young, the former King lieu­ten­ant, may­or, and dip­lo­mat, told me late last year at his At­lanta home, "be­cause we have a black pres­id­ent who won't work with us … and whom we really don't feel com­fort­able cri­ti­ciz­ing."
C. T. Vivi­an, an­oth­er King as­so­ci­ate and civil rights icon, put it this way when I spoke to him dur­ing that same trip: "The lead­er now is Obama. The lead­er is polit­ic­al lead­er­ship. It has shif­ted from the kind of church lead­er­ship, from the kind of ac­tion lead­er­ship, but the su­preme ac­tion, the su­preme deal is with Obama and the White House." He ad­ded, "I think Jesse is like most of us—his time is over."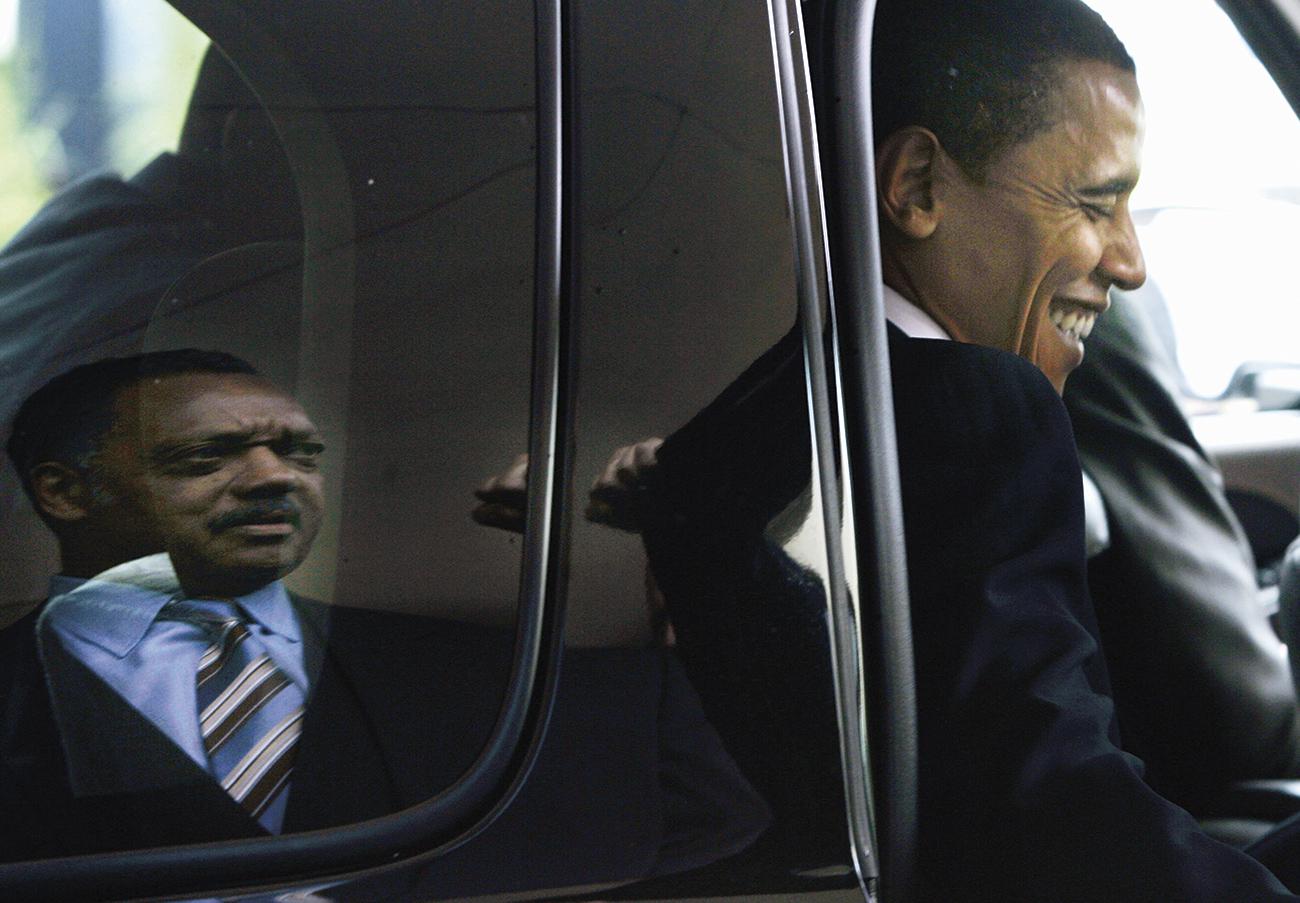 Jack­son was un­doubtedly destined to find him­self sup­planted to some ex­tent by the first black pres­id­ent, but he helped push him­self to the mar­gins with a com­ment he made dur­ing an ap­pear­ance on Fox News in the sum­mer of 2008. He was caught on a hot mi­cro­phone whis­per­ing to an­oth­er in­ter­viewee that Obama had been "talk­ing down to black people," which made Jack­son want to "cut his nuts off." Jack­son was up­set with the Fath­er's Day mes­sage Obama had de­livered at a black church in Chica­go a few weeks be­fore, in which Obama had cited ab­sent­ee fath­ers as a ma­jor factor in the Afric­an-Amer­ic­an struggle. Three days later, Jesse Jr. is­sued a state­ment con­demning his own fath­er's re­marks: "I thor­oughly re­ject and re­pu­di­ate his ugly rhet­or­ic."
Dur­ing the en­su­ing years, Jack­son, ac­cord­ing to Mark Halper­in and John Heile­mann's 2012 pres­id­en­tial cam­paign tome Double Down, was "ef­fect­ively banned from the White House." There have also been no pres­id­en­tial vis­its to Rain­bow PUSH, al­though it is loc­ated just around the corner from Obama's Chica­go home. "The or­gan­iz­a­tion's re­la­tion­ship with this White House has not been the tra­di­tion­al re­la­tion­ship it has had with oth­er ad­min­is­tra­tions, in­clud­ing both Bushes," Marty King told me.
In June, at the me­mori­al ser­vice for the pas­tor slain in the Char­le­ston, South Car­o­lina, church mas­sacre, C-SPAN's cam­er­as cap­tured Jack­son's pain­fully di­min­ished polit­ic­al stand­ing: The rev­er­end ap­peared to be re­peatedly ne­go­ti­at­ing with Secret Ser­vice agents for per­mis­sion to ap­proach Obama. At long last, he re­ceived a po­lite, if un­enthu­si­ast­ic, hand­shake.
"Barack has been very in­sult­ing and un­ap­pre­ci­at­ive and dis­respect­ful to Jesse Jack­son," says Her­mene Hart­man, a long­time Jack­son fam­ily friend who pub­lishes the Afric­an-Amer­ic­an magazine N'DIGO. She ad­ded that when she has brought this up to Jack­son him­self, he has ex­pressed "won­der­ment" over it.
When I asked Jack­son dir­ectly about Obama, he said simply: "He oc­cu­pies a lot of space, be­ing an Afric­an-Amer­ic­an in the White House." Then he ad­ded, "I am glad Mc­Cain didn't win, and Pal­in, in terms of what the op­tions were. He has been a tre­mend­ous pres­id­ent—tre­mend­ous."
ON THE FIRST Sat­urday of Oc­to­ber, a lar­ger-than-usu­al crowd has con­vened in the Rain­bow PUSH chapel to cel­eb­rate Jack­son's 74th birth­day. The me­dia has also showed up, in an­ti­cip­a­tion of a press con­fer­ence in which Jack­son will re­it­er­ate his chal­lenge to Obama to ad­dress the gun vi­ol­ence in Chica­go. But be­fore that, sev­er­al friends take their turns at the mi­cro­phone to praise Jack­son's life and work.
"An old pro­verb says that as long as the story of the hunt is told by the hunter, then the tale will al­ways be to the dis­ad­vant­age of the li­on," says Fre­d­er­ick Haynes, a Dal­las megach­urch pas­tor and fre­quent speak­er at Rain­bow PUSH. (Haynes was ment­ored by Jeremi­ah Wright but iden­ti­fies him­self as a Jack­son dis­ciple.) "And here we are today com­mem­or­at­ing a le­gendary life, the leg­acy of Rev­er­end Jesse Jack­son, and we are de­clar­ing un­ashamedly and un­apo­lo­get­ic­ally that no one can define Jesse Lewis Jack­son for us but us."
He con­tin­ues: "We re­fuse to al­low oth­ers who want to im­pris­on him in ir­rel­ev­ance to have the key, be­cause you don't know that the very free­dom you en­joy is be­cause of the price he paid and the sac­ri­fice he made."
When I sit down with Jack­son again a few weeks later, we be­gin to get at some of his dif­fer­ences with those Haynes was dress­ing down in his re­marks, al­beit ob­liquely. We are talk­ing about the long-term work re­quired to achieve ra­cial justice versus the kind of ac­tions that Jack­son calls "flash hits"—which are what hap­pens when "someone says, 'Build­ing is on fire,' " or when "someone is get­ting beat on the corner: Flash! But in terms of en­dur­ing work, voter edu­ca­tion, voter re­gis­tra­tion, ne­go­ti­at­ing with cor­por­a­tions, fight­ing ger­ry­man­der­ing—you can't fight Sec­tion 4 with a flash."
His ref­er­ence to someone "get­ting beat on the corner" is cas­u­al but poin­ted; al­though he doesn't say so dir­ectly, it is clear that he is im­ply­ing that the loudest pub­lic voices in the civil rights move­ment in the United States right now are too con­sumed with "flash hits." He re­calls a con­ver­sa­tion he had last Au­gust with an act­iv­ist in Fer­guson after the Mi­chael Brown killing. While there, Jack­son had been at­tempt­ing to make the case that the story of Brown's death went much deep­er than po­lice—that the root of the prob­lem was elect­or­al and eco­nom­ic. He re­calls telling the young man that the pro­test­ers needed some "con­tent bey­ond the flash," and that "one reas­on why these po­lice are in power" is that "you voted 6 per­cent in last elec­tion."
That vis­it to Mis­souri was not en­tirely well re­ceived. Ac­cord­ing to a pop­u­lar black act­iv­ist on Twit­ter, at one protest Jack­son was "booed off for ask­ing for dona­tions for church." (Jack­son told me the act­iv­ists he was ad­dress­ing had been meet­ing at a Fer­guson church that was "run­ning up a lot of bills" be­cause of it, and that the min­is­ter had so­li­cited his help.) A few days later, in one of sev­er­al cell-phone-video-taped con­front­a­tions that went vir­al on the Web—this one set in the park­ing lot of a Mc­Don­ald's—a pro­test­er chal­lenged Jack­son's motives for be­ing in Mis­souri: "Are you go­ing to march with us today, or are you just go­ing to sit in the car?" the pro­test­er yelled at Jack­son, who was in the pas­sen­ger seat of a van with his win­dow open. "Be­cause we haven't seen you march­ing, Jesse. When are you go­ing to stop selling us out, Jesse? We don't want you in St. Louis." Jack­son, rarely at a loss for words, went wide-eyed and mum.
"The fam­ily called and asked Rev­er­end to come," Betty Mag­nus, one of Jack­son's closest con­fid­ants at Rain­bow PUSH, re­called re­cently when I asked about Jack­son's vis­it to St. Louis. "People thought he went down on his own, which is not the case. One of things he does not do is go in­to places that are fire­crack­ers without be­ing asked."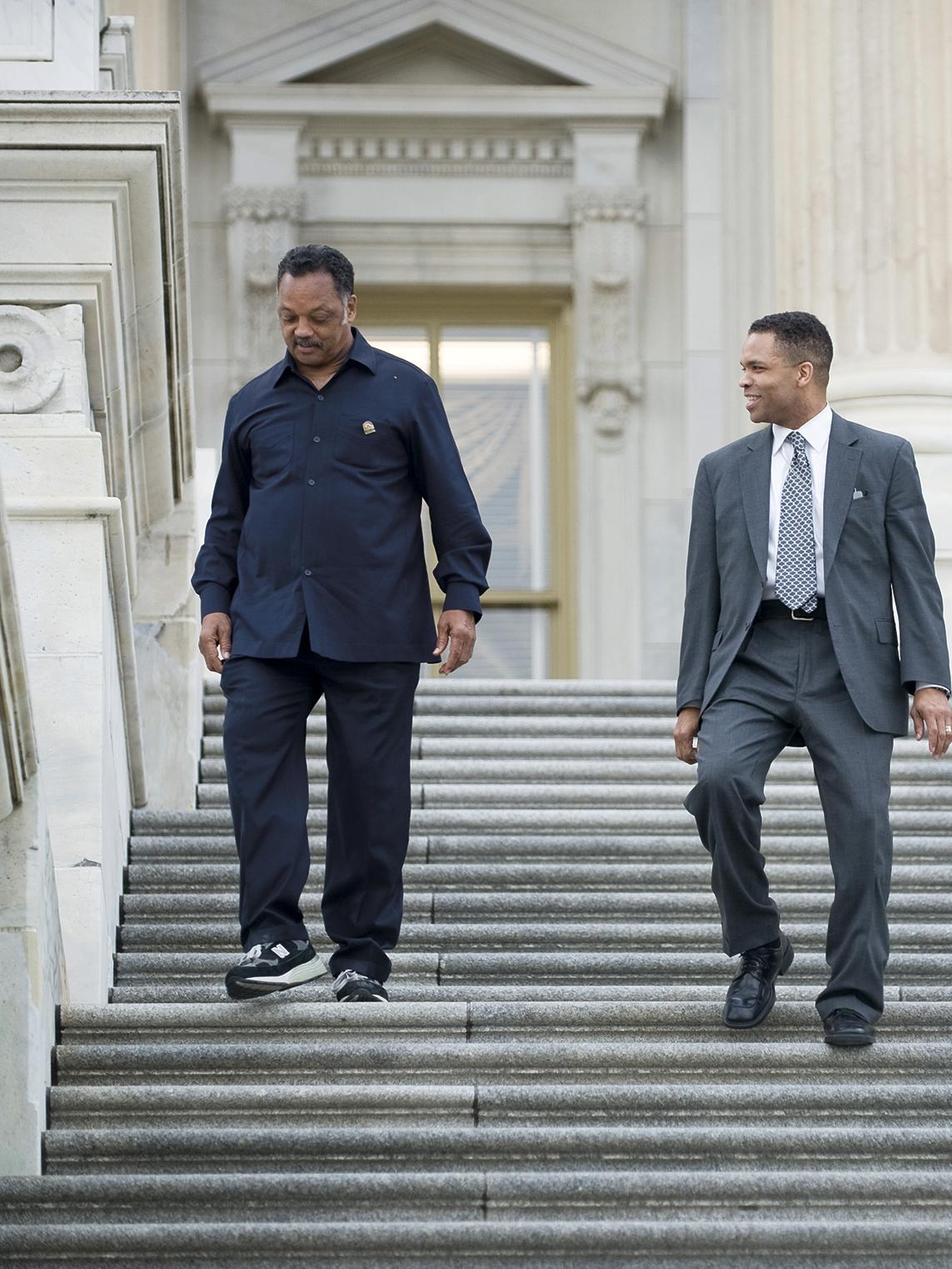 Per­haps not these days, but Jack­son's own long-stand­ing taste for "flash"—and his pen­chant for the spot­light—might have something to do with the skep­ti­cism that has hovered around his ef­forts to en­gage with the po­lice-protest move­ment. In his mem­oir, re­leased earli­er this year, former Obama polit­ic­al ad­viser Dav­id Axel­rod refers to Jack­son as an "in­vet­er­ate cam­era hog" and re­lays an an­ec­dote from 1988, in which he re­calls that, upon win­ning reelec­tion, then–Chica­go May­or Har­old Wash­ing­ton phys­ic­ally res­isted Jack­son's at­tempt to lift his hand in a vic­tory sa­lute. Jack­son re­mem­bers the mo­ment dif­fer­ently. He says it took place after Wash­ing­ton's primary vic­tory, not after the may­or was reelec­ted, and that the re­straint was mu­tu­al: "Har­old and I didn't want to over-cel­eb­rate that night." But even Jack­son's friends say his need to be the cen­ter of at­ten­tion can some­times cross the line. When I spoke to Del­mar­ie Cobb, who has served as press sec­ret­ary to both Jesse Sr. and Jesse Jr., she re­it­er­ated a story she has told re­port­ers be­fore, about how, in the week fol­low­ing Jesse Jr.'s elec­tion to Con­gress, the eld­er Jack­son tried on two oc­ca­sions to block the lens of a cam­era­man try­ing to shoot fa­vor­able pho­tos of his son. "He couldn't hold him­self back long enough for Jesse Jr. to re­ceive that at­ten­tion," she re­called. Again, Jack­son told me a dif­fer­ent ver­sion of that story: "Jesse Jr. al­ways had this great re­luct­ance for press cov­er­age, and he kept strug­gling to avoid over­ex­pos­ure," he said. "That was on his own ad­vice—I was help­ing him in that re­gard, and that was at his re­quest."
Her­mene Hart­man told me she be­lieves Jack­son really is try­ing to play an eld­er-states­man role in this fight. "He's so of­ten ac­cused of tak­ing over, so I think he's con­scious of this be­ing their thing," she said. "But he's there to be sup­port­ive. It's kind of like when your chil­dren are grown, and you go to their house. You don't take over their house—you learn to be a guest."
The par­ent-child ana­logy turns out to be re­mark­ably apt, on both sides. Al­though in our dis­cus­sions it was clear that Jack­son dis­ap­proved of how the po­lice-protest move­ment has fo­cused its en­er­gies, he has also laid claim to that same wave of act­iv­ism, telling The Guard­i­an in Au­gust that Black Lives Mat­ter—or­gan­iz­a­tion­ally flat, sec­u­lar, and so­cial-me­dia driv­en, in many ways the po­lar op­pos­ite of the mod­el King epi­tom­ized and Jack­son rep­lic­ated—was es­sen­tially an ex­ten­sion of his work. "There is a false nar­rat­ive that the move­ment stopped and then star­ted again," Jack­son told the Brit­ish news­pa­per.
On so­cial me­dia and in vari­ous pub­lic pro­nounce­ments, Black Lives Mat­ter pro­test­ers have soun­ded both dis­dain­ful of Jack­son's at­tempts to claim a con­nec­tion to their ef­forts and angry that the rev­er­end—with his fin­an­cial re­sources and polit­ic­al cap­it­al—hasn't offered more sup­port. De­Ray Mck­esson, the teach­er-turned-so­cial-me­dia-guru of BLM, re­fused to speak spe­cific­ally about Jack­son on the re­cord when I tracked him down in Chica­go, say­ing he didn't want to add to hos­til­it­ies. But in a fol­low-up phone con­ver­sa­tion, he did tell me this: "I re­mem­ber those days last Au­gust when we were look­ing for that ad­vice and sup­port, and we didn't get it from the people we thought we were go­ing to get it from."
In re­sponse, Marty King told me that Rain­bow PUSH is simply not built to mo­bil­ize its re­sources for the cur­rent crop of po­lice protests. Moreover, there has been con­fu­sion in­side the or­gan­iz­a­tion over how to en­gage with a move­ment that doesn't have a hier­arch­ic­al struc­ture. Betty Mag­nus re­calls that in the wake of Fer­guson, the group had a hard time know­ing who to even reach out to after one Chica­go-based act­iv­ist, who had served as its point of con­tact, stopped re­turn­ing phone calls. (No one even con­sidered try­ing to con­nect via Twit­ter, which Jack­son's team mainly uses to post schedul­ing an­nounce­ments and retweets for his 70,000 fol­low­ers. "I am not sure he un­der­stands—I really don't, my­self—the tech­nic­al di­men­sions of things," Frank Watkins told me.)
"We think it is going to take four or five people to replace him," says Bill Dickerson, a longtime Jackson associate.
After the in­cid­ent in St. Louis, Jack­son vir­tu­ally dis­ap­peared from the po­lice-protest scene for months, as­sert­ing him­self only briefly in early Janu­ary when he led a march over the po­lice killing of a men­tally ill black man in Mil­wau­kee. Then, in Novem­ber, al­most ex­actly a year after the Fer­guson de­bacle, the po­lice-protest move­ment came to him: A judge ordered Chica­go of­fi­cials to re­lease a video­tape of the 2014 po­lice slay­ing of Laquan Mc­Don­ald, in which an of­ficer is seen fir­ing 16 shots in­to the black teen. It was shortly be­fore Thanks­giv­ing, and Jack­son called for a protest to dis­rupt the Black Fri­day shop­ping on Chica­go's renowned high-end re­tail strip, the Mag­ni­fi­cent Mile. No in­ter­loper here, Jack­son helped rally thou­sands in an ac­tion that com­bined "flash" with the kind of hit-'em-where-it-hurts dis­rup­tion of eco­nom­ic activ­ity that has long been his pre­ferred type of protest. The crowds snarled traffic and de­terred hol­i­day shop­pers. Jack­son used the plat­form to call for mass demon­stra­tions and mass voter re­gis­tra­tion. He was in his ele­ment.
He told me later that, on the Wed­nes­day be­fore the protests, he had con­vened a meet­ing at which the old guard agreed to march be­hind the young act­iv­ists. ("Where do the youth fit? They fit up front. … They marched on the front lines. That was all cal­cu­lated, all planned.") But still—even at home—he col­lided with the new gen­er­a­tion. Ac­cord­ing to the Chica­go Sun-Times, as Jack­son, sur­roun­ded by more than a dozen oth­er min­is­ters, began to ad­dress the crowd, young men with bull­horns in­ter­rup­ted, chant­ing, "In­dict Rahm"—Chica­go's may­or and former Obama chief of staff Rahm Emanuel. When the min­is­ters replied with, "Let us pray," one of the pro­test­ers re­spon­ded, "We're not here to pray." Pro­test­ers then pulled on Jack­son's mi­cro­phone and the cord con­nec­ted to the sound sys­tem, dis­con­nect­ing his au­dio—at which point, the Sun-Times re­por­ted, Jack­son and the oth­ers ceded the plat­form to the men with the mega­phones.
THE LAST TIME the ques­tion of who would suc­ceed Jack­son was pub­licly dis­cussed was in 2002, fol­low­ing a set of em­bar­rass­ments. The first was the dis­clos­ure that he had fathered an out-of-wed­lock child with Karin Stan­ford, a former PUSH staffer. (The daugh­ter, Ash­ley, now 16, re­cently stepped in­to the spot­light with a rap song that eli­cited some TMZ cov­er­age.) A few months later, Jack­son was forced to de­fend him­self after a con­ser­vat­ive or­gan­iz­a­tion filed a com­plaint with the IRS over his or­gan­iz­a­tion's tax dis­clos­ures. This promp­ted a series of me­dia in­vest­ig­a­tions in­to Rain­bow PUSH's fin­ances. Jack­son denied any im­pro­pri­ety, but the Cit­izen­ship Edu­ca­tion Fund even­tu­ally ac­know­ledged that it had failed to dis­close the salar­ies of its top-paid staffers, in­clud­ing Stan­ford, who had made $120,000 a year. The or­gan­iz­a­tion called the omis­sion an "over­sight"; Jack­son later ad­mit­ted that Stan­ford also re­ceived a $35,000 sev­er­ance pay­ment.
Amid the tu­mult, Jack­son an­nounced that James Meeks, Rain­bow PUSH's ex­ec­ut­ive vice pres­id­ent, would suc­ceed him as pres­id­ent, al­though he gave no timetable for when the trans­fer would take place. But Meeks, who had already carved out his own polit­ic­al-re­li­gious fief­dom—a num­ber of in­flu­en­tials, in­clud­ing Jesse Jr., wor­shipped at Meeks's Salem Baptist church—had oth­er ideas. Meeks quickly turned around and ran for the Illinois state Sen­ate, won, and began es­pous­ing views at odds with those put forth by Rain­bow PUSH.
Since then, Jack­son has said noth­ing about who might take over for him one day. When I asked wheth­er they had re­cently con­sidered the ques­tion, Jack­son and those with­in the or­gan­iz­a­tion told me they were work­ing on a plan for the fu­ture and de­scribed the out­lines of one. Bill Dick­er­son, a long­time friend of Jack­son's, who is chair­man of the board of the Cit­izen­ship Edu­ca­tion Fund, said the search for a suc­cessor was largely fo­cused on pas­tors at large black churches. And al­though neither he nor Marty King sug­ges­ted that any of Jack­son's chil­dren might take the reins, both said they be­lieved it vi­tal that the fam­ily re­main in­volved. (Jonath­an, 49, a busi­ness­man and man­age­ment pro­fess­or at Chica­go State Uni­versity, cur­rently serves as the na­tion­al spokes­man for Rain­bow PUSH; Yusef, 45, the chair­man of PUSH, is said to be an act­ive par­ti­cipant in dis­cus­sions about the group's fu­ture; Santita, 52, a Fox News con­trib­ut­or, pro­duces her fath­er's weekly ra­dio show. An­oth­er daugh­ter, Jack­ie Jr., 40, is not vis­ibly in­volved with the or­gan­iz­a­tion at all.)
When I asked Jack­son about Jesse Jr.—who once served as the field dir­ect­or of the Na­tion­al Rain­bow Co­ali­tion—and wheth­er he might have a fu­ture at Rain­bow PUSH, the rev­er­end said flatly, "I doubt it." (None of Jack­son's chil­dren re­spon­ded to in­ter­view re­quests.)
"We think it is go­ing to take four or five people to re­place him," Dick­er­son told me. Or, as Haynes put it while talk­ing about the chal­lenge fa­cing Rain­bow PUSH: "There is not an­oth­er Jesse Jack­son out there."
Dur­ing our con­ver­sa­tion in Oc­to­ber, I asked Jack­son about the fu­ture and wheth­er he was con­cerned about his leg­acy. "A lot of time is spent on build­ing kings and king­doms and statues. … None of this has to do with the quest for so­cial justice," he told me. "I mean, the fi­nal judge of my ser­vice will be those who close the book at the end of the night. It is not for me to do. It is my job to live as I live while I live and lay the best tracks I can for where the train is go­ing."
But if, in the end, there really is no single fig­ure poised to step in­to Jack­son's shoes—if, with his passing, we will wit­ness the dis­ap­pear­ance of an ar­che­type of civil rights lead­er­ship: the cha­ris­mat­ic cler­gy­man who both in­spires in the mo­ment and sees him­self as lay­ing tracks "for where the train is go­ing"—what might be lost along with that paradigm? Jack­son's al­lies had plenty of thoughts on the sub­ject, but one of the main themes was the same one to which Jack­son al­luded when he talked about "flash": the sense that the struggle is long, that it re­quires vis­ion and forti­tude, pre­par­a­tion and per­sever­ance, memory and con­tinu­ity.
"King and them had strategies. They didn't just wake up one day and tweet and say, 'Meet me on the corner of 25th and King Drive; we are go­ing to protest,' " Del­mar­ie Cobb told me. Haynes also cited the need to work to­ward over­arch­ing goals in­stead of just "re­act­ing and re­spond­ing to im­me­di­ate emer­gency"—adding that, in his view, this re­quires someone who has the cha­risma, dy­nam­ism, and ex­per­i­ence both to of­fer the road map and light the way. "Black Lives Mat­ter shows you can have a lead­er­less move­ment," he says. "But there is al­ways go­ing to be a crowd that hun­gers for vis­ion and dir­ec­tion."
Jack­son's ca­pa­city to of­fer that vis­ion and dir­ec­tion is ar­gu­ably a dir­ect product of the church-centered mod­el that MLK set forth. Jack­son tells me he finds par­tic­u­lar value in his ex­per­i­ence as a cler­gy­man. "Clergy tend to have a broad vis­ion of people and re­la­tion­ships," he says. "A law­yer sees cli­ents, a doc­tor sees pa­tients, a teach­er sees stu­dents. Min­is­ters tend to have a broad­er view."
A sense of his­tory, a sense of lar­ger pur­pose, a long-term vis­ion, the abil­ity to in­spire with words, all wrapped in a single, im­per­fect hu­man be­ing—this is the Jack­son paradigm. His al­lies mainly see the strengths of the mod­el; right now, young­er act­iv­ists seem fo­cused on the weak­nesses and in­tent on break­ing the mold. But des­pite the fears ex­pressed by Jack­son par­tis­ans, the new gen­er­a­tion may ul­ti­mately find that they have more in com­mon with the aging rev­er­end—and his tra­di­tion—than they real­ize. Jack­son, "as far as I am con­cerned, is the ori­gin­at­or of 'black lives mat­ter,' " Haynes told me. If you think about it, he said, the phrase is really just "a re­mix of 'I am some­body.'"