Add to Briefcase
Nov. 14, 2012, 6:26 a.m.
Amer­ic­ans ap­pear to be mov­ing to­ward con­sensus on the dif­fi­cult is­sue of im­mig­ra­tion re­form, with 76 per­cent of those sur­veyed in the United Tech­no­lo­gies/Na­tion­al Journ­al Con­gres­sion­al Con­nec­tion Poll say­ing that the na­tion should al­low some or all of the na­tion's 11 mil­lion il­leg­al im­mig­rants to re­main in the United States if they meet cer­tain con­di­tions of res­id­ency and good be­ha­vi­or.
Not quite as many Amer­ic­ans — but still a sol­id ma­jor­ity — sup­port the the­ory that cli­mate change has in­creased the like­li­hood that dev­ast­at­ing storms will hit the U.S., and most re­spond­ents are will­ing to sup­port tough­er reg­u­la­tions and pay high­er en­ergy bills to help halt glob­al warm­ing.
These poll res­ults come as Con­gress re­turns for a lame-duck ses­sion in the wake of last week's gen­er­al elec­tion. The sur­vey is the latest in a series of polls track­ing pub­lic pri­or­it­ies for Con­gress, and the first to be taken since Elec­tion Day. Law­makers in the lame-duck ses­sion are not ex­pec­ted to ad­dress either im­mig­ra­tion or cli­mate change, but those who re­turn in the 113th Con­gress may well find both on their agenda — and wide­spread sup­port for ac­tion.
The sur­vey showed grow­ing ac­cept­ance of un­doc­u­mented im­mig­rants over the past year. When poll­sters asked the ques­tion in Decem­ber 2011, 67 per­cent said that the gov­ern­ment should per­mit such im­mig­rants to stay. The per­cent­age of those who want all il­leg­al im­mig­rants de­por­ted has shrunken from 25 per­cent to 17 per­cent over that same peri­od.
A third of those polled thought that all il­leg­al im­mig­rants should be per­mit­ted to stay if they have broken no oth­er laws and if they prom­ise to learn Eng­lish and U.S. his­tory. A slightly lar­ger group of those polled — 43 per­cent — are also will­ing to of­fer res­id­ency, but only to those law-abid­ing im­mig­rants who have been in the coun­try "for many years."
Im­mig­ra­tion is a press­ing is­sue for many Latino voters, a grow­ing demo­graph­ic group that voted roughly 3-to-1 for Pres­id­ent Obama in last week's elec­tion. Sev­er­al con­ser­vat­ive com­ment­at­ors, as well as lead­ing Re­pub­lic­an strategists and of­fice­hold­ers, have since stressed the need for the GOP to ap­peal to the Latino elect­or­ate, which views the party with skep­ti­cism for its hard-line stance on im­mig­ra­tion. An­oth­er grow­ing eth­nic group — Asi­an-Amer­ic­ans — sup­por­ted Obama with sim­il­ar en­thu­si­asm, ac­cord­ing to exit polls.
Fe­male re­spond­ents were the most for­giv­ing: Only 12 per­cent thought that all il­leg­al im­mig­rants should be de­por­ted, as op­posed to 23 per­cent of men. Black men and wo­men were more for­giv­ing than their white coun­ter­parts: Just 6 per­cent of Afric­an-Amer­ic­an re­spond­ents op­ted for full de­port­a­tion, as op­posed to 21 per­cent of whites. White men without col­lege dip­lo­mas took the hard­est line on de­port­a­tion, but even among this group, al­most two-thirds sup­por­ted some sort of pro­cess to let il­leg­al im­mig­rants stay, and just 34 per­cent op­ted for full de­port­a­tion.
Twenty-nine per­cent of Re­pub­lic­ans sup­por­ted the harshest im­mig­ra­tion policy, but only 5 per­cent of Demo­crats. The fig­ure for in­de­pend­ents was 21 per­cent. Sup­port for full de­port­a­tion was strongest in rur­al Amer­ica, as well as the South and Mid­w­est, but in no re­gion of the coun­try did it top 21 per­cent.
The poll also asked voters about cli­mate change, a top­ic that has met fierce res­ist­ance from Re­pub­lic­an can­did­ates and com­ment­at­ors but that has drawn new at­ten­tion in the wake of Hur­ricane Sandy and the ma­jor dam­age the su­per­storm caused on the East Coast. A healthy ma­jor­ity of those polled — 57 per­cent — said they be­lieved that cli­mate change is in­creas­ing the like­li­hood of such dev­ast­at­ing storms. Among that group, 74 per­cent said that Con­gress should act "more ur­gently" to ad­dress cli­mate change, even if ne­ces­sary reg­u­la­tions raised the cost of elec­tri­city and oth­er en­ergy.
Cli­mate policy was more con­tro­ver­sial than im­mig­ra­tion, however, with 79 per­cent of Demo­crats, 29 per­cent of Re­pub­lic­ans, and 56 per­cent of in­de­pend­ents agree­ing that cli­mate change con­trib­utes to cata­stroph­ic storms. Age was an­oth­er di­vider, as young people were the most per­suaded by sci­entif­ic con­clu­sions on glob­al warm­ing: 68 per­cent of those between the ages of 18 and 29 be­lieved the like­li­hood of nat­ur­al dis­asters is great­er. Skep­ti­cism in­creased with age, as 56 per­cent of the next two older co­horts — those between 30 and 49 years of age and those between 50 and 64 — sup­por­ted the the­ory, and just 53 per­cent of those over the age of 65. Still, that was a ma­jor­ity.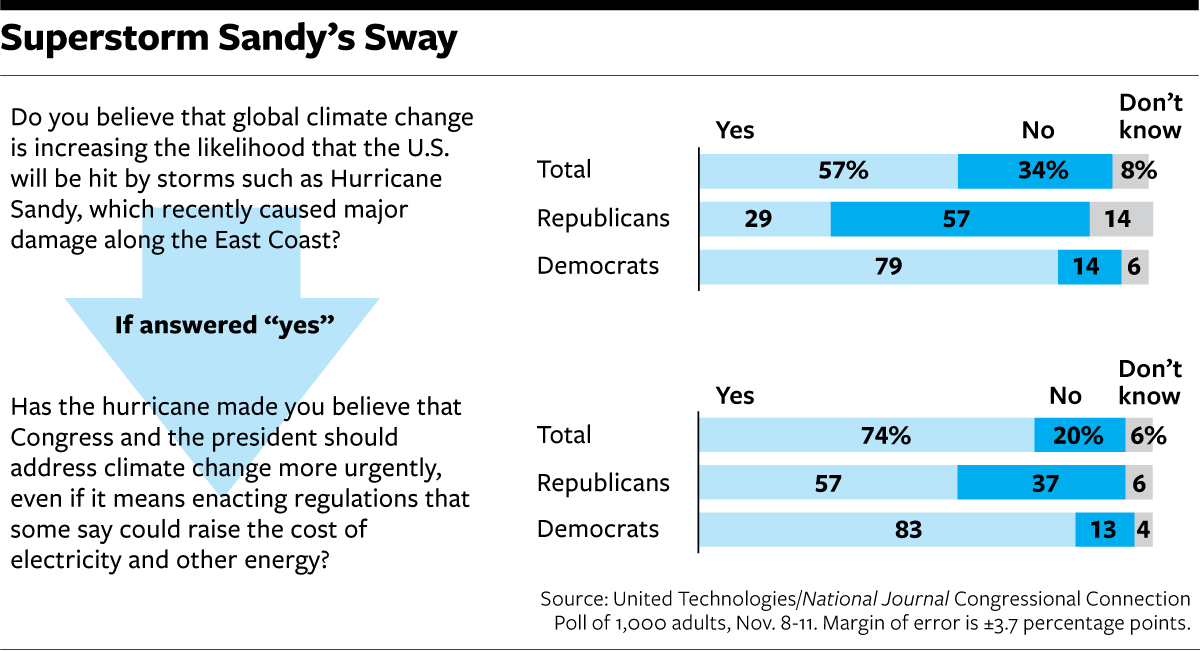 Wo­men (62 per­cent) were more be­liev­ing then men (51 per­cent) on the sub­ject. And the re­gion­al dif­fer­ences matched those on im­mig­ra­tion, with the East (68 per­cent) and West (64 per­cent) lead­ing the Mid­w­est (52 per­cent) and the South (51 per­cent) among those who be­lieved that changes in the cli­mate cause vi­ol­ent weath­er.
The Con­gres­sion­al Con­nec­tion Poll was con­duc­ted by Prin­ceton Sur­vey Re­search As­so­ci­ates In­ter­na­tion­al, which sur­veyed 1,000 adults from Nov. 8""11. The poll has a mar­gin of er­ror of plus or minus 3.7 per­cent­age points. 
This art­icle ap­peared in the Wed­nes­day, Novem­ber 14, 2012 edi­tion of Na­tion­al Journ­al Daily.