In the days since a Fer­guson, Mo., po­lice of­ficer shot and killed Mi­chael Brown, five law-en­force­ment agen­cies and a team of private med­ic­al ex­am­iners have been called in to deal with protests and help to in­vest­ig­ate the shoot­ing.
A lack of com­mu­nic­a­tion and clear chain of com­mand among the law-en­force­ment agen­cies has only lead to more con­fu­sion. In the af­ter­math of Brown's death, one of the biggest re­main­ing ques­tions is just who ex­actly is in charge. And that hasn't been an easy one for fed­er­al, state, county, and city of­fi­cials to an­swer.
The dis­ar­ray was evid­ent Fri­day when the Fer­guson Po­lice De­part­ment re­leased still pho­tos of a man they iden­ti­fied as Brown rob­bing a con­veni­ence store and in­tim­id­at­ing the store's clerk. Fer­guson Po­lice Chief Thomas Jack­son re­fused to an­swer ques­tions, lead­ing re­port­ers and pro­test­ers to as­sume that the rob­bery and the shoot­ing were con­nec­ted. Just a few hours later, Mis­souri Gov. Jay Nix­on and the man who was sup­posed to be in charge of the situ­ation in Fer­guson — Mis­souri State High­way Patrol Capt. Ron John­son — told the press they had no idea that the Fer­guson po­lice had planned to re­lease the foot­age. They also didn't know why they had. An­oth­er few hours passed and Fer­guson po­lice an­nounced that the rob­bery de­pic­ted in the tape was un­re­lated to the shoot­ing any­way.
On Sunday, fed­er­al and state au­thor­it­ies crossed wires. In con­sulta­tion with state law en­force­ment, Nix­on called in the state's Na­tion­al Guard. The guard, which is con­trolled both by the state and the fed­er­al gov­ern­ment, ar­rived Monday morn­ing. But later that day, the White House said it had no idea that Nix­on was go­ing to call in those forces.
As things stand on Wed­nes­day, more than a week after the shoot­ing, law en­force­ment con­tin­ues to deal with three big is­sues: Who is go­ing to patrol the streets and keep protests peace­ful? Who is go­ing to in­vest­ig­ate the shoot­ing? And who will con­duct the autopsy?
As you can see be­low, the di­vi­sion of labor is at best con­fus­ing.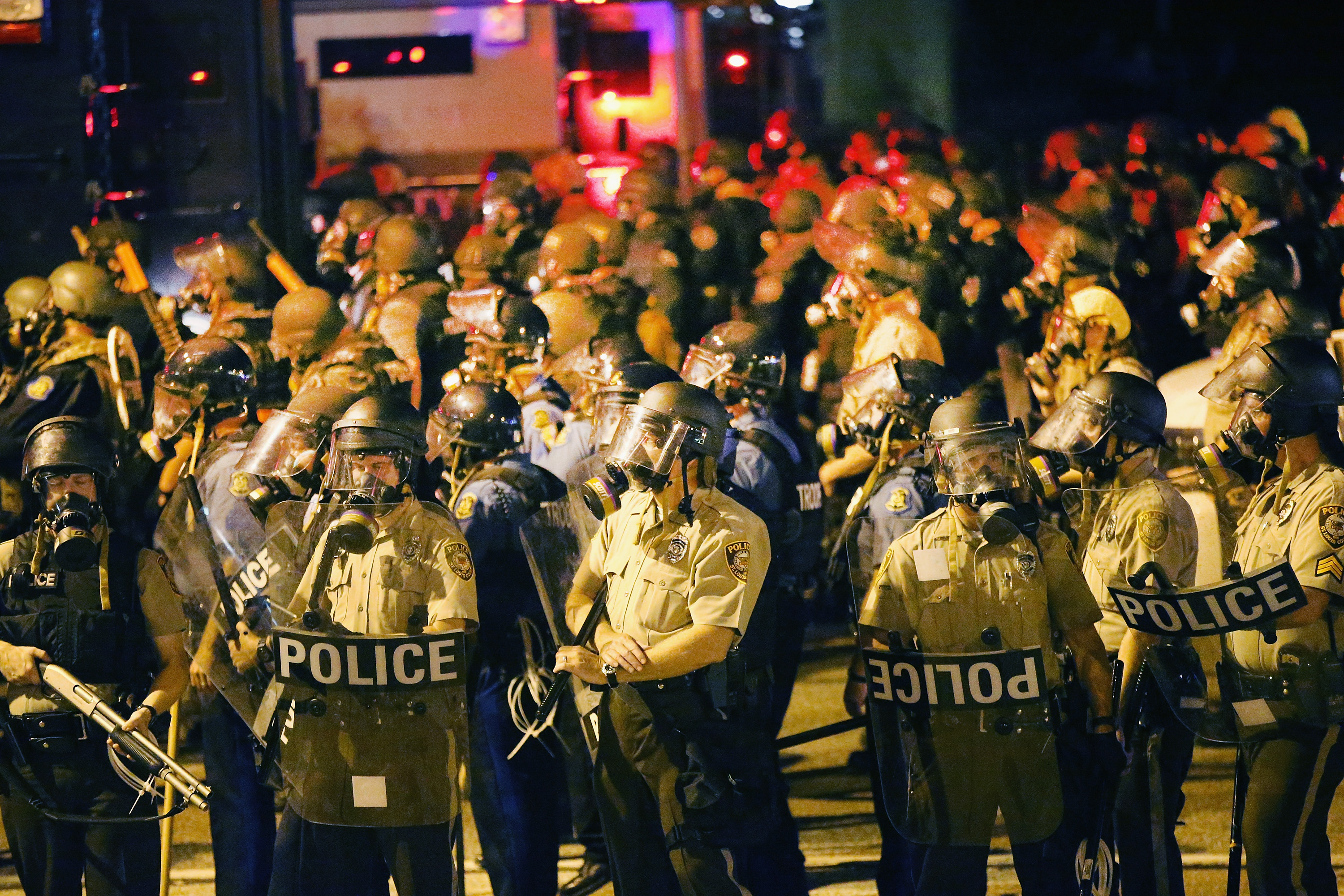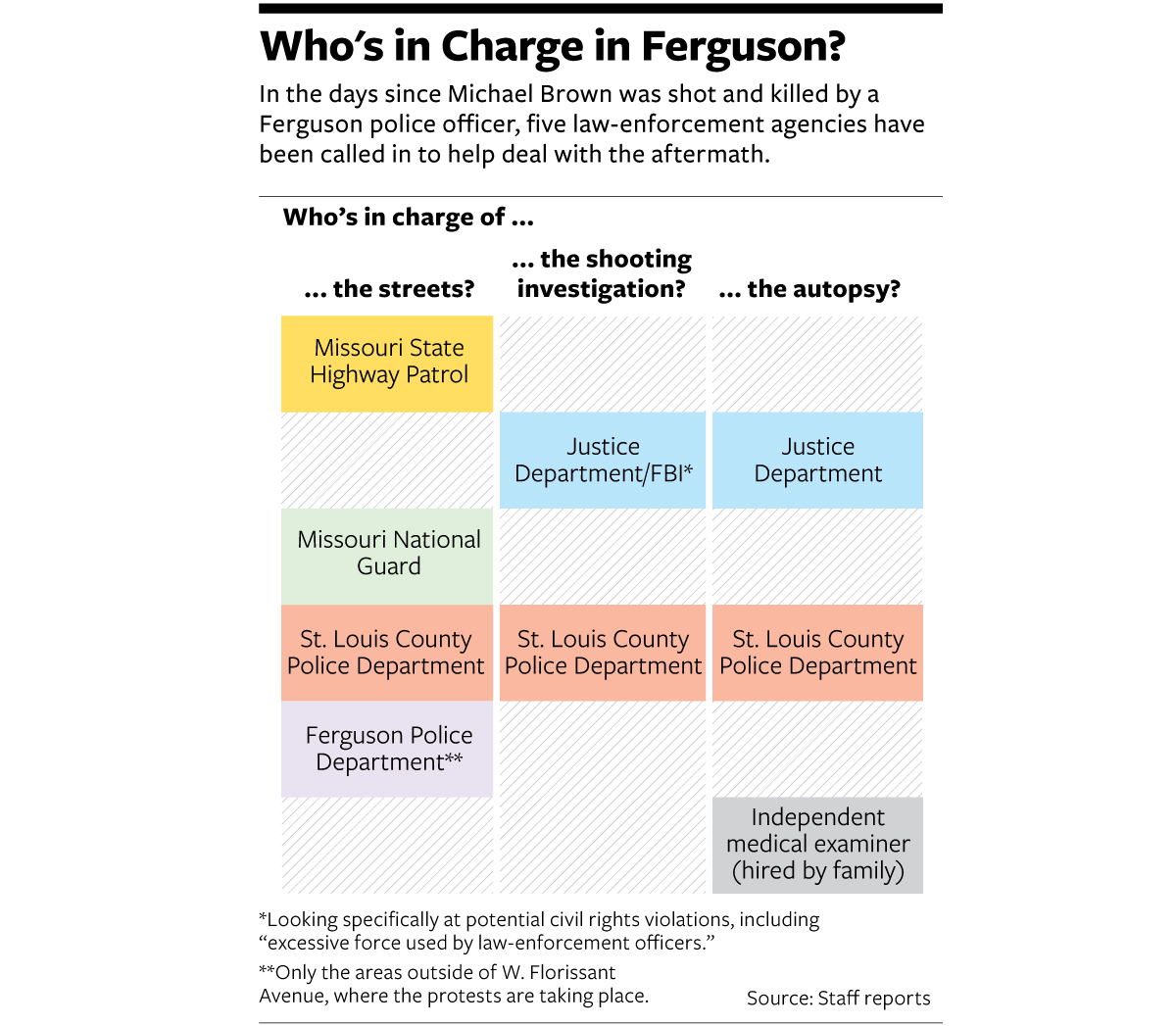 For now, the Mis­souri State High­way Patrol is charged with keep­ing the peace in Fer­guson, as­sisted by of­ficers from the St. Louis County Po­lice De­part­ment. The state Na­tion­al Guard is also on the ground, fo­cused largely on main­tain­ing a com­mand cen­ter to provide backup and as­sist­ance to High­way Patrol and St. Louis County of­ficers. Mean­while, mem­bers of the Fer­guson Po­lice De­part­ment have been re­moved from duty in the areas of West Floris­sant Av­en­ue, where the ma­jor­ity of the protests are tak­ing place. But they're still charged with pro­tect­ing the rest of the city, where un­rest con­tin­ues to bubble.
Both the Justice De­part­ment and the St. Louis County Po­lice De­part­ment are con­duct­ing sep­ar­ate in­vest­ig­a­tions in­to the shoot­ing. Agents from the Fed­er­al Bur­eau of In­vest­ig­a­tion are charged with Justice's in­quiry, look­ing in par­tic­u­lar at po­ten­tial civil-rights vi­ol­a­tions, while the St. Louis County Po­lice De­part­ment is work­ing on a broad­er in­vest­ig­a­tion. Forty FBI agents were in Fer­guson this week along­side mem­bers of the St. Louis County Po­lice De­part­ment can­vassing the streets for wit­nesses.
The Justice De­part­ment writ large is also ad­vising the Fer­guson Po­lice De­part­ment on civil-rights is­sues, in co­oper­a­tion with the loc­al chapter of the NAACP, in or­der to calm ra­cial ten­sions in the city.
Mean­while, three autop­sies have been con­duc­ted on Brown's body to help in both in­vest­ig­a­tions of the shoot­ing. First, the St. Louis County med­ic­al ex­am­iner took a look at the body. Those res­ults have not been re­leased, but a source told The Wash­ing­ton Post that a tox­ic­o­logy re­port con­duc­ted dur­ing the ex­am­in­a­tion showed that Brown tested pos­it­ive for marijuana. Brown's fam­ily called in Dr. Mi­chael Baden, a New York City forensic patho­lo­gist, and pro­fess­or Shawn Par­cells, a med­ic­al in­vest­ig­at­or from Kan­sas City, to con­duct a second, in­de­pend­ent autopsy. Those res­ults were re­leased on Monday in a press con­fer­ence with the fam­ily's at­tor­ney. The Justice De­part­ment has also ordered its own autopsy, which was con­duc­ted on Monday.
The protests in Fer­guson do not ap­pear to be let­ting up, and the in­vest­ig­a­tion in­to Brown's death could drag on as well. Law en­force­ment has been work­ing for more than a week to calm the city and help it to heal. But with so many agen­cies — each with its own goals and hier­arch­ies — work­ing to re­solve the situ­ation, it's not al­ways clear who's re­spons­ible for what.